What A Player - Philip Lahm: Not A Single Red Card.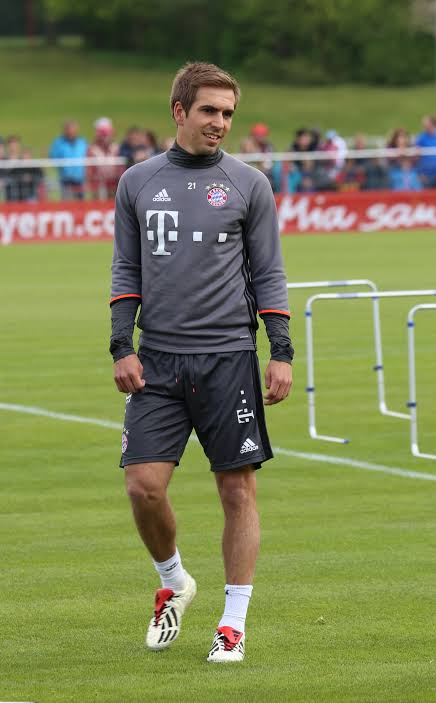 Image Source
---
I know most of these players won't get the attention they deserved for individual awards but there is no one that can tell me that a player like Philip Lahm doesn't deserve attention. A player in his position can easily get overlooked and taken for granted but when you understand what they bring to the table then you would have to appreciate them more. It's more like how most people underrated Michael Carrick until they saw what became of that Midfield after he missed any game.
Looking at his career, I can confidently say that he isn't just a legend but a player with class, poise and most of all, loyalty. Loyalty is a big word these days and that's why you can find the likes of Wayne Rooney and Paul Pogba threatening to join Manchester City which would never cross the mind of a player like Philip Lahm. I don't know if most people also know the story about Paul Scholes when he was approached by Massimo Moratti of Inter Milan then. He said Scholes told him if he ever want to have a chance to have him play for him, he would have to buy Manchester United.
That's the kind of player I think Philip Lahm was during his playing days too. He played for Bayern Munich II and had 64 appearances while scoring 3 goals. He moved to Stuttgart where he played 71 times and he scored the same amount of goals; 3 and went 7 assists better before finally joining Bayern Munich where he played the better part of his career.
What intrigued me was the fact that he never had a single red card in his career. How do you play 652 games all across every competition and not have a single red card? He was disciplined, and he showed maturity and experience. The team knew they could depend on him not to lose his head and put his team in a difficult position, something I can't say for Sergio Ramos and Pepe.
The most appealing thing I want to say about him apart from his leadership qualities and contributions to the team is the adaptability of this man to any role and position he has been deployed. He has played at his usual Right Back and then played as a Left Back, Center Back, Central Midfielder, Defensive Midfielder, Left Midfielder and Right Midfielder. The only positions he hasn't played would be as a goalkeeper and also a striker. What's more not to admire about this player that can adapt to any role just for the sake of his team.
I don't know how he managed to escape red cards but he managed 49 yellow cards while scoring 22 goals and 77 assists. He was dependable, a huge asset to Bayern Munich and his ability on the ball cannot be questioned too. He is a worthy example to so many players plying their trade in that position as I would also say regarding Roberto Carlos.
He wasn't just a player but a legend of the game too. He wasn't just a teammate, but a leader of the group. He wasn't just another human but a character that gave the fans the loyalty and reliability they craved. You don't get that these days and players like Philip Lahm would always remind you of what being a professional is all about. I want to believe also that he didn't lack suitors back in the day but which club would want to let go of such a reliable figure within their team? It would be foolishness to let him go.
He made a name for himself and I have to say that he isn't just like every other player. He didn't score a Champions League goal, none that I can remember but what he brings to the team is something you can't find out there without breaking the bank these days. He retired in 2017 but he is not the kind of player that you can forget in such a hurry, which is why his name would always be written in the annals of football history.
Cheers.
Gingered Up! ❣️
---
---