Jonathan Isaac: Why I Stand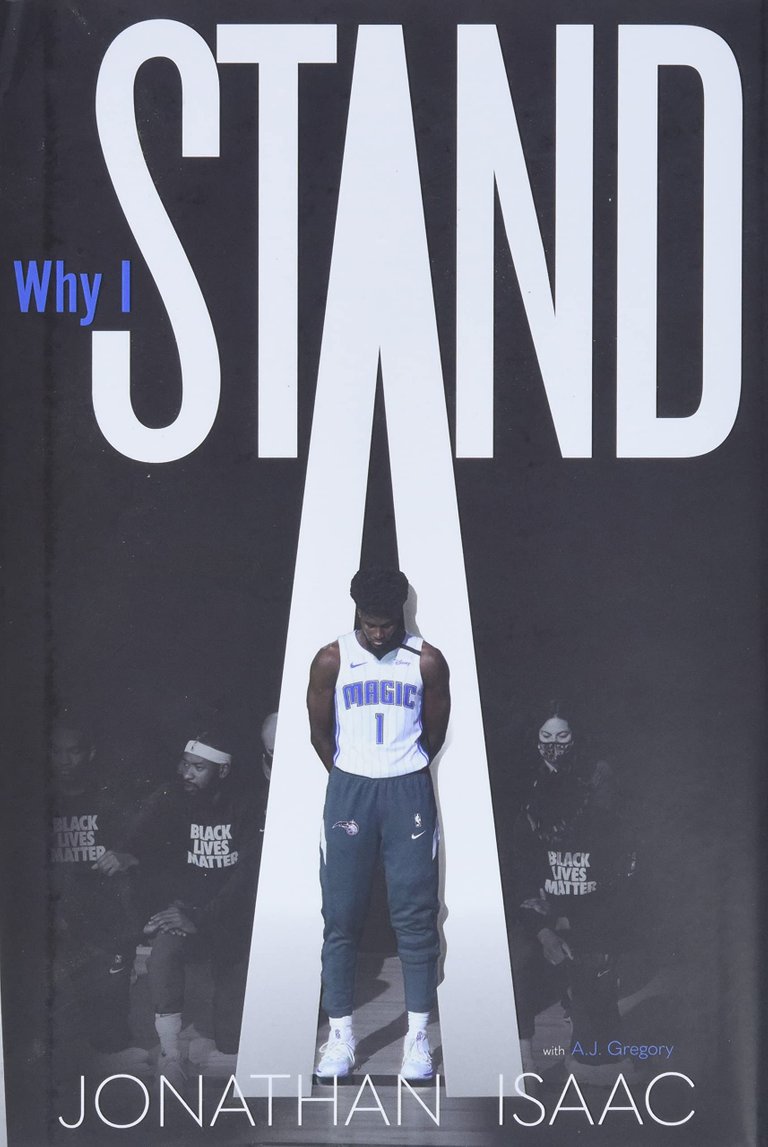 Source
All heroes dont wear a cape! Some of them just wear a jersey!
Today i want to write a few lines for Jonathan Isaac. The reason for this post is his autobiographical book "Why i stand".
You will naturally wonder what interest a 25-year-old athlete has and writes such a book? If this is the first time that you hear about him, the sequel will pleasantly surprise you.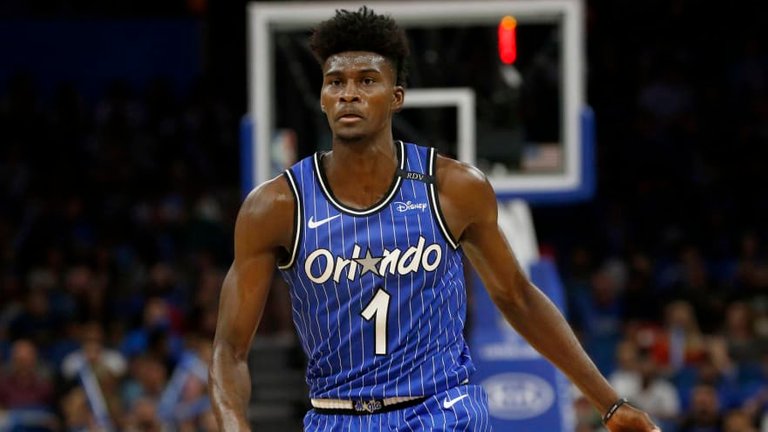 Source
He, may not be the most prestigious player in NBA's history, but as a way of life, he is a role model for all of us, a denier of the irrationality and polarization imposed by the woke culture and cancel culture!
Who is Isaac?
"It Started in the Bronx..." as Isaac writes on his book first chapter, in 1997. Jonathan is one of six children in his family, he has one older sister (Kalilah, 24), two older brothers (Jacob, 21 and Joel, 20) and two younger brothers (Winston, 17 and Jeremiah, 7).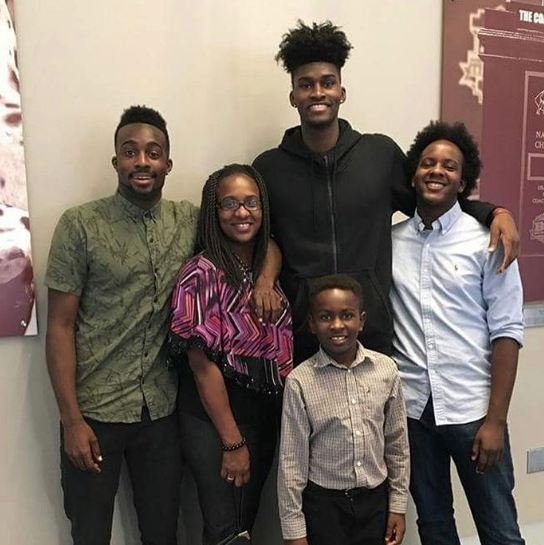 Source
The first years of his life, he live in Hunts Point, a red-light neighborhood, one of the poorest in the country with almost half of its residents living in poverty. Gangs,drugs,hookers but Jonathan didn't even see all these, as his mother (who raised him by herself)soon drove him to Golden Gate, Florida!
He writes "Mom walked home from work one night and heard gunshots. She got spooked. It was also the straw that broke the camel's back on my parents' silently struggling relationship. She was determined to get us kids out of the Bronx. But not with my father"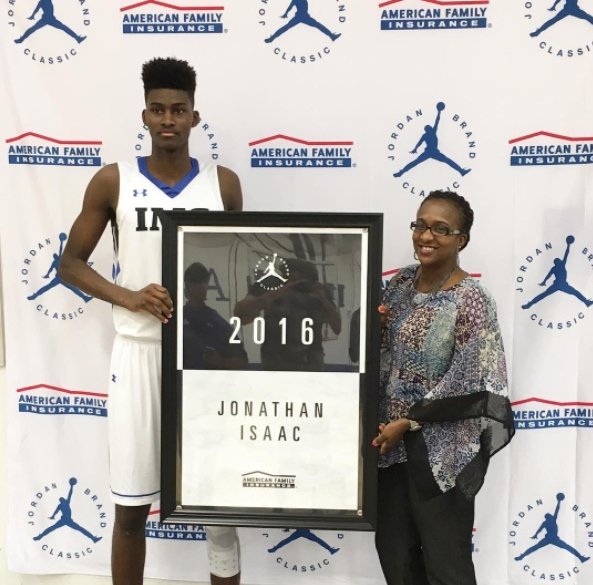 Source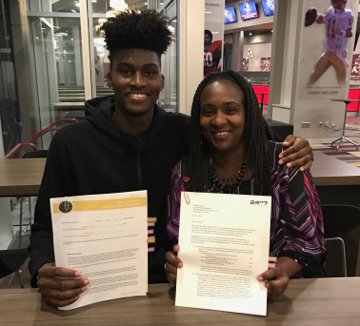 His biggest influences are his mom, his coaches and his faith. Isaac is a Christian and has preached at Jump Ministries Global Church in Orlando
Isaac is of Puerto Rican descent and also Seminole as he reffereson his book. Seminole is Florida's Indians collectively who are known as Seminole, a name meaning "wild people" or "runaway." In addition to Creeks, Seminoles included Yuchis, Yamasses and a few aboriginal remnants.!
Basketball in his life
My dad, my brothers, the neighborhood kids, and I would head to the park courts, rain or shine, to hoop. Not really in a serious way but just for fun. We didn't need anything but ourselves and a ball.
Just so simple he found out his passion for this sports, which has the opportunity to practice in high school, where the talent is soon realized and the claims for a school championship begin. Rick Pitino and John Calipari get him on his cell phone for the university championship and the road to the NBA will not be long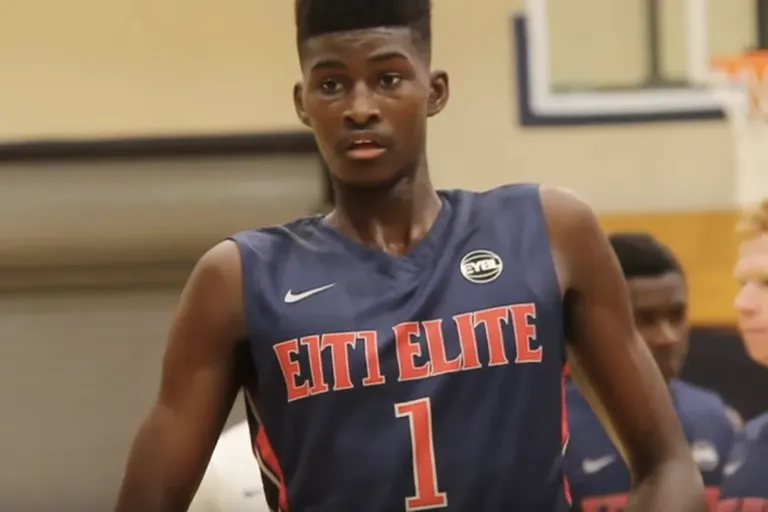 Source
Even at a young age, I defined basketball as art, poetry in motion if you will. The ball bouncing like the beat of a drum. Powerfully graceful movements left to right, right to left, one after another like windshield wipers. All originated in the mind of the baller. It's his or her show.Whenever I'd play ball with the fam, in my mind I'd float. Without the confine of technique or regulation, shooting hoops was a freedom of sorts. I could just be in my own world. As I got older and started playing organized ball, the game became my peace.
NBA draft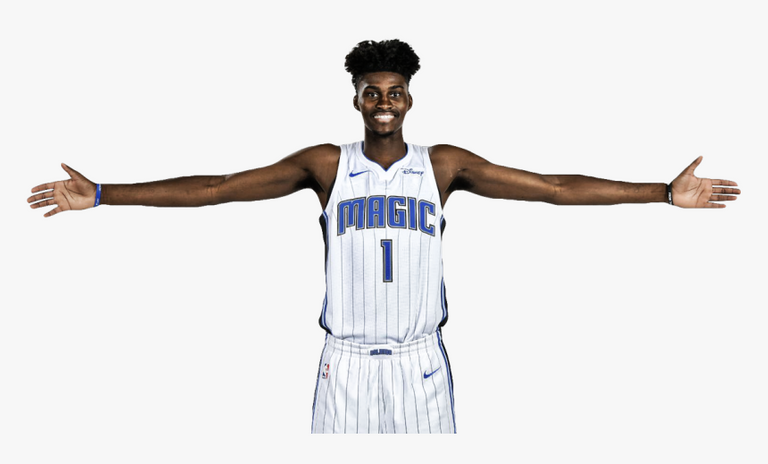 Source
In June 2017 Jonathan Isaac was drafted by the Orlando Magic with the sixth overall pick. In his rookie year, he was unlucky, as an early ankle sprain accused him to miss some time.

Source
Following his return, he was assigned to the Lakeland Magic, the Orlando Magic's NBA G League affiliate. In the 2018-19 season, Isaac was in the starting five of Orlando Magics. He was averaging 12 points, 6.9 rebounds, 1.4 assists, 1.6 steals, and 2.4 blocks per game!
Pre martial sex
Ιn september 2018 through his twitter account he raised his views on premarital relationships.
There should be more adults with education and authority addressing the youth on abstinence until marriage! Religious bias aside statistically speaking, sex before marriage is unsafe and has plagued our relationships, government, and sadly our innocent kids created and aborted.
In no way do I think abstinence only enforcement is beneficial! I feel that abstinence should be more verbalized by adults not only teachers as the ideal! and safe sex teaching necessary! Don't need religion to easily conclude that more teens having sex has not been a good thing
Never said it couldn't! If we want the best chance at a healthy body, relationship, and real commitment abstinence is ideal. I simply want that for kids religious or not! Teens handle the ramifications of sex not just being physical poorly (🙋🏾‍♂️) I want better for them
Black live matters movement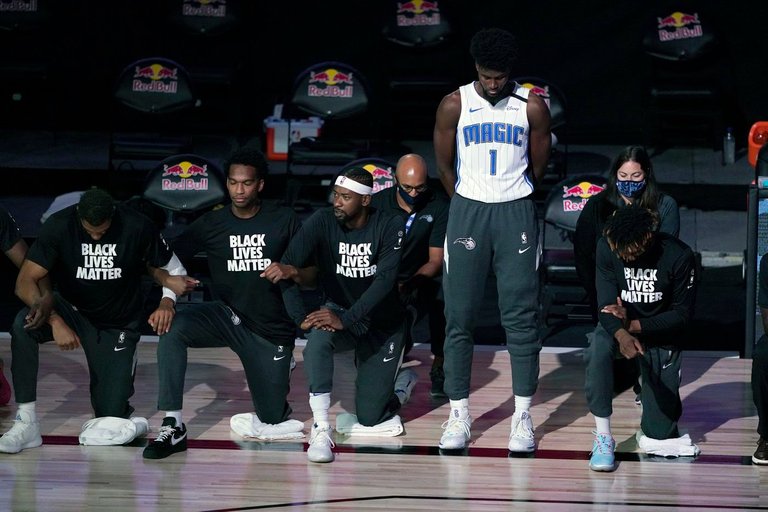 Source
In July 2020, after George Floyd's death and all the turmoil that erupted in American society, the polarization of things was at unprecedented levels. Violent unrest was also fueled by political expediencies. any moderate voices, immediately accusing them of being traitors, Trump supporters or white supremacists.
In the midst of this madness, the Black lives matter movement emerged, which pre-existed but gained tremendous impact and help from all over the world! In their global support, Jonathan Isaac was one of the few who dared to distance himself and be skeptical of the faces, tactics and results of the BLM movement(and as history has shown he was right)
More specifically, in the game Orlando Magic with the Brooklyn Nets in July 2020 and while it was informally established for athletes to kneel in the back of the national anthem, he was the only one who chose stood up and did not wear a T-shirt with the Blacks lives matter
When after the game he been asked about his stance, he answered:
"I believe that Black Lives Matter. A lot went into my decision, and part of it is, I thought that kneeling or wearing the Black Lives Matter t-shirt doesn't go hand-in-hand with supporting Black lives. So I felt like, just me personally, what is that I believe is taking on a stance that, I do believe that Black lives matter, but I just felt like it was a decision that I had to make, and I didn't feel like putting that shirt on and kneeling went hand in hand with supporting Black lives. I believe that for myself, my life has been supported by gospel, Jesus Christ, and everyone is made in the image of God and that we all forge through God's glory.
Each and every one of us do things that we shouldn't do and say things that we shouldn't say. We hate and dislike things that we shouldn't hate and dislike, and sometimes it gets to a point where we point fingers, whose evil is worse, and sometimes it comes down to whose evil is most visible. So I felt like I wanted to take a stand on, we all make mistakes, but I think that the gospel of Jesus Christ is that there's grace for us, and that Jesus came and died for our sins and that if we all come to an understanding of that and that God wants to have a relationship with us, that we can get kept all of the things in our world that our messed up, jacked up.
I think when you look around, racism isn't the only thing that plagues our society, that plagues our nation, that plagues our world, and I think coming together on that message that we want to get past not only racism but everything that plagues as us as a society, I feel like the answer to that is gospel."
Isaac undelines on his book, that he understood that there would be backlash to his decision.
"I obviously understood that this thing would kind of take a role of its own. I know people feel some type of way about the flag and it could just go in a different tangent. My purposes in it really had nothing to do with the flag. I knew it was going to be a tough decision. I knew it was going to be something that people had a lot of questions for me and questioned my heart, questioned my love, questioned my morality for not wearing the t-shirt or taking a knee."
Isaac was also one of the few members of the Magic not to feature a social justice message on the back of his jersey.
"Obviously there are things in our country that aren't right, people that aren't right and that goes for every single one of us, every single last one of us fall short of God's glory. I think that I just wanted to take that stance in saying that I believe Jesus is the answer, so I didn't think that wearing a message on the back of my jersey was the answer for me.
Isaac said about his stance hadn't anything to do with the anthem or the flag itself, but about his own beliefs. While standing during the anthem, Isaac said he was praying.
"America is the country I live in, i think that like any country, America has its issues, it has its problems. But I'm grateful for the freedoms here, and the freedom to play basketball and the freedom to do what it is I want to do, and the ability to protest, to not protest, to do what you want to do."
COVID-19 vaccination
In addition to the injuries he had to face and keep him out of action, Jonathan Isaac had another opponent, stronger and more insidious. In the midst of his pandemic, COVID-19 Jonathan Isaac had to fight for his beliefs and values. While most of us, phobic and submissive, followed the prompts for vaccination, Jonathan Isaac is one of the few players who was not vaccinated, resulting in his disqualification from playing for the Orlando Magic.
"I am not anti-vax, I'm not anti-medicine, I am not anti-science. I didn't come to my current stance by studying Black history or watching Donald Trump press conferences (as the story states). I have nothing but the utmost respect for every healthcare worker and person in Orlando and all across the world that have worked tirelessly to keep us safe. My mom has worked in healthcare for a really long time. I thank God and I'm grateful that I live in a society where vaccines are possible, and we can protect ourselves and have the means to protect ourselves.
"But with that being said, it is my belief that the vaccine status of every person should be their own choice. Completely up to them without bullying, without being pressured, without being forced into doing so. I'm not ashamed to say that I'm uncomfortable with taking the vaccine at this time. We're all different. We all come from different places. We've all had different experiences and hold dear to different beliefs. And what it is you do with your body when it comes to putting medicine in there should be your choice, free of the ridicule and the opinion of others."
Jonathan Isaac still remains true ti his beliefs, for example a few days ago when he asked again about vaccination, he answered
Viewing it, it seemed forced. It seemed that there was so much pressure in doing it, i don't see the wisdom in putting something into my body that's not going to stop me from getting the virus or transmitting it. That is why I decided to be the only player on my team to not get vaccinated."
His book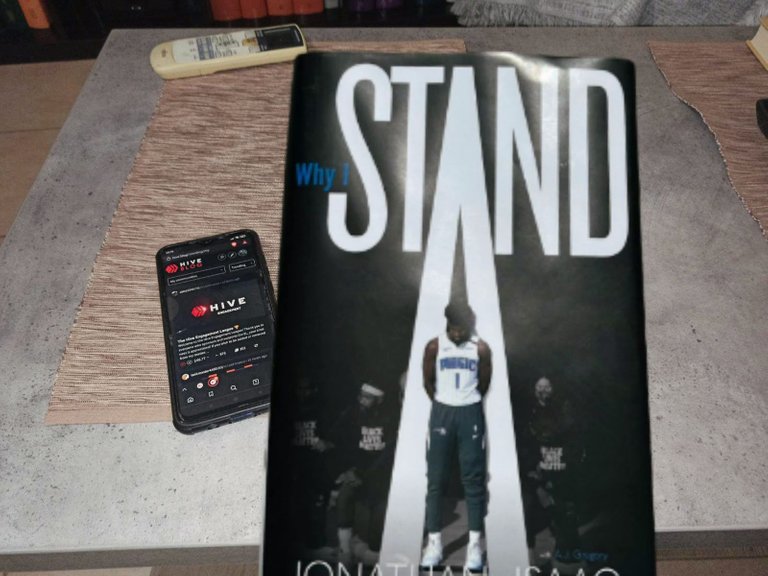 In my humble opinion, his book is characterized by honesty. has a clear way of quoting the facts without getting tired of a lot of chatter. I do not think that it's accidentally found in the falling positions in sales in many online bookstores. Something that you can confirm with a simple visit.
The fact that a young, successful athlete, with a lot of digits in his bank account, does not choose the usual path with erotic scandals, drugs, frivolous erotic relationships, cheap show the waste of wealth and many other bad things, but instead he is not afraid to communicate his opinion, as it is shaped by the education he received from parents, coaches, intellectuals shows a brave man! The lion's heart as well as the title of a chapter in his book.
Εither you disagree or you agree with Jonathan Isaac, you can ignore the fact that we are definitely dealing with a very important person. Definitely a very good athlete, but personally I am tired of our societies adopting strictly athletes,singers and actors as role models! Personally, for Jonathan Isaac, I consider that he is a great role model for our young people, as he is one of the most brilliant cases of young people who do not bother to leave behind the comfortable and fake lifestyle models!
---
If you're still here, thank you for taking the time to read my article! I hope you liked it and that I mentioned in the comments any mistakes and failures! For this article I used information and material from
https://www.orlandopinstripedpost.com/2020/7/31/21350233/orlando-magic-jonathan-isaac-national-anthem
https://syndication.bleacherreport.com/amp/2902572-magics-jonathan-isaac-explains-not-kneeling-for-anthem-or-wearing-blm-shirt.amp.html
https://www.si.com/nba/magic/news/orlando-jonathan-isaac-covid-vaccine-antivax-myrtle-beach-decision-reawaken-america-tour#gid=ci02a13ec2d0082661&pid=usatsi_13861831
https://www.cbssports.com/nba/news/magics-jonathan-isaac-explains-why-he-didnt-take-knee-or-wear-black-lives-matter-shirt-friday/
https://www.si.com/nba/magic/news/orlando-jonathan-isaac-covid-vaccine-antivax-myrtle-beach-decision-reawaken-america-tour#gid=ci02a13ec2d0082661&pid=usatsi_13861831
https://www.sbnation.com/nba/2016/2/5/10925126/5-star-recruit-jonathan-isaac-might-jump-from-high-school-to-nba
https://www.nba.com/magic/orlando-magic-jonathan-isaac-hold-up-the-lights-unity-walk-faith-20201108?amp=1
---
---