My Wednesday Walk | My Visit to My Uncle in the Hospital and The Miracles of God
Have a Blessed Day Hivers!!!
There are events in our lives that we do not expect to happen just like our illness but God allows it all because He wants something to happen not only for us but also for other people we meet.
So for this post, I will share with you my Visit to my Uncle in the Hospital and the unexpected Milagra to another Patient who was there, thank God!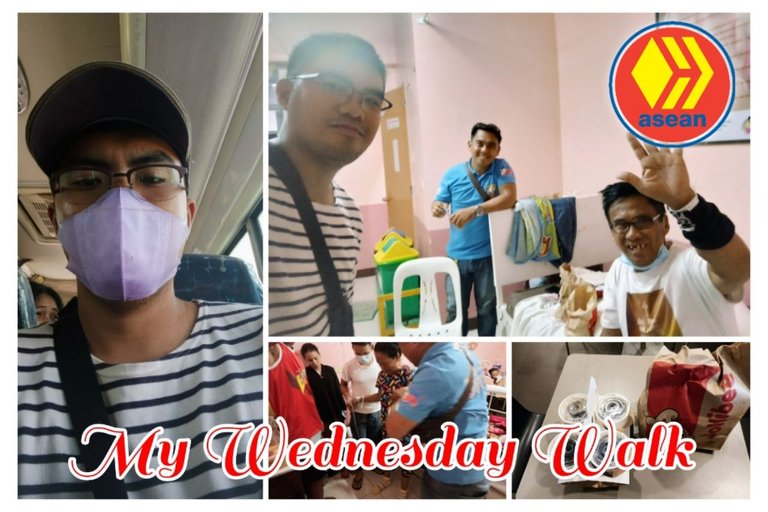 This all happened just last Wednesday when I went to the Hospital where my Uncle Jack Mild Stroke was administered. I was instructed to bring there a piece of paper they needed and other things they needed.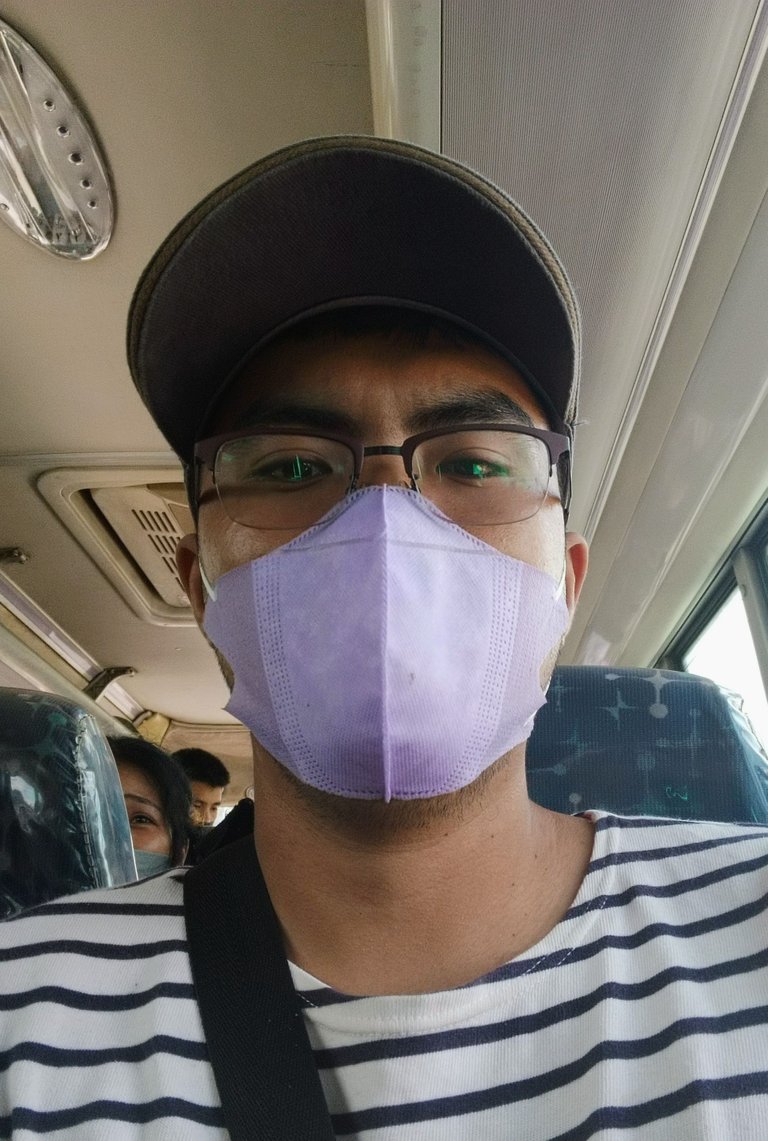 It was about 1:30 in the afternoon when I left for the Hospital at the Medical Center Iligan City because in the morning I had something important to do. On the way there I took a Bus and fortunately I was able to get on easily and the Bus I was on was not very crowded. The flight to Iligan takes about 30 minutes and the fare is only 34 Pesos.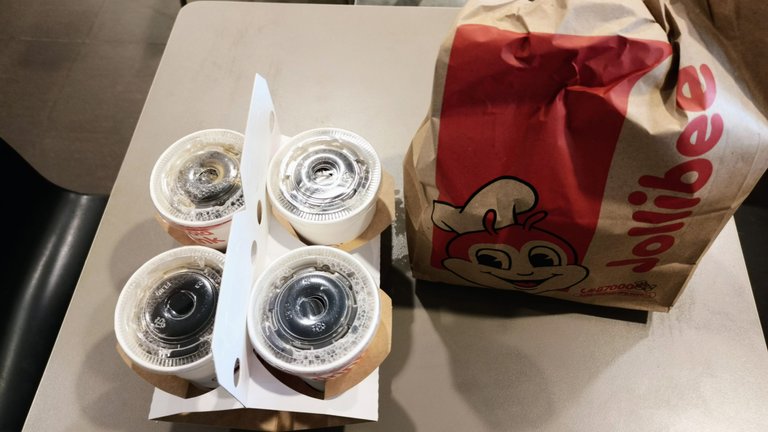 It was about 2:20 when I arrived in Iligan City but it was probably about 15 minutes before I got to the Hospital but before I went to the Hospital I first went to a Fast food Chain and it was Jollibee so somehow I can bring their snacks there. Exactly because I have Reward Points at a Crypto Exchange here in the Philippines where those points can be used for an eGift to get a discount or to pay for food purchases and I actually got a 300 Pesos eGift Voucher and I was able to buy more than 400 orders and since 300 pesos was missing, I just paid for the shortfall.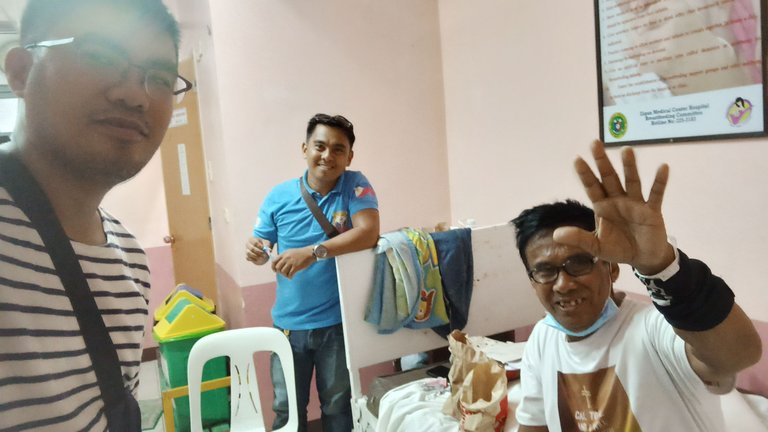 After I got my orders I also immediately left and went to the Hospital. The Hospital is a bit far so you really need to ride. It took about 10 minutes to get there and in a few moments I arrived as well.
When I arrived at the Hospital I immediately asked the guard if there was Edgar Jaudian, my uncle's name and he was there and he told me which room, and I immediately went there and when I entered I saw that my uncle was there and aunt along with my cousin and my Senior Pastor Ptr. Dodz. I am really thankful to God because I can see that my uncle looks better than when he was not taken to the Hospital. That's where I gave the snack I brought and we all shared it.
While I was there I saw that my uncle was fine and was told that he could get out and just have to pay the Hospital bills that were more than 30k Pesos, it was quite a big amount but God is very good in life. of my Uncle and the whole family because from more than 30k pesos they will only pay 3,500 more and this is because of the benefits that my uncle got from PhilHealth and PWD because he is also suffering from other feelings. Because of what happened, my aunt cried a lot because of the miracle that happened and because she was so happy, because she didn't expect it to happen because from 30k it became only 3,500 pesos. God is really very good.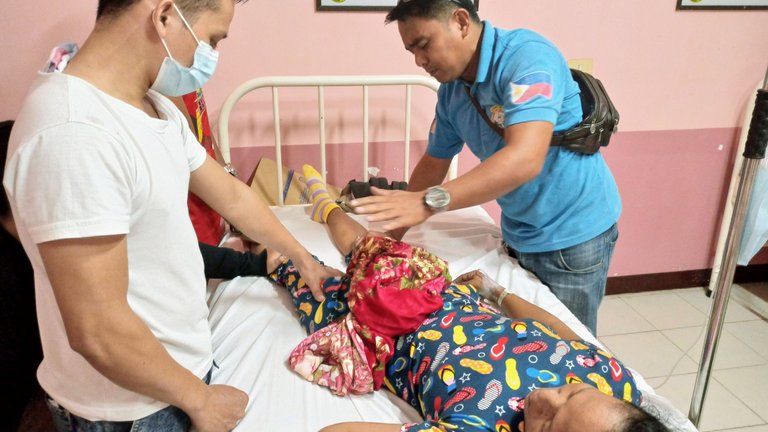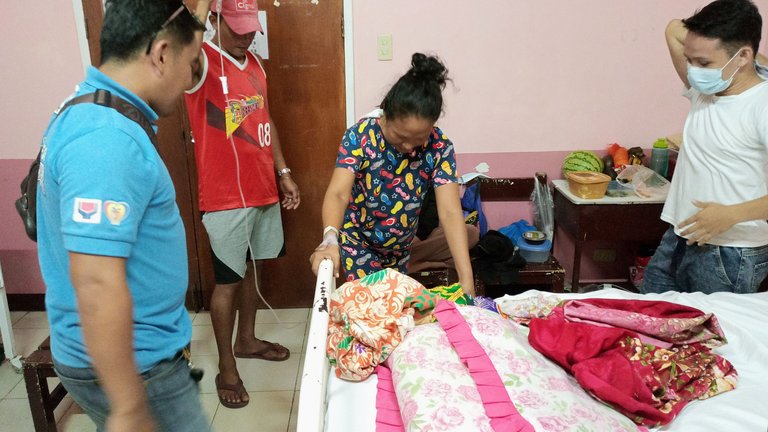 In a few moments, my aunt paid the rest of the bill and thanked God that the paperwork had been processed to get out. While we were waiting, my cousin Ptr first talked to the other patients and while that was happening there was a conviction from the Holy Spirit that it was necessary to be able to offer prayers to one of the patients who was having difficulty standing and walking. Her children even said that when they had to lift their Mother just to stand up and if she stood up she would fall down immediately because her legs were not strong, and they even said that she also had a mild stroke.
It was there that my cousin asked permission if I could pray for him and was told that the miracle would only happen if it was his belief and his belief in God that he would be healed. In a few moments we all prayed with my aunt as well as your patient and her children. After the prayer for divine healing, my cousin stood up the patient and praised and worshiped only for God because a miracle happened. The woman was able to stand and walk, she even said that she felt a little light and if at first her legs did not have strength, now she is quite strong and can stand and walk.
Even her children who were there were able to testify that this was the first time their mother had stood up since she could not get to their house until she was admitted to the Hospital. They were very thankful to God for this melancholy. All they have to do is keep the woman walking to exercise her legs and regain her full strength.
Here we can see that God was really very good not only to my uncle but also to the other patients there. God has really shown His goodness and power and nothing is impossible for Him. There is a purpose why we have the opportunity to be hospitalized like what happened to my uncle because there are miracles that happen not only to my uncle but also to other people. All this is because of God, praise and worship only for God.
To God be all the Glory! 😇
Your Friend
@godlovermel25
---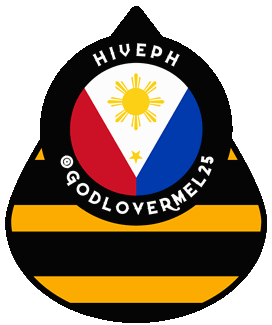 Thanks to @kennyroy for
the animated GIF.

---
---