Bowling scores improving but can I stick with it?
Anyone who does 10-pin bowling can probably relate to what I am about to talk about in that consistency is key and for most of us, finding actual consistency is extremely rare. More than a year ago I basically dominated the lanes that me and my friends go to on a weekly basis at least one time but then out of nowhere my ability just kind of packed up and left town.
I would have moments of brilliance every now and then even hitting a high of over 200 points in one game a few weeks ago. This was an outlier though and was not a reflection of how my game is actually coming along. I can say this because last week I bowled 3 games on the tournament day where I was actually in the running for the championship and bowled 2 of my worst games of 2022. I didn't even break 80 points in two of the three championship games. While I don't expect to bowl 200 ever, I do kind of expect to be able to break 100 and that was just pathetic.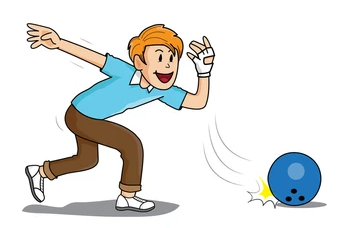 src
This is not a fair depiction of what I would have looked like on that day because I am quite certain I was not smiling nor did I have any sort of decent form. When you have good form you tend to knock some pins down and I was not doing that at all.
I would like to say that I had a good time but honestly, when your game is going bad and you think so much about what you are doing wrong and then try to correct it, this only makes you more upset when you end up over-correcting and doing the game wrong, but just further to the left or right of where you did it wrong on the toss before. In those situations I am certain it is at least in part a mind game and one that I am not capable of getting past, unfortunately. I got destroyed, embarrassed even, in the championship and it didn't even look like I belonged there. I took the loss on the chin and congratulated the guy who did win though.
This week I decided to go to the practice day that we have as an elective on tuesdays and for some reason or another I was back in top form. This makes very little sense to me because as far as I could tell I wasn't bowling any differently than I normally do.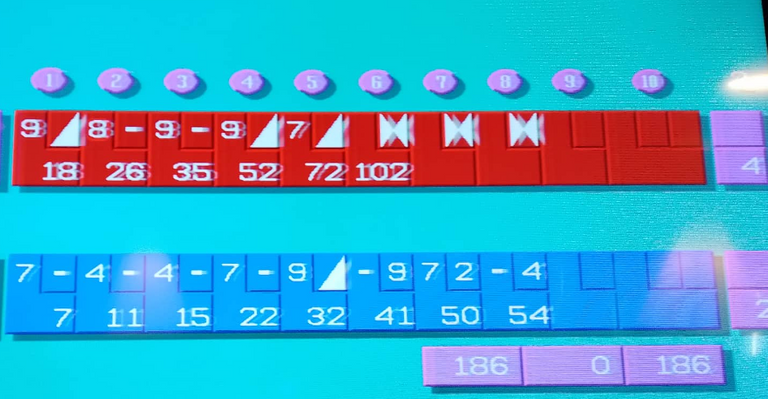 My apologies for the blurry picture but my phone isn't the highest quality of the bunch.
I started out like I normally do because since I bowl with a curve and the lanes we go to can NOT be depended on to have consistent oiling patterns, it is quite difficult for me to bowl at a single pin with high levels of accuracy. The ball looks like it is headed towards the target, only to swerve away from it to the left at the last second. This comes because the lanes are not oiled in the last 2 meters or so before the pins and they are not supposed to be. This is why when you watch bowling on TV the "hook" comes in so abruptly right at the end.
Well if you look later in my game it seems like I could do no wrong. I was at least in my little world, "on fire."
I ended up with a 167 which isn't great but it is more than double what I accomplished in 2 of my 3 games in the official championship the week before.
I think one reason why this improvement happened was because there was no pressure to perform. There was no award for getting the best score in this particular situation and I also started out with a lane all to myself so corrections were easier to make since it was far easier to remember exactly how I was standing and how I was rolling the ball since I had done so just a little while ago. I think this is probably paramount to people actually improving. It can prove quite difficult for me to ever improve upon my game when I have to wait for 2 or 3 other people to do their frames before I get to go again.
Tomorrow is a qualifier for the following week's championship as it is every week. Will I be able to hang onto this form that I currently have? I wouldn't bet on it because I have been there before and always have had it fall apart. Time will tell I guess and I still stick to my notion that a bad day of bowling is still better than a good day of almost anything else.
---
---