I bowl a near 200, the gobbler changes hands twice, and Nadi goes for her first post-surgery walk
It was a big week in the DUMBO world of bowling here in Da Nang. Our numbers have stayed at around 20 to 25 attendees each week and the enthusiasm doesn't show any signs of slowing down. In fact, we would be at around 30+ members a week if it weren't for the fact that 5 of our members are out of the country for visa and family purposes at the moment.
30 is around our maximum capacity because we don't like to put more than 3 people on a lane (it takes too long otherwise) and also there is a better-than-average chance that at least 1 of the lanes out of the 12 that they have available, is going to be broken.

They still reserve the entire bowling alley for us from 11am to around 1 every Thursday and this week there were two situations where locals came up to bowl and were turned away even though there were enough free lanes for them to bowl. I suppose this makes me feel a little bit bad but I do like that they give us priority. It makes sense though, because we do spend quite a bit of money here every week and are never late and never miss a week.
I had the high score out of anyone this week and like a dope, I didn't take a picture of it because I was too IN THE ZONE to bother doing so. I have in the past jinxed myself by stopping to take a photo but I'll use this as an example of how extremely difficult it is to break 200 in a game. Of the 10 frames I only had 1 frame where I didn't get a strike or a spare and in 4 of the frames I got all 10 pins down on the first ball. All of my follow-up balls after a spare were either a 9 or a 10.
The championship lane (there is only a 1 on 1 for the belt, and no scores on any of the other lanes have any impact on who the champ is) we had a very one-sided affair that resulted in the championship belt changing hands for a 2nd week in a row. I don't know what happened to the reigning champ, but he was just really out of form, while his opponent was really on point.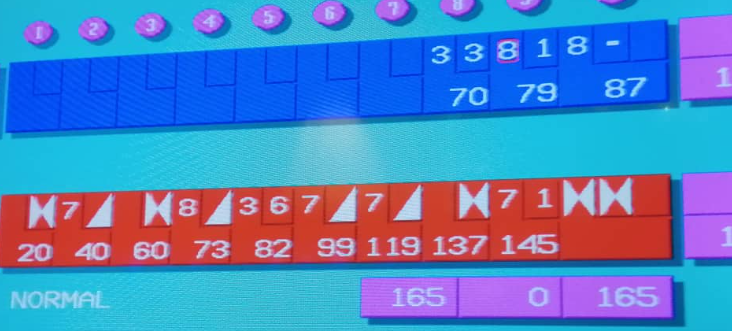 Here's another good example of how tough it is to break 200. This guy has only 2 open frames, a bunch of strikes and some pretty great pickups after spares yet his final score was well below 200. It hasn't calculated the final score because the lanes do this odd thing where it erases all of your frames once you bowl your last ball and I wanted to get the marks in the picture. He got just over 170 and easily won the belt.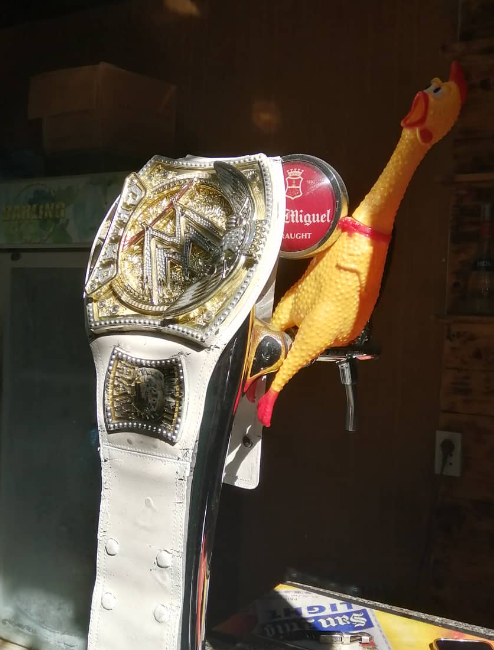 The same guy ended up walking away with the "gobbler" which is our award for getting 3 strikes in a row. In bowling this is called a "Turkey" and we just decided to make it as ridiculous as possible. This award changed hands a second time that day and this is always fun because it is the only award that we have that can possibly change hands during the middle of play.
In a strange twist of events, I didn't really feel much like drinking because our after-bowling venue was extremely hot and it is just blistering at the moment as we are in the middle of hot season. No amount of fans blowing around hot air can really compensate for this intense heat so I called it a day pretty early and instead went home to spend some time with Nadi. She had just gotten a haircut so I decided to take her on an evening walk of some substance. We have been staying away from physical exertion by doctor's orders but I figured we'd chance it tonight.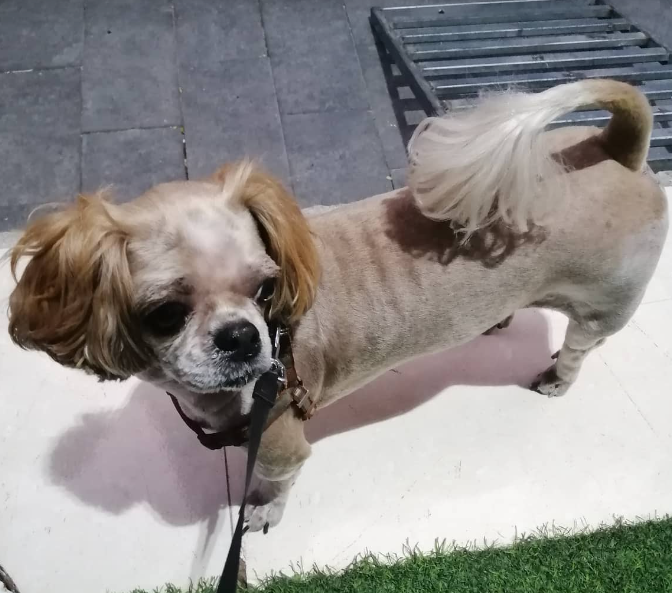 She looks kind of ridiculous, but it is too hot for long hair right now
She handled it well, really enjoyed it, and even ran into another dog along the way and things went find with that interaction even though my dog really doesn't like other dogs. It was perfect actually and we made it around 1km. This isn't very far for me but for a doggo with 4-inch long legs, this is a long way. We got some take away chicken rice and called it a day.
All in all it was a great day and Thursdays still remain mine and most of the other members' favorite day of the week as a consequence. I think it is probably one of Nadi's least favorite days because it is the one where I am out of the house the longest. It's only once a week.... she can handle it!
---
---