Hive F1, 2021 Contest - Race #16 - Istanbul, Turkey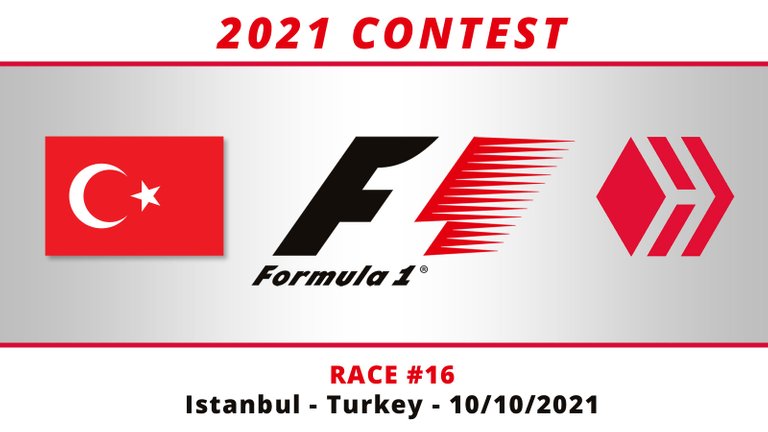 | RACE | Track | 1st | 2nd | 3rd |
| --- | --- | --- | --- | --- |
| 01 | Bahrain | Hamilton | Verstappen | Bottas |
| 02 | Italy (Imola) | Hamilton | Verstappen | Norris |
| 03 | Portugal | Hamilton | Verstappen | Bottas |
| 04 | Spain | Hamilton | Verstappen | Bottas |
| 05 | Monaco | Verstappen | Sainz | Norris |
| 06 | Azerbaijan | Perez | Vettel | Gasly |
| 07 | France | Verstappen | Hamilton | Perez |
| 08 | Austria | Verstappen | Hamilton | Bottas |
| 09 | Austria | Verstappen | Bottas | Norris |
| 10 | Great Britain | Hamilton | Leclerc | Bottas |
| 11 | Hungary | Ocon | Hamilton | Sainz |
| 12 | Belgium | Verstappen | Russell | Hamilton |
| 13 | Netherlands | Verstappen | Hamilton | Bottas |
| 14 | Italy (Monza) | Ricciardo | Norris | Bottas |
| 15 | Russia | Hamilton | Verstappen | Sainz |
| 16 | Turkey | - | - | - |
| 17 | Japan | - | - | - |


Gara #16 – Istanbul, Turchia
Un saluto a tutti,
dopo un weekend di pausa, si torna a correre. Andiamo in Turchia, sul circuito di Istanbul, pista con alcune caratteristiche simili a quello di Russia su cui si è corso la scorsa settimana. Abbastanza veloce, con lunghi rettilinei dove sfruttare la velocità, la scia e il DRS, e di conseguenza curve dove è possibile tentare sorpassi in frenata. Abbiamo già visto che in queste condizioni ormai le McLaren possono farsi valere contro Mercedes e RedBull. Nelle parti più tortuose invece le Ferrari hanno fatto vedere di aver recuperato parte del loro distacco dai primi in fatto di prestazioni. Anche stavolta quindi pronostico abbastanza aperto e sempre meno scontato. Sicuramente saremo tutti curiosi di vedere il nuovo spettacolo e chi vincerà.
L'ultima gara a Sochi è stata anch'essa interessante e avvincente, soprattutto per gli ultimi giri, in cui c'è stato un cambio repentino delle condizioni meteo e quindi delle posizioni in pista. Ottima partenza delle due Ferrari, con Sainz che prende la testa della corsa e ci resterà quasi fino a metà gara, e Leclerc che guadagna molte posizioni in partenza. Verstappen partendo anche lui dell'ultima fila, inizia la sua rimonta, sempre molteo veloce, ma senza strafare o commettere errori. Hamilton a centro classifica punta ad arrivare in fondo. Ottimo Norris, si ritroverà in testa alla gara dopo il primo giro di cambio gomme, e si appresta a vincere. Improvvisamente a pochi giri dalla fine inizia una forte pioggia, quindo Hamilton ha quasi raggiunto Norris in testa. Nuovo cambio gomme per alcuni piloti, che passano alle intermedie da pioggia. Norris e Leclerc rischiano nel mantenere le slick, compromettendo la loro gara e perdendo qualche posizione.
Risultato finale: vince Hamilton davanti a Verstappen che recupera tutte le posizioni fino alla seconda, terzo Sainz che riesce a mantenere la posizione sul podio.
Molti di voi già conoscono il funzionamento del nostro contest, mentre per i nuovi rimando al regolamento del concorso presente nel post della prima gara.
---
Per quanto riguarda il nostro concorso, più sotto potete vedere i risultati dell'ultima gara e la nostra classifica generale.
@c3r34lk1ll3r sempre in testa, ma @green77 sale al secondo posto grazie ai 3 punti guadagnati indovinando il vincitore. 6 concorrenti guadagnano un punto centrando il pilota al terzo posto, non portanto però ad altri movimenti in classifica.


Race #16 - Istanbul, Turkey
Hello everybody,
after a week of stop, we're back on track. Let's go to Turkey, on the Istanbul circuit, a track with some characteristics similar to the Russian one, on which we raced last week. Fast enough, with long straights where the drivers can take advantage of the speed, the slipstream and the DRS, and consequently curves where it is possible to overtake in braking. We have already seen that in these conditions the McLarens can now fight against Mercedes and RedBull. In the most tortuous parts, on the other hand, the Ferraris showed that they had recovered part of their gap from the leaders in terms of performance. Also this time, therefore, the forecast is quite open and less and less obvious. We all will be certainly curious to see the new show and who will win.
The last race in Sochi was interesting and exciting again, especially for the last few laps, where there was a sudden change in the weather conditions and therefore in the positions on the track. Excellent start for the two Ferraris, with Sainz taking the lead and staying there almost until halfway through the race, and Leclerc gaining many positions at the start. Verstappen also starting from the last row, begins his comeback, always very fast, but without forcing or making mistakes. Hamilton in the middle of the group aims to get to the head. Great Norris, he will find himself leading the race after the first tire change, and was preparing to win. Suddenly, a few laps from the end a heavy rain began, so Hamilton almost caught Norris in the lead. New tire change for some drivers, who switch to rain compound. Norris and Leclerc risk keeping the slicks, compromising their race and losing some positions.
Final result: Hamilton wins in front of Verstappen who recovers all the positions up to the second, third Sainz who manages to maintain the position on the podium.
Many of you already know how our contest works, while for the new ones I refer to the contest rules in the post of the first race.
---
As for our competition, below you can see the results of the last race and our general ranking.
@c3r34lk1ll3r always at the top, but @green77 climbs to second place thanks to the 3 points earned by guessing the winner. 6 players earn a point by hitting the driver in third place, but not leading to other movements in the general standing.


Race #15 results and general standings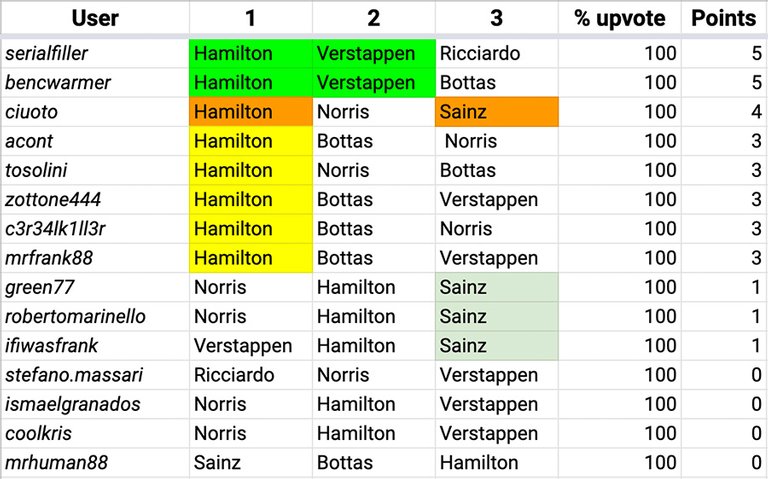 Official FIA Formula 1 Site
Official FIA Formula 1 Youtube Channel
---
Immagini CC0 con diritti di modifica
CC0 Image labeled for reuse with modification

---
---