Hive F1, 2021 Contest - Race #19 - Interlagos, Brazil
| RACE | Track | 1st | 2nd | 3rd |
| --- | --- | --- | --- | --- |
| 01 | Bahrain | Hamilton | Verstappen | Bottas |
| 02 | Italy (Imola) | Hamilton | Verstappen | Norris |
| 03 | Portugal | Hamilton | Verstappen | Bottas |
| 04 | Spain | Hamilton | Verstappen | Bottas |
| 05 | Monaco | Verstappen | Sainz | Norris |
| 06 | Azerbaijan | Perez | Vettel | Gasly |
| 07 | France | Verstappen | Hamilton | Perez |
| 08 | Austria | Verstappen | Hamilton | Bottas |
| 09 | Austria | Verstappen | Bottas | Norris |
| 10 | Great Britain | Hamilton | Leclerc | Bottas |
| 11 | Hungary | Ocon | Hamilton | Sainz |
| 12 | Belgium | Verstappen | Russell | Hamilton |
| 13 | Netherlands | Verstappen | Hamilton | Bottas |
| 14 | Italy (Monza) | Ricciardo | Norris | Bottas |
| 15 | Russia | Hamilton | Verstappen | Sainz |
| 16 | Turkey | Bottas | Verstappen | Perez |
| 17 | USA | Verstappen | Hamilton | Perez |
| 18 | Mexico | Verstappen | Hamilton | Perez |
| 19 | Brazil | - | - | - |
| 20 | Qatar | - | - | - |
| 21 | Saudi Arabia | - | - | - |
| 22 | Abu Dhabi | - | - | - |


Gara #19 – Interlagos, Brasile
Un saluto a tutti,
restiamo in continente americano anche questo weekend, con una gara sul classico circuito del Brasile, ad Interlagos. Non abbiamo piloti brasiliani quest'anno, ma in passato abbiamo avuto Barrichello, Massa e il grandissimo Senna, solo per citarne alcuni.
Qui i piloti si sono spesso giocati il mondiale, e in molti casi vinto già con qualche gara di anticipo, anche perchè in passato il calendario prevedeva meno gare, mentre adesso dopo Interlagos ne avremo altre tre, quindi campionato piloti ancora apertissimo.
Per quanto riguarda il tracciato, non ha bisogno di presentazioni, abbastanza tortuoso, con curve veloci, dove le Ferrari sono sempre andate bene, ma anche qui le favorite saranno RedBull e Mercedes.
Vedremo se Verstappen distanzierà Hamilton o quest'ultimo riuscirà ad avvicinarsi al suo avversario.
Restano sempre aperte le opzioni McLaren e il sempre ottimo Gasly.
Anche questa volta orario serale qui da noi in Europa, quindi attenti per l'inizio della gara e per il vostro pronostico!
Molti di voi già conoscono il funzionamento del nostro contest, mentre per i nuovi rimando al regolamento del concorso presente nel post della prima gara.
---
Per quanto riguarda il nostro concorso, più sotto potete vedere i risultati dell'ultima gara e la nostra classifica generale.
@c3r34lk1ll3r sempre in testa, ma nell'ultima gara non ha ottenuto punti, e quindi i suoi inseguitori si sono avvicinati, soprattutto @zottone444 e @acont, gli unici due ad aver indovinato il podio completo.
Altri concorrenti hanno fatto bene con l'ultima previsione, e infatti c'è stato qualche cambiamento. Perciò controllate a che punto siete della classifica!


Race #19 - Interlagos, Brazil
Hello everybody,
we are still on the American continent this weekend, with a race on the classic Brazilian circuit, at Interlagos. We don't have Brazilian riders this year, but in the past we have had Barrichello, Massa and the great Senna, just to name a few.
Here the drivers have often fought for the world championship, and in many cases won with a few races to spare, also because in the past the calendar included fewer races, while now after Interlagos we will have three more, so the drivers' championship is still very open.
Talking about the track, it needs no introduction: quite tortuous, with fast corners, where the Ferraris have always done well, but even here the favorites will be Red Bull and Mercedes.
Will Verstappen will distance Hamilton? Or will Hamilton be able to get closer?
The McLaren options and the always excellent Gasly are always open.
Again evening hours here in Europe this time, so watch out for the start of the race and your prediction!
Many of you already know how our contest works, while for the new ones I refer to the contest rules in the post of the first race.
---
As for our competition, below you can see the results of the last race and our general ranking.
@ c3r34lk1ll3r always in the lead, but in the last race he didn't score any points, and so his pursuers got close, especially @zottone444 and @acont, the only two to have guessed the complete podium. Other competitors have done well with the latest prediction, and indeed there has been some change. So check where you are on the leaderboard!


Race #18 results and general standings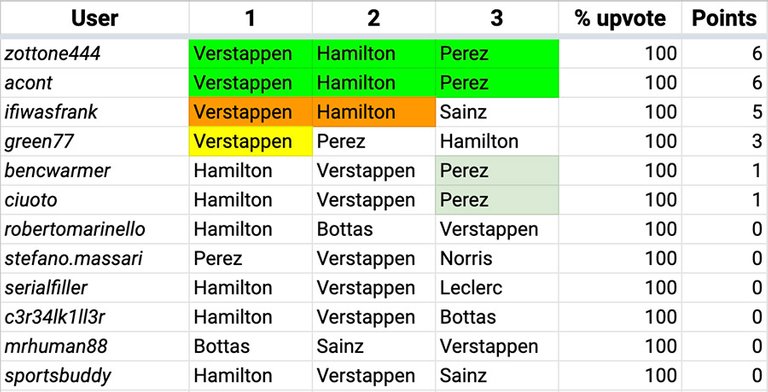 Official FIA Formula 1 Site
Official FIA Formula 1 Youtube Channel
---
Immagini CC0 con diritti di modifica
CC0 Image labeled for reuse with modification

---
---