Hive F1, 2021 Contest - Race #21 - Jeddah Corniche, Saudi Arabia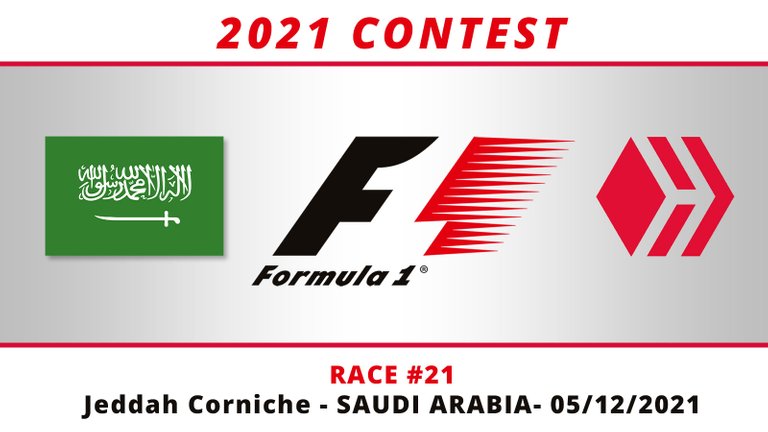 | RACE | Track | 1st | 2nd | 3rd |
| --- | --- | --- | --- | --- |
| 01 | Bahrain | Hamilton | Verstappen | Bottas |
| 02 | Italy (Imola) | Hamilton | Verstappen | Norris |
| 03 | Portugal | Hamilton | Verstappen | Bottas |
| 04 | Spain | Hamilton | Verstappen | Bottas |
| 05 | Monaco | Verstappen | Sainz | Norris |
| 06 | Azerbaijan | Perez | Vettel | Gasly |
| 07 | France | Verstappen | Hamilton | Perez |
| 08 | Austria | Verstappen | Hamilton | Bottas |
| 09 | Austria | Verstappen | Bottas | Norris |
| 10 | Great Britain | Hamilton | Leclerc | Bottas |
| 11 | Hungary | Ocon | Hamilton | Sainz |
| 12 | Belgium | Verstappen | Russell | Hamilton |
| 13 | Netherlands | Verstappen | Hamilton | Bottas |
| 14 | Italy (Monza) | Ricciardo | Norris | Bottas |
| 15 | Russia | Hamilton | Verstappen | Sainz |
| 16 | Turkey | Bottas | Verstappen | Perez |
| 17 | USA | Verstappen | Hamilton | Perez |
| 18 | Mexico | Verstappen | Hamilton | Perez |
| 19 | Brazil | Hamilton | Verstappen | Bottas |
| 20 | Qatar | Hamilton | Verstappen | Alonso |
| 21 | Saudi Arabia | - | - | - |
| 22 | Abu Dhabi | - | - | - |


Gara #21 – Jeddah Corniche, Arabia Saudita
Un saluto a tutti,
un weekend di pausa e si torna a correre, pen'ultima gara del campionato e con ancora il titolo piloti in palio, conteso tra Hamilton e Verstappen. Si corre in Arabia Saudita, su una pista nuova per tutti, cittadino semipermanente, e veloce, molto veloce. A detta di molti seconda solamente a Monza come velocità media di percorrenza. Da notare però che la pista è tortuosa e c'è un solo vero rettilineo, per il resto curve veloci. Prevediamo problemi di usura gomme e possibili scoppi/forature?
Staremo a Vedere chi la vincerà, e in queste condizioni ci vedo bene le veloci McLaren (già 1-2 a Monza appunto). RedBull e Mercedes saranno sempre le favorire, e lo spettacolo sarà sicuramente alto anche questa volta.
Molti di voi già conoscono il funzionamento del nostro contest, mentre per i nuovi rimando al regolamento del concorso presente nel post della prima gara.
---
Per quanto riguarda il nostro concorso, più sotto potete vedere i risultati dell'ultima gara e la nostra classifica generale.
@c3r34lk1ll3r sempre in testa, @green77 è stato raggiunto al secondo posto da @zottone444, seguono @acont e @ciuoto che possono ancora giocarsi le prime posizioni!
Altri concorrenti hanno fatto bene con l'ultima previsione, e infatti c'è stato qualche cambiamento. Perciò controllate a che punto siete della classifica!


Race #21 - Jeddah Corniche, Saudi Arabia
Hello everybody,
a weekend break and back to racing, the penultimate race of the championship and still with the drivers' title up for grabs, disputed between Hamilton and Verstappen. They run in Saudi Arabia, on a new track for everyone, a semi-permanent citizen one, and fast, very fast. According to many, second only to Monza for the average lap speed. However, it should be noted that the track is tortuous and there is only one real straight and fast corners for the rest. Do we foresee tire wear problems and possible blowouts / punctures?
We'll see who will win, and in these conditions I see the fast McLarens clearly (already 1-2 at Monza in fact). RedBull and Mercedes will always be the best, and the show is sure to be high this time too.
Many of you already know how our contest works, while for the new ones I refer to the contest rules in the post of the first race.
---
As for our competition, below you can see the results of the last race and our general ranking.
@c3r34lk1ll3r always in the lead, @green77 was reached in second place by @zottone444, followed by @acont and @ciuoto who can still play for the top positions!
Other competitors did well with the latest prediction, and indeed there has been some change. So check where you are on the leaderboard!


Race #20 results and general standings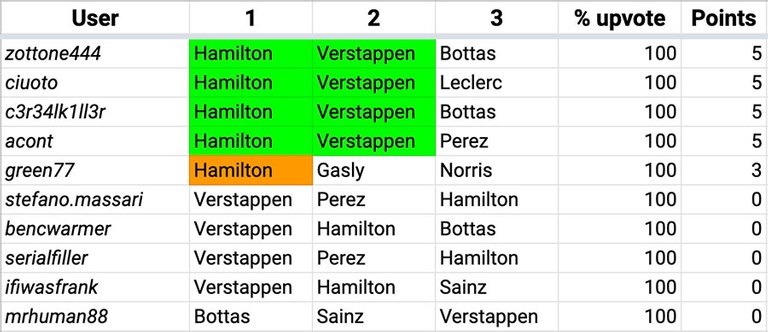 Official FIA Formula 1 Site
Official FIA Formula 1 Youtube Channel
---
Immagini CC0 con diritti di modifica
CC0 Image labeled for reuse with modification

---
---