Hive F1, 2022 Contest - Race #01 - Bahrain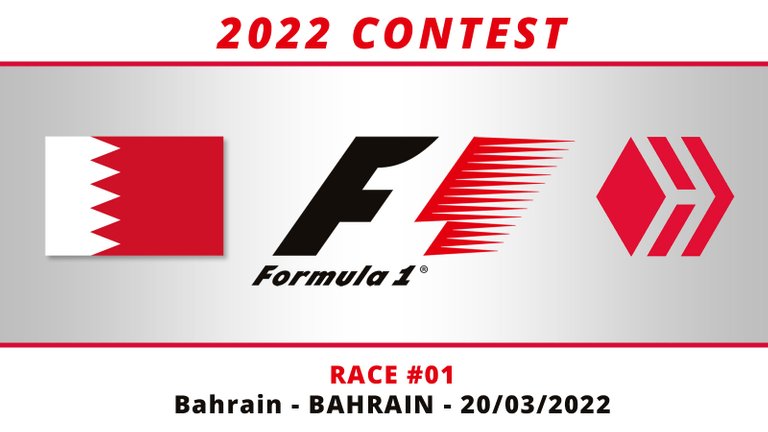 Gara #01 – Bahrain
Un caloroso bentornato a tutti,
nuova stagione per il nostro contest ormai famoso, legato al campionato mondiale di Formula 1. Si riparte con grandi novità: nuove vetture e qualche nuovo tracciato su cui correre.
Nell'ventualità non siate appassionati come noi, le vetture quest'anno sono cambiate rispetto alle passate stagioni, hanno prima di tutto ruote più grandi, ora con cerchio da 18" anzichè i classici da 13", le vetture hanno una nuova aerodinamica, essenzialmente per creare meno problemi di scia per le auto che seguono, ed avere di nuovo l'effetto suolo, caratteristica che torna dagli anni '80/'90. Con i sedili posti più in basso e le ruote più grandi, alcuni piloti hanno già fatto emergere problemi di visibilità laterale: difficile per loro, ma potrebbe portare ad un aumento di spettacolarità per noi spettatori.
Dalle prime prove che le squadre stanno già effettuando, sembra non siano emerse grandi differenze di prestazioni tra le vetture, ma solamente dopo la prima gara potremo fare le prime vere valutaizioni.
Prima gara che si terrà in Barhain, dove vi ricorderei l'ottima prestazione di Russell quando ha dovuto sostituire Hamilton sulla Mercedes (anche se per problemi tecnici non è riuscito poi a vincere).
Mercedes su cui da quest'anno correrà come pilota ufficiale!
Per la lista dei piloti e squadre vi rimando alla pagina ufficiale della Formula 1 che potete trovare in fondo a questo post.
Come sempre, vi aspetto numerosi anche quest'anno!
---
Regolamento del concorso
Dovete upvotare il post manualmente almeno al 90%.
Condivisione non obbligatoria, ma consigliata: ovviamente può aiutare a far aumentare il valore del post portando nuovi concorrenti (ditelo anche ai vostri amici).
I pronostici vengono raccolti commentando questo post, per i primi tre classificati, ad esempio 1. Vettel - 2. Hamilton - 3. Raikkonen.
Potete votare fino alla partenza della gara. L'orario verrà controllato anche attraverso GinaBot su Discord.
Vengono assegnati 3 punti a chi indovina il primo classificato, 2 al secondo, 1 al terzo. La somma dei punti, farà la classifica dei vincitori, che eventualmente si divideranno i premi: 30% - 20% - 10% del valore del post al momento del pagamento, dopo 7 giorni.
Ricordo i premi extra di fine campionato:
15% di quanto raccolto e non assegnato per il vincitore del nostro campionato Hive-F1;
15% (come sopra) per il vincitore del pronostico sul pilota campione del mondo di Formula 1. Il vincitore sarà chi esprimerà la preferenza corretta per primo, quindi meglio farlo durante i primi GP o quando iniziate a partecipare.
Aspetto i vostri commenti e pronostici.
In bocca al lupo a tutti!


Race #01 - Bahrain
A warm welcome back to all,
new season for our famous contest, linked to the Formula 1 world championship. We start again with great news: new cars and some new tracks to race on.
If you are not informed and passionate like us, the cars this year have changed compared to previous seasons, first of all they have larger wheels, now with an 18 "rim instead of the classic 13", the cars have a new aerodynamics, essentially to create less turbulence problems for the cars that follow, and to have the ground effect again, a feature that comes back from the 80s / 90s. With lower seats and larger wheels, some drivers have already highlighted lateral visibility problems: difficult for them, but it could lead to an increase in the show for us spectators.
From the first tests that the teams are already done, it seems that there are no great difference in performance between the cars, but only after the first race will we be able to make the first real evaluations.
First race to be held in Barhain, where I would remind you of Russell's excellent performance when he had to replace Hamilton on the Mercedes (even if he was unable to win due to technical problems).
Mercedes on which he will race as official driver from this year!
For the list of drivers and teams, I refer you to the official Formula 1 page that you can find at the bottom of this post.
As always, I look forward to seeing you again this year!
---
Rules of our contest
You have to manually upvote the post at least at 90%.
Sharing is not mandatory, but recommended: obviously it can help to increase the value of the post by bringing new competitors.
Predictions are collected commenting on this post, for the first three classified, for example 1. Vettel - 2. Hamilton - 3. Raikkonen.
You can vote until the start of the race. The timetable will also be controlled via GinaBot on Discord.
Who get the 1st position will raise 3 point, 2nd place 2 point, 3rd place 1 point. The sum of the points will make the ranking. The ones in the same position will divide the prizes: 30% - 20% - 10% of the final value of the post at the moment of the payment, after 7 days.
I remember the extra end of season prizes:
15% of the amount collected and not awarded for the winner of our Hive-F1 championship;
15% (as above) for the winner of the prediction on the World Champion Formula 1 driver. The winner will be who will express the correct preference first, so it's better to make your guess during the first races or when you start playing with us.
I'm waiting for your comments and your choices.
Gook luck to all!


General standing
| Position | Player | Points |
| --- | --- | --- |
| 00 | - | - |


Races Calendar 2022
| RACE | Track | 1st | 2nd | 3rd |
| --- | --- | --- | --- | --- |
| | | | | |
| 20 / 03 | | | | |
| R01 | Bahrain | - | - | - |
| 27 / 03 | | | | |
| R02 | Saudi Arabia | - | - | - |
| 10 / 04 | | | | |
| R03 | Australia | - | - | - |
| 24 / 04 | | | | |
| R04 | Italy - Imola | - | - | - |
| 08 / 05 | | | | |
| R05 | USA - Miami | - | - | - |
| 22 / 05 | | | | |
| R06 | Spain | - | - | - |
| 29 / 05 | | | | |
| R07 | Monaco | - | - | - |
| 12 / 06 | | | | |
| R08 | Azerbaijan | - | - | - |
| 19 / 06 | | | | |
| R09 | Canada | - | - | - |
| 03 / 07 | | | | |
| R10 | Great Britain | - | - | - |
| 10 / 07 | | | | |
| R11 | Austria | - | - | - |
| 24 / 07 | | | | |
| R12 | France | - | - | - |
| 31 / 07 | | | | |
| R13 | Hungary | - | - | - |
| 28 / 08 | | | | |
| R14 | Belgium | - | - | - |
| 04 / 09 | | | | |
| R15 | Netherlands | - | - | - |
| 11 / 09 | | | | |
| R16 | Italy - Monza | - | - | - |
| 02 / 10 | | | | |
| R7 | Singapore | - | - | - |
| 09 / 10 | | | | |
| R18 | Japan | - | - | - |
| 23 / 10 | | | | |
| R19 | USA - Austin | - | - | - |
| 30 / 10 | | | | |
| R20 | Mexico | - | - | - |
| 13 / 11 | | | | |
| R21 | Brazil | - | - | - |
| 20 / 11 | | | | |
| R22 | Abu Dhabi | - | - | - |




Official FIA Formula 1 Site
Official FIA Formula 1 Youtube Channel
---
Call for the Players
@robertomarinello, @zottone444, @stefano.massari, @catgio, @zipsardinia, @lokibalboa, @ciuoto, @blumela, @yocritico, @alfredolopez1980, @grof, @jonelescalona, @vicpics, @dexpartacus, @franz54, @nfelix92, @fuentesjo3006, @chipi17, @edgarf1979, @cmoljoe, @sportsjrfc2018, @bisec, @lucasantangelo, @carlood, @dianagomez, @pagliozzo, @lelluzzo, @antorchajohnny, @acont, @dernierdiaz, @deusjudo, @lolyfuentes, @salazarcag, @colon2018, @linterio, @jclark, @neo-wiza, @sljivanono, @justamoment, @lostprophet, @lovetaxi005, @hollywwod, @sevenoh-fiveoh, @barbadosso, @davidesimoncini, @serialfiller, @sukhothai, @perdomo56, @adimantong, @traveljack894, @stefanogabbo, @coccodema, @freestyle7, @massrado, @alequandro, @eagle71, @mrhuman88, @ifiwasfrank, @britandjosie, @cetyoung, @tosolini, @samubit, @vancouverpics, @samubit, @mauropi,@ifiwasfrank, @c3r34lk1ll3r, @bencwarmer, @siomara-2018, @sportsbuddy, @makeitreal95, @libertycrypto27, @ismaelgranados, @mrfrank88, @coolkris, @fraba, @stewie.wieno, @davidesimoncini and the others…
---
Immagini CC0 con diritti di modifica
CC0 Image labeled for reuse with modification
---
---