Hive F1, 2022 Contest - Race #03 - Melbourne, Australia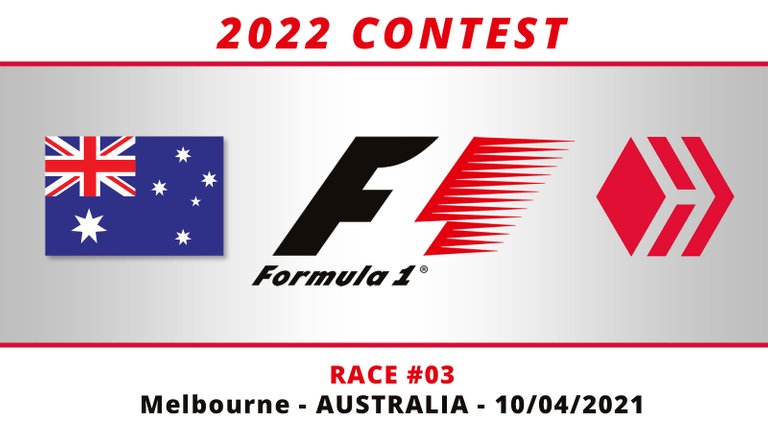 Gara #03 – Melbourne, Australia
Un saluto a tutti,
nuovo weekend di gare il prossimo, e saremo in Australia, sul circuito di Melbourne. Rispetto al solito, sono state effettuate un paio di modifiche su una chicane, che dovrebbero averlo reso un pò più veloce. E' un tracciato abbastanza veloce, pur non avendo altri grandi rettilinei a parte quello di partenza. Presenta molti punti dove i piloti potranno provare sorpassi in staccata, quest'anno molto probabili e possibili grazie alla possibilità di restare in scia alla vettura che precede.
Come già successo nelle prime due gare, lo spettacolo sarà assicurato, e sicuramente proseguità la lotta tra Ferrari e Redbull per la vittoria e le prime posizioni.
Anche se le prestazioni delle vetture di testa sono per alcuni versi simili, il reale vincitore alla fine di ogni gara è sempre imprevedibile!
Come sempre, ora andate e fate il vostro pronostico! 🏁
---
Molti di voi già conoscono il funzionamento del nostro contest, mentre per i nuovi rimando al regolamento del concorso presente nel post della prima gara.
---
Per quanto riguarda il nostro concorso, più sotto potete vedere i risultati dell'ultima gara e la nostra classifica generale.
Solamente @libertycrypto27 ha indovinato il podio completo, ma non avendo partiecipato alla prima gara, non bastano i suoi punti a superare @green77 in testa alla nostra classifica.
Altri concorrenti hanno indovinato varie posizioni sul podio, ma non tutti riescono però ad ottenere delle ricompense per questa gara.


Race #03 – Melbourne, Australia
Hello everybody,
new race weekend, and we will be in Australia, on the Melbourne circuit. Compared to the usual, a couple of changes were made on a chicane, which should have made it a little faster. It's a fairly fast track, despite not having any other great straights apart from the starting one. It has many points where the drivers will be able to try overtaking in braking sections, this year very likely and possible thanks to the possibility of staying in the wake of the car in front. As already happened in the first two races, the show will be assured, and certainly the fight between Ferrari and Redbull for the victory and the first positions will continue. Although the performance of the leading cars is in some ways similar, the real winner at the end of each race is always unpredictable!
As usual, now go and make your guess! 🏁
---
Many of you already know how our contest works, while for the new ones I refer to the contest rules in the post of the first race.
---
As for our competition, below you can see the results of the last race and our general ranking.
Only @libertycrypto27 guessed the full podium, but not having participated in the first race, his points are not enough to overcome @green77 at the top of our standings. Other competitors have guessed various positions on the podium, but not all of them manage to get rewards for this race.


Race #02 results and general standing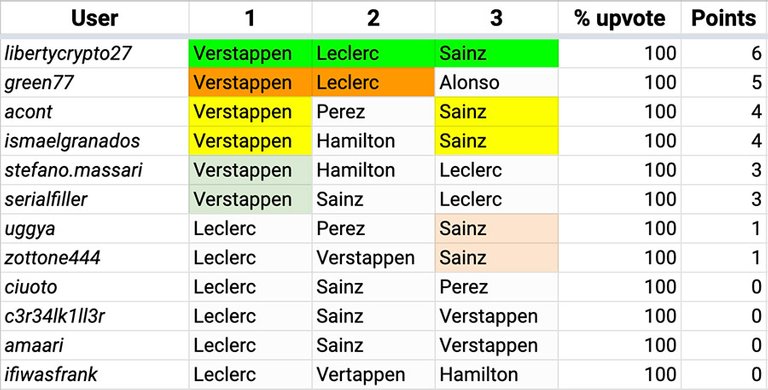 Races Calendar 2022
| RACE | Track | 1st | 2nd | 3rd |
| --- | --- | --- | --- | --- |
| | | | | |
| 20 / 03 | | | | |
| R01 | Bahrain | Leclerc | Sainz | Hamilton |
| 27 / 03 | | | | |
| R02 | Saudi Arabia | Verstappen | Leclerc | Sainz |
| 10 / 04 | | | | |
| R03 | Australia | - | - | - |
| 24 / 04 | | | | |
| R04 | Italy - Imola | - | - | - |
| 08 / 05 | | | | |
| R05 | USA - Miami | - | - | - |
| 22 / 05 | | | | |
| R06 | Spain | - | - | - |
| 29 / 05 | | | | |
| R07 | Monaco | - | - | - |
| 12 / 06 | | | | |
| R08 | Azerbaijan | - | - | - |
| 19 / 06 | | | | |
| R09 | Canada | - | - | - |
| 03 / 07 | | | | |
| R10 | Great Britain | - | - | - |
| 10 / 07 | | | | |
| R11 | Austria | - | - | - |
| 24 / 07 | | | | |
| R12 | France | - | - | - |
| 31 / 07 | | | | |
| R13 | Hungary | - | - | - |
| 28 / 08 | | | | |
| R14 | Belgium | - | - | - |
| 04 / 09 | | | | |
| R15 | Netherlands | - | - | - |
| 11 / 09 | | | | |
| R16 | Italy - Monza | - | - | - |
| 02 / 10 | | | | |
| R7 | Singapore | - | - | - |
| 09 / 10 | | | | |
| R18 | Japan | - | - | - |
| 23 / 10 | | | | |
| R19 | USA - Austin | - | - | - |
| 30 / 10 | | | | |
| R20 | Mexico | - | - | - |
| 13 / 11 | | | | |
| R21 | Brazil | - | - | - |
| 20 / 11 | | | | |
| R22 | Abu Dhabi | - | - | - |




Official FIA Formula 1 Site
Official FIA Formula 1 Youtube Channel
---
Call for the Players
@robertomarinello, @zottone444, @stefano.massari, @catgio, @zipsardinia, @lokibalboa, @ciuoto, @blumela, @yocritico, @alfredolopez1980, @grof, @jonelescalona, @vicpics, @dexpartacus, @franz54, @nfelix92, @fuentesjo3006, @chipi17, @edgarf1979, @cmoljoe, @sportsjrfc2018, @bisec, @lucasantangelo, @carlood, @dianagomez, @pagliozzo, @lelluzzo, @antorchajohnny, @acont, @dernierdiaz, @deusjudo, @lolyfuentes, @salazarcag, @colon2018, @linterio, @jclark, @neo-wiza, @sljivanono, @justamoment, @lostprophet, @lovetaxi005, @hollywwod, @sevenoh-fiveoh, @barbadosso, @davidesimoncini, @serialfiller, @sukhothai, @perdomo56, @adimantong, @traveljack894, @stefanogabbo, @coccodema, @freestyle7, @massrado, @alequandro, @eagle71, @mrhuman88, @ifiwasfrank, @britandjosie, @cetyoung, @tosolini, @samubit, @vancouverpics, @samubit, @mauropi,@ifiwasfrank, @c3r34lk1ll3r, @bencwarmer, @siomara-2018, @sportsbuddy, @makeitreal95, @libertycrypto27, @ismaelgranados, @mrfrank88, @coolkris, @fraba, @stewie.wieno, @davidesimoncini and the others…
---
Immagini CC0 con diritti di modifica
CC0 Image labeled for reuse with modification
---
---