Hive F1, 2022 Contest - Race #05 - Miami, USA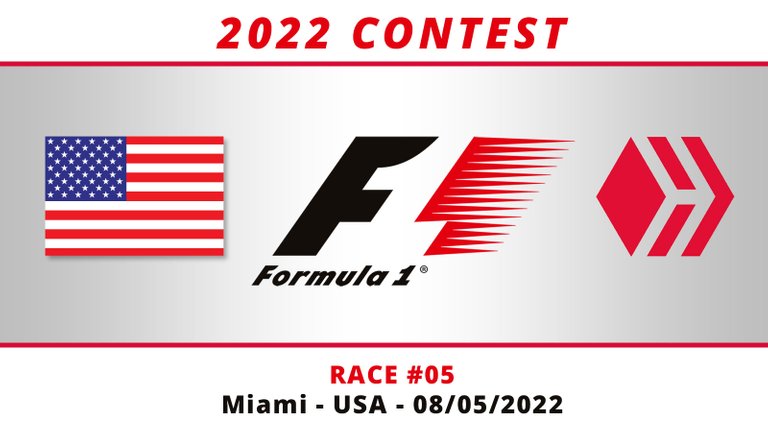 Gara #05 - Miami, USA
Un saluto a tutti,
archiviata la delusione per i tifosi ferraristi sulla pista di casa di Imola, dove Sainz è uscito alla seconda curva e Leclerc ha commesso un errore nel finale di gara perdendo la seconda posizione, questo weekend attraversiamo l'oceano e andiamo a Miami! Lo so, la canzone welcome to Miami viene in mente a tutti, ma siamo qui per vedere correre le auto di Formula Uno: auto nuove su una pista completamente nuova per tutti! Sarà spettacolo assicurato, anche se a me personalmente la pista non piace, anche se di sicuro molto veloce forse è un pò troppo anonima. A voi piace?
Passando alla gara, la Ferrari dovrebbe portare dell'evoluzione nell'ala posteriore per potersi garantire maggiore velocità nei rettilinei, ma le favorire restano le RedBull. Saranno veloci anche le McLaren, che continuano a migliorare, e le Alpine, che spesso hanno raggiunto le maggiori velocità in gara.
L'attesa è sempre tanta, e stavolta ci aggiungiamo la curiosità per il nuovo tracciato.
Ricordo poi che per noi in Europa, la gara si svolgerà di sera/notte, quindi attenzione per l'orario del vostro pronostico, e come sempre, buona fortuna a tutti! 🏁
---
Molti di voi già conoscono il funzionamento del nostro contest, mentre per i nuovi rimando al regolamento del concorso presente nel post della prima gara.
---
Per quanto riguarda il nostro concorso, più sotto potete vedere i risultati dell'ultima gara e la nostra classifica generale.
I migliori sono stati @serialfiller e @diavolo55, che hanno indovinato il vincitore, e @green77 che ha indovinato il terzo sul podio. Altri concorrenti hanno puntato sulle Ferrari, ma non sono stati ricompensati...


Race #05 - Miami, USA
Hello everybody,
After the disappointment for the Ferrari fans on the Imola home track, where Sainz went out at the second corner and Leclerc made a mistake in the final race by losing the second position, this weekend we cross the ocean and go to Miami! I know, the song welcome to Miami comes to everyone's mind, but we're here to see Formula One cars racing: new cars on a completely new track for everyone! It will be a guaranteed show, even if I personally don't like the track, even if it is certainly very fast, perhaps it is a little too anonymous. Do you like it?
Moving on to the race, Ferrari should bring some evolution in the rear wing to be able to guarantee greater speed on the straights, but the RedBulls remain the favor. The McLarens, which continue to improve, and the Alpines, which often reached the highest speeds in the race, will also be fast.
The wait is always great, and this time we add the curiosity for the new track.
I also remember that for us in Europe, the race will take place in the evening / night, so pay attention to the time of your prediction, and as always, good luck to everyone! 🏁
---
Many of you already know how our contest works, while for the new ones I refer to the contest rules in the post of the first race.
---
As for our competition, below you can see the results of the last race and our general ranking.
The best were @serialfiller and @diavolo55, who guessed the winner, and @green77 who guessed the third on the podium. Other competitors have bet on Ferraris, but have not been rewarded...


Race #04 results and general standing



Races Calendar 2022
| RACE | Track | 1st | 2nd | 3rd |
| --- | --- | --- | --- | --- |
| | | | | |
| 20 / 03 | | | | |
| R01 | Bahrain | Leclerc | Sainz | Hamilton |
| 27 / 03 | | | | |
| R02 | Saudi Arabia | Verstappen | Leclerc | Sainz |
| 10 / 04 | | | | |
| R03 | Australia | Leclerc | Perez | Russell |
| 24 / 04 | | | | |
| R04 | Italy - Imola | Verstappen | Perez | Norris |
| 08 / 05 | | | | |
| R05 | USA - Miami | - | - | - |
| 22 / 05 | | | | |
| R06 | Spain | - | - | - |
| 29 / 05 | | | | |
| R07 | Monaco | - | - | - |
| 12 / 06 | | | | |
| R08 | Azerbaijan | - | - | - |
| 19 / 06 | | | | |
| R09 | Canada | - | - | - |
| 03 / 07 | | | | |
| R10 | Great Britain | - | - | - |
| 10 / 07 | | | | |
| R11 | Austria | - | - | - |
| 24 / 07 | | | | |
| R12 | France | - | - | - |
| 31 / 07 | | | | |
| R13 | Hungary | - | - | - |
| 28 / 08 | | | | |
| R14 | Belgium | - | - | - |
| 04 / 09 | | | | |
| R15 | Netherlands | - | - | - |
| 11 / 09 | | | | |
| R16 | Italy - Monza | - | - | - |
| 02 / 10 | | | | |
| R7 | Singapore | - | - | - |
| 09 / 10 | | | | |
| R18 | Japan | - | - | - |
| 23 / 10 | | | | |
| R19 | USA - Austin | - | - | - |
| 30 / 10 | | | | |
| R20 | Mexico | - | - | - |
| 13 / 11 | | | | |
| R21 | Brazil | - | - | - |
| 20 / 11 | | | | |
| R22 | Abu Dhabi | - | - | - |




Official FIA Formula 1 Site
Official FIA Formula 1 Youtube Channel
---
Call for the Players
@robertomarinello, @zottone444, @stefano.massari, @catgio, @zipsardinia, @lokibalboa, @ciuoto, @blumela, @yocritico, @alfredolopez1980, @grof, @jonelescalona, @vicpics, @dexpartacus, @franz54, @nfelix92, @fuentesjo3006, @chipi17, @edgarf1979, @cmoljoe, @sportsjrfc2018, @bisec, @lucasantangelo, @carlood, @dianagomez, @pagliozzo, @lelluzzo, @antorchajohnny, @acont, @dernierdiaz, @deusjudo, @lolyfuentes, @salazarcag, @colon2018, @linterio, @jclark, @neo-wiza, @sljivanono, @justamoment, @lostprophet, @lovetaxi005, @hollywwod, @sevenoh-fiveoh, @barbadosso, @davidesimoncini, @serialfiller, @sukhothai, @perdomo56, @adimantong, @traveljack894, @stefanogabbo, @coccodema, @freestyle7, @massrado, @alequandro, @eagle71, @mrhuman88, @ifiwasfrank, @britandjosie, @cetyoung, @tosolini, @samubit, @vancouverpics, @samubit, @mauropi,@ifiwasfrank, @c3r34lk1ll3r, @bencwarmer, @siomara-2018, @sportsbuddy, @makeitreal95, @libertycrypto27, @ismaelgranados, @mrfrank88, @coolkris, @fraba, @stewie.wieno, @davidesimoncini and the others…
---
Immagini CC0 con diritti di modifica
CC0 Image labeled for reuse with modification
---
---