Hive F1, 2022 Contest - Race #09 - Montreal, Canada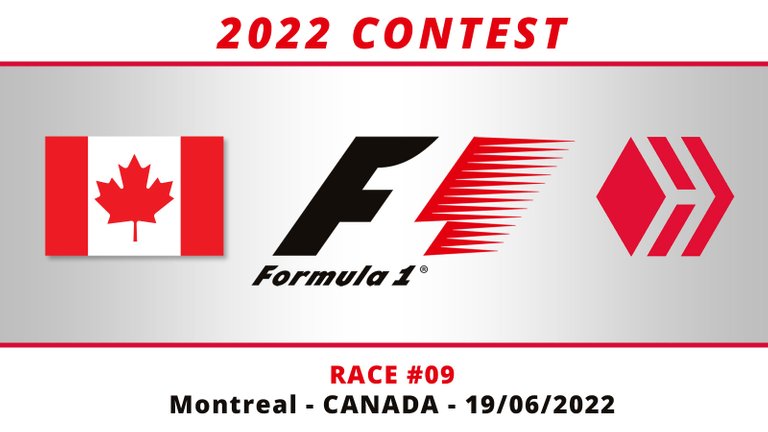 Gara #09 - Montreal, Canada
Un saluto a tutti,
il campionato non si ferma, e così anche il nostro contest. Prossimo weekend in Canada, sul classico circuito di Montreal, dove non si correva da qualche anno a causa della pandemia.
Il tracciato è ben conosciuto da tutti i piloti e teams, è molto veloce, tecnico in alcune parti e richiede molta attenzione per non uscire di pista o andare a sbattere. Inoltre anche l'affidabilità è necessaria, soprattutto in relazione ai freni. Affidabilità che sta venendo meno per la Ferrari, che ha subito un doppio ritiro nell'ultima gara a Baku.
Con queste premesse, i favori del pronostico andranno sicuramente in direzione RedBull, Ferrari ancora ad inseguire, ma ormai con qualche dubbio sulla tenuta della vettura per tutta la durata della gara. A seguire le Mercedes, non velocissime ma sempre affidabili, le McLaren, il sempre ottimo Gasly su AlphaTauri (in parte clone di RedBull) e ci metterei anche Vettel su Aston Martin.
Io sono di nuovo impaziente, visto che la pista mi è sempre piaciuta molto. E voi?
Ricordo che per il fuso orario, per noi in Europa la gara verrà disputata in serata, quindi attenzione all'orologio!
Aspetto i vostri pronostici e come sempre, buona fortuna a tutti! 🏁
---
Molti di voi già conoscono il funzionamento del nostro contest, mentre per i nuovi rimando al regolamento del concorso presente nel post della prima gara.
---
Per quanto riguarda il nostro concorso, più sotto potete vedere i risultati dell'ultima gara e la nostra classifica generale.
Altro colpo di scena per le Ferrari, che a Baku si sono dovute ritirare entrambe per problemi meccanici, e sicuramente darà fastidio anche di più a Leclerc che anche stavolta era in testa alla gara. La corsa per il campionato si fa sempre più difficile per lui.
Passando a noi, solamente @stefano.massari ha indovinato il podio completo e grazie ai 6 punti guadagnati riesce a salire in testa alla classifica. Anche @ciuoto e @serialfiller guadagnano qualche punto e salgono in classifica.


Race #09 - Montreal, Canada
Hello everybody,
the championship does not stop, and so does our contest. Next weekend in Canada, on the classic Montreal circuit, where the F1 hasn't raced for a few years due to the pandemic.
The track is well known by all the drivers and teams, it is very fast, technical in some parts and requires a lot of attention in order not to go off the track or crash. In addition, reliability is also necessary, especially in relation to the brakes. Reliability that is failing for Ferrari, which suffered a double retirement in the last race in Baku.
With these premises, the forecast will certainly go in the direction of Red Bull, Ferrari still chasing, but now with some doubts about the holding of the car for the entire duration of the race. Following the Mercedes, not very fast but always reliable, the McLarens, the always excellent Gasly on AlphaTauri (partly a clone of RedBull) and I would also put Vettel on Aston Martin.
I am impatient again, as I have always liked the track a lot. And you?
I remember that due to the time zone, for us in Europe the race will be held in the evening, so watch out for the clock!
I'll wait for your prediction, and as always, good luck to everyone! 🏁
---
Many of you already know how our contest works, while for the new ones I refer to the contest rules in the post of the first race.
---
As for our competition, below you can see the results of the last race and our general ranking.
Another twist for the Ferraris, which both had to retire in Baku due to mechanical problems, and it will certainly annoy Leclerc even more, who was leading the race again this time. The race for the championship is getting more and more difficult for him.
Moving on to us, only @stefano.massari has guessed the complete podium and thanks to the 6 points earned he manages to climb to the top of the standings. @ciuoto and @serialfiller also earn a few points and rise in the rankings.


Race #08 results and general standing



Races Calendar 2022
| RACE | Track | 1st | 2nd | 3rd |
| --- | --- | --- | --- | --- |
| | | | | |
| 20 / 03 | | | | |
| R01 | Bahrain | Leclerc | Sainz | Hamilton |
| 27 / 03 | | | | |
| R02 | Saudi Arabia | Verstappen | Leclerc | Sainz |
| 10 / 04 | | | | |
| R03 | Australia | Leclerc | Perez | Russell |
| 24 / 04 | | | | |
| R04 | Italy - Imola | Verstappen | Perez | Norris |
| 08 / 05 | | | | |
| R05 | USA - Miami | Verstappen | Leclerc | Sainz |
| 22 / 05 | | | | |
| R06 | Spain | Verstappen | Perez | Russell |
| 29 / 05 | | | | |
| R07 | Monaco | Perez | Sainz | Verstappen |
| 12 / 06 | | | | |
| R08 | Azerbaijan | - | - | - |
| 19 / 06 | | | | |
| R09 | Canada | - | - | - |
| 03 / 07 | | | | |
| R10 | Great Britain | - | - | - |
| 10 / 07 | | | | |
| R11 | Austria | - | - | - |
| 24 / 07 | | | | |
| R12 | France | - | - | - |
| 31 / 07 | | | | |
| R13 | Hungary | - | - | - |
| 28 / 08 | | | | |
| R14 | Belgium | - | - | - |
| 04 / 09 | | | | |
| R15 | Netherlands | - | - | - |
| 11 / 09 | | | | |
| R16 | Italy - Monza | - | - | - |
| 02 / 10 | | | | |
| R7 | Singapore | - | - | - |
| 09 / 10 | | | | |
| R18 | Japan | - | - | - |
| 23 / 10 | | | | |
| R19 | USA - Austin | - | - | - |
| 30 / 10 | | | | |
| R20 | Mexico | - | - | - |
| 13 / 11 | | | | |
| R21 | Brazil | - | - | - |
| 20 / 11 | | | | |
| R22 | Abu Dhabi | - | - | - |




Official FIA Formula 1 Site
Official FIA Formula 1 Youtube Channel
---
Call for the Players
@robertomarinello, @zottone444, @stefano.massari, @catgio, @zipsardinia, @lokibalboa, @ciuoto, @blumela, @yocritico, @alfredolopez1980, @grof, @jonelescalona, @vicpics, @dexpartacus, @franz54, @nfelix92, @fuentesjo3006, @chipi17, @edgarf1979, @cmoljoe, @sportsjrfc2018, @bisec, @lucasantangelo, @carlood, @dianagomez, @pagliozzo, @lelluzzo, @antorchajohnny, @acont, @dernierdiaz, @deusjudo, @lolyfuentes, @salazarcag, @colon2018, @linterio, @jclark, @neo-wiza, @sljivanono, @justamoment, @lostprophet, @lovetaxi005, @hollywwod, @barbadosso, @davidesimoncini, @serialfiller, @sukhothai, @perdomo56, @adimantong, @traveljack894, @stefanogabbo, @coccodema, @freestyle7, @massrado, @alequandro, @eagle71, @mrhuman88, @ifiwasfrank, @britandjosie, @cetyoung, @tosolini, @samubit, @vancouverpics, @samubit, @mauropi,@ifiwasfrank, @c3r34lk1ll3r, @bencwarmer, @siomara-2018, @sportsbuddy, @makeitreal95, @libertycrypto27, @ismaelgranados, @mrfrank88, @coolkris, @fraba, @stewie.wieno, @davidesimoncini and the others…
---
Immagini CC0 con diritti di modifica
CC0 Image labeled for reuse with modification
---
---