Hive F1, 2022 Contest - Race #16 - Monza, Italy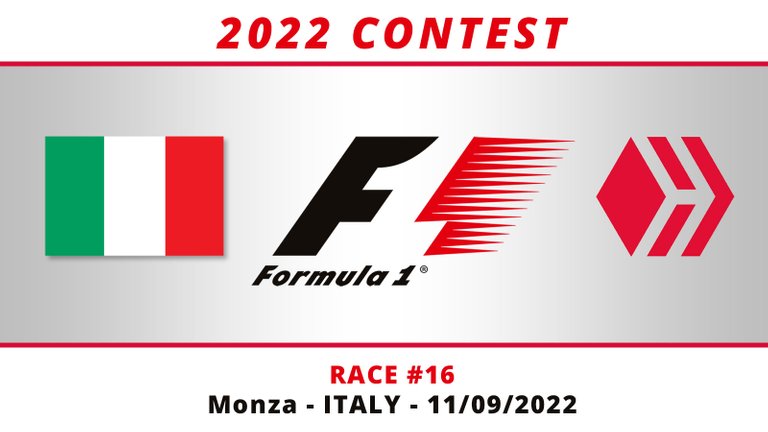 Gara #16 - Monza, Italia
Un saluto a tutti,
a settembre non ci si ferma un attimo, e siamo al terzo weekend consecutivo di gara. Finalmente siamo arrivati al GP di Monza, in Italia. Una delle gare che ovviamente i tifosi Ferrari aspettano tutto l'anno. Riusciranno qui a vincere? Pista velocissima, molti rettilinei veloci, punti per sorpassi in staccata alle chicane. Conta essere molto veloci ed essere "precisi" nei sorpassi, visto che in passato abbiamo visto toccate ed incidenti più o meno spettacolari, come quello dello scorso anno tra Verstappen ed Hamilton.
Molte vetture hanno una buona velocità massima, quindi il risultato potrebbe essere meno scontato che in altre piste, quindi pronostico non facile. Ma per dirlo dovremo aspettare almeno le qualifiche e vedere la griglia di partenza.
Aspetto i vostri pronostici e come sempre, buona fortuna a tutti! 🏁
---
Molti di voi già conoscono il funzionamento del nostro contest, mentre per i nuovi rimando al regolamento del concorso presente nel post della prima gara.
---
Per quanto riguarda il nostro concorso, più sotto potete vedere i risultati dell'ultima gara e la nostra classifica generale.
Risultato abbastanza scontato in Olanda, dove abbiamo visto l'ennesima vittoria di Verstappen, che ha dimostrato la sua superiorità. A sorpresa Russell secondo e Leclerc terzo, nonostante gli ormai "soliti" problemi in gara. Sainz retrocesso di 5 secondi per aver intralciato Alonso nell'uscita dai box dopo il pit-stop.
Tra di noi @green77 e @theey hanno indovinato il vincitore e il terzo pilota sul podio. mentre altri tre concorrenti solamente il vincitore. Classifica invariata, ma con un incremento di punti di alcuni partecipanti.


Race #16 - Monza, Italy
Hello everybody,
in September we don't stop for a moment, and we are at the third consecutive race weekend. We finally arrived at the Monza GP, in Italy. One of the races that Ferrari fans obviously expect all year round. Will they be able to win here? Very fast track, many fast straights, points for overtaking in braking at the chicanes. It counts to be very fast and to be "precise" in overtaking, given that in the past we have seen more or less spectacular touches and accidents, like last year's between Verstappen and Hamilton.
Many cars have a good top speed, so the result may be less obvious than on other tracks, so it's not an easy prediction. But to say that we will have to wait at least for qualifying and see the starting grid.
I'll wait for your prediction, and as always, good luck to everyone! 🏁
---
Many of you already know how our contest works, while for the new ones I refer to the contest rules in the post of the first race.
---
As for our competition, below you can see the results of the last race and our general ranking.
A fairly obvious result in the Netherlands, where we saw yet another victory for Verstappen, who proved his superiority. Surprisingly, Russell was second and Leclerc third, despite the now "usual" problems during the race. Sainz relegated by 5 seconds for hindering Alonso in exiting the pits.
Talking about us, @green77 and @theey guessed the winner and the third driver on the podium, while three other competitors only the winner. Ranking unchanged, but with an increase in points for some participants.


Race #15 results and general standing



Races Calendar 2022
| RACE | Track | 1st | 2nd | 3rd |
| --- | --- | --- | --- | --- |
| | | | | |
| 20 / 03 | | | | |
| R01 | Bahrain | Leclerc | Sainz | Hamilton |
| 27 / 03 | | | | |
| R02 | Saudi Arabia | Verstappen | Leclerc | Sainz |
| 10 / 04 | | | | |
| R03 | Australia | Leclerc | Perez | Russell |
| 24 / 04 | | | | |
| R04 | Italy - Imola | Verstappen | Perez | Norris |
| 08 / 05 | | | | |
| R05 | USA - Miami | Verstappen | Leclerc | Sainz |
| 22 / 05 | | | | |
| R06 | Spain | Verstappen | Perez | Russell |
| 29 / 05 | | | | |
| R07 | Monaco | Perez | Sainz | Verstappen |
| 12 / 06 | | | | |
| R08 | Azerbaijan | Verstappen | Perez | Russell |
| 19 / 06 | | | | |
| R09 | Canada | Verstappen | Sainz | Hamilton |
| 03 / 07 | | | | |
| R10 | Great Britain | Sainz | Perez | Hamilton |
| 10 / 07 | | | | |
| R11 | Austria | Leclerc | Verstappen | Hamilton |
| 24 / 07 | | | | |
| R12 | France | Verstappen | Hamilton | Russell |
| 31 / 07 | | | | |
| R13 | Hungary | Verstappen | Hamilton | Russell |
| 28 / 08 | | | | |
| R14 | Belgium | Verstappen | Perez | Sainz |
| 04 / 09 | | | | |
| R15 | Netherlands | Verstappen | Russell | Leclerc |
| 11 / 09 | | | | |
| R16 | Italy - Monza | - | - | - |
| 02 / 10 | | | | |
| R7 | Singapore | - | - | - |
| 09 / 10 | | | | |
| R18 | Japan | - | - | - |
| 23 / 10 | | | | |
| R19 | USA - Austin | - | - | - |
| 30 / 10 | | | | |
| R20 | Mexico | - | - | - |
| 13 / 11 | | | | |
| R21 | Brazil | - | - | - |
| 20 / 11 | | | | |
| R22 | Abu Dhabi | - | - | - |




Official FIA Formula 1 Site
Official FIA Formula 1 Youtube Channel
---
Call for the Players
@robertomarinello, @zottone444, @stefano.massari, @catgio, @zipsardinia, @lokibalboa, @ciuoto, @blumela, @yocritico, @alfredolopez1980, @grof, @jonelescalona, @vicpics, @dexpartacus, @franz54, @nfelix92, @fuentesjo3006, @chipi17, @edgarf1979, @cmoljoe, @sportsjrfc2018, @bisec, @lucasantangelo, @carlood, @dianagomez, @pagliozzo, @lelluzzo, @antorchajohnny, @acont, @dernierdiaz, @deusjudo, @lolyfuentes, @salazarcag, @colon2018, @linterio, @jclark, @neo-wiza, @sljivanono, @justamoment, @lostprophet, @lovetaxi005, @hollywwod, @barbadosso, @davidesimoncini, @serialfiller, @sukhothai, @perdomo56, @adimantong, @traveljack894, @stefanogabbo, @coccodema, @freestyle7, @massrado, @alequandro, @eagle71, @mrhuman88, @ifiwasfrank, @britandjosie, @cetyoung, @tosolini, @samubit, @vancouverpics, @samubit, @mauropi,@ifiwasfrank, @c3r34lk1ll3r, @bencwarmer, @siomara-2018, @sportsbuddy, @makeitreal95, @libertycrypto27, @ismaelgranados, @mrfrank88, @coolkris, @fraba, @stewie.wieno, @davidesimoncini and the others…
---
Immagini CC0 con diritti di modifica
CC0 Image labeled for reuse with modification
---
---