Hive F1, 2022 Contest - Race #18 - Suzuka, Japan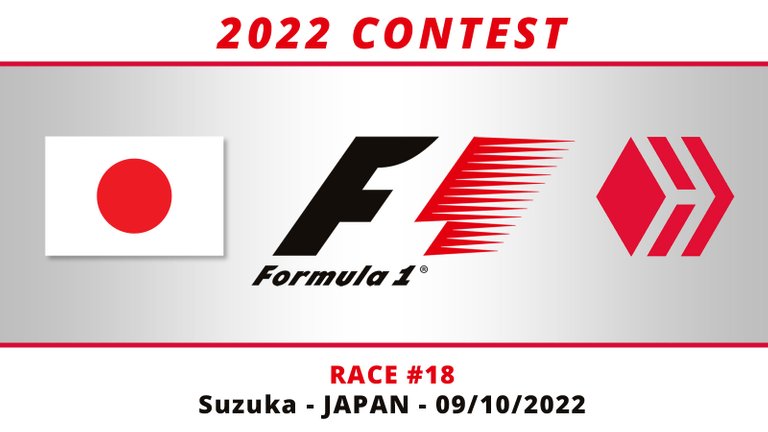 Gara #18 - Suzuka, Giappone
Un saluto a tutti,
restiamo in Asia, e dopo il Gran Premio di Singapore andiamo in Giappone per una delle "classiche" gare. Circuito di Suzuka, che non ha bisogno di presentazioni, lo conosciamo tutti bene (è anche presente in molti giochi/simulatori di guida). Tracciato abbastanza corto, tortuoso, e l'unico di tutto il campionato che ha un incrocio sopraelevato della pista. Qui le Ferrari hanno sempre fatto molto bene, ma quest'anno come abbiamo visto le RedBull sono davanti a tutti. Staremo a vedere inoltre se qui le Mercedes faranno bene, e anche le McLaren con i nuovi aggiornamenti alle fiancate. Voi che ne dite?
Attenzione all'orario di partenza, che essendo in Giappone, per noi in Europa sarà al mattino presto della domenica.
Aspetto i vostri pronostici e come sempre, buona fortuna a tutti! 🏁
---
Molti di voi già conoscono il funzionamento del nostro contest, mentre per i nuovi rimando al regolamento del concorso presente nel post della prima gara.
---
Per quanto riguarda il nostro concorso, più sotto potete vedere i risultati dell'ultima gara e la nostra classifica generale.
Gara strana a Singapore: il bagnato ha sconvolto un pò la gara, con qualche lieve incidente che ha però fatto si che entrasse la Safety Car in più di un'occasione; Verstappen che partiva a centro griglia e nessuno si aspettava una vittoria di Perez.
Così tra di noi @acont e @uggya indovinano solamente Leclerc al secondo posto e altri quattro concorrenti Sainz al terzo posto.
Classifica invariata nelle posizioni.


Race #18 - Suzuka, Japan
Hello everybody,
we stay in Asia, and after the Singapore Grand Prix we go to Japan for one of the "classic" races. Suzuka circuit, which needs no introduction, we all know it well (it is also present in many driving games / simulators). Fairly short, winding track, and the only one in the whole championship that has an elevated intersection of the track. Here the Ferraris have always done very well, but this year, as we have seen, the Red Bulls are ahead of everyone. We will also see if the Mercedes do well here, and also the McLarens with the new updates to the sides. What do you think about it?
Pay attention to the departure time, which being in Japan, for us in Europe will be early in the morning on Sunday.
I'll wait for your prediction, and as always, good luck to everyone! 🏁
---
Many of you already know how our contest works, while for the new ones I refer to the contest rules in the post of the first race.
---
As for our competition, below you can see the results of the last race and our general ranking.
Strange race in Singapore: the wet weather upset the race a bit, with some minor incidents which however caused the Safety Car to enter on more than one occasion; Verstappen who started in the middle of the grid and nobody expected Perez to win.
So between us @acont and @uggya only guess Leclerc in second place and four other Sainz competitors in third place.
Unchanged ranking in positions.


Race #17 results and general standing



Races Calendar 2022
| RACE | Track | 1st | 2nd | 3rd |
| --- | --- | --- | --- | --- |
| | | | | |
| 20 / 03 | | | | |
| R01 | Bahrain | Leclerc | Sainz | Hamilton |
| 27 / 03 | | | | |
| R02 | Saudi Arabia | Verstappen | Leclerc | Sainz |
| 10 / 04 | | | | |
| R03 | Australia | Leclerc | Perez | Russell |
| 24 / 04 | | | | |
| R04 | Italy - Imola | Verstappen | Perez | Norris |
| 08 / 05 | | | | |
| R05 | USA - Miami | Verstappen | Leclerc | Sainz |
| 22 / 05 | | | | |
| R06 | Spain | Verstappen | Perez | Russell |
| 29 / 05 | | | | |
| R07 | Monaco | Perez | Sainz | Verstappen |
| 12 / 06 | | | | |
| R08 | Azerbaijan | Verstappen | Perez | Russell |
| 19 / 06 | | | | |
| R09 | Canada | Verstappen | Sainz | Hamilton |
| 03 / 07 | | | | |
| R10 | Great Britain | Sainz | Perez | Hamilton |
| 10 / 07 | | | | |
| R11 | Austria | Leclerc | Verstappen | Hamilton |
| 24 / 07 | | | | |
| R12 | France | Verstappen | Hamilton | Russell |
| 31 / 07 | | | | |
| R13 | Hungary | Verstappen | Hamilton | Russell |
| 28 / 08 | | | | |
| R14 | Belgium | Verstappen | Perez | Sainz |
| 04 / 09 | | | | |
| R15 | Netherlands | Verstappen | Russell | Leclerc |
| 11 / 09 | | | | |
| R16 | Italy - Monza | Verstappen | Leclerc | Russell |
| 02 / 10 | | | | |
| R7 | Singapore | Perez | Leclerc | Sainz |
| 09 / 10 | | | | |
| R18 | Japan | - | - | - |
| 23 / 10 | | | | |
| R19 | USA - Austin | - | - | - |
| 30 / 10 | | | | |
| R20 | Mexico | - | - | - |
| 13 / 11 | | | | |
| R21 | Brazil | - | - | - |
| 20 / 11 | | | | |
| R22 | Abu Dhabi | - | - | - |




Official FIA Formula 1 Site
Official FIA Formula 1 Youtube Channel
---
Call for the Players
@robertomarinello, @zottone444, @stefano.massari, @catgio, @zipsardinia, @lokibalboa, @ciuoto, @blumela, @yocritico, @alfredolopez1980, @grof, @jonelescalona, @vicpics, @dexpartacus, @franz54, @nfelix92, @fuentesjo3006, @chipi17, @edgarf1979, @cmoljoe, @sportsjrfc2018, @bisec, @lucasantangelo, @carlood, @dianagomez, @pagliozzo, @lelluzzo, @antorchajohnny, @acont, @dernierdiaz, @deusjudo, @lolyfuentes, @salazarcag, @colon2018, @linterio, @jclark, @neo-wiza, @sljivanono, @justamoment, @lostprophet, @lovetaxi005, @hollywwod, @barbadosso, @davidesimoncini, @serialfiller, @sukhothai, @perdomo56, @adimantong, @traveljack894, @stefanogabbo, @coccodema, @freestyle7, @massrado, @alequandro, @eagle71, @mrhuman88, @ifiwasfrank, @britandjosie, @cetyoung, @tosolini, @samubit, @vancouverpics, @samubit, @mauropi,@ifiwasfrank, @c3r34lk1ll3r, @bencwarmer, @siomara-2018, @sportsbuddy, @makeitreal95, @libertycrypto27, @ismaelgranados, @mrfrank88, @coolkris, @fraba, @stewie.wieno, @davidesimoncini and the others…
---
Immagini CC0 con diritti di modifica
CC0 Image labeled for reuse with modification
---
---