Hive F1, 2022 Contest - Race #22 - Abu Dhabi, UAE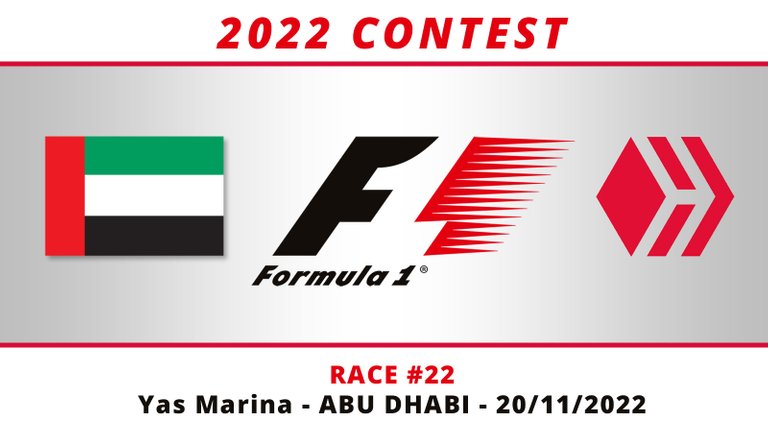 Gara #22 - Abu Dhabi, Emirati Arabi
Un saluto a tutti,
Eh si, siamo giunti alla fine anche quest'anno. Ultima gara, Emirati Arabi, Abu Dhabi. Sul bel circuito di Yes Marina, nella zona del porto si assegneranno gli ultimi punti, che serviranno a Perez o Leclerc per contendersi il secondo posto nel campionato. Con le Mercedes tornate competitive, sarà sicuramente una bella gara, anche grazie al circuito, spettacolare e veloce. Si partirà al tramonto e la gara finirà con il buio.
Anche stavolta pronostico molto difficile, potrebbero essere in tanti a contendersi la vittoria.
Per il resto… si pensa già ovviamente al prossimo anno!
Aspetto i vostri pronostici e come sempre, buona fortuna a tutti! 🏁
---
Molti di voi già conoscono il funzionamento del nostro contest, mentre per i nuovi rimando al regolamento del concorso presente nel post della prima gara.
---
Per quanto riguarda il nostro concorso, più sotto potete vedere i risultati dell'ultima gara e la nostra classifica generale.
Riguardo al nostro concorso, solamente @uggya ha indovinato il vincitore, @sportsbuddy il secondo posto, @zottone444 e @green77 Sainz al terzo. Con i punti così conquistati, @stefano.massari e @green77 si trovano appaiati al secondo posto. Anche nel nostro caso saremo li a giocarci la seconda posizione della classifica!


Race #22 - Abu Dhabi, UAE
Hello everybody,
Oh yes, we have come to an end again this year. Last race, United Arab Emirates, Abu Dhabi. On the beautiful Yes Marina circuit, in the port area, the last points will be awarded, which will serve to Perez or Leclerc to contend for second place in the championship. With the Mercedes competitive again, it will certainly be a good race, also thanks to the spectacular and fast circuit. We will start at sunset and the race will end in the dark.
Even this time it's a very difficult prediction, there could be many contending for victory.
For the rest… obviously we are already thinking about next year!
I'll wait for your prediction, and as always, good luck to everyone! 🏁
---
Many of you already know how our contest works, while for the new ones I refer to the contest rules in the post of the first race.
---
As for our competition, below you can see the results of the last race and our general ranking.
The result was quite obvious for the winning driver, less so for the other positions. Only @c3r34lk1ll3r guessed all the drivers, followed by @ciuoto who hit the first two and @green77 the first and third. The top of the table is always further away for the second and third, and @c3r34lk1ll3r, badly, could at most equalize and be joined by @stefano.massari who is currently in second place, even if it is a rather remote possibility ( but not impossible).


Race #21 results and general standing



Races Calendar 2022
| RACE | Track | 1st | 2nd | 3rd |
| --- | --- | --- | --- | --- |
| | | | | |
| 20 / 03 | | | | |
| R01 | Bahrain | Leclerc | Sainz | Hamilton |
| 27 / 03 | | | | |
| R02 | Saudi Arabia | Verstappen | Leclerc | Sainz |
| 10 / 04 | | | | |
| R03 | Australia | Leclerc | Perez | Russell |
| 24 / 04 | | | | |
| R04 | Italy - Imola | Verstappen | Perez | Norris |
| 08 / 05 | | | | |
| R05 | USA - Miami | Verstappen | Leclerc | Sainz |
| 22 / 05 | | | | |
| R06 | Spain | Verstappen | Perez | Russell |
| 29 / 05 | | | | |
| R07 | Monaco | Perez | Sainz | Verstappen |
| 12 / 06 | | | | |
| R08 | Azerbaijan | Verstappen | Perez | Russell |
| 19 / 06 | | | | |
| R09 | Canada | Verstappen | Sainz | Hamilton |
| 03 / 07 | | | | |
| R10 | Great Britain | Sainz | Perez | Hamilton |
| 10 / 07 | | | | |
| R11 | Austria | Leclerc | Verstappen | Hamilton |
| 24 / 07 | | | | |
| R12 | France | Verstappen | Hamilton | Russell |
| 31 / 07 | | | | |
| R13 | Hungary | Verstappen | Hamilton | Russell |
| 28 / 08 | | | | |
| R14 | Belgium | Verstappen | Perez | Sainz |
| 04 / 09 | | | | |
| R15 | Netherlands | Verstappen | Russell | Leclerc |
| 11 / 09 | | | | |
| R16 | Italy - Monza | Verstappen | Leclerc | Russell |
| 02 / 10 | | | | |
| R7 | Singapore | Perez | Leclerc | Sainz |
| 09 / 10 | | | | |
| R18 | Japan | Verstappen | Perez | Leclerc |
| 23 / 10 | | | | |
| R19 | USA - Austin | Verstappen | Hamilton | Leclerc |
| 30 / 10 | | | | |
| R20 | Mexico | Verstappen | Hamilton | Perez |
| 13 / 11 | | | | |
| R21 | Brazil | Russell | Hamilton | Sainz |
| 20 / 11 | | | | |
| R22 | Abu Dhabi | - | - | - |




Official FIA Formula 1 Site
Official FIA Formula 1 Youtube Channel
---
Call for the Players
@robertomarinello, @zottone444, @stefano.massari, @catgio, @zipsardinia, @lokibalboa, @ciuoto, @blumela, @yocritico, @alfredolopez1980, @grof, @jonelescalona, @vicpics, @dexpartacus, @franz54, @nfelix92, @fuentesjo3006, @chipi17, @edgarf1979, @cmoljoe, @sportsjrfc2018, @bisec, @lucasantangelo, @carlood, @dianagomez, @pagliozzo, @lelluzzo, @antorchajohnny, @acont, @dernierdiaz, @deusjudo, @lolyfuentes, @salazarcag, @colon2018, @linterio, @jclark, @neo-wiza, @sljivanono, @justamoment, @lostprophet, @lovetaxi005, @hollywwod, @barbadosso, @davidesimoncini, @serialfiller, @sukhothai, @perdomo56, @adimantong, @traveljack894, @stefanogabbo, @coccodema, @freestyle7, @massrado, @alequandro, @eagle71, @mrhuman88, @ifiwasfrank, @britandjosie, @cetyoung, @tosolini, @samubit, @vancouverpics, @samubit, @mauropi,@ifiwasfrank, @c3r34lk1ll3r, @bencwarmer, @siomara-2018, @sportsbuddy, @makeitreal95, @libertycrypto27, @ismaelgranados, @mrfrank88, @coolkris, @fraba, @stewie.wieno, @davidesimoncini and the others…
---
Immagini CC0 con diritti di modifica
CC0 Image labeled for reuse with modification
---
---