HIVE FE 2022 Contest - R04 R05 - Rome, Italy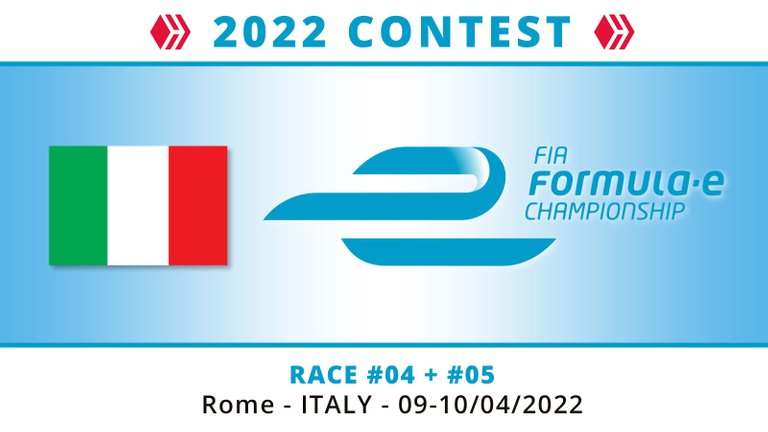 ITA
R4 R5 - Roma, Italia
Un saluto a tutti,
ripartono le gare del campionato di Formula E, e il prossimo weekend saremo qui in Italia, sul circuito di Roma nel quartiere EUR. Tracciato con dei saliscendi, una parte veloce ed una più tacnica che può favorire i sorpassi. E' un tracciato che piace sempre molto ai piloti, e quest'anno avremo un doppio appuntamento: sabato e domenica pomeriggio!
Visto l'inizio di stagione con molte vetture e piloti competitivi, il pronostico a fine gara è sempre più incerto. Voi cosa ne pensate?
Ricordo che come al solito avrete tempo fino a prima della partenza delle gare per effettuare il vostro pronostico. Per i weekend che prevedono gare "doppie" potete scegliere se separarli in due commenti, uno per ogni gara, oppure insieme.
Vi aspetto numerosi e spargete la voce anche tra i vostri amici, più siamo e più ci divertiamo, in bocca al lupo a tutti!
---
Molti di voi già conoscono il funzionamento del nostro contest, mentre per i nuovi rimando al regolamento del concorso presente nel post della prima gara.
---
Passando al nostro concorso, inizio ringraziando i partecipanti, anche se ancora pochi rispetto a quelli più numerosi della Formula 1.
Gara velocissima e spettacolare come sempre quella che si è svolta in Messico, che ha visto una doppietta delle Porsche davanti alle due DS Techeetah. Nessuno di noi ha effettuato un buon pronostico, nemmeno sbagliando l'ordine dei piloti, quindi la classifica resta identica, senza cambiamenti. Ho aggiunto solamente in coda i giocatori che si sono aggiunti con i loro pronostici.


ENG
R4 R5 - Rome, Italy
Hello everybody,
the Formula E championship races start again, and next weekend we will be here in Italy, on the Rome circuit in the EUR district. Track with ups and downs, a fast part and a more tacnic one that can favor overtaking. It is a track that the riders always like very much, and this year we will have a double appointment: Saturday and Sunday afternoon! Given the start of the season with many competitive cars and drivers, the prediction at the end of the race is increasingly uncertain. What do you think?
I remember that as usual you will have time until the start of the races to make your prediction. For weekends that include "double" races you can choose whether to separate them into two comments, one for each race, or together. I am waiting for you and spread the word among your friends, the more we are and the more we have fun, good luck to all!
---
Many of you already know how our contest works, while for the new ones I refer to the contest rules in the post of the first race.
---
Moving on to our competition, I start by thanking the players, even if still few compared to the more numerous ones in Formula 1 contest.
The race was very fast and spectacular as always in Mexico, which saw a double of the Porsches in front of the two DS Techeetah. None of us made a good prediction, not even the wrong order of the drivers, so the ranking remains identical, without changes. I only added in the queue the players who were added with their predictions.


R3 Results and general standing



Races Calendar, Season 8
| RACE | Track | 1st | 2nd | 3rd |
| --- | --- | --- | --- | --- |
| | | | | |
| 28-29 / 01 | | | | |
| R1 | Diriyah, SA | De Vries | Vandoorne | Dennis |
| R2 | Diriyah, SA | Mortara | Frijns | Di Grassi |
| 12 / 02 | | | | |
| R3 | Mexico City, MX | Wehrlein | Lotterer | Vergne |
| 09-10 / 04 | | | | |
| R4 | Rome, IT | - | - | - |
| R5 | Rome, IT | - | - | - |
| 30 / 04 | | | | |
| R6 | Montecarlo, MC | - | - | - |
| 14-15 / 05 | | | | |
| R7 | Berlin, DE | - | - | - |
| R8 | Berlin, DE | - | - | - |
| 04 / 06 | | | | |
| R9 | Jacarta, ID | - | - | - |
| 02 / 07 | | | | |
| R10 | Vancouver, CA | - | - | - |
| 16-17 / 07 | | | | |
| R11 | New York, US | - | - | - |
| R12 | New York, US | - | - | - |
| 30-31 / 07 | | | | |
| R13 | London, GB | - | - | - |
| R14 | London, GB | - | - | - |
| 13-14 / 08 | | | | |
| R15 | Seoul, KR | - | - | - |
| R16 | Seoul, KR | - | - | - |


Official FIA Formula E Site
Official FIA Formula 1 Youtube Channel
---
Call for the Players
@robertomarinello, @zottone444, @stefano.massari, @catgio, @zipsardinia, @lokibalboa, @ciuoto, @blumela, @yocritico, @alfredolopez1980, @grof, @jonelescalona, @vicpics, @dexpartacus, @franz54, @nfelix92, @fuentesjo3006, @chipi17, @edgarf1979, @cmoljoe, @sportsjrfc2018, @bisec, @lucasantangelo, @carlood, @dianagomez, @pagliozzo, @lelluzzo, @antorchajohnny, @acont, @dernierdiaz, @deusjudo, @lolyfuentes, @salazarcag, @colon2018, @linterio, @jclark, @neo-wiza, @sljivanono, @justamoment, @lostprophet, @lovetaxi005, @hollywwod, @sevenoh-fiveoh, @barbadosso, @davidesimoncini, @serialfiller, @sukhothai, @perdomo56, @adimantong, @traveljack894, @stefanogabbo, @coccodema, @freestyle7, @massrado, @alequandro, @eagle71, @mrhuman88, @ifiwasfrank, @britandjosie, @cetyoung, @tosolini, @samubit, @vancouverpics, @samubit, @mauropi,@ifiwasfrank, @c3r34lk1ll3r, @bencwarmer, @siomara-2018, @sportsbuddy, @makeitreal95, @libertycrypto27, @ismaelgranados, @mrfrank88, @coolkris, @fraba, @stewie.wieno, @davidesimoncini and the others…
---

Immagini Wikimedia Commons con diritti di modifica
Wikimedia Commons Image labeled for reuse with modification
Gustavo Girardelli CC BY-SA 4.0,
from Wikimedia Commons

---
---