HIVE FE 2022 Contest - R06 - Montecarlo, Monaco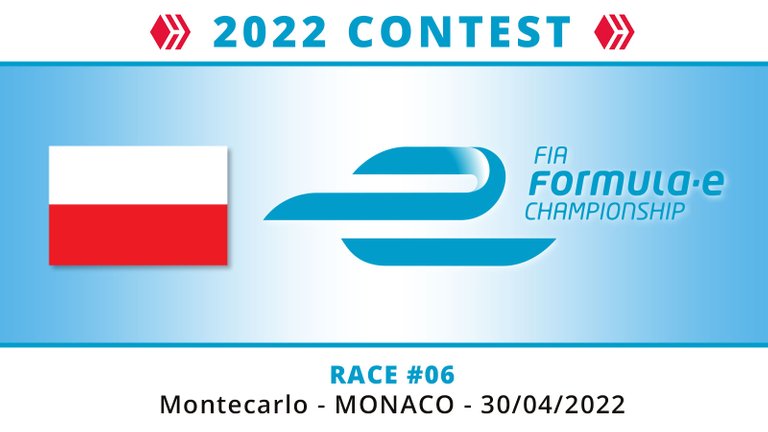 ITA
R6 - Montecarlo, Monaco
Un saluto a tutti,
dopo le due gare di Roma e qualche settimana di pausa, si torna a correre. Weekend molto atteso con la gara di Montecarlo, sul circuito completo dove corrono anche le Formula 1 e le altre categorie. Sarà sicuramente spettacolare come sempre e come lo è stato lo scorso anno. Arriviamo qui con un classifica abbastanza equilibrata, piloti molto vicini come punteggio e come prestazioni, e infatti pronostico impossibile come sempre.
Segnalo ci sarà solamente una gara qui a Monaco e SI CORRERA' SABATO 30 APRILE, nel pomeriggio, quindi attenzione per il vostro pronostico
Ricordo che come al solito avrete tempo fino a prima della partenza delle gare per effettuare il vostro pronostico. Per i weekend che prevedono gare "doppie" potete scegliere se separarli in due commenti, uno per ogni gara, oppure insieme.
Vi aspetto numerosi e spargete la voce anche tra i vostri amici, più siamo e più ci divertiamo, in bocca al lupo a tutti!
---
Molti di voi già conoscono il funzionamento del nostro contest, mentre per i nuovi rimando al regolamento del concorso presente nel post della prima gara.
---
Passando al nostro concorso, inizio ringraziando i partecipanti, che vedo già in aumento.
Gare veloci e sempre spettacolari anche a Roma, dove Evans su Jaguar le ha vinto entrambe. Anche tra di noi ci son ostati concorrenti che sono andati a punti: @c3r34lk1ll3r e @ciuoto nella R4 e @ifiwasfrank in R5 hanno indovinato un pilota nella giusta posizione al traguardo, mentre in R4 @serialfiller e @stefano.massari un solo pilota ma in diversa posizione.
Classifica leggermente variata, con tre concorrenti in testa con lo stesso punteggio.


ENG
R6 - Montecarlo, Monaco
Hello everybody,
after the two races in Rome and a few weeks off, we're back on trak. A long-awaited weekend with the Montecarlo race, on the full circuit where Formula 1 and other categories also race. It will certainly be as spectacular as ever and as it was last year. We arrive here with a fairly balanced ranking, drivers very close in terms of score and performance, and in fact predictions will be impossible as always.
I point out there will only be one race here in Monaco and IT WILL RUN ON SATURDAY 30 APRIL, in the afternoon, so pay attention to your prediction.
I remember that you will have time until the start of the races to make your prediction. For weekends that include "double" races you can choose whether to separate them into two comments, one for each race, or together. I am waiting for you and spread the word among your friends, the more we are and the more we have fun, good luck to all!
---
Many of you already know how our contest works, while for the new ones I refer to the contest rules in the post of the first race.
---
Moving on to our contest, I begin by thanking the participants, which I already see on the rise.
Fast and always spectacular races here in Rome, where Evans on Jaguar won both. Even among us there were competitors who scored points: @c3r34lk1ll3r and @ciuoto in the R4 and @ifiwasfrank in R5 guessed a rider in the right position at the finish line, while in R4 @serialfiller and @stefano.massari only one driver, but in different position.
Ranking slightly varied, with three competitors in the lead with the same score.


Results and general standing
R4


R5



Races Calendar, Season 8
| RACE | Track | 1st | 2nd | 3rd |
| --- | --- | --- | --- | --- |
| | | | | |
| 28-29 / 01 | | | | |
| R1 | Diriyah, SA | De Vries | Vandoorne | Dennis |
| R2 | Diriyah, SA | Mortara | Frijns | Di Grassi |
| 12 / 02 | | | | |
| R3 | Mexico City, MX | Wehrlein | Lotterer | Vergne |
| 09-10 / 04 | | | | |
| R4 | Rome, IT | Evans | Frijns | Vandoorne |
| R5 | Rome, IT | Evans | Vergne | Frijns |
| 30 / 04 | | | | |
| R6 | Montecarlo, MC | - | - | - |
| 14-15 / 05 | | | | |
| R7 | Berlin, DE | - | - | - |
| R8 | Berlin, DE | - | - | - |
| 04 / 06 | | | | |
| R9 | Jacarta, ID | - | - | - |
| 02 / 07 | | | | |
| R10 | Vancouver, CA | - | - | - |
| 16-17 / 07 | | | | |
| R11 | New York, US | - | - | - |
| R12 | New York, US | - | - | - |
| 30-31 / 07 | | | | |
| R13 | London, GB | - | - | - |
| R14 | London, GB | - | - | - |
| 13-14 / 08 | | | | |
| R15 | Seoul, KR | - | - | - |
| R16 | Seoul, KR | - | - | - |


Official FIA Formula E Site
Official FIA Formula 1 Youtube Channel
---
Call for the Players
@robertomarinello, @zottone444, @stefano.massari, @catgio, @zipsardinia, @lokibalboa, @ciuoto, @blumela, @yocritico, @alfredolopez1980, @grof, @jonelescalona, @vicpics, @dexpartacus, @franz54, @nfelix92, @fuentesjo3006, @chipi17, @edgarf1979, @cmoljoe, @sportsjrfc2018, @bisec, @lucasantangelo, @carlood, @dianagomez, @pagliozzo, @lelluzzo, @antorchajohnny, @acont, @dernierdiaz, @deusjudo, @lolyfuentes, @salazarcag, @colon2018, @linterio, @jclark, @neo-wiza, @sljivanono, @justamoment, @lostprophet, @lovetaxi005, @hollywwod, @sevenoh-fiveoh, @barbadosso, @davidesimoncini, @serialfiller, @sukhothai, @perdomo56, @adimantong, @traveljack894, @stefanogabbo, @coccodema, @freestyle7, @massrado, @alequandro, @eagle71, @mrhuman88, @ifiwasfrank, @britandjosie, @cetyoung, @tosolini, @samubit, @vancouverpics, @samubit, @mauropi,@ifiwasfrank, @c3r34lk1ll3r, @bencwarmer, @siomara-2018, @sportsbuddy, @makeitreal95, @libertycrypto27, @ismaelgranados, @mrfrank88, @coolkris, @fraba, @stewie.wieno, @davidesimoncini and the others…
---

Immagini Wikimedia Commons con diritti di modifica
Wikimedia Commons Image labeled for reuse with modification
Gustavo Girardelli CC BY-SA 4.0,
from Wikimedia Commons

---
---