HIVE FE 2022 Contest - R07-R08 - Berlin, Germany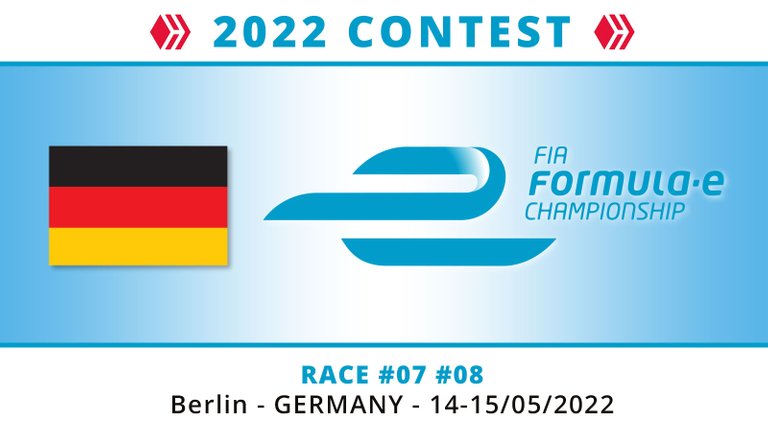 ITA
R7-R8 - Berlino, Germania
Un saluto a tutti,
si torna in pista il prossimo weekend con un doppio appuntamento a Berlino, ormai un classico delle gare di Formula E.
Come gli ultimi anni, il tracciato è disegnato sulla pista del vecchio aeroporto, e solitamente lo spettacolo qui non manca.
Particolarità della tappa tedesca è il senso in cui correranno le le vetture: al sabato si correrà in sento antiorario, mentre la domenica invece in senso opposto.
Ormai piloti e squadre hanno dimostrato le forze in campo e chi ha prestazioni migliori, quindi possiamo restringere la cerchia dei possibili vincitori, anche se come ormai sappiamo bene, in Formula E niente è scontato fino al traguardo!
Ricordo che come al solito avrete tempo fino a prima della partenza delle gare per effettuare il vostro pronostico. Per i weekend che prevedono gare "doppie" potete scegliere se separarli in due commenti, uno per ogni gara, oppure insieme.
Vi aspetto numerosi e spargete la voce anche tra i vostri amici, più siamo e più ci divertiamo, in bocca al lupo a tutti!
---
Molti di voi già conoscono il funzionamento del nostro contest, mentre per i nuovi rimando al regolamento del concorso presente nel post della prima gara.
---
Passando al nostro concorso, inizio ringraziando i partecipanti.
Singola gara a Montecarlo con piloti abbastanza vicini fino alla fine e risultato per nulla scontato: vince Vandoorne davanti ad Evans e Vergne. Tra di noi molti concorrenti sono andati a punti e meglio di tutti ha fatto @stefano.massari che ha indovinato la seconda posizione, ma ha invertito il primo e il terzo, mentre altri hanno fatto previsioni simili, sbagliando però l'ordine di arrivo dei piloti.
Classifica quindi che ha subito delle modifiche, e vede al comando @c3r34lk1ll3r seguito da @ciuoto.


ENG
R7-R8 - Berlin, Germany
Hello everybody,
back on track next weekend with a double in Berlin, now a classic of Formula E races.
As in recent years, the track is drawn on the runway of the old airport, and usually the show is not lacking here.
A peculiarity of the German stage is the direction in which the cars will run: on Saturday it will run counterclockwise, while on Sunday it will run in the opposite direction.
By now drivers and teams have shown their strength and who has better performances, so we can narrow the circle of possible winners, even if in Formula E nothing is taken for granted until the finish line!
I remember that you will have time until the start of the races to make your prediction. For weekends that include "double" races you can choose whether to separate them into two comments, one for each race, or together. I am waiting for you and spread the word among your friends, the more we are and the more we have fun, good luck to all!
---
Many of you already know how our contest works, while for the new ones I refer to the contest rules in the post of the first race.
---
Moving on to our contest, I begin by thanking the participants.
Single race in Montecarlo with drivers close enough to the end and result by no means taken for granted: Vandoorne wins ahead of Evans and Vergne. Among us many competitors scored points and the best was @stefano.massari who guessed the second position, but reversed the first and third ones, while others made similar predictions, but mistaken the order of arrival of the drivers.
The standing get some changes, with @c3r34lk1ll3r at the top followed by @ciuoto in second place.


Results and general standing
R6




Races Calendar, Season 8
| RACE | Track | 1st | 2nd | 3rd |
| --- | --- | --- | --- | --- |
| | | | | |
| 28-29 / 01 | | | | |
| R1 | Diriyah, SA | De Vries | Vandoorne | Dennis |
| R2 | Diriyah, SA | Mortara | Frijns | Di Grassi |
| 12 / 02 | | | | |
| R3 | Mexico City, MX | Wehrlein | Lotterer | Vergne |
| 09-10 / 04 | | | | |
| R4 | Rome, IT | Evans | Frijns | Vandoorne |
| R5 | Rome, IT | Evans | Vergne | Frijns |
| 30 / 04 | | | | |
| R6 | Montecarlo, MC | Vandoorne | Evans | Vergne |
| 14-15 / 05 | | | | |
| R7 | Berlin, DE | - | - | - |
| R8 | Berlin, DE | - | - | - |
| 04 / 06 | | | | |
| R9 | Jacarta, ID | - | - | - |
| 02 / 07 | | | | |
| R10 | Vancouver, CA | - | - | - |
| 16-17 / 07 | | | | |
| R11 | New York, US | - | - | - |
| R12 | New York, US | - | - | - |
| 30-31 / 07 | | | | |
| R13 | London, GB | - | - | - |
| R14 | London, GB | - | - | - |
| 13-14 / 08 | | | | |
| R15 | Seoul, KR | - | - | - |
| R16 | Seoul, KR | - | - | - |


Official FIA Formula E Site
Official FIA Formula 1 Youtube Channel
---
Call for the Players
@robertomarinello, @zottone444, @stefano.massari, @catgio, @zipsardinia, @lokibalboa, @ciuoto, @blumela, @yocritico, @alfredolopez1980, @grof, @jonelescalona, @vicpics, @dexpartacus, @franz54, @nfelix92, @fuentesjo3006, @chipi17, @edgarf1979, @cmoljoe, @sportsjrfc2018, @bisec, @lucasantangelo, @carlood, @dianagomez, @pagliozzo, @lelluzzo, @antorchajohnny, @acont, @dernierdiaz, @deusjudo, @lolyfuentes, @salazarcag, @colon2018, @linterio, @jclark, @neo-wiza, @sljivanono, @justamoment, @lostprophet, @lovetaxi005, @hollywwod, @sevenoh-fiveoh, @barbadosso, @davidesimoncini, @serialfiller, @sukhothai, @perdomo56, @adimantong, @traveljack894, @stefanogabbo, @coccodema, @freestyle7, @massrado, @alequandro, @eagle71, @mrhuman88, @ifiwasfrank, @britandjosie, @cetyoung, @tosolini, @samubit, @vancouverpics, @samubit, @mauropi,@ifiwasfrank, @c3r34lk1ll3r, @bencwarmer, @siomara-2018, @sportsbuddy, @makeitreal95, @libertycrypto27, @ismaelgranados, @mrfrank88, @coolkris, @fraba, @stewie.wieno, @davidesimoncini and the others…
---

Immagini Wikimedia Commons con diritti di modifica
Wikimedia Commons Image labeled for reuse with modification
Gustavo Girardelli CC BY-SA 4.0,
from Wikimedia Commons

---
---