Hive Formula E 2023 Contest - R06 - Sao Paulo, BRAZIL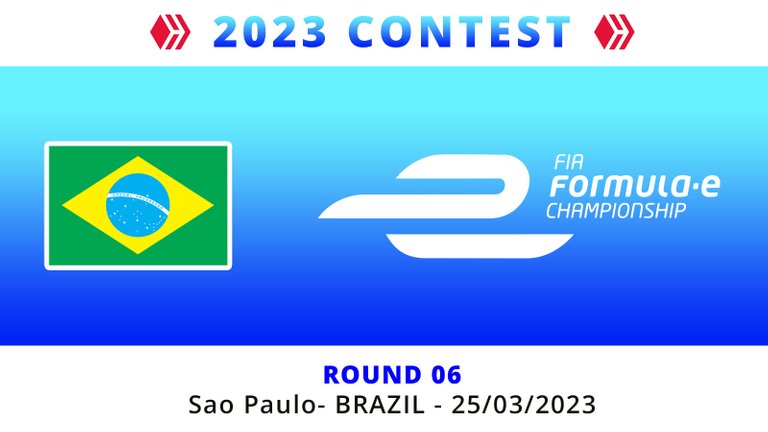 | RACE | Track | 1st | 2nd | 3rd |
| --- | --- | --- | --- | --- |
| R01 | Mexico City, MEXICO | Dennis | Wehrlein | Di Grassi |
| R02 | Dir'iyyah, SA | Wehrlein | Dennis | Bird |
| R03 | Dir'iyyah, SA | Wehrlein | Dennis | Rast |
| R04 | Hyderabad, INDIA | Vergne | Cassidy | Da Costa |
| R05 | Cape Town, SA | Da Costa | Vergne | Cassidy |
| R06 | Sao Paulo, BRAZIL | - | - | - |
| R07 | Berlin, GERMANY | - | - | - |
| R08 | Berlin, GERMANY | - | - | - |
| R09 | Monaco, MC | - | - | - |
| R10 | Jakarta, INDONESIA | - | - | - |
| R11 | Jakarta, INDONESIA | - | - | - |
| R12 | Portland, USA | - | - | - |
| R13 | Rome, ITALY | - | - | - |
| R14 | Rome, ITALY | - | - | - |
| R15 | London, UK | - | - | - |
| R16 | London, UK | - | - | - |


R06 - San Paolo, BRASILE
Un saluto a tutti,
sesta gara del campionato 2023 di Formula E, a San Paolo in Brasile. Circuito sulla carta molto veloce, molti rettilinei e quindi alte velocità e sorpassi in frenata. Sicuramente qualche incidente ci sarà, toccate, tamponamenti ecc... quindi anche questa volta l'imprevisto è dietro l'angolo e il pronostico non facile. Abbiamo però visto nelle gare precedenti quali siano i piloti e le squadre migliori. Dennis e Da Costa sembrano favoriti, ma anche le McLaren e le Porsche hanno dimostrato di essere competitive.
Da noi in Europa la gara si svolgerà alle 18.00 di sabato 25.
Ricordo che avete tempo fino a prima della partenza delle gare per effettuare il vostro pronostico e potete scegliere se separarli in due commenti, uno per ogni gara, oppure insieme.
Se avete qualche dubbio, qui potete controllare l'elenco completo di squadre e piloti.
Vi aspetto numerosi e spargete la voce anche tra i vostri amici, più siamo e più ci divertiamo, in bocca al lupo a tutti!
---
Qui il regolamento del concorso
Per quanto riguarda il nostro concorso, più sotto potete vedere i risultati e la nostra classifica generale.
Abbiamo partecipato solamente in quattro e il pronostico non è stato facile, anche se qualche pilota è stato indovinato: @green77 indovina due piloti, ma in posizione errata, @bencwarmer e @c3r34lk1ll3r un solo pilota, sempre in posizione diversa.
Classifica invariata.


R06 - Sao Paulo, BRAZIL
Hello everybody,
sixth race of the 2023 Formula E championship, in Sao Paulo, Brazil. Very fast circuit on paper, many straights and therefore high speeds and overtaking under braking. Surely there will be some accidents, touches, rear-end collisions, etc... so this time too the unexpected is around the corner and the prediction is not easy. However, we have seen in previous races which are the best riders and teams. Dennis and Da Costa look like favourites, but the McLarens and Porsches also proved to be competitive.
Here in Europe the race will take place around 6.00 PM of saturday 25th.
Remember that you have time until the start of the races to make your prediction and you can choose whether to separate them into two comments, one for each race, or together.
If you need it, here you can see the full listing of drivers and teams.
I am waiting for you and spread the word among your friends, the more we are and the more we have fun, good luck to all!
---
Here the rules of the contest
As for our competition, below you can see results and our general standing.
Only four of us participated and the prediction was not easy, even if some drivers were guessed: @green77 guessed two drivers, but in the wrong position, @bencwarmer and @c3r34lk1ll3r only one driver, again in a different position.
Ranking unchanged.


Results and General standing
R05



Official FIA Formula E Site
Official FIA Formula E Youtube Channel
---
Call for the Players
@robertomarinello, @zottone444, @stefano.massari, @catgio, @zipsardinia, @lokibalboa, @ciuoto, @blumela, @yocritico, @alfredolopez1980, @grof, @jonelescalona, @vicpics, @dexpartacus, @franz54, @nfelix92, @fuentesjo3006, @chipi17, @edgarf1979, @cmoljoe, @sportsjrfc2018, @bisec, @lucasantangelo, @carlood, @dianagomez, @pagliozzo, @lelluzzo, @antorchajohnny, @acont, @dernierdiaz, @deusjudo, @lolyfuentes, @colon2018, @linterio, @jclark, @neo-wiza, @sljivanono, @justamoment, @lostprophet, @lovetaxi005, @hollywwod, @barbadosso, @davidesimoncini, @serialfiller, @sukhothai, @perdomo56, @adimantong, @traveljack894, @stefanogabbo, @coccodema, @freestyle7, @massrado, @alequandro, @eagle71, @mrhuman88, @ifiwasfrank, @britandjosie, @cetyoung, @tosolini, @samubit, @vancouverpics, @samubit, @mauropi and the others…
---

Immagini Wikimedia Commons con diritti di modifica
Wikimedia Commons Image labeled for reuse with modification
Gustavo Girardelli [CC BY-SA 4.0 (https://creativecommons.org/licenses/by-sa/4.0)],
from Wikimedia Commons

---
---