[ENG/ESP] The 22 best players of the next edition of FIFA 2022 with some surprises. / Los 22 mejores jugadores de la próxima edición de FIFA 2022 con algunas sorpresas.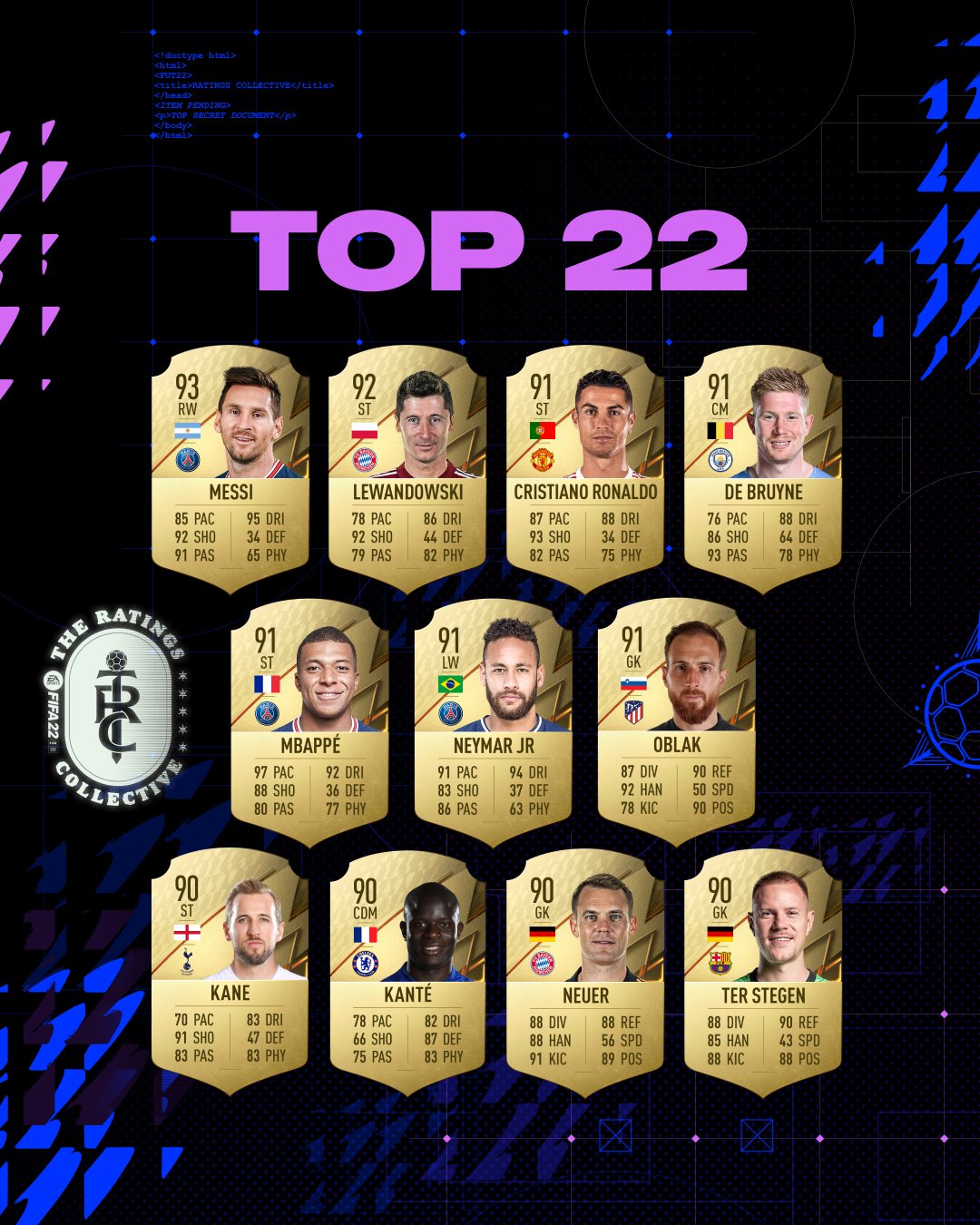 Source.
Last week EA Sports revealed the list of the 22 best players of FIFA, the most popular sports game in the world, with the novelty that none of them is Spanish.
The new version will be available from next October 1 for PS5, Xbox Series X/S, PS4, Xbox One, PC, Stadia and Switch.
As always, there are questions regarding the score given to each player.
Lionel Messi leads the list for the fifth consecutive year with a score of 93, but the placement of Roberto Lewandoski in second place with 92 and only Cristiano Ronaldo in third place with 91 is striking.
With the same score as Ronaldo are De Bruyne, Mbappé, Neymar and Oblak while, for example, one of the current stars, the Dutch Memphis Depay player of Barcelona and his country's national team does not even appear.

La semana pasada EA Sports reveló la lista de los 22 mejores jugadores de FIFA, el juego deportivo más popular del mundo, con la novedad de que ninguno de ellos es español.
La nueva versión estará disponible desde el 1 de octubre próximo para PS5, Xbox Series X/S, PS4, Xbox One, PC, Stadia y Switch.
Como siempre ocurre hay cuestionamientos con respecto al puntaje acordado a cada jugador.
Lionel Messi lidera por quinto año consecutivo la lista con un puntaje de 93 pero llama poderosamente la atención la ubicación de Roberto Lewandoski segundo con 92 y solo tercero Cristiano Ronaldo con 91.
Con el mismo puntaje de Ronaldo están De Bruyne, Mbappé, Neymar y Oblak mientras que, por ejemplo, una de las estrellas actuales, el holandés Memphis Depay jugador del Barcelona y de la selección de su país ni siquiera figura.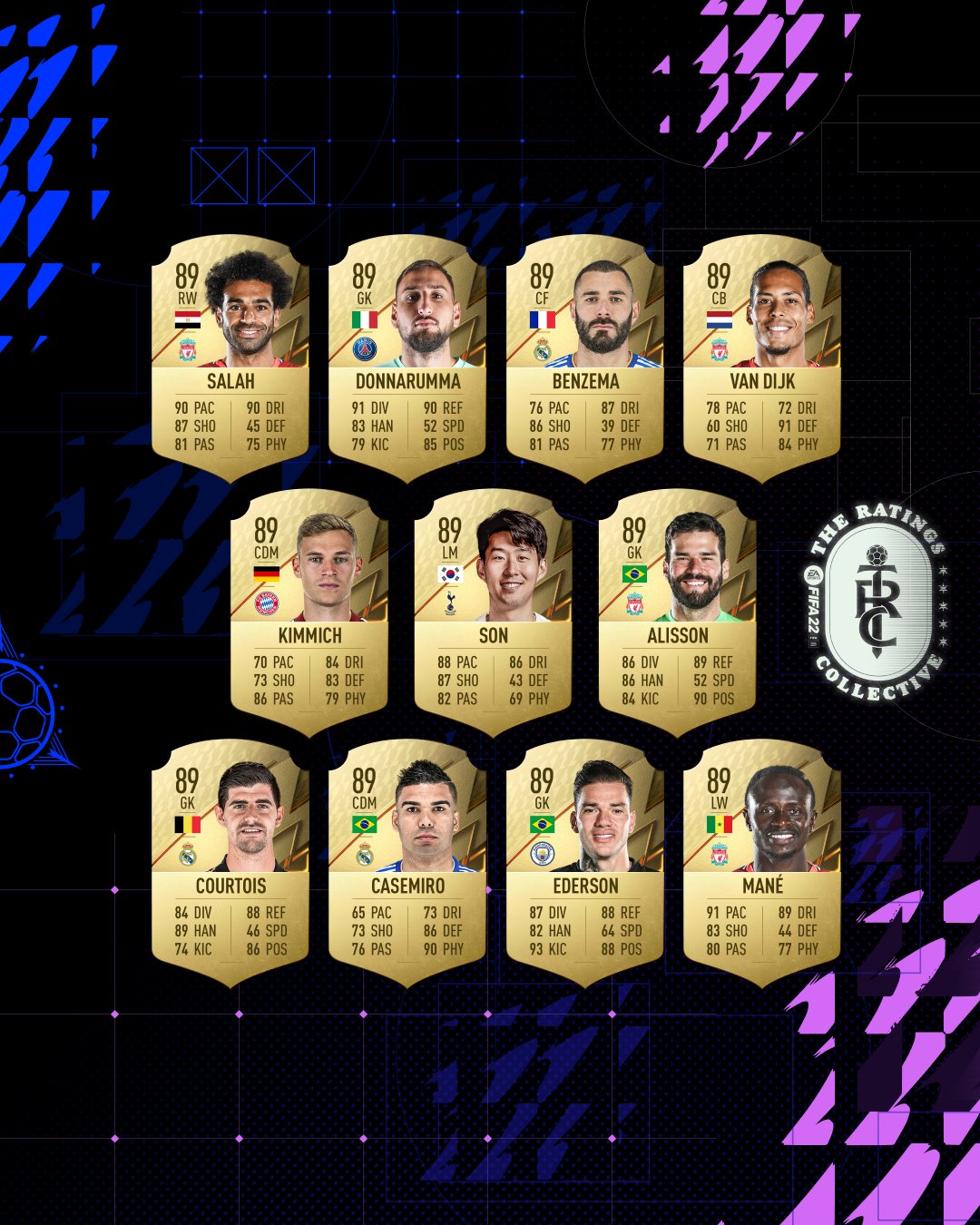 Source.
Lionel Messi (93) - Argentina - Paris Saint Germain -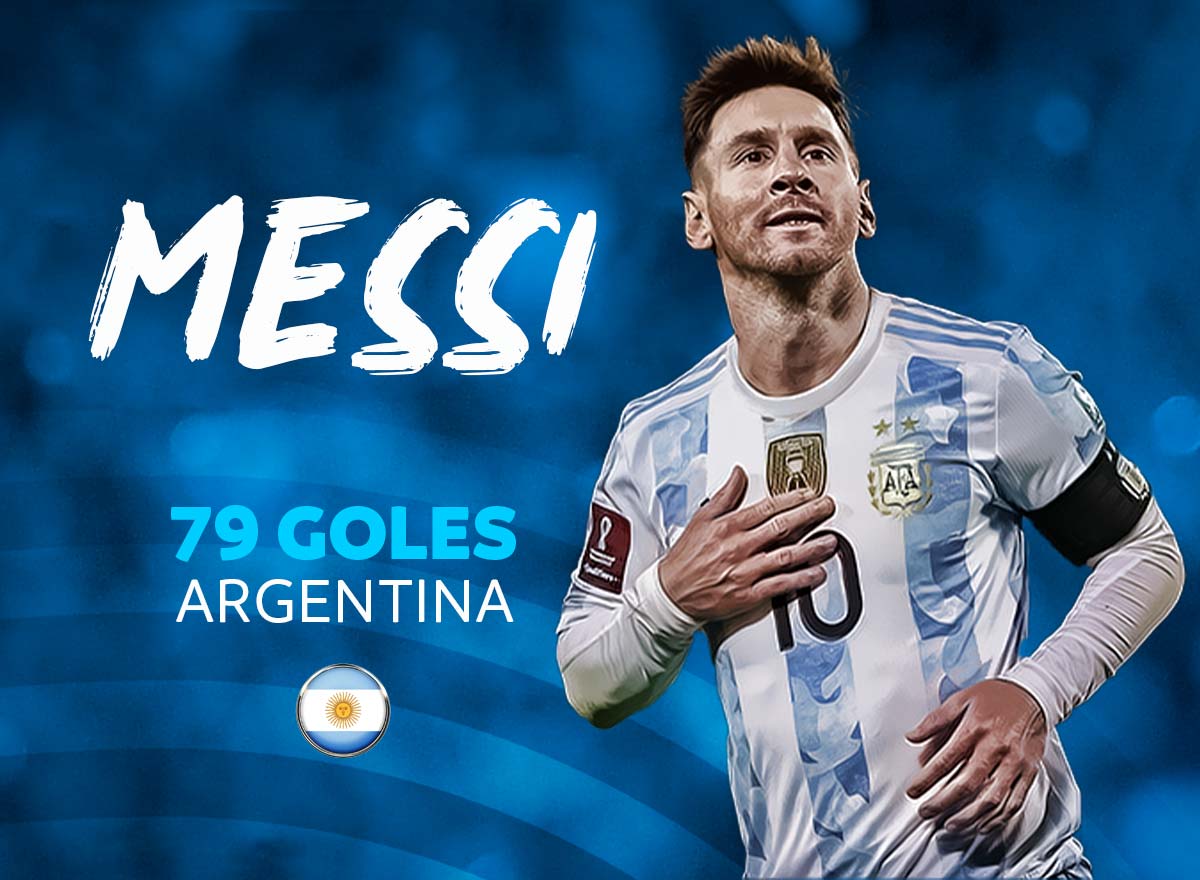 Source.
The Argentinean star currently at PSG (Paris Saint Germain) after his announced departure from Barcelona seems to be slowly regaining the confidence needed to become the leader of his new club.
In the Argentine national team, he seems to have definitely found his place as the team's strategist and goal scorer. The three goals he scored in Argentina's victory over Bolivia at the Monumental stadium in Buenos Aires bear witness to this.
With this hattrick he first equaled (by reaching the 77-goal mark with his first goal) and then surpassed a legend like Pelé as the top scorer in the history of South American national teams. With his 79 goals he is still far behind Cristiano Ronaldo's record of 111 goals also surpassed this year in the European qualifiers on the road to the Qatar 2022 World Cup.

El astro argentino actualmente en el PSG (Paris Saint Germain) después de su anunciada salida del Barcelona parece ir recuperando de a poco la confianza necesaria para convertirse en líder de su nuevo club.
En la selección argentina parece haber encontrado definitivamente su lugar como estratega y goleador del equipo. Los tres goles conseguidos en la goleada de Argentiva ns Bolivia en el estadio Monumental de Buenos Aires así lo atestiguan.
Con este hattrick logró igualar primero (al llegar a la marca de 77 goles con su primer gol) y superar después a una leyenda como Pelé como el máximo goleador histórico de las selecciones sudamericanas. Con sus 79 goles todavía está lejos del récord de Cristiano Ronaldo con 111 goles también superado este año en las eliminatorias europeas rumbo al Mundial de Qatar 2022.
Roberto Lewandoski (92) - Poland - Bayern Munich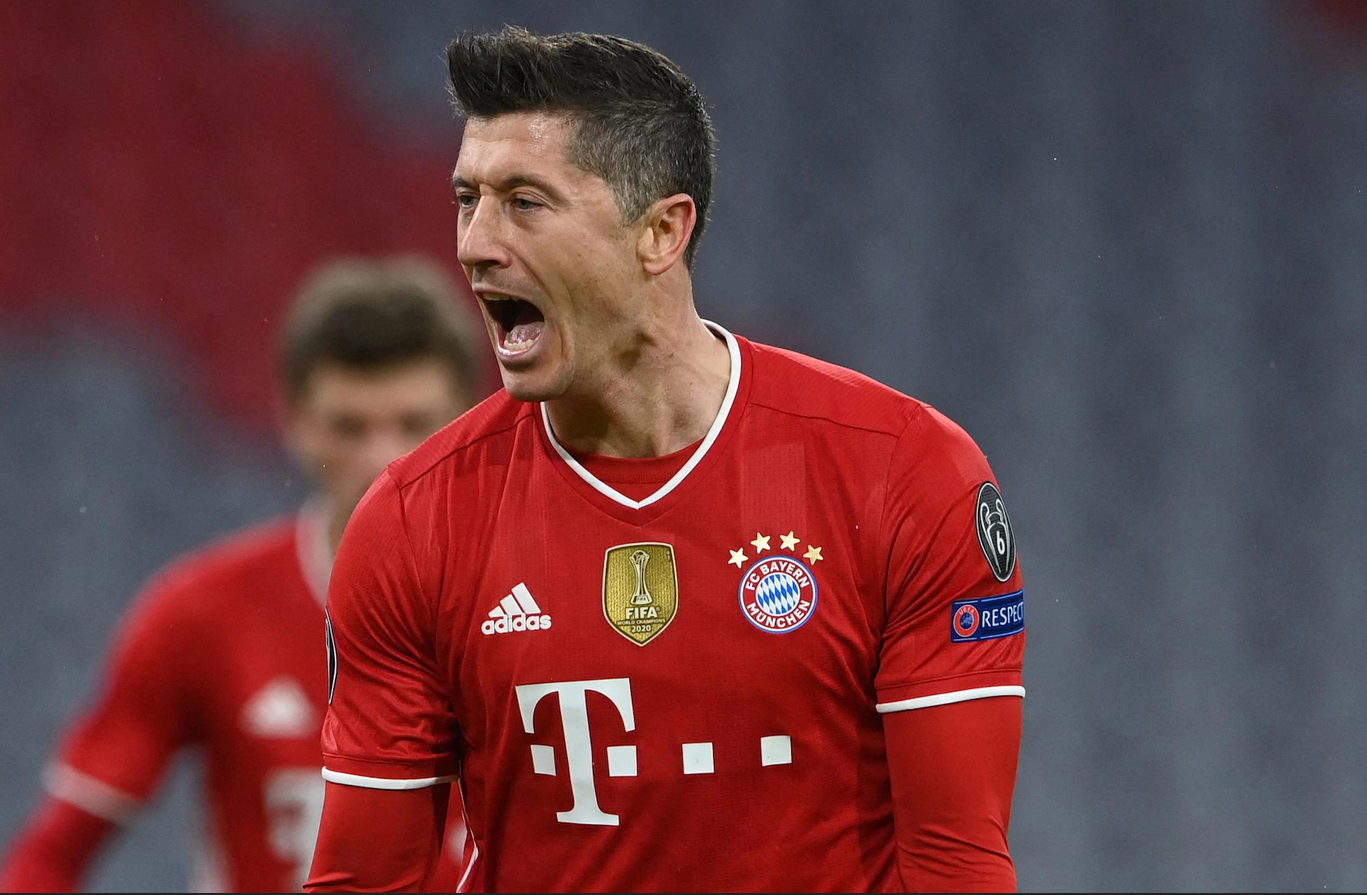 Source.
The veteran striker of Bayern Munich with his 33 years has managed to position himself in a privileged place in FIFA 2022 just one point behind Lionel Messi the leader and ahead of Cristiano Ronaldo.
Undisputed captain of the Polish national team of which he is a full international since 2008, top scorer of his country, he has some records worthy of note, such as being the author of the fastest hat-trick, quadruple and quintuple in the same game.
He is also one of the historical references of Bayern Munich along with Manuel Neuer, Joshua Kimmich and Thomas Muller (the first two are also among the 22 FIFA players) that led them to win all the titles in play during the year 2020.
His permanent goal-scoring quota has surely been fundamental to place him in the second position.

El veterano delantero del Bayern Munich con sus 33 años ha logrado posicionarse en un lugar de privilegio en FIFA 2022 a un solo punto de Lionel Messi el lider y por delante de Cristiano Ronaldo.
Capitán indiscutido de la selección polaca de la cuál es internacional absoluto desde el año 2008, máximo goleador histórico de su país, posee algunos registros dignos de destacar, como por ejmplo ser el autor del triplete, cuadruplete y quintuplete más rápidos en un mismo encuentro.
Es también uno de los referentes históricos del Bayern Munich junto a Manuel Neuer, Joshua Kimmich y Thomas Muller (los dos primeros también están dentro de los 22 jugadores del FIFA) que lo llevó a ganar el pleno de títulos en juego durante el año 2020.
Su permanente cuota goleadora seguramente ha sido fundamental para ubicarlo en la segunda posición.
Cristiano Ronaldo - Portugal - Manchester United -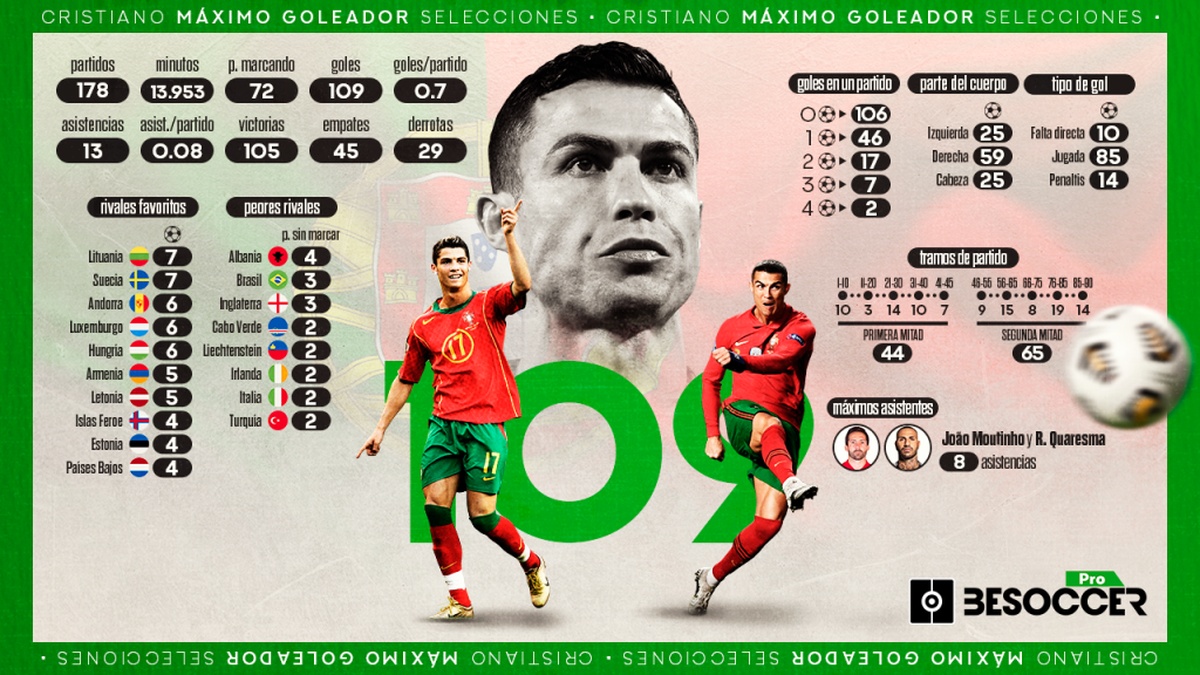 Source.
His departure from Real Madrid in search of new horizons seemed to mean a second wave of accolades, victories and titles at the "bianconeri" club in Turin.
However, he never felt at ease at Juventus and was never able to reach any Champions League final with the Italian club.
Inconprehensions with the board of directors and with the coach himself led him to leave the club and return to the club of his love, to the "Red Devils" that catapulted him to fame and made Real Madrid set its eyes on him, paying a fortune for his contract at that time.
In the old but refurbished Old Trafford he seems to have found himself again.
Already on his debut he scored a brace for Manchester United and previously with the Portugal national team in the European qualifiers for the World Cup Qatar 2022 he had beaten the all-time record of Iranian Ali Daei with 109 goals. He currently has 111 and is still ahead of Messi by no less than 32 goals (the Argentine has 79).

Su salida del real Madrid buscando nuevos horizontes parecía significar una segunda oleada de elogios, victorias y títulos en el club bianconero de Turin.
Sin embargo nunca se encontró a gusto en la Juventus y tampoco pudo llegar a ninguna final de Champions con el club italiano.
Incomprensiones con la cupula directiva y con el mismo entrenador lo llevaron a su alejamiento volviendo al club de sus amores, a los "Red Devils" que lo catapultaron a la fama y que hicieran que el real Madrid posara sus ojos sobre él, pagando en ese momento, una fortuna por su ficha.
En el viejo pero reacondicionado Old Trafford parece haberse reencontrado con si mismo. Ya en el debut fue autor de un doblete para el Manchester United y anteriormente con la selección de Portugal en las eliminatorias europeas para el Mundial de Qatar 2022 había batido el récord histórico del iraní Ali Daei con 109 goles. Actualmente lleva 111 y sigue adelante superando en este aspecto a Messi por nada menos que por 32 goles (el argentino lleva 79).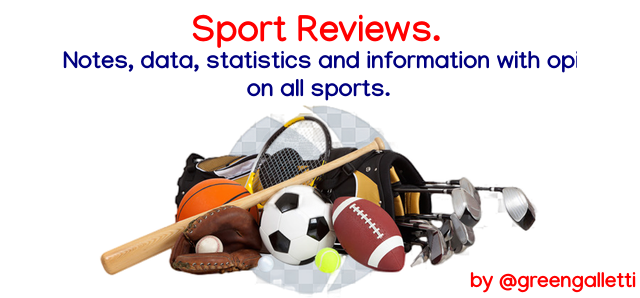 Source text divider (modified by the author) / Fuente divisor de texto (modificado por el autor): @thepeakstudio
---
---