[ESP/ENG] Fórmula1: el Gran Premio de Emilia-Romaña en el circuito de Imola (Italia) deja un sabor amargo para Ferrari. / Formula 1: Emilia-Romagna Grand Prix at the Imola circuit (Italy) leaves a bitter taste for Ferrari.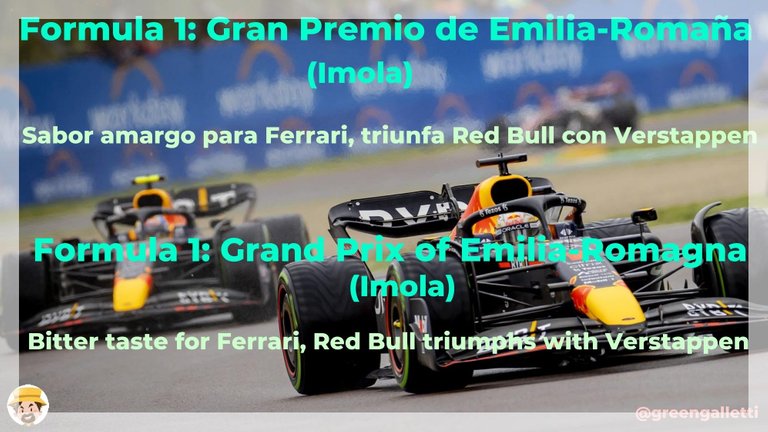 Dominador absoluto, del inicio al final, Max Verstappen se adjudica el Gran Premilio de Emilia-Romaña disputado en el circuito de Imola (Italia) / Max Verstappen dominates from start to finish, Max Verstappen wins the Grand Prix of Emilia-Romagna at the Imola circuit (Italy).
La primera prueba en el circuito europeo de Fórmula 1 de este año, el Gran Premio de Emilia-Romaña en el circuito de Imola, a pocos kms de distancia de Boloña, significaba una prueba de fuego, un test de máxima importancia para los equipos que, se presuponía, "a priori" darían batalla durante esta temporada: Ferrari, Red y Bull y Mercedes.
El Cavallino Rampante debía demostrar en su propio país, en el histórico circuito inicialmente ligado a las carreras de motociclismo que lleva el nombre de "Enzo y Dino Ferrari" precisamente en honor al padre y al hijo -fallecido prematuramente a la edad de 24 años- fundadores del histórico equipo de Fórmula 1, que lo sucedido hasta ahora era fruto del esfuerzo y del trabajo mancomunado entre ingenieros, equipo técnico y pilotos trabajando en un clima de armonía, tan distinto al de los últimos años, que habían interpretado a la perfección las nuevas normas reglamentarias de la categoría.
Pero también era una severa prueba para Red Bull, quien había construido un monoplaza verdaderamente revolucionario para sacarle el mayor provecho a las innovaciones tecnológicas y aerodinámicas que a partir de esta temporada el reglamento permitía, pero -en apariencia- algo frágil. Dos abandonos en cuatro carreras eran la prueba hasta el momento.
Por último Mercedes. Ni siquiera el más pesimista fan de la escudería alemana hubiera soñado un presente tan oscuro y con rendimientos tan bajos como los que ha presentado hasta el presente el equipo alemán. Sufriendo enormemente el llamado "purpoising" -los pequeños "saltos" que producen un mayor "agarre" del monoplaza al suelo por efecto del aire impulsado desde los nuevos difusores hacia el tren delantero y trasero, pero también sin velocidad en las rectas. El motor robusto característico de Mercedes parece haberse quedado sin potencia.
Las sesiones libres de este fin de semana habían traído algunas esperanzas cuando George Russell marcó el mejor tiempo con pista seca en la última tanda, con Hamilton cuarto que continúa a mirar las espaldas de su nuevo compañero de equipo.

The first test on the European Formula 1 circuit this year, the Emilia-Romagna Grand Prix at the Imola circuit, a few kilometers away from Bologna, was a test of fire, a test of the utmost importance for the teams that, a priori, were expected to do battle this season: Ferrari, Red Bull and Mercedes.
The Prancing Horse had to prove in its own country, in the historic circuit initially linked to motorcycle racing and named "Enzo and Dino Ferrari" precisely in honor of the father and son - who died prematurely at the age of 24 - founders of the historic Formula 1 team, that what had happened so far was the result of the effort and joint work between engineers, technical team and drivers working in a climate of harmony, so different from that of recent years, who had perfectly interpreted the new regulations of the category.
But it was also a severe test for Red Bull, who had built a truly revolutionary single-seater to make the most of the technological and aerodynamic innovations allowed by the regulations from this season onwards, but - apparently - somewhat fragile. Two retirements in four races were the proof so far.
Finally Mercedes. Not even the most pessimistic fan of the German team would have dreamed of such a dark present and with such low performances as the German team has presented so far. Suffering enormously from the so-called "purpoising" - the jumps produced by the increased "grip" of the car to the ground due to the effect of the air pushed from the new diffusers to the front and rear end, but also without speed on the straights. The robust engine characteristic of Mercedes seems to have run out of power.
This weekend's practice sessions had brought some hope when George Russell set the fastest time on a dry track in the final run, with Hamilton in fourth continuing to watch his new teammate's back.
Clasificación y mini-race. / Qualifying and mini-race
Sin embargo, cuando llegó la hora de la clasificación para disponer el orden, no de la largada, sino de la primera mini-race (carrera al sprint) del sábado que determinaría la parrilla de largada, volvieron a mostrarse las falencias estratégicas de un equipo, que en ese aspecto, tiene una notoria desventaja respecto a Ferrari y Red Bull. Pareciera que Mercedes es incapaz de improvisar, de tomar decisiones rápidas. Lo suyo es pensado, estudiado, elaborado y definitivamente aplicado. Y hasta ahí va muy bien. Pero la Fórmula 1 a veces necesita decisiones tempestivas, rápidas. Un cambio de neumáticos, la lluvia improvisa, un undercut acertado, a veces definen el éxito de una carrera. Y a Mercedes estas virtudes parecen faltarles.
En el Gran Premio de Emilia-Romaña a Mercedes se le apareció la lluvia -un fenómeno climático con presencia bastante regular en la F1- y no supo como afrontarla. Algo muy raro suponiendo que Hamilton es un especialista en correr con la pista mojada. Dijo el piloto inglés luego de haber terminado en la posición 13°, dos más atrás de Russell: "Esto es verdaderamente decepcionante, hoy hemos fracasado como equipo a pesar de que las expectativas eran buenas. Deberíamos haber hecho cosas que no hicimos". Una crítica no demasiado velada hacia todo el equipo.
La mini-carrera del sábado no cambió demasiado las cosas. Mientras Leclerc y Verstappen luchaban por la pole position definitiva (al final quedó en poder del holandés, quién ganó esta vez otro fantástico duelo entre los dos principales aspirantes al título hasta este momento) y Sainz recuperaba varias posiciones hasta ocupar el cuarto lugar (había partido en la posición 11°), Hamilton y Russell quedaron estacionados en los mismos puestos en los que largaron del inicio al final no pudiendo adelantar ni siquiera equipos como Haas y Alfa Romeo, entre otros sin contar Alpine y Alpha Tauri.
El B-spec, es decir, la combinación de dos, tres o cuatro alerones delanteros y pisos diferentes hasta ahora no le ha traído a Mercedes los resultados deseados. Los grandes premios siguen pasando y el paquete tecnológico definitivo no llega para potenciar las posibilidades que teóricamente tendría el monoplaza de luchar por los primeros puestos.
El nuevo puntaje de las Sprint Race de esta temporada, que hicieron su debut en Imola, es el puntaje. Hasta la temporada pasada ganaban puntos los tres primeros, adjudicándose 3, 1 y 1 punto respectivamente. A partir del 2022 obtienen puntos los 8 primeros clasificados. El ganador obtiene 8 puntos y de ahí en forma decreciente hasta llegar al octavo y último clasificado que gana un punto.
Si el mismo piloto que gana la Sprint Race, gana también la carrera y obtiene la vuelta más veloz, se habrá adjudicado 34 puntos (8+1+25). Como estos puntos también se trasladan obviamente al Campeonato Mundial de Constructores, pueden llegar a ser determinantes para la obtención del título en ambas categorías.
Con una parrilla de largada totalmente integrada por los pilotos de Red Bull (primero Verstappen y tercero Pérez) y de Ferrari (segundo Leclerc y cuarto Sainz) solamente un milagro podía encender las esperanzas de Mercedes.
Con un circuito en el cual las posibilidades de adelantar sus bastante remotas, con la incertidumbre que da la presencia de la lluvia y algunos datos estadísticos para tener en cuenta: ninguna ha logrado ganar nunca partiendo más atrás de la sexta posición y ninguna desde la era post-lockdown ha podido todavía triunfar partiendo desde la pole position. Aunque, en la mayor parte de los casos, ha ganado quien ha partido desde la primera fila.

However, when it was time for qualifying to determine the order, not for the start, but for the first mini-race (sprint race) on Saturday, which would determine the starting grid, the strategic shortcomings of a team, which in that aspect, has a notorious disadvantage with respect to Ferrari and Red Bull, were shown again. It seems that Mercedes is incapable of improvising, of making quick decisions. Theirs is thought, studied, elaborated and definitely applied. And so far so good. But Formula 1 sometimes needs quick, rapid decisions. A change of tires, the rain improvises, a successful undercut, sometimes define the success of a race. And Mercedes seems to lack these virtues.
At the Emilia-Romagna Grand Prix, Mercedes was hit by rain - a weather phenomenon with a fairly regular presence in F1 - and did not know how to deal with it. Something very strange, assuming that Hamilton is a specialist in running on wet track. Said the English driver after finishing 13th, two places behind Russell: "This is really disappointing, we failed as a team today even though expectations were good. We should have done things we didn't do". A not too veiled criticism towards the whole team.
Saturday's mini-race didn't change things too much. While Leclerc and Verstappen fought for the definitive pole position (in the end it went to the Dutchman, who won this time another fantastic duel between the two main contenders for the title so far) and Sainz recovered several positions to occupy the fourth place (he had started in 11th position), Hamilton and Russell remained parked in the same positions in which they started from the beginning to the end and could not even overtake teams like Haas and Alfa Romeo, among others, not counting Alpine and Alpha Tauri.
The B-spec, i.e. the combination of two, three or four different front wings and floors, has so far not brought Mercedes the desired results. The Grand Prix continues to pass and the definitive technological package has not arrived to enhance the car's theoretical chances of fighting for the top positions.
The new scoring of this season's Sprint Races, which made their debut at Imola, is the points. Up until last season, the first three drivers earned points, with 3, 1 and 1 point respectively. From 2022 onwards, the top 8 finishers get points. The winner gets 8 points and from there in decreasing order until the eighth and last classified, who earns one point.
If the same driver who wins the Sprint Race also wins the race and obtains the fastest lap, he will have been awarded 34 points (8+1+25). As these points are obviously also carried over to the Constructors' World Championship, they can be decisive for the title in both categories.
With a starting grid made up entirely of Red Bull drivers (first Verstappen and third Pérez) and Ferrari drivers (second Leclerc and fourth Sainz), only a miracle could ignite Mercedes' hopes.
With a circuit where the chances of overtaking are quite remote, with the uncertainty caused by the presence of rain and some statistics to take into account: none has ever won starting further back than sixth position and none since the post-lockdown era has yet been able to win starting from pole position. However, in most cases, the winner has been the one who has started from the front row.
La carrera. / The race.
Con el Haas de Kevin Magnussen y el Alfa Romeo de Valtteri Bottas posicionados dentro de los diez primeros-que ya han dejado de ser sorpresas en este inicio de temporada- con neumáticos intermedios para todos y con la amenaza latente de la lluvia, el GP de Imola presentó en seguida algunos aspectos inesperados: la colisión entre Ricciardo y Sainz en la partida relegó al ferrarista a la última posición, le hizo perder dos lugares a Leclerc, ganar seis posiciones a Russell con Mercedes y un par de posiciones a Hamilton, mientras que Verstappen conservó el liderazgo seguido por su compañero de equipo Pérez y Lando Norris con McLaren.
Inmediata la entrada del Safety Car que se mantuvo hasta la vuelta número cinco, a partir de la cual Verstappen comenzó a hacer la diferencia vuelta tras vuelta a registrando récord tras récord. Leclerc, recuperándose de su traspié inicial, recupera la tercera posición a expensas de Norris en la variante Tamburello y el resto mantiene sus posiciones en un circuito en el cual es muy difícil adelantar. Notable la partida de George Russell, recuperando cinco posiciones, que una vez más demuestra estar en un nivel superior al multicampeón Lewis Hamilton, que solamente avanza de dos lugares. Sainz y Alonso registran los primeros retiros en el Gran Premio de Emilia-Romaña.
De cualquier manera, en las primeras vueltas el Red Bull de Verstappen le saca casi un segundo al resto, incluyendo a su propio compañero de equipo Pérez, mientras Russell sigue escalando posiciones y luego de superar a Bottas se ubica en la quinta posición.
De destacar en los primeros tramos de carrera la neta superioridad de Red Bull y Ferrari sobre el resto, sacándoles más de un segundo de diferencia a vuelta, confirmando lo ocurrido hasta ahora en los Grandes Premios anteriores, y el periodo sombrío por el que está atravesando Hamilton más que Mercedes superando constantemente en pruebas libres, clasificación y carrera por su compañero de equipo Russell que recién está aprendiendo a conocer el monoplaza. Aparentemente los problemas de potencia evidenciados en su auto antes de la largada se están haciendo sentir durante el desarrollo de la carrera. ¿Señal de declino para Hamilton? Parece que esta temporada será crucial para el futuro del siete veces campeón del mundo.
Mientras la pista comienza a secarse, las gomas intermedias comienzan a recalentarse e inician las paradas en boxes para el cambio. Entran casi todos los pilotos y la situación cambia poco y lo poco que cambio perjudica a Hamilton que vuelva a la posición 14° en lo que parece transformarse en un fin de semana de pesadilla para el piloto británico que continúa registrando tiempos muy altos. Hay que frugar mucho en la memoria para encontrar a un Hamilton tan apagado. Tal vez la pérdida del mundial en la última carrera del año pasado haya dejado su marca en el ánimo del ex-campeón y su ilusión de alcanzar el octavo título.
Es de destacar que los pneumáticos de largada -intermedios- duraron un tercio de la carrera (63 vueltas), ya que todos los cambiaron alrededor del giro número veinte, por lo cual probablemente la mayoría tratará de llegar hasta el final con las mismas gomas. El mayor interés de la carrera se centra en la posición amenazante de Charles Leclerc a espaldas de Sergio Pérez esperando el momento oportuno para atacar que, sin embargo, no se presenta y, con dos monoplazas en paridad de rendimiento, es muy difícil adelantar en este circuito, desarrollado fundamentalmente para las carreras de motociclismo con otra estructura programada para los adelantos.
La ventaja es de tal magnitud que dobla a Hamilton de una vuelta, mientras que Leclerc, que al entrar en boxes a cambiar goma e intentar la vuelta rápida había perdido la posición a expensas de Norris y luego la había recuperado en su afán de recuperar terreno sobre Pérez, se gira completamente dañando el ala delantera y siendo obligado, de esta manera, a una nueva parada en boxes que le hace perder toda esperanza de entrar en podio. Sale en la octava posición y a beneficiarse es Russell que se posiciona cuarto.
Gran Premio amargo para Ferrari que no solo regala el primer y segundo lugar a Red Bull, sino que además logra sacar muy pocos puntos. Recuperación auspiciosa para la Mercedes de Russell aún con tanto para mejorar. Hamilton debe comenzar a replantearse su futuro. 14° posición en las pruebas libres, en la clasificación, en la mini-carrera del sábado y en la carrera del domingo no es normal. Mercedes puede no estar al nivel de Red Bull y Ferrari, pero en este panorama sombrío del britónico hay mucho de personal. Y solo él mismo podrá cambiar el rumbo que, a este punto, es el de un inexorable adiós a cualquier expectativa de triunfo.
Concluye en Gran Premio de Emilia-Romaña con el doblete Red Bull (Verstappen-Pérez) seguidos por las dos revelaciones de la temporada anterior, Norris con McLaren y Russell con Mercedes, un óptimo quinto puesto para el Alfa Romeo de Valtteri Bottas, Lecler que desilusiona a los miles de tifosos y termina sexto por en error al final de la carrera. Vettel y Stroll conquistan los primeros puntos para Aston Martin mientras que Tsunoda y Magnussen con Alpha Tauri y Haas respectivamente continúan por el buen camino.

With the Haas of Kevin Magnussen and the Alfa Romeo of Valtteri Bottas positioned in the top ten - which are no longer surprises at the beginning of the season - with intermediate tires for everyone and with the threat of rain, the Imola GP presented some unexpected aspects: the collision between Ricciardo and Sainz at the start relegated the Ferrari driver to the last position, made him lose two places to Leclerc, gain six positions to Russell with Mercedes and a couple of positions to Hamilton, while Verstappen retained the lead followed by his teammate Perez and Lando Norris with McLaren.
Immediate entry of the Safety Car that remained until lap five, from which Verstappen began to make the difference lap after lap to recording record after record. Leclerc, recovering from his initial setback, regained the third position at the expense of Norris in the Tamburello variant and the rest maintained their positions in a circuit where it is very difficult to overtake. George Russell's remarkable start, recovering five positions, once again proving to be at a higher level than multi-champion Lewis Hamilton, who only moved up two places. Sainz and Alonso recorded the first retirements in the Grand Prix of Emilia-Romagna.
Anyway, in the first laps the Red Bull of Verstappen takes almost a second off the rest, including his own teammate Perez, while Russell continues to climb positions and after overtaking Bottas is placed in fifth position.
Of note in the early stages of the race the clear superiority of Red Bull and Ferrari over the rest, taking more than a second of difference per lap, confirming what happened so far in previous Grands Prix, and the gloomy period through which Hamilton is going through more than Mercedes constantly surpassed in free practice, qualifying and race by his teammate Russell who is just learning to know the car. Apparently the power problems evidenced in his car before the start are making themselves felt during the development of the race. Sign of decline for Hamilton? It looks like this season will be crucial for the future of the seven-time world champion.
As the track begins to dry out, the intermediate tires start to overheat and the pit stops begin. Almost all the drivers entered the pits and the situation changed little, and the little that did change was detrimental to Hamilton, who returned to 14th position in what seems to become a nightmare weekend for the British driver, who continues to record very high lap times. It takes a lot of memory to find such a subdued Hamilton. Perhaps the loss of the world championship in the last race of last year has left its mark on the mood of the former champion and his illusion of reaching the eighth title.
It is worth noting that the starting tires -intermediates- lasted a third of the race (63 laps), as everyone changed them around lap twenty, so most of them will probably try to go to the end with the same tires. The main interest of the race is focused on the threatening position of Charles Leclerc behind Sergio Perez waiting for the right moment to attack which, however, does not present itself and, with two cars in parity of performance, it is very difficult to overtake on this circuit, developed primarily for motorcycle racing with another structure programmed for overtaking.
The advantage is of such magnitude that he doubles Hamilton in one lap, while Leclerc, who had lost the position to Norris when he pitted to change rubber and try the fastest lap and then regained it in his eagerness to make up ground on Perez, spins completely damaging the front wing and being forced, in this way, to a new pit stop that makes him lose all hope of getting on the podium. He starts in the eighth position and Russell takes the fourth position.
A bitter Grand Prix for Ferrari, which not only gives away the first and second place to Red Bull, but also manages to score very few points. Auspicious recovery for Russell's Mercedes even with so much to improve. Hamilton must start to rethink his future. 14th position in free practice, qualifying, Saturday's mini-race and Sunday's race is not normal. Mercedes may not be at the level of Red Bull and Ferrari, but in this bleak outlook of the Briton there is a lot of personnel. And only he himself will be able to change the course that, at this point, is that of an inexorable goodbye to any expectation of triumph.
The Grand Prix of Emilia-Romagna concludes with the Red Bull double (Verstappen-Perez) followed by the two revelations of the previous season, Norris with McLaren and Russell with Mercedes, an excellent fifth place for the Alfa Romeo of Valtteri Bottas, Lecler who disappoints the thousands of fans and finishes sixth because of a mistake at the end of the race. Vettel and Stroll scored the first points for Aston Martin while Tsunoda and Magnussen with Alpha Tauri and Haas respectively continue on the right track.
Las posiciones. / The positions.
El triunfo le permite a Max Verstappen recuperar la segunda posición con los 34 puntos obtenidos (victoria, vuelta más rápida en carrera y ganador de la mini-race del sábado) y situarse a tiro de Charles Leclerc que continúa liderando el Mundial de Pilotos con 89 puntos. Tecero está Sergio Pérez de Red Bull y cuarto un sorprendente George Russell con Mercedes que desplaza a Carlos Sainz al quinto lugar. Escala posiciones Lando Norris con el podrio en Imola y sube al sexto lugar desplazando a Lewis Hamilton -autor de una carrera verdaderamente anónima en Imola- a la séptima posición. Detrás suyo completan la Top Ten Valtteri Bottas, Esteban Ocon y Kevin Magnussen, el primero y el último sorprendiendo carreras tras carrera con Haas y Alfa Romeo respectivamente.
Lo de Verstappen es a todo o nada. De cuatro carreras disputadas abandonó en dos por problemas mecánicos. El segundo lugar en el mundial lo ha conseguido con los puntos de solo dos carreras a diferencia de Leclerc que ha sumado en las cuatro competencias.
En lo que respecta al Mundial de Constructores sigue liderando Ferrari si bien Red Bull se le ha acercado bastante. Mercedes sigue tercera. Lo curioso es que por primera vez en muchos años todos los equipos -con solo cuatro carreras disputadas- han sacado puntos. Hoy le tocó el turno a Aston Martin que sumó 5 puntos para colocarse penúltima por delante de Williams que tiene un solo punto.
En el medio Alfa Romeo, Alpine, Alpha Tauri, Haas de disputan la quinta posición justo en la mitad de la tabla mientras McLaren hace malabarismos para no caer de la cuarta posición

The victory allows Max Verstappen to regain the second position with the 34 points obtained (victory, fastest lap in the race and winner of Saturday's mini-race) and to be within striking distance of Charles Leclerc who continues to lead the Drivers' World Championship with 89 points. Third is Sergio Perez of Red Bull and fourth a surprising George Russell with Mercedes who displaces Carlos Sainz to fifth place. Lando Norris climbs positions with the podium at Imola and moves up to sixth place, displacing Lewis Hamilton -author of a truly anonymous race at Imola- to seventh position. Behind him complete the Top Ten Valtteri Bottas, Esteban Ocon and Kevin Magnussen, the first and the last surprising race after race with Haas and Alfa Romeo respectively.
Verstappen is all or nothing. Out of four races contested, he abandoned in two of them due to mechanical problems. The second place in the world championship has been achieved with points from only two races, unlike Leclerc who has scored in all four races.
As far as the Constructors' World Championship is concerned, Ferrari continues to lead, although Red Bull has come quite close. Mercedes is still third. The curious thing is that for the first time in many years all the teams -with only four races played- have scored points. Today it was the turn of Aston Martin, which scored 5 points to place second last ahead of Williams, which has only one point.
In the middle, Alfa Romeo, Alpine, Alpha Tauri, Haas are competing for the fifth position right in the middle of the table while McLaren is juggling not to drop from fourth position.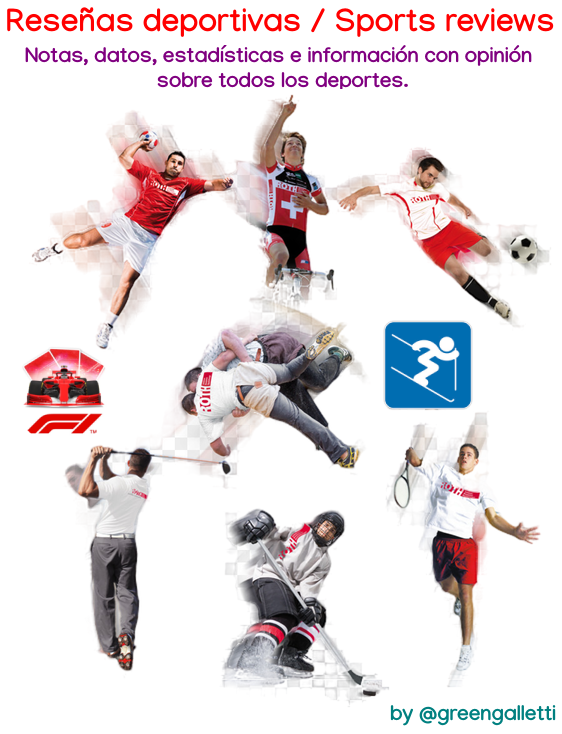 La parte inferior del banner de la firma corresponde al badget elaborado por el equipo de @hivebuzz. Mi agradecimiento a ellos y en particular a @arcange.
The lower part of the signature banner corresponds to the badget made by the @hivebuzz team. My thanks to them and in particular to @arcange.
El separador de párrafos es propiedad de The Peak Studio a quien agradezco la gentil concesión de uso.
The paragraph separator is the property of The Peak Studio to whom I am grateful for the kind permission to use it.
Traducido con / Translated with: DeepL Translator.
---
---