[ESP/ENG] Emociones, un accidente surrealista y dramático con un ganador inesperado en el GP de Monza de Fórmula 1. / Emotions, a surreal and dramatic accident with an unexpected winner at the Formula 1 Monza GP.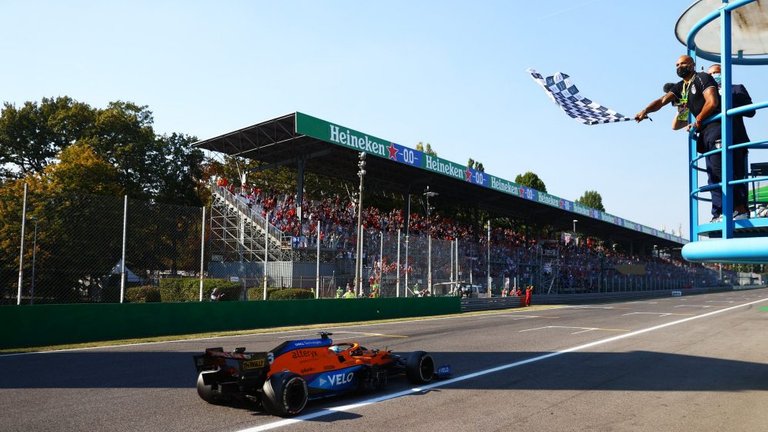 Con una excelente largada, una eficaz gestión de la carrera y beneficiado por el accidente entre Verstappen y Hamilton, Daniel Ricciardo consigue una espectacular victoria en el Gran Premio de Italia. / With an excellent start, effective race management and benefiting from the accident between Verstappen and Hamilton, Daniel Ricciardo takes a spectacular victory in the Italian Grand Prix.
El Gran Premio de Fórmula 1 que se acaba de disputar en el Autódromo de Monza fiel a su costumbre suele deparar espectáculo. Que a veces no es solo en la pista. Los nueve aviones que conforman la escuadrilla aérea llamada 313° Gruppo Addestramento Acrobatico o Pattuglia Acrobatica Nazionale (PAN, Patrulla Acrobática Nacional)Frecce Tricolori son un espectáculo en sí mismo dibujando en el cielo los colores de la bandera italiana.
Pero este Gran Premio, uno de los más tradicionales de la F1 tenía otros atractivos dentro de la pista.
El primero la "mini-race" es decir las mini-carreras del día sábado, en este caso la segunda del año, el nuevo sistema impulsado por la FIA para dar un mayor espectáculo. Carreras al sprint con una duración de 30 minutos o 100 kms, aproximadamente 20 vueltas según cada circuito, sin cambio de gomas ni paradas en boxes. Con tres puntos para el ganador, dos para el segundo y un punto para el tecero.
Y hasta aquí todo parecía sonreir a Verstappen y a su Red Bull. Porque el ganador de esta mini-carrera había sido Valtteri Bottas, porque Lewis Hamilton después de una mala largada había quedado quinto y durante la corta carrera no había podido superar nunca a Lando Norris con McLaren y porque su principal rival en el Campeonato Pilotos había slaido segundo sacándole dos puntos más en el global y llegando así a la carrera del domingo con un +5 a su favor.
Sin embargo la carrera, en un circuito panorámicamente muy hermoso pero en el que salvo la entrada de la safety car y algún que otro accidente las emociones generalmente no son demasiadas, en esta oportunidad nos depararía grandes emociones.
A comenzar por la largada.

The Formula 1 Grand Prix that has just been held at the Monza Autodrom, faithful to its custom, usually provides spectacle. And sometimes not only on the track. The nine aircraft that make up the air squadron called 313° Gruppo Addestramento Acrobatico or Pattuglia Acrobatica Nazionale (PAN, National Aerobatic Patrol) Frecce Tricolori are a spectacle in itself, drawing in the sky the colors of the Italian flag.
But this Grand Prix, one of the most traditional of F1, had other attractions inside the track.
The first one was the "mini-race", that is to say the mini-races on Saturday, in this case the second of the year, the new system promoted by the FIA to give a greater spectacle. Sprint races with a duration of 30 minutes or 100 kms, approximately 20 laps depending on each circuit, without changing tires or pit stops. With three points for the winner, two for the second and one point for the third.
And so far everything seemed to smile to Verstappen and his Red Bull. Because the winner of this mini-race had been Valtteri Bottas, because Lewis Hamilton after a bad start had been fifth and during the short race had never been able to overtake Lando Norris with McLaren and because his main rival in the Drivers' Championship had finished second, taking two more points overall and thus arriving at Sunday's race with a +5 in his favor.
However, the race, in a very beautiful panoramic circuit but in which except for the entry of the safety car and the occasional accident the emotions are usually not too many, this time would bring us great emotions.
Let's start with the long one..
La carrera. / The race.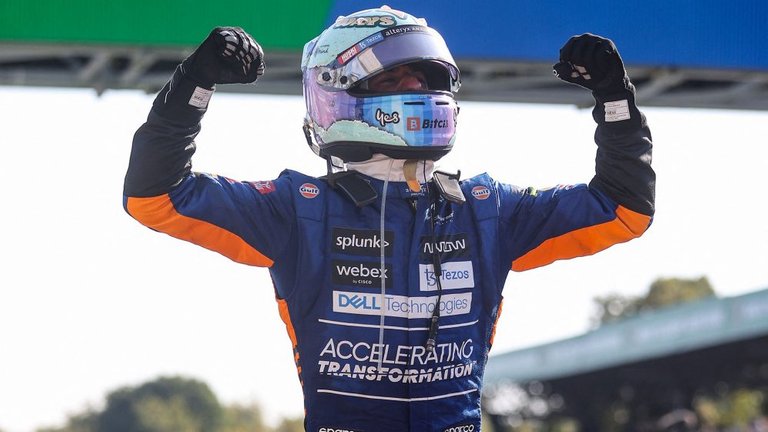 La incontenible alegría de Daniel Ricciardo, ganador del Gran premio de Fórmula 1 disputado en Monza. / The uncontainable joy of Daniel Ricciardo, winner of the Formula 1 Grand Prix at Monza.
Max Verstappen es un excelente largador. Lewis Hamilton presente, en este aspecto, uno de sus pocos puntos débiles. La parrila había quedado formado por Verstappen-Ricciardo-Norris-Hamilton en las dos primeras filas.
Sin embargo las cosas anduvieron en un modo distinto. Daniel Ricciardo con una McLaren alimentada por el motor Mercedes tuvo la aceleración justa y superó en la largada a un Verstappen cuyas gomas patinaron levemente perdiendo la primera posición. Hamilton por su partre superó a Norris y en su afán por superar también al holandés casi se despista y terminó resignando a favor del piloto de McLaren la posición que le había ganado.
Y en un circuito en que a paridad de autos es (casi) imposible adelantar se formó un trencito con Ricciardo y Verstappen en el rebufo de sus escapes y de igual manera Norris con Hamilton detrás.

Max Verstappen is an excellent starter. Lewis Hamilton present, in this aspect, one of his few weak points. The grid had been formed by Verstappen-Ricciardo-Norris-Hamilton in the first two rows.
However, things went in a different way. Daniel Ricciardo with a McLaren powered by the Mercedes engine had the right acceleration and overtook Verstappen at the start, whose tires slipped slightly, losing the first position. Hamilton overtook Norris and in his eagerness to overtake the Dutchman he almost lost his way and ended up resigning the position he had won in favor of the McLaren driver.
And in a circuit where the parity of cars is (almost) impossible to overtake, Ricciardo and Verstappen in the slipstream of their exhausts and likewise Norris with Hamilton behind.
Parada en boxes, salida de Hamilton y accidente. / Pit stop, Hamilton's exit and accident.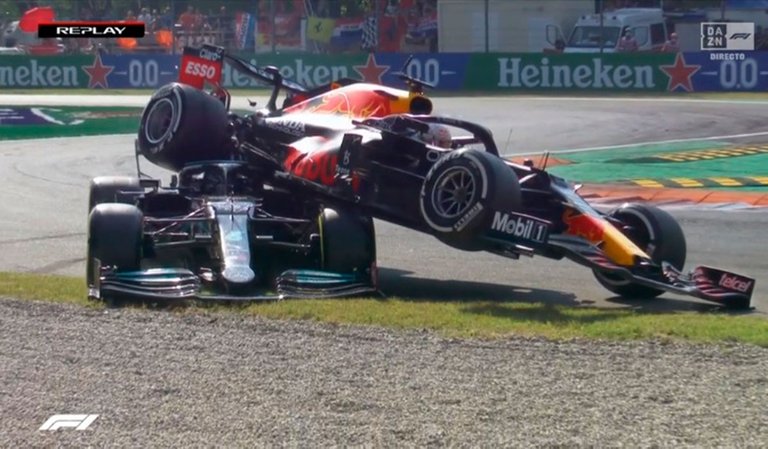 Hamilton y Verstappen se tocan en la Curva 2 tras la salida de boxes del británico. / Hamilton and Verstappen collide in Turn 2 after the Brit's pit exit.
Todas las emociones que habían faltado en estas primeras veinte vueltas se dieron en un par de minutos.
Norris con los pneumáticos deteriorados no puede reistir a Hamilton que pasa adelante en la carrera (la vuelta anterior primero Ricciardo y luego Verstappen habían entrado a cambiar pneumáticos).
El aspecto que había sido el factor determinante le jugó una mala pasada a Red Bull. Normalmente rapidísimos en el cambio de pneumáticos con tiempos inferiores a los tres segundos esta vez tardaron once segundos por complicaciones en las ruedas traseras vanificando todos los esfuerzos del holandés para conservar la punta de la carrera. Cuando sale se sitúa en el medio del pelotón en la novena posición.
La Mercedes de Hamilton hace un par de vueltas y decide improvisamente de entrar a cambiar pneumáticos tal vez en un exceso de confianza ya que en ese momento le llevaba cinco segundos a Leclerc que había quedado segundo y Verstappen estaba lejos.
Sin embargo la mala suerte, los errores o una momentánea desatención hicieron que también el equipo Mercedes cometeira errores y tardara un par de segundos más de lo habitual, en este caso cuatro.
Todo esto significó que la salida de Hamilton de boxes y su posterior aceleración para meterse en pista coincidiera con la llegada de Verstappen. Entrar los dos apareados a la primera curva y no darse espacio ninguno era algo lógico de suponer, considerando anteriores encontronazos. En un cierto momento puede revivir los duelos Senna-Prost.
La rueda trasera derecha de Verstappen se montó arriba de la rueda trasera de izquierda y como en un videogame la Red Bull comenzó a alzarse lentamente -con la visión de la cámara lenta d ela TV- pasar por encima de la cabeza de Hamilton y pasar limpiamente al otro lado. Escalofriante.
Si bien algunas oportunidades he criticado la FIA creo que muchas medidas de seguridad -entre ellas la incorporación del halo como protección de la cabeza del piloto- en este caso le ha salvado la vida a Hamilton. En un accidente surrealista, aparentemente inocuo, ya que ni siquiera la velocidad era elevada ya que ambos autos estaban en plena frenada.

All the emotions that had been missing in these first twenty laps were given in a couple of minutes.
Norris with deteriorated tires can not resist Hamilton who passes ahead in the race (the previous lap first Ricciardo and then Verstappen had entered to change tires).
The aspect that had been the determining factor played a dirty trick on Red Bull. Normally very fast in changing tires with times of less than three seconds this time it took eleven seconds due to complications in the rear tires vanishing all the efforts of the Dutchman to keep the lead of the race. When he starts he is in the middle of the pack in ninth position.
Hamilton's Mercedes makes a couple of laps and decides improvisedly to enter to change tires perhaps in an overconfidence because at that moment he was five seconds ahead of Leclerc who had been second and Verstappen was far away.
However, bad luck, mistakes or a momentary inattention made the Mercedes team also made mistakes and took a couple of seconds longer than usual, in this case four.
All this meant that Hamilton's exit from the pits and his subsequent acceleration to get on track coincided with the arrival of Verstappen. Entering the two paired up at the first corner and neither giving each other room was a logical thing to assume, considering previous clashes. At a certain point it can revive the Senna-Prost duels.
Verstappen's right rear wheel mounted on top of the left rear wheel and like in a videogame the Red Bull began to slowly rise up - with the slow-motion vision of the TV - over Hamilton's head and cleanly through to the other side. Chilling.
While I have sometimes criticized the FIA, I believe that many safety measures - including the addition of the halo to protect the driver's head - in this case saved Hamilton's life. In a surreal accident, apparently innocuous, since not even the speed was high as both cars were in full braking.
A rio revuelto ... / At troubled waters ...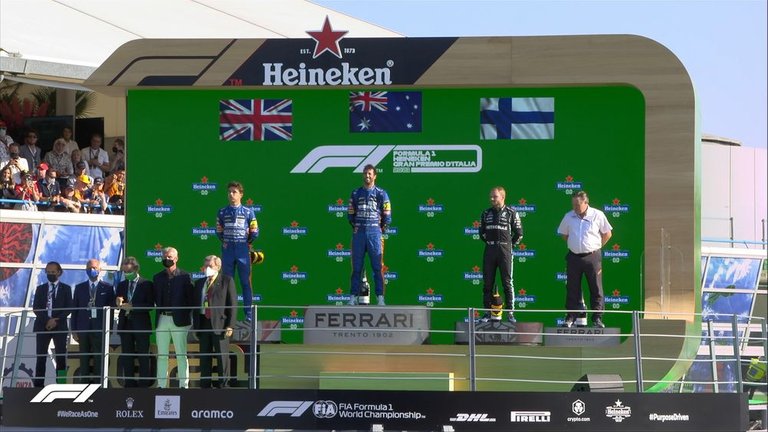 El podio en elGran premio de Fórmula 1 disputado en Monza, aparte del doblete McLaren, una gran actuación de Valteri Bottas -tercero- que largó último. / The podium in the Formula 1 Grand Prix held in Monza, apart from the McLaren double, a great performance by Valteri Bottas -third- who started last.
Y como bien dice el refrán: "a rio revuelto ganancia de pescadores". Y en este caso los pescadores fueron Daniel Ricciardo, primer triunfo de la temporada y estupendo uno-dos para McLaren con Lando Norris criterioso escolta.
Sin errores por parte del equipo ni de los pilotos supieron aprovechar al máximo los errores ajenos.
Remarcable la actuación de Valteri Bottas, ganador de la mini-race y por lo tanto mejor clasificado en la largada tuvo que cambiar la unit power y largar último, sin embargo terminó tercero, en el podio. El piloto que más adelantos hizo en Monza, especialmente con los pilotos de la mitad para atrás del pelotón. Al final también él se vio beneficiado por el accidente entre Verstappen y Hamilton.
Ironía de la suerte durante la semana se había anunciado oficialmente su ida del equipo Mercedes para recalar en Alfa Romeo. Pasar de uno de los mejores autos de la F1 a uno de los de peores rendimientos en la actual temporada. Su lugar será ocupado por George Russell forjado en el equipo Williams.
Los hombres de Ferrari ni siquiera en esta ocasión pudieron subirse al podio. Leclerc cuarto y Sainz sexto se quedaron con un gusto amargo en la boca. Como Checo Pérez que no logra sumar puntos importantes ni siquiera en las ocasiones propicias, como ésta.
Los restantes puntos se distribuyeron entre Stroll con Aston Martin, Alonso y Ocon con Alpine y Russell que continúa sumando puntos para Williams en las últimas carreras, a manera de despedida.

And as the saying goes: "all catches a fisherman's catch". And in this case the fishermen were Daniel Ricciardo, first win of the season and a great one-two for McLaren, with Lando Norris as a careful escort.
With no mistakes by the team or the drivers, they knew how to make the most of other drivers' mistakes.
Valteri Bottas, winner of the mini-race and therefore best classified at the start, had to change the unit power and start last, but nevertheless finished third, on the podium. He was the driver who made the most progress in Monza, especially with the drivers in the middle of the field. In the end he also benefited from the accident between Verstappen and Hamilton.
Ironically, during the week it had been officially announced that he was leaving the Mercedes team to join Alfa Romeo. Going from one of the best cars in F1 to one of the worst performers in the current season. His place will be taken by George Russell forged in the Williams team.
The Ferrari men could not even get on the podium this time. Leclerc fourth and Sainz sixth were left with a bitter taste in their mouths. Like Checo Perez who fails to score important points even on the right occasions, such as this one.
The remaining points were distributed among Stroll with Aston Martin, Alonso and Ocon with Alpine and Russell who continues to score points for Williams in the last races, as a farewell.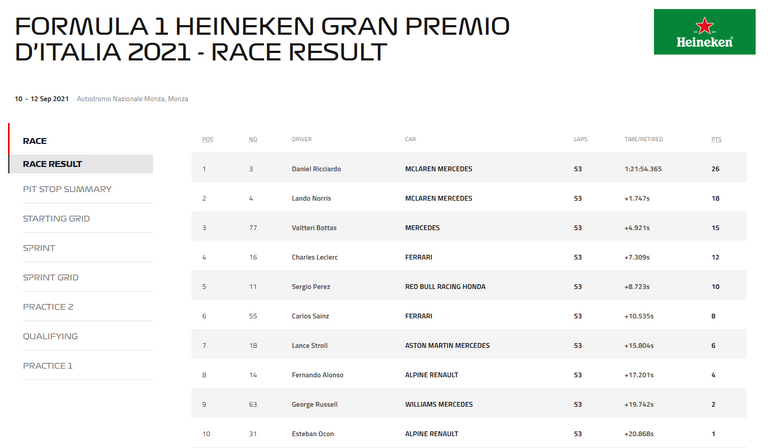 Ricciardo da a McLaren su primera victoria en una carrera desde el Gran Premio de Brasil de 2012. / Ricciardo gives McLaren its first race win since the 2012 Brazilian Grand Prix.
Traducción del texto efectuada con DeepL Translator en su versión gratuita.
Text translation performed with DeepL Translator](https://www.deepl.com/translator) in its free version /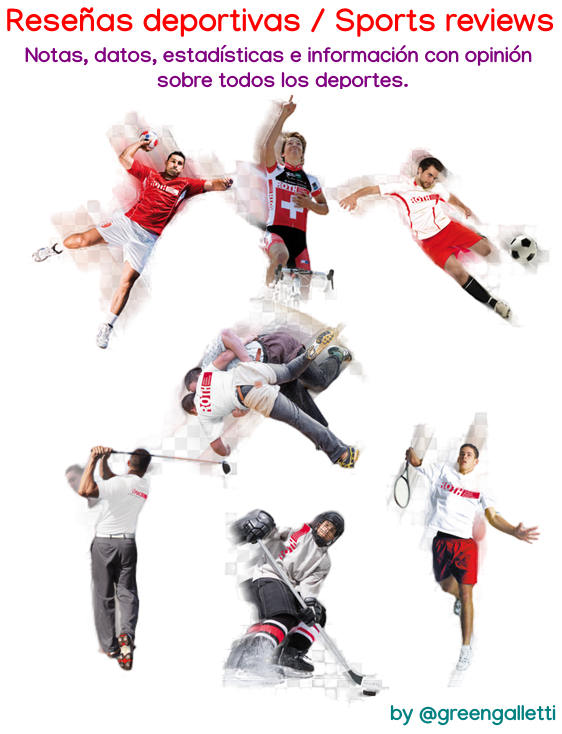 El separador de párrafos -modificado por el autor- es propiedad del usuario @thepeakstudio. A él mi agradecimiento por el excelente material gráfico puesto a disposición de la Comunidad.
The paragraph separator -modified by the author- is property of the user @thepeakstudio. To him my thanks for the excellent graphic material made available to the Community.
El banner titulado Reseñas Deportivas / Sports Reviews personalizado por el autor es propiedad de PNGWing.
The banner titled Reseñas Deportivas / Sports Reviews customized by the author is property of PNGWing.

---
---