[ESP/ENG] Idolos del automovilismo mundial: John Surtess es al día de hoy el único doble campeón mundial ya sea en F1 que en motos. / World motorsport idols: John Surtess is the only double world champion in both F1 and motorbike racing.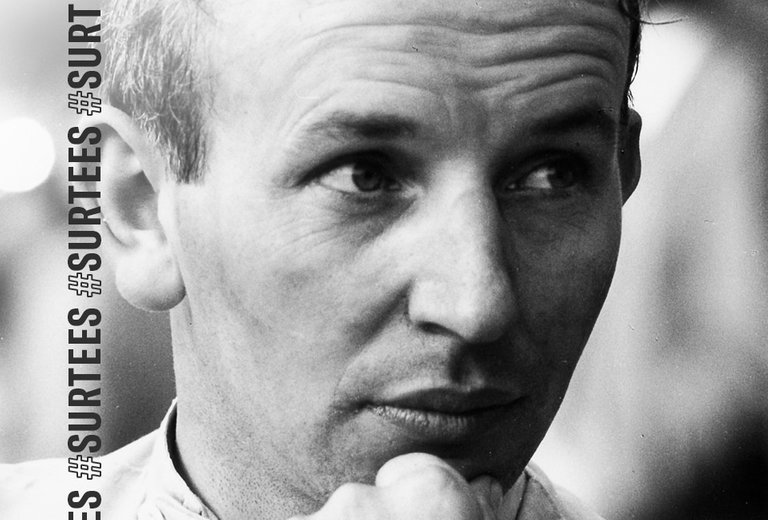 Ocho los títulos mundiales en poder de John Surtees, símbolo de pasión y éxitos en lo que a carreras en pista se refiere. / Eight world titles held by John Surtees, a symbol of passion and success when it comes to track racing.
En estos tiempos modernos de récords deportivos, exposición mediática y sucesos muy pronto nos olvidamos de figuras que en el pasado han dejado una huella imborrable y que, a veces, por ese efecto traicionero de la memoria de recordar lo más reciente antes de todo se van desdibujando en nuestra memoria.
Hoy les quiero hablar de un piloto de Fórmula Uno que no solo fue campeón mundial de su categoría sino que también creó su propio equipo y fue asimismo campeón mundial en motos.
Una meta que hasta el presente ningún otro piloto ha logrado.
John Surtees conquistó su único título de F1 con Ferrari en el año 1964 después de haber corrido durante ocho años en motos y haber ganado siete mundiales.
En sus casi 75 años de historia de los mundiales de F1 y de motociclismo, solo un hombre -hasta el dia de hoy- ha sido capaz de conquistar dos mundos tan distintos, tan disímiles entre si, el de las dos y las cuatro ruedas en sus respectivas categorías reinas.
In these modern times of sporting records, media exposure and events, we soon forget figures who have left an indelible mark in the past and who, sometimes, due to the treacherous effect of memory of remembering the most recent before everything else, fade from our memory.
Today I would like to tell you about a Formula One driver who was not only world champion in his category but also created his own team and was also world champion in motorbikes.
A goal that no other driver has achieved so far.
John Surtees won his only F1 title with Ferrari in 1964 after having raced for eight years in motorbikes and having won seven world championships.
In the almost 75-year history of the F1 and motorbike world championships, only one man - until today - has been able to conquer two worlds so different, so dissimilar from each other, that of the two and the four wheels in their respective premier categories.
Sus inicios con las motos. / His beginnings with motorbikes.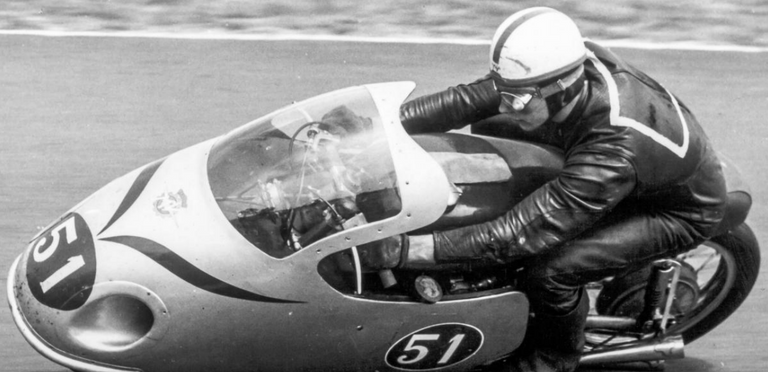 John Surtees es el único hombre en la historia que ha conseguido ganar los campeonatos del mundo de MotoGP y Fórmula 1. / John Surtees is the only man in history to have won both the MotoGP and Formula 1 World Championships.
Apasionado al límite de la mecánica comienza a correr con las motos en el año 1952 en la categoría reina, los 500cc. con una Norton.
En realidad su debut deportivo a nivel competitivo es una carrera de motos con sidecar con su padre, también piloto, cuando tenía apenas 14 años.
Ganan pero son descalificados porque el futuro doble campeón no tenía la edad mínima requerida para competir.
Hace unos años en la página web de Red Bull declaraba que en ese entonces lo único que le interesaba era agarrar las herramientas y trabajar junto a su padre en la mecánica.
Debuta en el GP de Ulster (Irlanda) cuando solo faltaban dos carreras para el fin de la temporada (Italia y España) y termina sexto. Un debut más que promisorio que prometía un futuro deportivo venturoso.
Los tres años siguientes parecen eclipsar la figura del futuro campeón, entre abandonos, retiros y accidentes no logra sumar ningún punto. Tenía sólo 21 años y lo mejor de su carrera debía todavía venir.
En el año 1955 participa en las tres categorías que había en ese momento: en 250cc gana el GP de Ulster (Irlanda) y termina en la octava posición en el mundial.
En la categoría intermedia (350cc) le va un poco mejor: dos terceros puestos y un cuarto que le permiten sumar 11 unidades y terminar sexto en el mundial.
En la categoría reina, los 500cc, en cambio, no suma puntos.
Es el 1956 el año de su despegue. Con la experiencia acumulada comenzaría a arrasar con los campeonatos que lo llevarían a obtener 7 títulos mundiales en motos.
El team de la MV Augusta vee en Srtees un futuro campeón y los resultados comienzan a darle la razón. Gana los tres primeros GP: la carrera inaugural en el circuito del Tourist Trphy en la isla de Man y luego los grandes premios de Holanda y Bélgica que le permiten ganar su primer título mundial en la clase 500cc. En la clase 350 cc termina cuarto con un triungo en el GP de Bélgica -donde hace doblete con la clase 500cc-, un cuarto puesto y dos retiros.
El año 1957 es un año de transición en ambas categorías terminando décimo en 350cc y tercero en 500cc.
El verdadero monopolio en los triunfos comienza en 1958 y termina en 1960. Gana aboslutamente todo. En el año 1958, por ejemplo, gana todas las carreras en 350cc salvo una, el GP de Suecia. En 1958 gana seis carreras sobre ocho. Dominio arrasador. En los años se corona campeón mundial en la categoría 350cc.
En la categoría reina no es de menos. Similar a la categoría anterior gana todas las carreras en el añon 1958 salvo el GP de Suecia y en 1959 mejora la prestación anterior: gana 7 carreras sobre 8. En 1960 gana 5 sobre 7. También en estos tres años se corona campeón mundial. Seis títulos en tres años. Fenómeno total.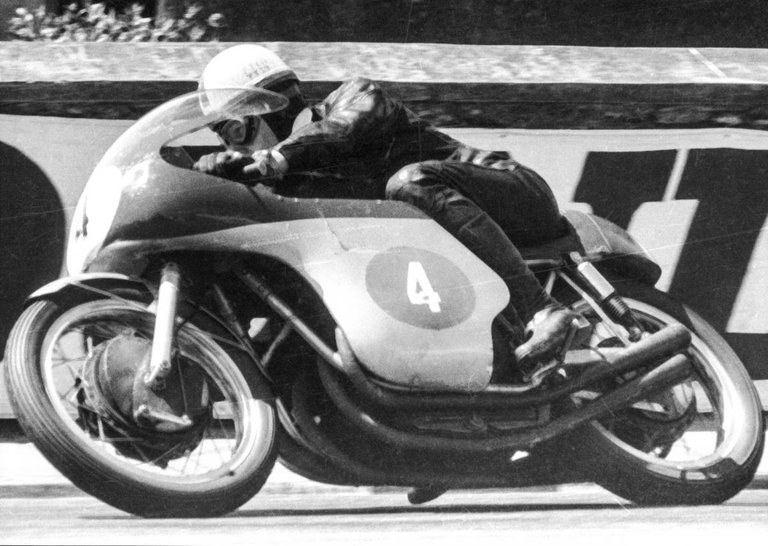 En su primera temporada con MV Augusta John Surtees logra ganar por primera vez la corona mundial de 500cc. / In his first season with MV Augusta John Surtees wins the 500cc world crown for the first time.
Passionate to the limit of mechanics, he began racing motorbikes in 1952 in the premier class, the 500cc. with a Norton.
In fact, his competitive sporting debut was a motorbike sidecar race with his father, also a racer, when he was only 14 years old.
They won but were disqualified because the future double champion was under the minimum age required to compete.
A few years ago on the Red Bull website, he stated that at the time all he was interested in was picking up tools and working alongside his father in the mechanics.
He made his debut at the Ulster GP (Ireland) with only two races to go before the end of the season (Italy and Spain) and finished sixth. A more than promising debut that promised a successful sporting future.
The following three years seemed to eclipse the figure of the future champion, between withdrawals, retirements and accidents, he did not manage to score any points. He was only 21 years old and the best of his career was still to come.
In 1955 he took part in the three categories that existed at the time: in the 250cc class he won the Ulster GP (Ireland) and finished eighth in the World Championship.
In the intermediate class (350cc) he fared a little better: two third places and a fourth, which allowed him to score 11 points and finish sixth in the World Championship.
In the premier class, the 500cc, on the other hand, he did not score any points.
1956 was the year of his breakthrough. With his accumulated experience, he began to sweep the championships that would lead him to 7 world titles in motorbikes.
The MV Augusta team saw in Srtees a future champion and the results began to prove him right. He wins the first three GPs: the inaugural race at the Tourist Trphy circuit on the Isle of Man and then the Grand Prix of Holland and Belgium, which allows him to win his first world title in the 500cc class. In the 350cc class he finishes fourth with a win in the Belgian GP - where he doubles with the 500cc class - a fourth place and two retirements.
1957 is a transitional year in both classes, finishing tenth in the 350cc class and third in the 500cc class.
The real monopoly in victories begins in 1958 and ends in 1960. He wins aboslutely everything. In 1958, for example, he wins every 350cc race except one, the Swedish GP. In 1958 he wins six races out of eight. A sweeping domination. In the years he is crowned world champion in the 350cc class.
In the premier class no less. Similar to the previous category, he won all the races in 1958 except for the Swedish GP and in 1959 he improved his previous performance: he won 7 races out of 8. In 1960 he won 5 out of 7 races. Six titles in three years. A total phenomenon.
Su debut en la Fórmula 1. / His debut in Formula 1.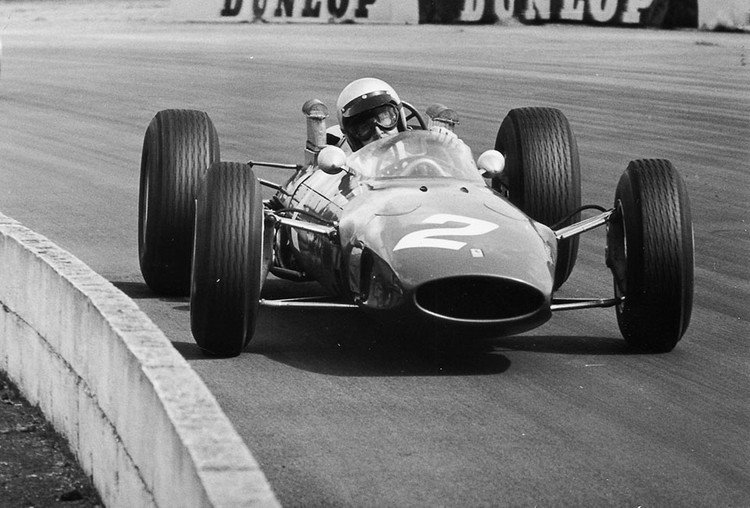 John Surtess con el monoplaza Ferrari 512 F1. / John Surtess with the Ferrari 512 F1 car.
El hecho que participara también en la carrera del Tourist Trophy en la Isla de Man (con los riesgos que ello suponía) llevá a enfriar las relaciones con el dueño del equipo, el Conde Augusta, quien en el contrato de limitaba este tipo de participaciones extras.
Claro, no hablaba nada de las cuatro ruedas, un sueño que se hizo cada vez más fuerte en Surtees después del aplastante dominio trienal 1958-1960.
Hace un test con Aston Martin (curiosamente este año ha vuelto a competor oficialmente con ese nombre en F1) y adquiere un F2 para ir creciendo. Todavía piloteaba la moto en 500 cc.
En 1960 participa con el Team Lotus en cuatro pruebas de F1 abandonando en tres de ellas y siendo segundo en la restante en el GP de Gran Bretaña. Termina 14mo en el campeonato.
En ese año Enzo Ferrari le propone pasar al equipo italiano y Surtees dice no.
Prefiere en cambio pasar a Yeoman Racing un equipo que cambió dos veces de nombre de acuerdo a su patrocinador. En el 1961 corre con un Cooper (termina 12mo) y en el 1962 con un Lola (termina 4to).
En el año 1963 Ferrari le hace una nueva oferta y esta vez acepta. Termina cuarto en el mundial y obtiene su primer triunfo en el GP de Alemania.
Finalmente en 1964, vestido de rojo, con la clásica vestimenta ferrarista, conquista su ansiada corona de F1. De las diez carreras que componen el mundial gana 2 (en Nurburbring -Alemania- y en Monza -Italia-, obtiene 3 segundos puestos y un tercer puesto, con cuatro retiros.
El sueño inalcanzable se había cumplido.
En los años sucesivos sigue teniendo un activo protagonismo: quinto en el mundial del año 165, segundo en 1966, de nuevo quinto en 1967. Luego inicia el declino hasta el año 1972 en que abandona el automovilismo.
En la plenitud de su carrera solo otro deportista trató de emularlo, aunque luego descartó la idea: se trataba de Valentino Rossi quien fue tentado por la propia Ferrai e incluso hizo algunas pruebas. Su amor incoindicional por las motos lo hizo rechazar la oferta formal de la casa de Maranello para seguir -hasta este año cuando anunció su retiro definitivo-siempre fiel a las dos ruedas.
Marc Márquez ha hecho algunas pruebas sobre una Red Bull y el propio Schumacher después de dejar la F1 se aventuró en una moto en una serie de pruebas.
Pero de ahí a competir y ganar un mundial el paso parec demasiado largo.
No parece que nadie pueda igualar el récord de John Surtees.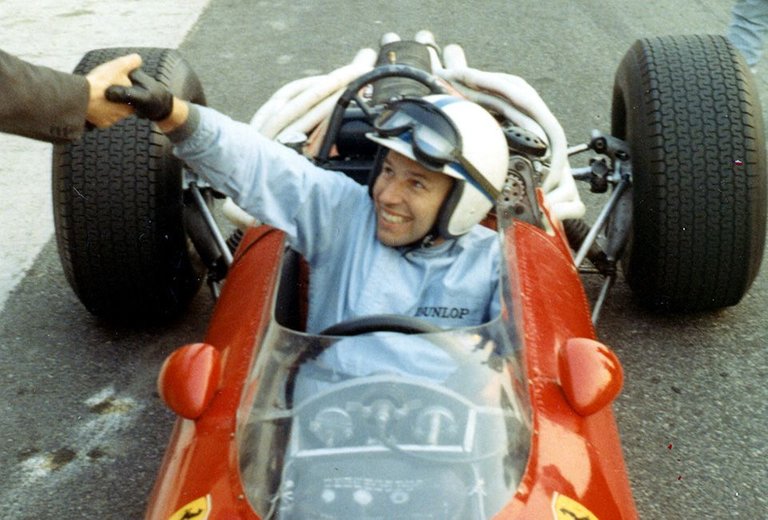 John Surtess a bordo de un monoplaza Ferrari completamente renovado para la temporada de carreras de 1964. / John Surtess aboard a completely revamped Ferrari single-seater for the 1964 racing season.
The fact that he also took part in the Tourist Trophy race on the Isle of Man (with the risks that this entailed) led to a cooling of relations with the team owner, Count Augusta, whose contract limited this type of extra participation.
Of course, there was no talk of four wheels, a dream that grew stronger and stronger in Surtees after the crushing triennial domination 1958-1960.
He tested with Aston Martin (interestingly, this year he officially returned to racing under that name in F1) and bought an F2 to build on. He still drove the bike in 500 cc.
In 1960 he participates with Team Lotus in four F1 races, retiring in three of them and coming second in the remaining one at the British GP. He finished 14th in the championship.
In that year Enzo Ferrari proposes him to move to the Italian team and Surtees says no. He prefers instead to move to Yeomanes.
He prefers instead to move to Yeoman Racing, a team that changed its name twice according to its sponsor. In 1961 he raced a Cooper (finishing 12th) and in 1962 a Lola (finishing 4th).
In 1963 Ferrari made him a new offer and this time he accepted. He finishes fourth in the World Championship and wins his first victory in the German GP.
Finally in 1964, dressed in red, in the classic Ferrari outfit, he won his longed-for F1 crown. Of the ten races that made up the world championship, he won two (at the Nurburbring in Germany and Monza in Italy), obtained three second places and one third place, with four retirements.
The unattainable dream had come true.
In the following years, he continued to play an active role: fifth in the 165 World Championship, second in 1966, fifth again in 1967. He then began to decline until 1972, when he gave up motor racing.
At the height of his career, only one other sportsman tried to emulate him, although he later discarded the idea: Valentino Rossi, who was tempted by Ferrai himself and even did some tests. His unconditional love for motorbikes made him turn down the formal offer from the Maranello company to remain - until this year when he announced his definitive retirement - always faithful to two wheels.
Marc Márquez has done some testing on a Red Bull and Schumacher himself after leaving F1 ventured out on a motorbike in a series of tests.
But from there to racing and winning a world championship the step seems too long.
It doesn't look like anyone can match John Surtees' record.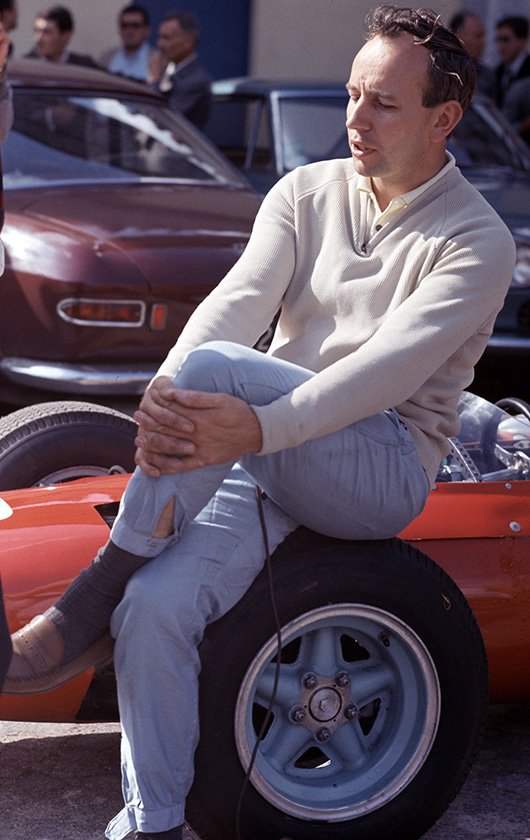 John Surtees llevó a Ferrari a una de sus épocas doradas en el trieno 1964-1966. / John Surtees led Ferrari to one of its golden years in the 1964-1966 triennium.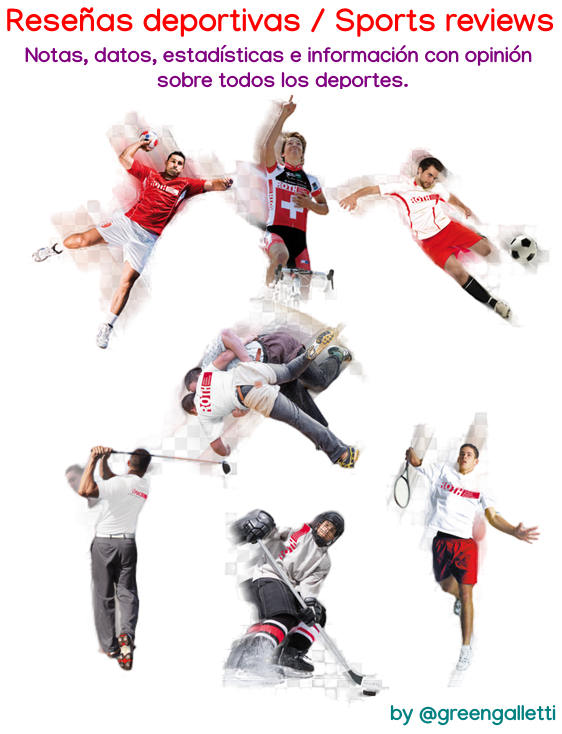 El banner titulado Reseñas Deportivas / Sports Reviews personalizado por el autor es propiedad de PNGWing.
The banner titled Reseñas Deportivas / Sports Reviews customized by the author is property of PNGWing.

---
---