[ESP/ENG] Una parrilla de partida inédita en el GP de Rusia en F1, la lucha por el título más abierta que nunca. / An unprecedented starting grid at the Russian GP in F1, the fight for the title more open than ever.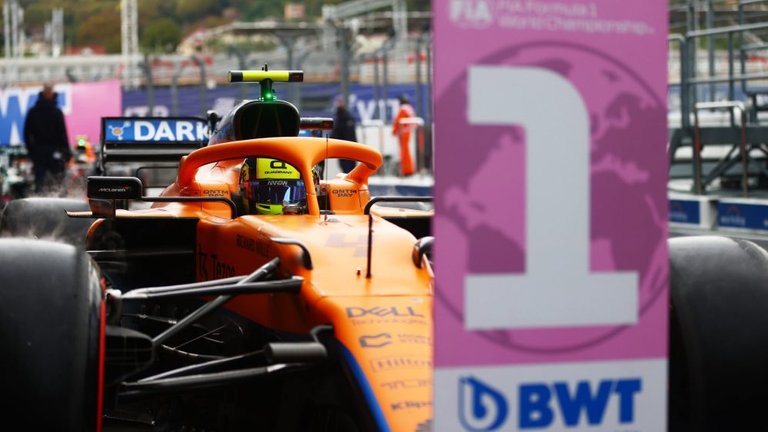 Confirmando su gran momento y con una excelente estrategia del equipo McLaren Lando Norris logra su primera pole position en Fórmula 1.
Si algo faltaba para darle más emoción todavía a este final de temporada de Fórmula 1 son las circunstancias que vienen rodeando cada Gran Premio en las últimas carreras.
Que no tienen nada que ver con innovaciones tecnológicas, con premios a los pilotos que más han adelantado (monoplazas) en esta temporada o las famosas mini-carreras (race sprint) de 20 vueltas o 30 minutos de duración con un premio suplementario de 3, 2 y 1 pun to a los tres primeros clasificados.
No, absolutamente. A darle espectacularidad a esta segunda y última parte del campeonato es la mala suerte que ha golpeado algunos de los dos pilotos que ambicionan al título y/o a los errores cometidos por los mismos.
Nerviosismo, estrés? Es muy difícil aplicarle estos adjetivos a pilotos que arriesgan su propia vida en cada carrera (es suficiente ver el auto de Verstappen pasando por arriba de la cabeza de Hamilton para acordarse del viejo refrán: "volvía vivir de nuevo..") El mismo Hamilton dijo después del accidente: ...."aprendí el verdadero valor de la vida..."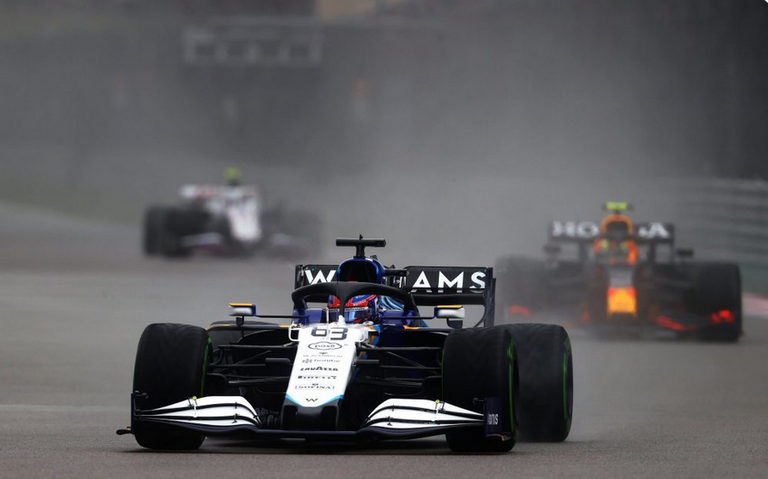 George Russell de Williams con un excelente tercer tiempo partirá delante de su futuro compañero en Mercedes, Lewis Hamilton que quedó cuarto.
Es notorio que si Verstappen hubiera asumido un comportamiento menos agresivo probablemente encabezaría la clasificación con mucha más ventaja de la que tiene, sobre todo cuando antes de terminar la primera parte llevaba 18 puntos de ventaja.
Pero también es evidente que la mala suerte lo ha golpeado como cuando pinchó un neumático faltando muy poco para terminar la carrera, o concretamente, para este Gran Premio de Rusia. Substituir la Power Unit le ha costado largar desde el fondo de la fila.
Por el lado de Hamilton las cosas han sido parecidas aunque pareciera que la mala suerte lo ha golpeado menos y los puntos que ha perdido en el camino han sido más por errores propios (es difícil admitirlo en un piloto de su experiencia), de su equipo o de un monoplaza que es evidente que todavía no está al nivel de excelencia competitiva que presenta Red Bull.
Pero también podría evitarse algunos errores, como el de la clasificación el día sábado cuando un error de cálculo lo llevó -ya con Verstappen retrocedido a la última posición- de llevar por la pole position a conformarse con un cuarto puesto. Rompió la trompa de su auto contra el muro de contención entrando a boxes y no pudo optimizar la última salida. Incluso detrás de su futuro compañero de equipo, un notable George Russell que por primera vez en la temporada lleva la Williams al tercer lugar en la parrilla de largada. Se estarían arrepintiendo los managers del equipo que les dejó el "viejo Frank" de haberlo dejado ir a Russell ahora que el monoplaza comenza a funcionar?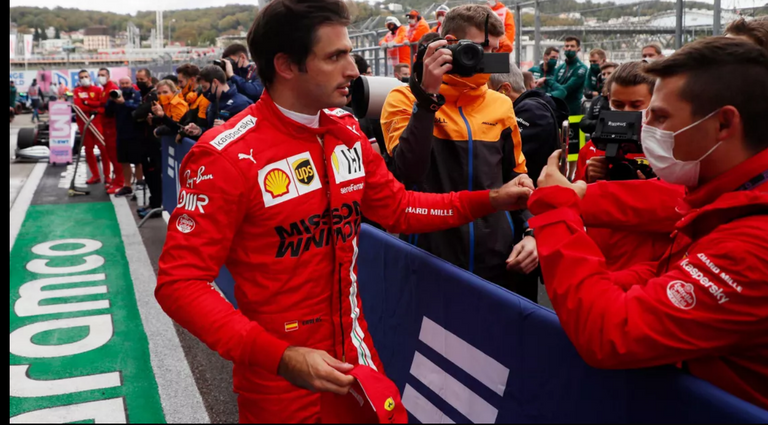 Carlos Sainz, otra de las sopresas, acompañará al piloto británico en la primera fila de la parrilla.
Ninguno de los "pesos pesados" parece haber entendido como funciona el circuito de Sochi: primero Lando Norris con McLaren, segundo Carlos Sainz con Ferrari , tercero George Russell con Williams. Se parece más a los tests iniciales de Shakir que una carrera fundamental en el futuro del campeonato.
Fortuna? No, solo capacidad y estrategia. En un circuito que estaba terminando de secar lo ideal era calendar la goma de asfalto seco durante al menos dis giros para luego lanzarse a la conquista de la pole.
Los tres citados lo lograron y obtuvieron los mejores tiempos. Hamilton y compañia no lo puedo hacer y larga en segunda fila. Y eso que Mercedes había dominado las pruebas libres con cierta comodidad. Valtteri Bottas larga séptimo y Sergio Pérez noveno. No son los tiempos de dos equipos que pelean por el título.
Publico este post antes del inicio de la carrera. La misma me encontrará viajando por unos días por lo cuál he dejada programada la publicación de algunos artículos. Prometo responder todas las dudas y comentarios apenas regrese.
Un gran saludo a toda la comunidad deportiva de #FullDeportes.

If something was missing to give even more excitement to this end of the Formula 1 season, it is the circumstances that have been surrounding each Grand Prix in the last races.
That have nothing to do with technological innovations, with prizes to the drivers who have overtaken the most (single-seaters) this season or the famous mini-races (race sprint) of 20 laps or 30 minutes duration with a supplementary prize of 3, 2 and 1 point to the first three classified.
No, absolutely not. To give spectacularity to this second and last part of the championship is the bad luck that has hit some of the two pilots who aspire to the title and/or the mistakes made by them.
Red Bull very bad in qualifying for the F1 Sochi (Russia) GP, Sergio Checo Perez qualified ninth.
Nervousness, stress? It is very difficult to apply these adjectives to drivers who risk their lives in every race (it is enough to see Verstappen's car passing over Hamilton's head to remember the old saying: "I was living again..."). Hamilton himself said after the accident: .... "I learned the true value of life...".
It is notorious that if Verstappen had assumed a less aggressive behavior he would probably lead the standings with much more advantage than he has, especially when before the end of the first part he was 18 points ahead.
But it is also clear that bad luck has struck him as when he punctured a tire with very little time left to finish the race, or specifically, for this Russian Grand Prix. Replacing the Power Unit cost him to start from the back of the field.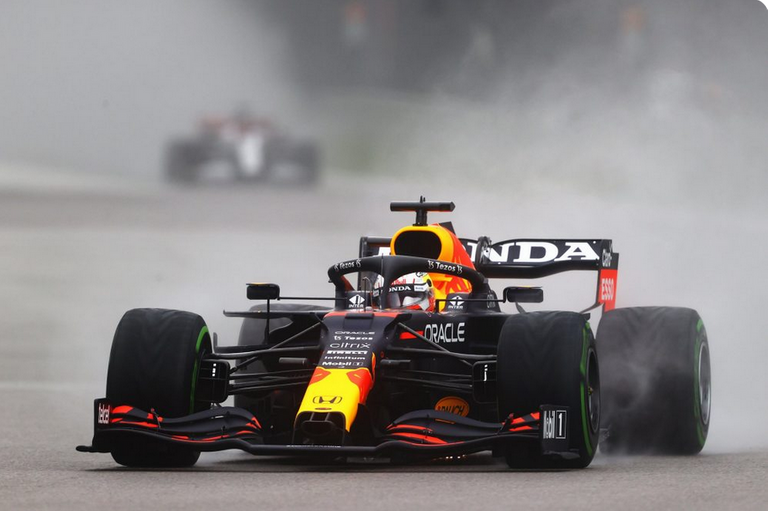 Max Verstappen, one of the two title contenders, will be at the back of the grid for having changed the Power Unit of his Red Bull.
On Hamilton's side, things have been similar, although it seems that bad luck has hit him less and the points he has lost along the way have been more due to his own mistakes (it is difficult to admit it in a driver of his experience), of his team or of a car that is clearly not yet at the level of competitive excellence that Red Bull presents.
But he could also avoid some mistakes, such as the one in qualifying on Saturday, when a miscalculation led him -already with Verstappen dropped to the last position- from taking pole position to settle for a fourth place. He broke the nose of his car against the retaining wall coming into the pits and could not optimize the last start. Even behind his future teammate, a remarkable George Russell who for the first time this season takes the Williams to third place on the starting grid. Would the team managers of the team left by "old Frank" be regretting letting Russell go now that the car is starting to work?
None of the "heavyweights" seem to have understood how the Sochi circuit works: first Lando Norris with McLaren, second Carlos Sainz with Ferrari, third George Russell with Williams. It looks more like the initial tests at Shakir than a fundamental race in the future of the championship.
Fortune? No, just ability and strategy. On a circuit that was just finishing drying out, the ideal was to warm up the dry asphalt rubber for at least two laps and then go for the pole position.
The three mentioned above did it and obtained the best times. Hamilton and company couldn't do it and they were on the second row. And Mercedes had dominated the free practice with some comfort. Valtteri Bottas started seventh and Sergio Perez ninth. Not the times of two teams fighting for the title.
I publish this post before the start of the race. The race will find me traveling for a few days so I have left scheduled the publication of some articles. I promise to answer all questions and comments as soon as I return.
A big greeting to all the #FullDeportes sports community.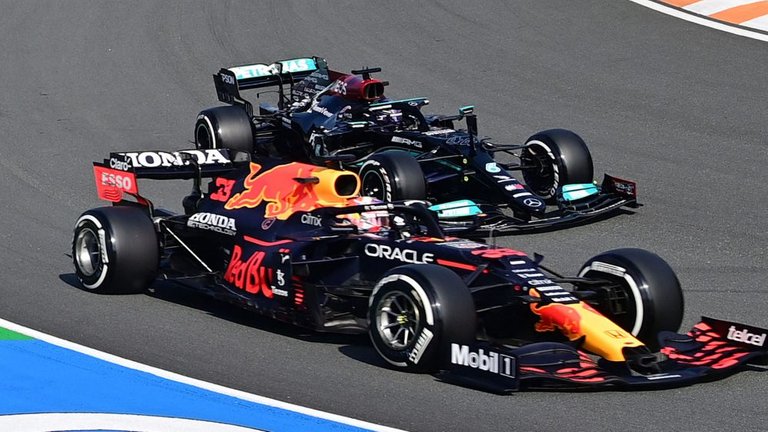 The possibility of an accident at the start between Verstappen and Hamilton seems to be diminishing at the Russian GP: the Briton starts fourth, the Dutchman last.
Traducción del texto efectuada con DeepL Translator en su versión gratuita.
Text translation performed with DeepL Translator](https://www.deepl.com/translator) in its free version /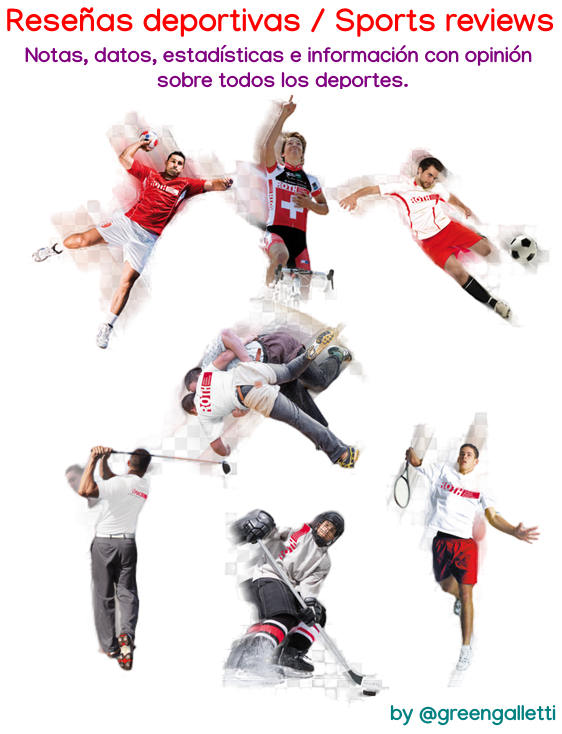 El separador de párrafos -modificado por el autor- es propiedad del usuario @thepeakstudio. A él mi agradecimiento por el excelente material gráfico puesto a disposición de la Comunidad.
The paragraph separator -modified by the author- is property of the user @thepeakstudio. To him my thanks for the excellent graphic material made available to the Community.
El banner titulado Reseñas Deportivas / Sports Reviews personalizado por el autor es propiedad de PNGWing.
The banner titled Reseñas Deportivas / Sports Reviews customized by the author is property of PNGWing.

---
---