#BEERSATURDAY with the AFL Grand Final and local beers
Okay so It's AFL Grand Final Day, or evening or something. The AFL Grand is like the Superbowl for our local version of Football, and this evening I'm in front of the TV getting ready to watch the Melbourne Demons take on the Western Bulldogs. If you want more context than that read my post about the ins and outs of the game if you want to hear about beer read on.
Okay so here is the tradition/beer drinking game for the Grand Final (particularly important in the COVID times given I can't go to the pub). You select beers for each of the teams and then depending on who is winning you drink that beer.
AFL is nicely divided in 4 quarters- each goes for about 30 minutes and there is a 5 minute or 15 minute break between them, so you drink about a beer a quarter. So four, maybe 5 beers for the total game time of somewhere between 2.5 and 3 hours.
So at the end of each quarter whichever team is winning you drink that beer, so if one team dominates you need 4 beers because they will be ahead all day. But what do you do for the start of the game? or if it's tied at any of the breaks - well then you need a neutral beer.
Okay so that means 4 X Melbourne Beers, 4 X Western Bulldogs beers and just to be safe 2 X Neutral beers. You are not going to drink all this but it's the starting position.
Okay so how to select beers. Simple - the beer brewed closest to the home of each team.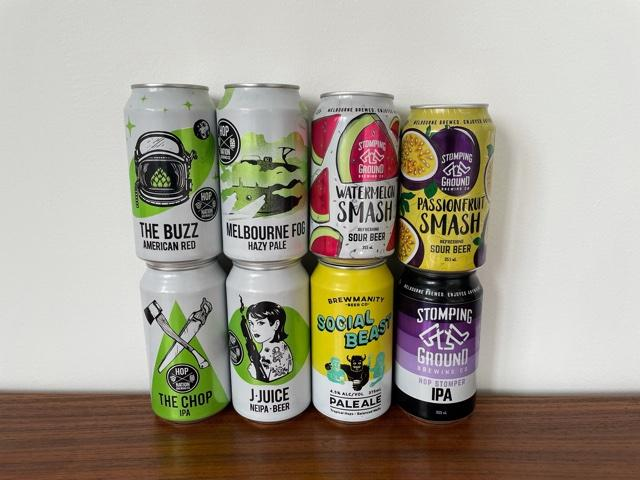 The Western Bulldogs are based in Footscray in the City of Melbourne (I know it's confusing). There traditional home is The Whitten Oval, being a nice old school suburban ground in an industrial heartland it's not too hard to find a brewery - A 2.5km walk from the Whitten Oval is Hop Nation Brewery So four Hop Nation Beers it is.
Melbourne is a little more complicated. The Suburb of 'Melbourne' is the central business distract and there is a maybe a couple of brewpubs but they don't package anything. Melbourne Football Club play at the MCG (Melbourne Cricket Ground, I know Cricket is a different sport, it's confusing okay) But that is in the middle of park and is surrounded by, well other sporting venues. But if you walk 2km due North you get to the suburb of Collingwood (who also have a team in the AFL) and a brewery called Stomping Ground. So it was off to shop to find four beers from them. But....they only had three, now I could assume Melbourne aren't going to win and chance it, or I can find another beer with a Melbourne Football Club link, which is what I've do Brewmanity brewery is owned by David Neitz who was the Captain of the Melbourne team from 2000-2008.
Which of these eight beers we will drink, who knows - If I had to guess I'd say The Stomping Grounds, but hey I could be wrong
And then the neutrals - Well hear me out here - The rough mid point between the Whitten Oval (5km West) and the MCG (4km East) is North Melbourne - which is both where I live and another suburb with an AFL team. It also has a bar in it called Benchwarmer which is a)sporty b)my local and c)where I'm going to pick up my food for the game which comes with two free beers so these will be the neutrals.
Oh and here is the amazing food that the Bar put together for us - complete with our two random beers.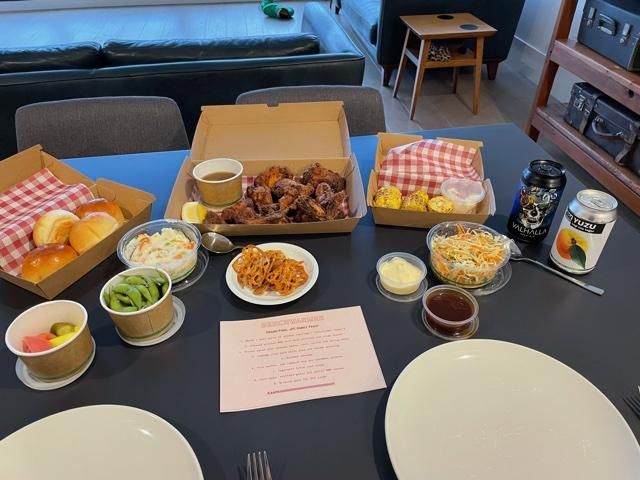 So let's get underway (I'm going to write the rest of this on my phone as we go and post later so if it get a little silly you'll understand why) So as the games commences we open our first beer a neutral the Edge Yuzu lager. It is Very very zesty, citrus flowing through as the game starts. Melbourne certainly look better early.
By quarter times it's Melbourne 29 vs Bullies 8 so it's time for our first Stomping Ground beer - it's a Passionfruit Smash Sour. The passion fruit is all up in the nose and it's a perfectly balanced brew. Three sips in though and the Dogs have kicked two goals and the score is now 30 to 26 and it's back on. Half way through the quarter and the dogs take the lead it's now 39, 37.
At half time the dogs are up by 8 points it's 47 to 39 and we will be swapping to Hop Nation but first more tradition, like a fancy person in a corporate box it's time for scones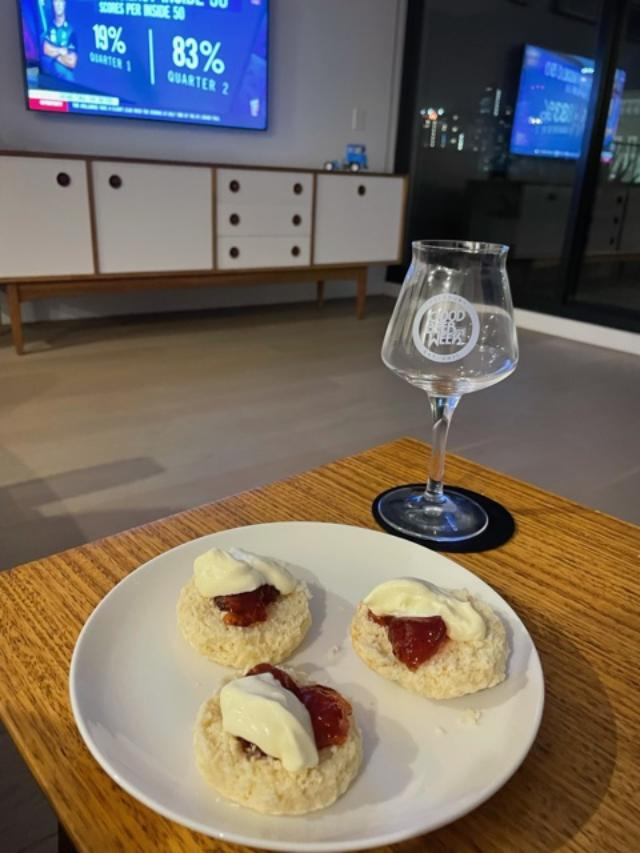 For the start of the third it's a beer called Melbourne Fog and after some half time fireworks it's a bit foggy at the ground. The beer is a hazy pale with Nelson Sauvignon hops and it does feel light, refreshing.
In a good omen the Toyota advertisement after the first goal in the third quarter kicked by Western Bulldogs has our friend in it, who is a actor and a Bulldogs man (and no we are not friends with Liam Hemsworth)
The Bullies did get out to a 19 point lead, but as we approach 3/4 time Melbourne have fought back a now they are 5 points up and I have no idea what I'm drinking next. And then they kicked 3 goals in about a minute and half and somehow by 3/4 time Melbourne are 24 points up.
So it's back to Stomping Ground for the last quarter and their Hop Stomper IPA - it's a pretty standard IPA a touch of dank ness maybe makes it a little different. Now Grand finals tend to blow out in the final quarters once a team gets far enough ahead and with no hope of a comeback it all get very one sided. So once Melbourne kicked the first you knew it would happen and half way through the quarter it's 49 points.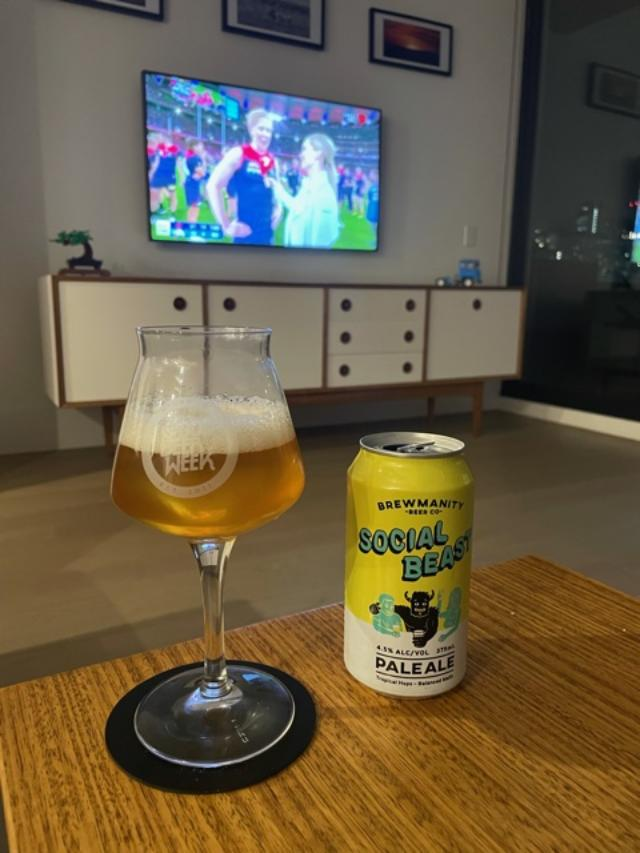 And by the final siren it's a 74 point win. Melbourne 140, Western Bulldogs 66 and there will be a lot of happy Melbourians around tonight. And for me it's a celebratory beer - Social Beast which is a very drinkable and better still it's made by former Melbourne captain David Neitz and raises money for the Fight MND a charity started by former Melbourne Coach Neale Daniher who has MND but they would both have tears of joy tonight.
---
---