[ENG-ESP] This is how you live an Argentine soccer superclassic from the stands! // Asi se vive un superclasico de futbol argentino desde la tribuna! [River vs Boca]
Hello friends of Sports Talk! This is my first publication here, my name is Sofia and I am from Buenos Aires Argentina. As some may know, in my country we are passionate about soccer. We are very heated in the discussions, and we are going to support our team wherever it is, because in the good times and in the bad times we have to be there! In my case, my whole family is from the River Plate Athletic Club, and it's been about 10 years since we've inevitably gone to the field before every game, whether it's for the Argentine Cup, Argentine Professional League, Copa Libertadores, Copa Sudamericana... those are some of the titles that River Plate has won in recent times. We have a streak of greatness at the hands of technical director Marcelo Gallardo.
One of the greatest triumphs in our current history was having won the Copa Libertadores de América against our greatest rival, the Boca Juniors athletic club. What marked a before and after in the history of our rivalry! As was said before that match, whoever wins it will take eternal glory. Anyway, in the Argentine tournament we have a date in which all the teams play against their classic rival, and in this case our classic against Boca Juniors is known as the "SUPERCLASICO" and of course my parents and I went to be present.
Hola amigos de Sports Talk! esta es mi primer publicacion aquí, mi nombre es Sofia y soy de Buenos Aires Argentina. Como algunos sabran, en mi pais somos unos apasionados del futbol. Somos muy acalorados en las discuciones, y vamos a alentar a nuestro equipo a donde sea, porque en las buenas y en las malas hay que estar ahi! En mi caso toda mi familia es del Club Atletico River Plate, y ya hace unos 10 años que infaltablemente vamos a la cancha ante cada partido, ya sea por Copa Argentina, Liga Profesional Argentina, Copa Libertadores, Copa Sudamericana.... esos son algunos de los titulos que ha ganado River Plate en el ultimo tiempo. Tenemos una racha de grandeza de la mano del director tecnico Marcelo Gallardo. Uno de los mayores triunfos de nuestra actual historia fue haber ganado la Copa Libertadores de America a nuestro maximo rival el club atletico Boca Juniors. Lo que marcó un antes y un despues en la historia de nuestra rivalidad! Como se dijo antes de ese partido, el que lo gane se va a llevar la gloria eterna. En fin, en el torneo argentino tenemos una fecha en la cual todos los equipos se disputan contra su clasico rival, y en este caso a nuestro clasico contra boca juniors se lo conoce como el "SUPERCLASICO" y por supuesto que mis padres y yo ibamos a estar presentes.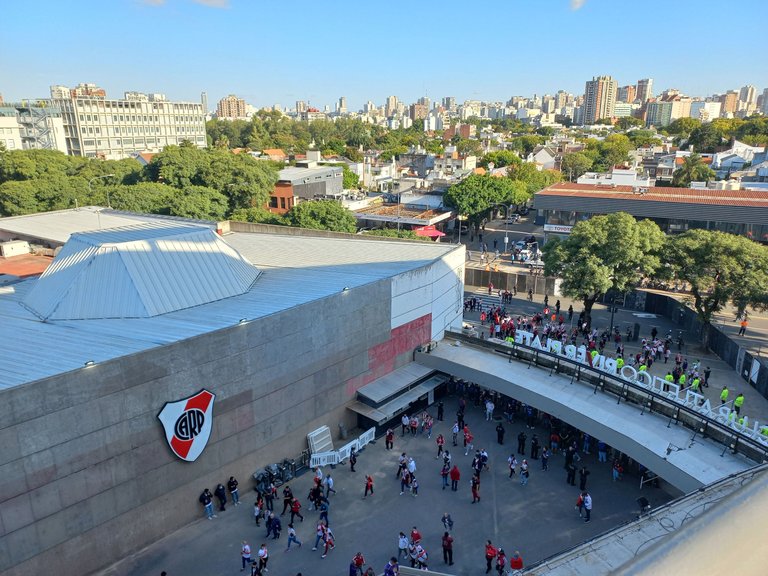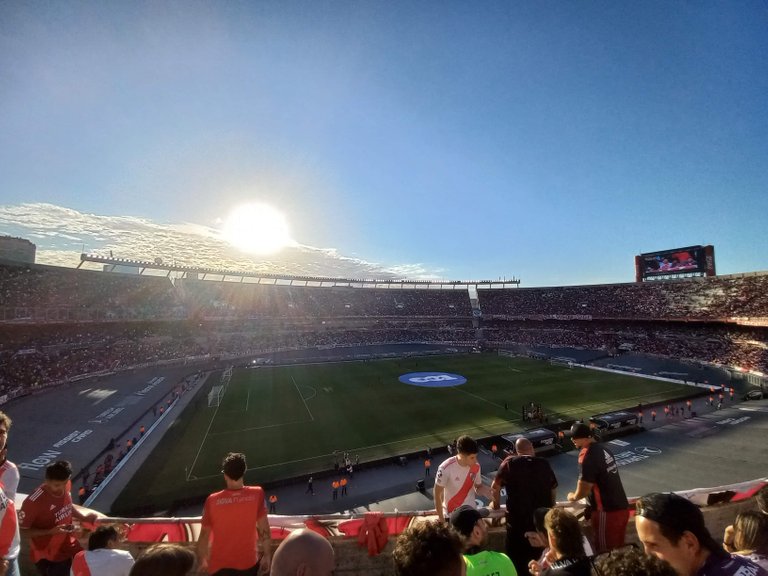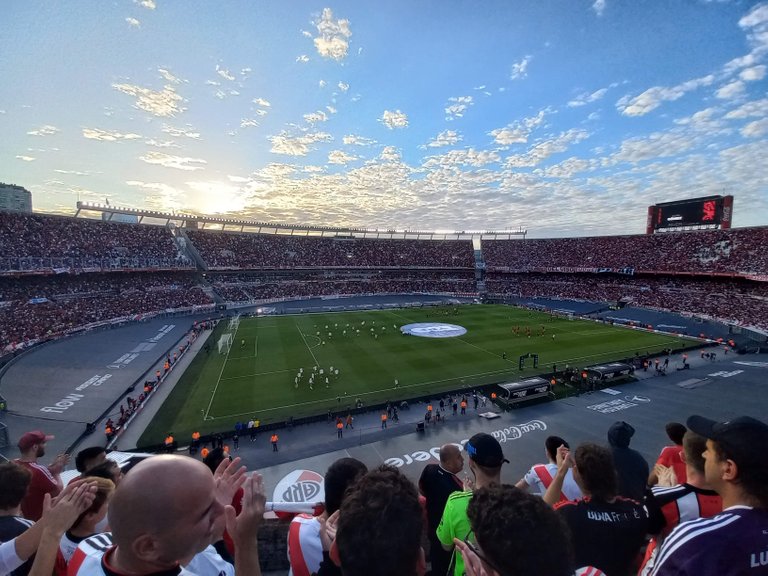 To enter the stadium, you need the credential that shows that you are a member of the club and that you have a ticket to enter, but it is always chaotic because the Argentine is very tricky... he always looks for a way to deceive the police and the club to enter . So to avoid disturbances at the entrance to the field, which when there are inconveniences is usually very violent, we decided to go a couple of hours before. The game would start at 7:00 p.m. and we entered the field at 4:00 p.m. We were there for a couple of hours, watching how little by little the stadium filled up.
Para ingresar al estadio se requiere la credencial que demuestre que sos socio del club y que tenes entrada para ingresar, pero es siempre un caos porque el argentino es muy tramposo... siempre busca la manera de engañar a la policia y al club para ingresar. Asi que para evitar disturbios en el ingreso a la cancha, que cuando hay incovenientes suele ser muy violento, nosotros decidimos ir un par de horas antes. El partido comenzaria a las 19 hs y nosotros entramos a la cancha a las 16 hs. Estuvimos un par de horas ahi, viendo como poco a poco se llenaba el estadio.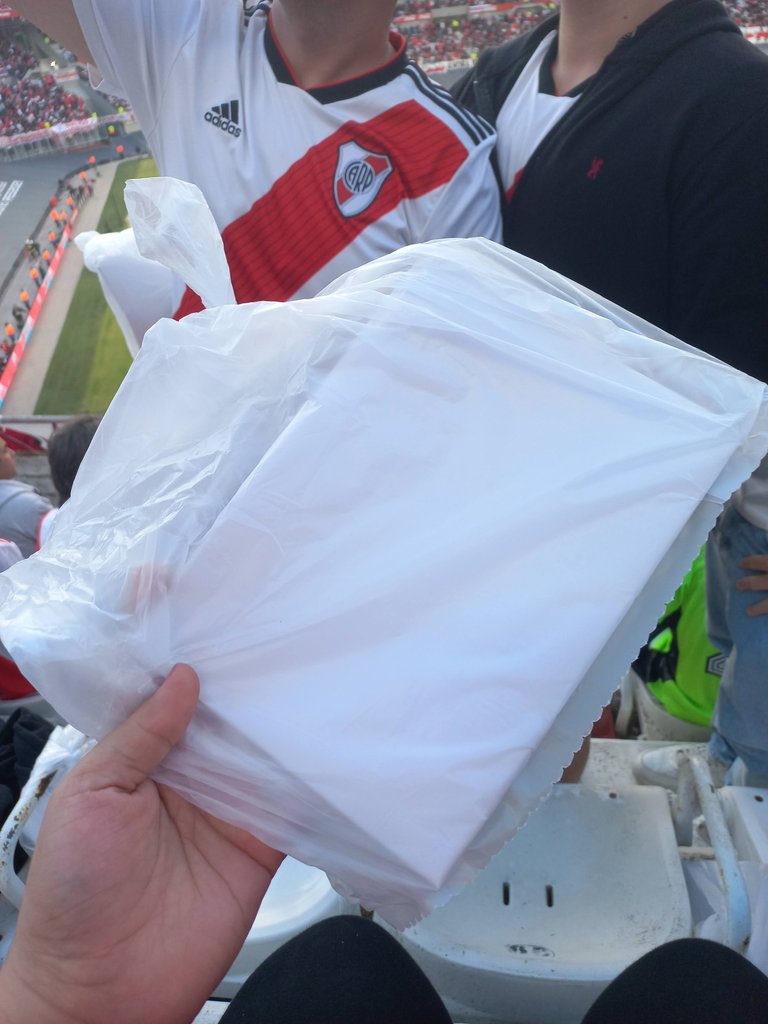 Quote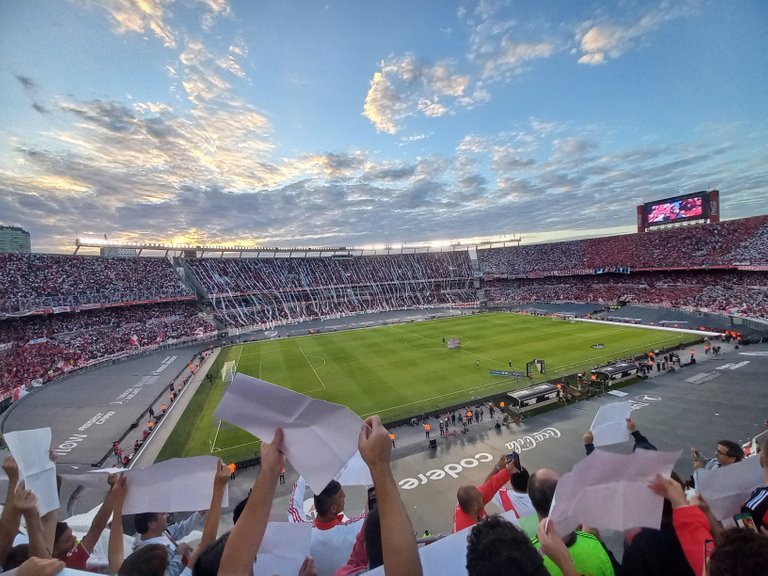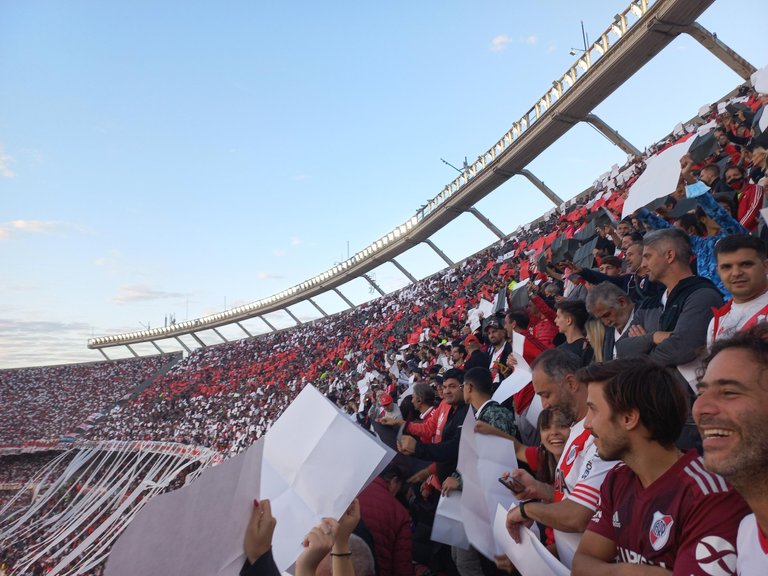 The club has an association of members who organize the reception of the players to the field of play. In this case, in our seats we find white papers that we had to pick up 10 minutes before the game.
El club tiene una asociación de socios que organizan el recibimiento de los jugadores al campo de juego. En éste caso, en nuestras butacas nos encontramos con papeles blancos que debiamos levantar 10 minutos antes del partido.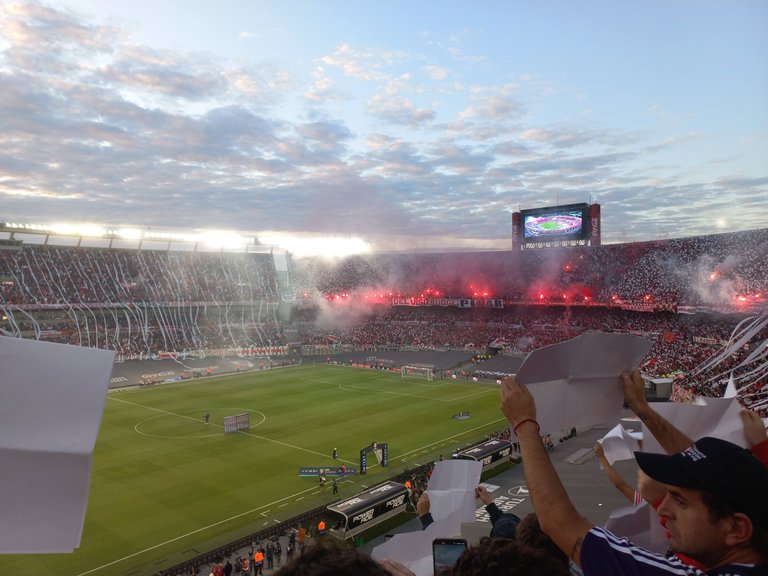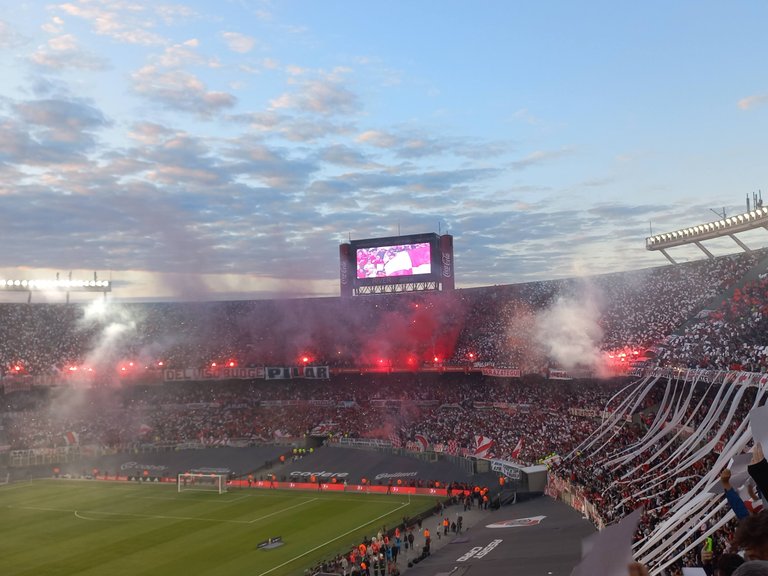 In our grandstand we raised the white papers, others had red and finally black papers, in our grandstand you could read the acronym "CARP" (Club Atletico River Plate), in the other grandstands you could see white and red papers, pennants, and flares.
En nuestra tribuna levantamos los papeles blancos, otros tenian rojo y por ultimo papeles negros, en nuestra tribuna se podia leer la sigla "CARP" (Club Atletico River Plate), en las otras tribunas se podian ver papeles de blancos y rojos, banderines, y bengalas.
The moment of reception is very important, since we show the players that we are with them! and that we are going to support them whatever the result, although they know that we want them to win. It is also a hug for the technical director who has us used to winning. There are also many "chicanas" about which team received the best reception, which made the most noise and was the most impressive. Here I leave this video for you to feel in your own flesh how you live from the inside!
El momento del recibimiento es muy importante, ya que le demostramos a los jugadores que estamos con ellos! y que los vamos a apoyar cualquiera sea el resultado, aunque ellos saben que queremos que ganen. Tambien es un abrazo hacia el director tecnico que nos tiene acostumbrados a ganar. Tambien hay muchas "chicanas" sobre que equipo tuvo mejor recibimiento, cual hizo mas ruido y fue mas impactante. Aquí les dejo éste video para que sientan en carne propia como se vive desde adentro!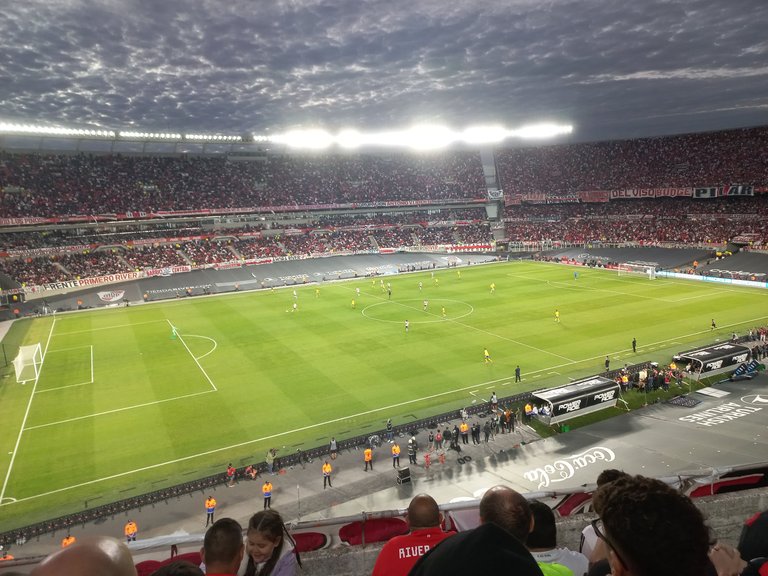 UNFORTUNATELY this superclasico was taken by Boca Juniors, and they beat us at home after five years in which we were superior in the result! The match ended 1-0 in which Boca converted his goal due to an error by our defender Gonzalez Pirez and goalkeeper Franco Armani. But anyway, they slowed down in the 90 minutes and although we went home with a bitter taste, it was not because they were superior, but because we had everything to win but "we gave away" the game with our mistakes. The idea of this post was not to talk about soccer as a sport, but to make you feel a bit of the passion that we put into it as fans for our teams ♥
LAMENTABLEMENTE este superclasico se lo llevó Boca Juniors, y nos ganaron en nuestra casa despues de cinco años en los que nosotros fuimos superiores en el resultado! El partido concluyo en 1-0 en el cual Boca convirtio su gol por un error de nuestro defensor Gonzalez Pirez y el arquero Franco Armani. Pero en fin, se alentó en los 90 minutos y si bien nos fuimos con sabor amargo a casa no fue por que ellos fueron superiores, sino porque teniamos todas las de ganar pero "regalamos" el partido con nuestros errores. La idea de éste post no era hablar de futbol como deporte, sino para que sientan un poco de la pasion que le ponemos como hinchada para nuestros equipos ♥
---
---