Edinson Cavani wanted to fight with Lionel Messi last night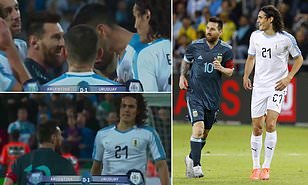 Source
The South American adversaries in friendly match played last night, finished in a drama between Lionel Messi and Edinson Cavani. It was played in Tel Aviv, Israel on Monday. The game finished in 2:2 draw, perhaps that is the reason for the strife.
It was gathered that Cavani approached Messi for a fight, where Messi responded: "whenever you want". The contention proceeded until the half time.
Edinson Cavani the Uruguay striker appeared to be irritated for an unknown reason. It was just a friendly match so it perplexes me why they were irritated to that extent of exchanging words. It seemed they both do not know what a friendly match is.
Thanks to Suarez who immediately seperated them else they would have really fought one another. I question if Messi would have the strength to fight Cavani, he would have most likely gotten an amazing beating.
Messi would not stand the test of time in a fight against Cavani. Notwithstanding, that somebody is quiet doesn't mean he is powerless.
Messi is turning out to be something different, the other time he commanded Tite to keep quiet and now he is ready to fight with Edinson Cavani.
---
---