HiveBuzz Women's World Cup Contest - Collect Badges and Prizes - Thousands of HIVE, Tokens or NFTs to be won!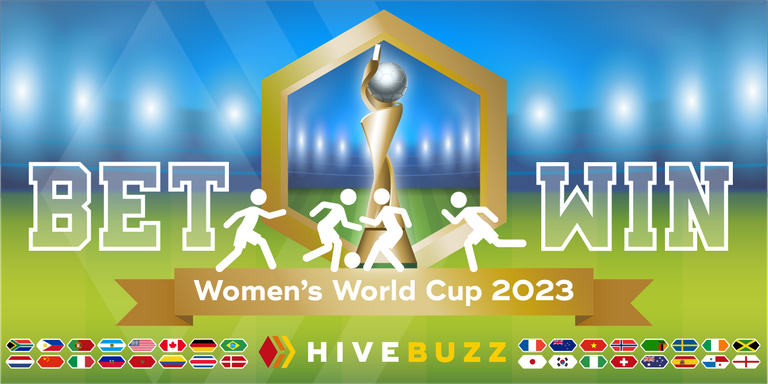 The Women's World Cup 2023 will kick off soon!
The World Cup is a global event that brings together people from all over the world around a sporting competition well known to all.

Dieser Beitrag ist ins Deutsche übersetzt: hier


Une version en français de ce post est disponible - ici
We believe that women also play an essential role both in real life and in the Hive ecosystem. Therefore we wanted to give them as much importance in this event as we did for the men's world cup in 2022.
We didn't want to miss the opportunity to have fun all together by organizing our own competition in which all members of the community can participate.
This competition is likely to be as fun as last year's men's edition, if not more. Indeed, the teams and players are much less known to the masses and it will be much more difficult to anticipate the results of the matches. We can therefore expect to see a lot of upheaval in the rankings during the competition.
The contest will last for the whole duration of the world cup (one full month) and will allow you to collect badges and maybe win some HIVE!
It is open to everyone, whether you're a football fan or not, and we've made the entry process and rules as simple as possible.
Check the Word Cup 2023 tab on your board
Go to HiveBuzz website and type your name to access your board.
You will notice there is a new Word Cup 2023 tab which contains a badge for each match of the competition.

Your goal is to collect as many badges as possible among the 64 available!
How to participate?
1. Register for the contest
You can Register for the contest by sending 1 HIVE to @hivebuzz.pool with the memo "worldcup2023".
If Keychain Mobile is installed on your smartphone, an easy way to do this is to scan the following QR code:

This is a one-time registration and it will be added to the prize pool so you might get it back at the end of the contest if you are lucky or smart enough.
You can join the contest at any time, but the sooner you get in, the more chances you have to win the bigger prizes.
2. Make your bet for each match
Each World Cup game is represented by a badge on your board. You can click on it to see information about the match, including when it starts.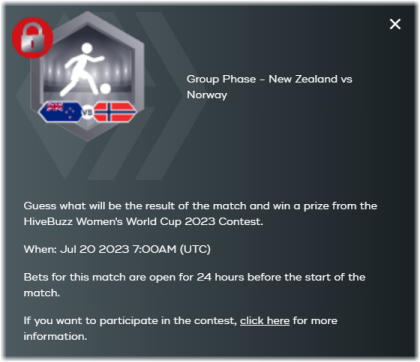 Note the presence of the red lock which indicates that bets for this match are not yet open. @hivebuzz will publish a post for each match and unlock the badge 24 hours before the match begins.

From this moment, bets will be open and you can place yours.
Under each post, @hivebuzz will create up to 3 comments:
Team A win
Team B win
Tie
PS: The 3rd comment (TIE) will only be present during the group phase.
What you need to do is to cast a vote on the comment that corresponds to the result you expect for the match.

DO NOT REPLY TO THE COMMENT!
Replying to the comment made by
@hivebuzz
will be considered a fault. You will receive a
red card
(downvote) and you will be excluded from the match, meaning you will not get your badge!
Example:
The match New Zealand vs Norway is scheduled for 2023-07-20 at 07:00 UTC

On 2023-07-19 at 07:00 UTC, i.e. 24 hours before the match begins, @hivebuzz will unlock the badge on your board and publish a new post titled "World Cup Contest - New Zealand vs Norway" with 3 comments:
"NZL - New Zealand win"
"NOR - Norway win"
"TIE - no winner"

If you think New Zealand will win, upvote the first comment.
If you think Norway will win, upvote the second comment.
If you think the result will be a tie, upvote the last comment.
Your bets are made, all you have to do now is wait for the result of the match.
Each time you successfully guessed a match result, the related badge on your board will light up!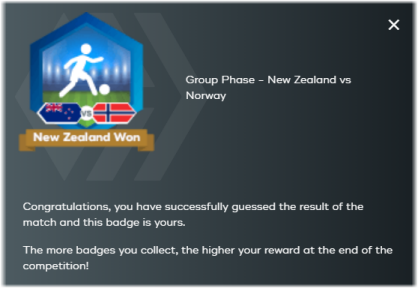 What prizes can you win?
The prize pool will be split among participants using the following rules:
1st place: 20% of the prize pool
2nd place: 10% of the prize pool
3rd place: 5% of the prize pool
The rest of the prize pool will be distributed among all the participants in proportion to the number of badges they collected and the total of successful bets from the participants.
Example:
All participants (except the first 3 winners) collected 1000 badges
You have successfully guessed 34 match results.
You will receive 34/1000th of the rest of the prize pool.
How to win the contest?
When the competition is over, we will count the number of badges collected by each participant. The more badges you have collected, the higher your place in the ranking.
In the event of a tie between the top players, the winner will be the one who first collected all his badges. This means that badges obtained during the group stage will weigh more than those in the final.
Example:
Player A collected 10 badges during the group phase
Player B collected 9 badges during the group phase and 1 for the final
Therefore Player A will be the winner.
In the event of a tie between participants, the one who has been the fastest throughout the competition will thus have the advantage over his competitor.
Fastest bettors always take advantage
To reward those who take the most risk when betting, we have added a parameter for our ranking.
If there is still a tie after applying the previous rule, the bet time (upvote) of the participant will decide, the winner being the fastest to have placed their bets (upvotes).
For this, a counter will be activated as soon as bets are open for a match. Each time you make a bet, the number of seconds elapsed will be added to your count.
Example
| Participant | match 1 | match 2 | ... | Total | Rank |
| --- | --- | --- | --- | --- | --- |
| Alice | 60s | 360s | ... | 420s | #2 |
| Bob | 120s | 60s | ... | 180s | #1 |
In the above table, you can see that Alice made her bet for match 1 only 60s after bets were open. Bob placed his bet 120s after the betting opened.
However, Alice trailed a lot for match 2. Fatal laziness as Bob was much faster this time.
Although they both bet correctly for both matches, Bob will rank higher as he was overall a faster bettor.
Contest Global Rules
Vote for your preferred team BEFORE the match begins (official time).
Only one vote will be taken into account.
If you remove your vote and/or vote for another result, you will be disqualified from the match.

Think twice before casting your vote!
Votes cast after the scheduled start time of the match will be rejected.
IMPORTANT:

HiveBuzz use UTC to validate when you cast your vote. Therefore, check your timezone and convert your local time to UTC before voting!
---
Thank you to our sponsors

Thanks to the generosity of our sponsors, the prize pool currently contains 6000 HIVE and many Tokens and NFTs.
Many of our sponsors are witnesses, therefore kindly consider supporting them if you have a spare vote!
---
Actifit is a gamified fitness tracking dApp built on the Hive blockchain. It offers users an interactive and engaging experience where they can track their physical activities and earn rewards. By incorporating game-like and social-engaging elements, Actifit transforms fitness tracking into a fun and motivating journey, encouraging users to stay active and achieve their goals.
Check out their website at https://actifit.io
Arcange is a well-known top witness and prominent member of the Hive community. He has contributed significantly to its growth and development. With expertise in computer science and software engineering, he is a trusted source of information on blockchain technology and an active supporter of new Web3 initiatives and projects. Arcange has initiated several innovative projects and is known for his professionalism, reliability, and dedication to Hive.
Proof of Sharing incentivizes the sharing of Hive content on #web2 such as Twitter & Reddit through its token POSH and Hive rewards. It aims for genuine growth on both Hive and your #web2 account to increase awareness and the reach of our Hive ecosystem outside of it.
Check out their website at https://hiveposh.com/
Better known as WOO, Wrestling Organization Online is an upcoming P2E Wrestling management game looking to bring old-school territory Wrestling to the HIVE blockchain. Their mission is to leave Wrestling better than they found it by sharing profits with real-life wrestlers in the industry.
Check out their website at https://wrestlingorganizationonline.com
Disregardfiat is a Hive developer and witness. He has initiated several projects on the Hive blockchain and also collaborates with the 3speak project to help them develop innovative technologies.
On top of being a well-known witness and Hive developer, Roelandp is also the organizer of HiveFest, the annual Hive community gathering event.
Sagarkothari88 is a prolific mobile application developer. He also recently became a witness too. Definitely someone worth following.
3Speak is a decentralized video platform that promotes free speech and provides an alternative to mainstream platforms. It utilizes blockchain technology for transparency and censorship resistance, empowering users to express their opinions freely.
---
We also have sponsors who make a contribution other than directly adding HIVE to the prize pool:
Exode will give away 20 Selfmade Savior Starter Packs (valued at USD 9.90 each). Every starter pack comes with an origin card (the female Selfmade Savior origin card), a starship and a crew, and can be sold to players as a pack or as single cards if you open it.
They will be distributed as follow:
The first 10 participants in the ranking will each receive 1 pack.
The other 10 packs will be randomly distributed among all participants who were successful to predict at least one match result. This also means that if you are in the top 10, you could receive 2 packs if lucky.
About Exode
Exode is a space game where mankind is attacked and mercilessly eradicated by an unknown alien force. Players take on the role of space captains docked to faraway stations just as a second wave comes to destroy them.
Players launch a new game by placing their cards and setting up their ship and custom crew. After an immersive evacuation, they land on their own planet, discovering procedurally generated wildlife, plants and minerals, which will be the beginning of their new space adventure making their own assets and exchanging it with other players.
Check out their app at https://exode.io
5000 SOULS tokens will be distributed in the same way as the HIVE prize pool.

800 Infernal Coliseum V2 packs (each valued on average $1.5) will be distributed among the top 200 participants as follow:

1st place: 10 packs
2nd place: 9 packs
3rd place: 8 packs
4th place: 7 packs
5th place: 6 packs
6th place: 5 packs
7th place: 4 packs
8th place: 3 packs
9th place: 2 packs
10th to 200th place: 1 pack
About Infernal Coliseum
Infernal Coliseum is a very promising new game where Angels and Demons compete to conquer lands and ultimately battle solo or with their guild to become the greatest of them all.
Each pack contains one hero card and two collector cards. They are used to build your collection of Heroes and Farmers. SOULS are the in-game tokens used to gain IXP, upgrade guilds, buy chests to extend your collection of heroes or fuse hero cards.
Check out their app at https://infernalcoliseum.com/
20 PVP Alpha Passes. The top 20 participants in the contest will each receive one pass.
About Crypto Shots
Crypto Shots is a groundbreaking browser-based shooter game that immerses you in a dynamic world powered by the revolutionary Hive blockchain. Collect assets as NFTs and use them to take down enemies across different planets.
With the PVP alpha Passes, you can challenge your friends in arenas and earn our token and HIVE while doing so!
Try Crypto Shots for free now at https://play.crypto-shots.com
---
Have fun and good luck to all participants!
---
HiveBuzz is a project created by @arcange
---
---