Another Large Bet Going For Tonight - $1,000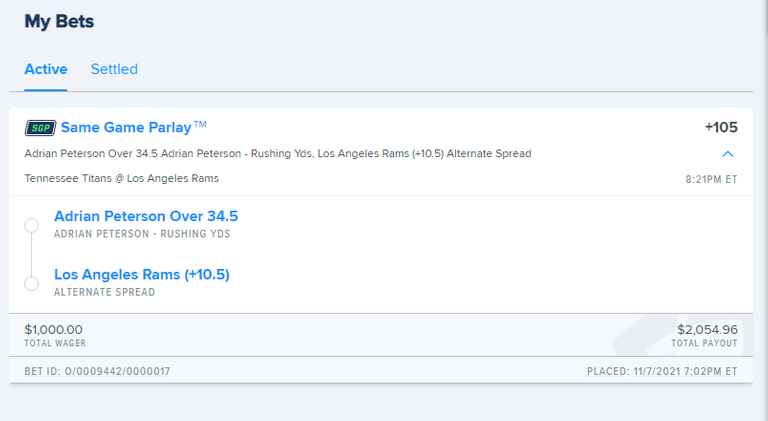 FanDuel for the early part of the football season this year was really kicking my butt. I had lost about $915 season to date on my bets when finally one day I went for a BIG one and put $1,000 on a 4-game parlay with alternate spreads and hit it for $920 bringing me basically back to even.
Then I decided I was going to try my hand at basketball and boy was that a mistake...I ended up quickly finding myself down $400 overall once again.
So tonight, I'm deciding to go big or go home. Literally speaking, I'm putting the rest of my sports betting budget for the foreseeable future into a single, 2-leg, same game parlay for tonight's Sunday Night Football game.
As you can see my bet is an alternate spread putting the heavily favorited home team in the Los Angeles Rams to instead be the underdogs by 10.5 points so even if by some miracle the Titans actually do beat the Rams, I would just need the Rams to not lose by more than 10 point which I think is pretty achievable.
The much more risky side of this bet is a straight up over / under play on the number of rushing yards the newly signed and hopefully ageless running Adrian Peterson will get.
I'm making a risky bet that we will exceed 34.5 rushing yards throughout the duration of this game meaning that I need him to finish this game with 35 or more rushing yards.
The reason this is so risky, well first of all he was signed like a week or less ago off the street and wasn't even on a team. Secondly, he's getting up there in age now to be a competitive running back in this league, and of course he's facing off against the stingy Los Angeles Rams defense who also recently added Von Miller and are quite scary on defense...
Possible upsides would be that Tennessee Titans are a run heavy team. Granted that all depends on the game script as well, but Adrian Peterson impressed in practice this week and should hopefully be in line for the bulk of the early down carries for the Titans in this game.
I'm really just praying Peterson rips off a big one or gets a handful of decent runs followed by like 10 more carries for 20-30 yards.
It's a tall order making this bet, especially considering he hasn't played in so long, really don't know what shape he's in and whether or not he's a high injury risk candidate but this is it. This is the bet that either puts me head about $600 or sends me packing with all things sports betting.
There is a "cash out" option for bets that periodically allows you to basically change your mind and take less money if you decide you don't want to see the bet out through the end of the game but the option to do this often disappears when you need it most. I will be keeping my eye on this tonight though, very carefully.
Wish me luck, I'm going to need it!!!
---
---