Hive Fantasy World Cup - Game Week 1 Review
Game week 1 saw some big upsets, some high scoring matches and also some fairly dull football as fantasy managers came to grips with the tactics and form of the sides coming into this years World Cup.
The fact that 15 sides recorded a clean sheet in the first round of games suggests there were plenty of points on offer in the defence if you knew where to look, albeit that of the pre-tournament favourites it was only former champions Brazil and Spain who managed to prevent the opposition scoring.
At the other end of the pitch, we saw 41 goals during game week 1 but it would be fair to say that these weren't shared out particularly evenly. Just shy of half of those total goals came in the 4 matches involving England, Spain, France and Portugal with managers likely to be looking at those sides going forward for attacking players.
Of course, the first round of games at a World Cup are often pretty tense with the teams set-up more on the defensive to prevent defeat as much as to chase victory but that dynamic will begin to change as sides push for the points to see them through to the knockout stages,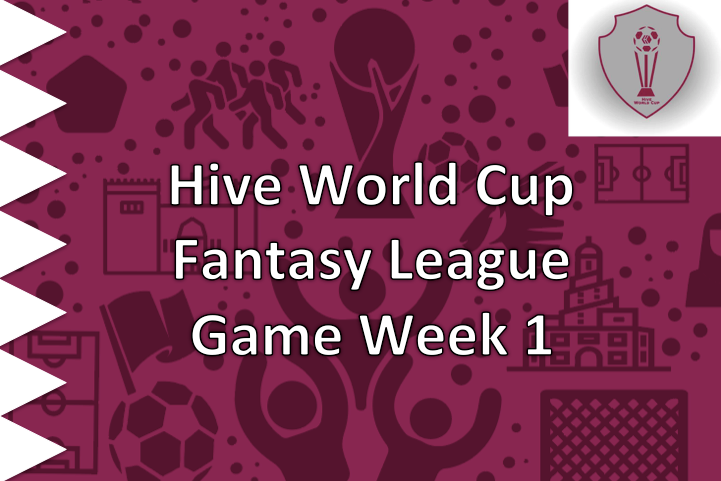 Group A review
No major surprises in Group A with Qatar looking well out of their depth in the tournament opener against Ecuador. I wrote a more detailed analysis of that match and suggested that the experienced Enner Valencia (FWD) would be a player to watch in this tournament, as he was 8 years ago when he broke onto the scene in World Cup 2014, and he didn't disappointed with a couple of goals.
For the Dutch, our pre-tournament prediction that this could be a chance for Cody Gakpo (FWD) to push his career to the next level also looks like a good call with goals in his first 2 matches too. Memphis Depay (FWD) had been a popular pre-tournament pick for many managers but highlighted the difficulty of selecting an effective first XI in this first round when he started on the bench.
However, looking for players who make an impact as a sub is definitely an good tactic going forward and in that regard Davy Klassen's (MID) introduction and late goal seem set to see him pick-up more minutes as the Dutch progress through this tournament and at the price of just $6million he's well worth a look.
Senegal matched the Dutch in most departments in that opening match but lacked a bit of spark in the final third creating no big chances despite their 15 shots at goal. The reigning African champions are renown as slow starters so I wouldn't write them off just yet.
Group B Review
England's thrashing of Iran certainly left those who selected Bukayo Saka (MID) happy as the midfielder delivered a game week high 15 points! Jude Bellingham (MID) also emerged as a player for serious consideration especially given his relatively affordable cost at $7.5million. It will however be interesting to see how England set-up their midfield when they come up against stronger opposition than Iran.
For the Iranian's Mehdi Taremi's (FWD) brace underlines his quality and importance to the side and at $7 million he is again worth a second look at especially for managers who are keen to pick players from the less popular teams in the tournament.
The other match in Group B was a true game of 2 halves with the USA dominating Wales in the first 45 mins but lacking real quality in the final third to get themselves out of sight before wilting later in the game. For Wales, it was that man Gareth Bale (FWD) once again who came to the rescue. If he doesn't score, it's difficult to imagine how Wales will win any games at this tournament.
Group C Review
The biggest shock of the World Cup to date and one of the biggest ever in fact was Argentina's defeat against Saudi Arabia. This was meant to be Messi's swan song and a final chance for the great man to get his hands on one of the few trophies in world football to have eluded him so far but to date it's turning into a bit of nightmare! While his individual performance wasn't great, the fact that he remains on penalty duty does mean he is still a viable option for fantasy managers and surely we'll see a reaction from this Argentine team in GW2...
In the other match Poland and Mexico who pre-tournament would have been expecting to play for 2nd place in the group fought out a very predictable stalemate albeit one in which high value forward Robert Lewandowski (FWD) missed a penalty to continue his barren streak at the World Cup. Both sides will be required to step up their attacking play later in the tournament which means a few of the more creative players on both sides could be good selections but perhaps they too have underestimated the ability of the Saudi team in a group that is now wide open!
Group D Review
Group D looks like it will follow a fairly predictable pattern although France were given an early scare by the Australians. That certainly shocked the French into life as they went onto create 6 big chances across the 90mins in a performance that highlighted their abilities in the final third.
A number of high profile injuries for the reigning champions are giving chances to some players who might not have made the squad let alone the first XI at this tournament and in Oliver Giroud (FWD) and Adrien Rabiot (MID) there are some bargin buys for a team that is expected to progress to the later stages.
In the other game, Denmark and Tunisia fought out a goalless draw. Both look well organised, both had one big chance to win the game, neither quite had the quality on the pitch to take it. Their respective matches against Australia which both would expect to win, will likely determine whether they will progress, so expect them to step up the attacking play in those fixtures in what amounts to a must win game.
Group E Review
Shock number 2 saw Germany lose to Japan. However, given the form of the German team coming into the tournament and the ever improving technical ability of this Japanese side it perhaps isn't quite as big a surprise as some are portraying. Still, it leaves this group intriguingly poised with Japan's next opponents Costa Rica taking the biggest hammering of the tournament so far.
That leaves some very cheap Japanese options to consider for round 2 including $5.5 million Kamada (MID) and match winner Asana (FWD) who will both be looking to add points against Costa Rica.
The reality is that Germany should have been out of sight before Japan's late fight back. Expected goals of 3.73 demonstrates just how dominant they were with the Japanese goalkeeper Gonda make a string of world class saves to keep his team in the game. Jamal Musiala (MID) was the best player on the pitch by far and football lovers will look forward to the rising star of German footballing spending a little longer at this World Cup. With Germany likely to need to beat Spain in their 2nd game to keep their destiny in their own hands, expect the attacking football to continue...
As for Spain, they weren't really many people's pre-tournament picks but what they lack in true star power they make up for in technical ability with youngsters Gavi (MID) and Dani Olmo (MID) running the show against Costa Rica. Both are reasonably priced but then again most of the Spain squad look good value for money in this tournament on their first match showing. Let's see how good they look following the Germany match!
Group F Review
Group F should have seen another opening game upset with Canada playing Belgium off the park for much of the 90mins but ending up on the wrong side of a 1-0 defeat. Canada registered expected goals of 2.88 including a missed penalty by the ever lively Alphonso Davies (DEF) who might yet get deployed further up the pitch as Canada chase that elusive first World Cup win.
As for Belgium, they look like a team in need of refreshing with many of their 'Golden Generation' struggling with the intensity that the Canadian's brought to the game. Still, with the likes of de Bruyne and Hazard they can be a threat going forward and the injury to Lukaku does leave Michy Batshuayi (FWD) as their only viable centre forward with the $6.5 million man getting on the score sheet to deliver an unlikely win.
The other match in this group followed a very familiar pattern of evenly matched sides looking primarily to avoid defeat as Croatia and Morroco played out another goalless draw. With Canada proving that they aren't here to be anyone's whipping boys this group is nicely poised as we go into round 2.
Group G Review
Cameroon born Breel Embolo (FWD) won it for Switzerland in their opening game of the tournament. The Monaco player has been in good form so far this season as have a few others in this Swiss side who met yet prove to be dark horses in World Cup 2022.
For their part, Cameroon huffed and puffed and probably had the better of the opening exchanges before really running out of ideas in regards how to break the Swiss defence down.
In the other match, Serbia held Brazil at bay for most of the first hour before the 5 time champions slipped up a gear and blew their opponents away. While Richarlison (FWD) might be struggling to find the back of the net in the Premier League this season, he is banging them away for fun in a Brazil shirt this year and with a host of creative players, particularly the lively Vinicius (FWD), to support him there's no reason to expect that won't continue.
It was also notable how strong the Brazilian bench is with the introduction of Rodrygo, Anthony and Martinelli just proving too much for a tiring Serbian defence. That though does raise questions for fantasy managers because you'd have to assume that this could well be the dynamic for the pre-tournament favourites going forward, meaning that high value picks like Neymar and Vinicius may only get 70mins to get their points on the board!
Group H Review
Group H saw another bore draw with the South Korea v Uruguay match actually delivering the lowest expected goals in the tournament to date. Both sides have abundant goal scoring quality in their squads so don't expect every match to follow this formula and indeed you'd expect both will need to come out swinging in round 2 if they hope to progress.
The other game was the polar opposite with a very entertaining 2nd half as lowly Ghana took Portugal a little closer than they would have expected! Despite a rocky couple of months in domestic football, Cristiano Ronaldo (FWD) kept the accolades coming by becoming the first player to score in 5 tournaments but it was perhaps the introduction of one of the younger generation, Rafael Leão (FWD), that really changed the game for Portugal and he might well be in line for a starting place for the remainder of the group stage at least.
Gamweek 2 tactics
With the games coming so thick and fast it's difficult for us to post a dedicated preview for the group stages. However, it's perhaps worth thinking more generally about your tactics going forward.
As alluded to above, several teams will need to up their offensive output in the 2nd round if they are to go through. Not losing your first game seems to have been the mantra for many teams so far but getting 3 points on the board now would put any side in a strong position to progress so expect a little more from the forwards and creative players.
There may also be a chance to game the system by using your wildcard for GW2. By doing so you can pick a team specifically for the 2nd round of matches and then, before the week closes, you can make wholesale changes ready for GW3. Remember, everyone essentially gets a wildcard between GW3 and GW4 as the tournament moves to the knockout stages so the above tactic it definitely worth considering!
Gamweek 1 winners
The top 10 players from game week 1 all get a share of the profits from this post. @deniskj takes his form from the FPL league forward into the World Cup as the early leader but there are still plenty of games and points still to be fought for
@deniskj
@blockchainfpl
@belemo
@shamzy
@brando28
@niallon11
@gentleshaid
@yahuzah
@Deadman1
---
---