Hive Fantasy World Cup - Game Week 3 Review
We've seen some thrilling matches to conclude the group stage with a couple of big teams falling at the first hurdle while the likes of Japan and Morocco have more than justified their place in the second round with famous victories along the way.
I'm sure you don't me to recite the details of those matches so instead I'll use this blog to analysis some of the top fantasy players of the tournament so far.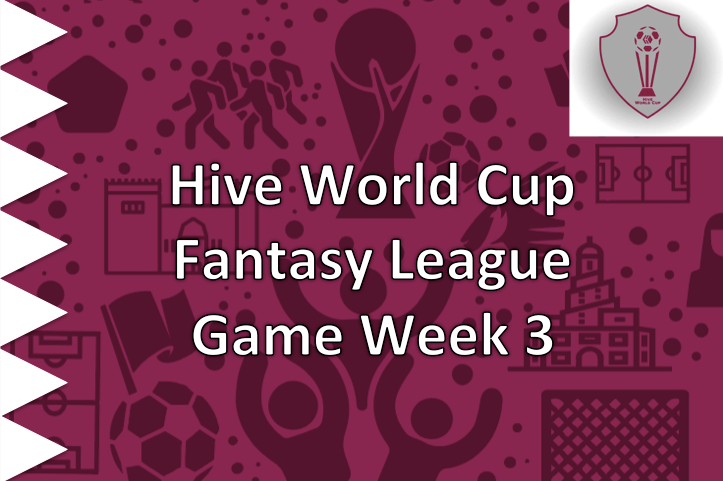 Remember, you have unlimited transfers for GW4 which will allow you to fully reshape your team and I'm sure many of the names below will be on the managers' shopping lists.
Team of the tournament so far
Lets start with the 11 highest scoring players (4-4-2 formation) of the tournament so far.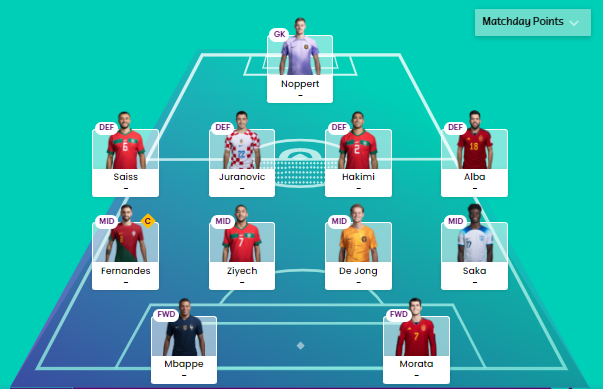 Szczesny (GK) has been in heroic form for Poland as they snuck through to the final 16 and you'd imagine he'll be a busy man again when his side meet a strong looking France team in the second round. Poland offered almost nothing against Argentina who really should have scored at least a couple more goals and despite his points haul to date, it'd be a brave call to select the Pole again if the 10 in front of him aren't able to up their game.
In defence, the Morocco pair of Saiss (DEF) and Hakimi (DEF) have been part of a very solid and well drilled team but have also offered points in the final third as well. You'd expect Spain to dominate possession in their second round game against the Moroccans but that is not likely to be a problem if their performances in the group stage are anything to go by, they had just 33% and 35% possession vs Belgium and Croatia respectively and kept clean sheets in both.
Juranovic (DEF) of Croatia also came through the same group as the 2 Morocco defenders above and while the top 2 sides of Group F are undoubtedly well organised, it shouldn't be forgotten that they came up against a Belgian side that were awful and a Canadian team out of their depth. Let's see how their defences shape up as we get later into the tournament...
The final defender, Jordi Alba (DEF) collected his 16 points despite not starting in the final group game as Spain rested a few of their stars. The Barca man already has 3 assists in the tournament and you'd fancy that he can add to that in this talented ball playing Spain side.
Similarly, Bruno Fernandes (MID) enjoyed a rest with Portugal already through to the knockout stages and given that almost all his team's play in the final third seems to come through him then he seems like a must pick player for the second round when he'll face Switzerland.
Haikm Ziyech (MID) completes a hattrick of Morocco players in this side and not many would have bet on that ahead of the tournament starting. He has been instrumental in everything that Morocco have done around the opposition penalty area and is surely putting himself in the shop window for the January transfer window unless more opportunities come at Chelsea.
Bukayo Saka (MID) makes the team despite being dropped for England's last match and with the players that replaced him having performed well, there is no guarantee that Saka will get a start against Senegal.
The only midfielder to make the team who doesn't ply his trade in the Premier League, although for much of the summer it seemed he might, is Frenkie de Jong (MID) who has scored a goal and made an assist while acting as the heartbeat of a Dutch side that is going under the radar.
Upfront, Alvaro Morata (FWD) has scored in all 3 games despite not starting the first 2. You'd assume that he is an automatic pick now for Spain although he'll have his work cut out against a stingy Morocco defence. Meanwhile, Kylian Mbappe (FWD) will be targeting more goals against a Polish defence that looks like it might struggle. With so many big stars coming to the end of their World Cup careers it feels like this might be a changing of the guard in as far as the real A-list footballers and this guy is leading the pack to replace the likes of Messi and Ronaldo on that front.
Bargain Buys so far
The next 11 comprises the best bargain buys of the tournament so far, that is goalkeepers and defenders priced $5 million or less and midfielders and forwards priced at $7 million or less.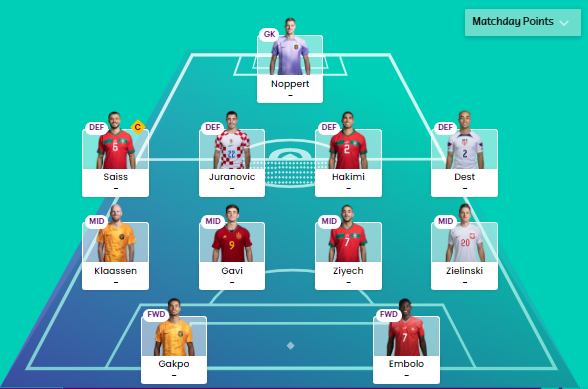 We find all 3 Morocco players from the team of the tournament appear again alongside Juranovic of Croatia. Meanwhile another 3 Dutch players could well be worth a closer look given their success to date and affordable price tags.
Davy Klaassen (MID) may have started on the bench for the Netherlands but he's managed to force his way into the starting XI and has become a key player for them. Meanwhile Cody Gakpo (FWD) has scored a goal in every game thus far and you'd fancy that the Dutch are favourites to progress against the USA. Indeed, the Americans have only scored twice in getting this far and seem to lack a bit of quality up front which makes Dutch first choice keeper Noppert(GK) a decent pick at a very reasonable price.
Sergino Dest (DEF) was of course born in the Netherlands but will face them for his adopted nation of the USA this weekend. Still only 22, the former Barcelona full-back has found opportunities at new club AC Milan hard to come by of late and will be another player hoping to use the World Cup to reignite his career.
Meanwhile, another young star in the making is Spain's Gavi (MID) who at $7 million is a very appealing option. It should be noted however that since scoring 12 points in the opening game, he's managed a total of just 3 since which might lead to some managers considering alternatives.
One of those could be Piotr Zielinski (MID) who considering his quality and experience with Napoli in both Serie A and the Champions League is a very affordable $6.5 million. Much of the attention in the Poland team goes on Lewandowski but Zielinski showed that he too has an eye for the big moment with a goal against Saudi Arabia that ultimately ensured his side's qualification.
Finally Swiss forward Breel Embola (FWD)is the focal point for a very well drilled and in form team. The Monaco man got the winner in his side's first game and netted again vs Serbia to ensure qualification.
The most popular picks so far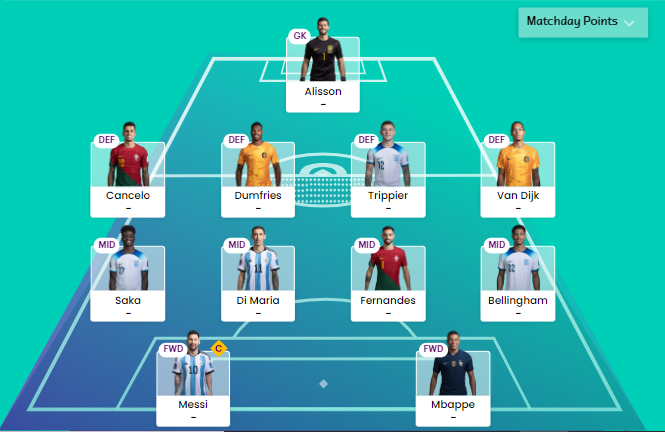 Of course you might just opt to ignore the stats and follow the crowd with the last 11 representing the most popular picks by managers at the moment.
Interestingly only 3 of the players in this side (Fernandes, Saka and Mbappe) feature in either of the teams above.
Despite the relative success of many of the Dutch squad, managers have continued to prefer VVD (DEF) and Denzil Dumfries (DEF) as selections in their sides. Meanwhile, Kieran Trippier (DEF) didn't even start the last game for England but remains a must have player for many teams out there, while Joao Cancelo (DEF) is an EPL favourite who has struggled to really impose himself on this World Cup to date.
Angel Di Maria (MID) has contributed just an assist all tournament and at 34-years-old doesn't look likely to complete a full 90mins anymore. In fact, he may not be fit to start at all against Australia so while I'd imagine lots of managers will be looking to bring in Argentine players he's probably one to avoid.
Jude Bellingham (MID) looks he is set to have a long and very successful career in England's midfield. He was already going to be hot property in this summer's transfer window and his performances on the world stage will only grow the number of clubs chasing his signature.
Last but not least comes the most popular player in the the game at the moment, selected by 70.1% of managers, Lionel Messi (FWD). The Argentine narrowly missed getting into the team of the tournament so far and indeed had he have converted his penalty against Poland would have been made. Instead he missed and ended a 6 game scoring streak for the national side. Despite that, his performance against Poland was high class and he'll be keen to celebrate his 1000th career appearance against Australia with a goal and a win.
Gameweek 3 winners
The top Hive accounts for Gameweek 3 all share in the profits of this post.
@blockchainFPL
@deniskj
@pappyelblanco
@stuartcturnbull
@iamchuks
@gentleshaid
---
---