Hive Fantasy World Cup - Game Week 4 Review
Given the number of upsets that we saw in the group stages, the second round largely followed an expected pattern with only Morocco overcoming the odds in their win against Spain. Certainly several the matches threatened to see the favourites overhauled but the quality, particularly in the forward areas, of sides like the Netherlands, Argentina, France and England ultimately saw them through.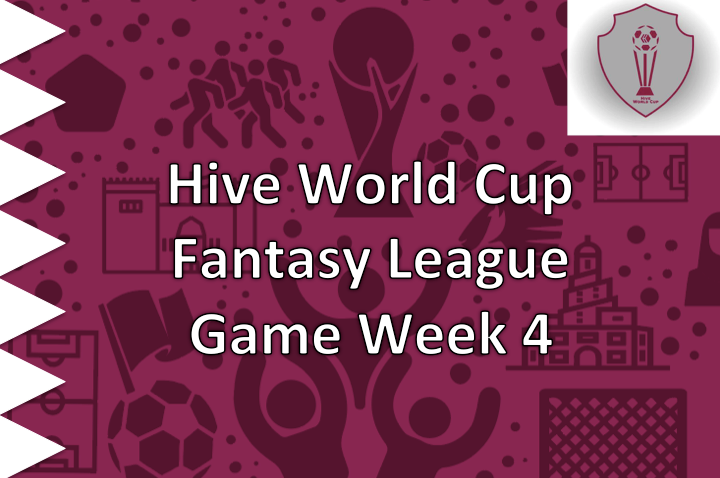 At the same time, clean sheets have proven difficult to come by now that we're in the knockout stage with only England able to achieve a shut out in the their match against Senegal before Morocco and Spain needed penalties to separate them. With the competitiveness of the fixtures yet to come that might be a trend that sticks with us so it will be interesting to see if managers ultimately rely on a back 3 going forward.

2 goals and an assist from Denzil Dumfries (DEF) ensured a major points haul for those who had kept faith with the Dutch wing back, a player who had been a popular pick in the early part of the tournament but had failed to deliver until this game. A late fluke of a goal for the USA spoilt what would otherwise have been even more points courtesy of the clean sheet bonus but otherwise this was a masterful display by both of the Netherland's full-backs with Daley Blind (DEF) also getting on the score sheet.
The Dutch generally looked solid at the back although you would imagine that greater tests will come as they progress to the quarter finals while in attack they demonstrated an ability to break at pace and take their chances when offered. In fact as far as expected goals are concerned the Netherlands shaded this one 1.7 to 1.5 demonstrating just how competitive this match was with the exception of that extra bit of quality in the final third that the USA just don't posses.
Memphis Depay (FWD) got his first start of the tournament and wracked up a goal, 4 shots (3 on target), expected goals of 0.6 and expected assists of 0.4 in a bright display. The Dutch have plenty of options as far as pacey forwards are concerned so he is not certain to play against Argentina although you would have thought that his experience and pedigree at this level would count in his favour.

But for a last ditch Lisandro Martinez (DEF) tackle and a save from the Argentina keeper from the last kick of the game, this match would have gone to extra time and who knows, maybe go down in history as one of the greatest shocks in World Cup history.
Australia certainly gave an excellent account of themselves while Argentina, one of the pre-tournament favourites, continue to underwhelm and leave themselves almost totally reliant on Lionel Messi's (FWD) magic feet. Celebrating his 1000th professional appearance, the Argentine captain marked the occasion with a well taken goal and managed to engineer a further 5 goal scoring opportunities for himself. Young Julian Alvarez (FWD) looks like he is enjoying playing next to Messi and finished the game with a high 0.6 expected goals, taking his opportunity to punish the Australia defence when they did make an error.
Alvarez's place in the side was not certain before the start of the tournament but the form of Lautaro Martínez (FWD) who could have had a hattrick in the 20 mins that he was on the pitch is such that surely he'll be given the nod again against the Netherlands in the QF.

For much of the game, this very much looked like a fixture between the first side to book its place in the knockout stage and another who stumbled through thanks to other results going their way. That being said, Poland did engineer a couple of big early chances and you wonder had they have managed to take the lead with one of them might things have been different?
As it was, they were hypnotised by Kylian Mbappe's (FWD) pace and raw finishing ability as the French star goes about establishing himself as the alpha player in world football. Another 2 goals and an assist takes him to 7 goal involvements in total for tournament, the next highest player has 4. He is now an automatic pick for any fantasy team and for the opposition the question very much becomes how do you stop him?
However, as we saw for the first French goal in this game, the tendency for the opposition to get drawn to Mbappe when he's in position will open up opportunities for others and in particular Olivier Giroud (FWD) who is revelling at the chance of starting in a tournament that he must have assumed he'd largely be part of in the role of a substitute. His 2.4 non-penalty expected goals is 2nd only to Mbappe in World Cup 2022.
At the back, France did have a couple of nervous moments largely due to captain Hugo Lloris' (GK) poor distribution. The French keeper had a completed pass percentage of just 58.6% and that is something that opponents will surely target as we move into the crunch phase of this tournament.

For much of the first half England looked like they might struggle to get past the AFCON champions but a couple of strikes before the break made the 2nd half a far more comfortable proposition.
Harry Kane (FWD) got his first goal of the tournament and in an interview before the match, the Golden Boot winner from 2018 suggested that he's left a little more in the tank this tournament than he did at the last when the goals dried up in the knockout stages. Still his all around play has also improved during that time and he is joint 2nd in regards goal involvements in World Cup 2022.
**Bukayo Saka **(MID) and Phil Foden (MID) also got in on the act with a goal and 2 assists respectively while Jude Bellingham's (MID) drive and passion in the midfield further established his claims as one of the world's most exciting teenagers. He is currently 2nd in the list of actions leading to goal scoring opportunities (5) behind only Mbappe.
Perhaps the big surprise for England is that they've kept 3 clean sheets in a row. Considering that coming into the tournament there were serious doubts about their defensive options that is some achievement with Harry Maguire (DEF) having collected 22 points already.

Japan's fine run in this World Cup came to end thanks to the heartbreak of penalties while for Croatia, the runners up from 2018 have managed to slip relatively unnoticed into the last 8.
As with their side 4 years ago, Croatia are a team whose sum are greater than the parts which makes it tough to select fantasy players from. Ivan Perisic (MID) got the equaliser in this match and his 10 shots at goal in Qatar is behind only Mbappe and Messi for players still remaining in the tournament.
With the likes of Luka Modric (MID) and Marcelo Brozovic (MID) pulling the strings in midfield, Croatia will continue to be competitive and if one of their forwards can find their scoring boots then they might yet surprise Brazil in the next round. Between them, Modric and Brozovic have made 48 progressive passes this tournament, more than any other midfield combination.

Brazil dismantled South Korea in the first half of this match although the Korean's kamikaze (to borrow a phrase from their neighbours) tactics didn't do much to help the situation either. Brazil's expected goals of 3.6 in this fixture were comfortably the highest in the second round, underlying the attacking options they have available to them.
Much has been made of Brazil's goal celebrations which probably did go a little too far but I very much doubt that they'll mind the criticism and with the legendary Pele coming towards the end of his life, you'd imagine that they'll be keen to keep the samba style going as long as possible if not all the way.
Richarlison (FWD) continues to look like the best buy for fantasy managers. He has scored 1.13 goals per 90mins during this tournament and is behind only Mbappe and Giroud as far as expected non-penalty goals are concerned. There are no easy games at this stage but it's tempting to think that Brazil have a more straight forward route to the final than some of the other pre-tournament favourites who are bunched on the other side of the draw, so loading up on the men in yellow might be a good shout.

There was a predictability about the way this game unfolded with Spain having 77% of the possession and wracking up over a 1000 passes but not delivering on the final result. Morocco were once again resolute in defence and for all Spain's time on the ball they only managed expected goals of 0.9 in over 2 hours of football.
Morocco themselves carried very little threat going forward and have scored just 4 goals all tournament, registering expected goals of 3.2 over their 4 matches which is comfortably the lowest of the teams left in the World Cup.
2 questions remain then, how Morocco will get back into a game should they fall behind and might they find the attacking play of some of the teams left in the tournament harder to keep out than a few of the other sides they've played to date?
If you are looking for a Moroccan forward to get on the scoresheet then former Southampton winger Sofiane Boufal (MID) who showed glimpses of his star quality in the Premier League is a real outlet for this otherwise defensively minded side. He attempted 6 dribbles in the 65mins he was on the pitch and looked the most likely to make something happen from open play.

Most had this down to be a tight game with Portugal likely needing to work hard to overcome a disciplined Swiss side who themselves could offer some threat going forwards but instead it turned into the most comfortable victory of the round.
When a coach makes a massive call to leave out Cristiano Ronaldo (FWD) amongst other star names then he better make sure the players he does select do the business and that was certainly the case in this fixture as 23-year-old Gonçalo Ramos (FWD) scored a hattrick in what was his first start for the national team. Having been selected by fewer than 0.1% of fantasy managers coming into the match, I think it's fair to say that we'll see that number grow for a player who costs just $6.5 million.
Elsewhere, Bruno Fernandes (MID) continues to look like an automatic pick with 2 more assists to his name. The Man United midfielder has made 8 passes into the penalty area and is responsible for 4 goal creating actions so far which is the 3rd highest of any player in the tournament.
The only slight concern for Portugal is that they've only delivered 1 clean sheet so far this tournament and their expected goals against of 5.1 is the highest of any side still left in the competition.
Game Week 4 Winners
The top Hive accounts from Game Week 4 are as follows and they get a share in the payout of this post.
@amirtheawesome1
@martinlazizi
@blockchainfpl
@racibo
@skanderh
@karkalitsos
Overall, with just 3 rounds to play and a dimishing number of players to choose from, it's looking like a 2 horse race for the top prize. However, the competition for 3rd is very tight with less than 30 points separating 18 teams in the chasing pack there is still a lot to play for.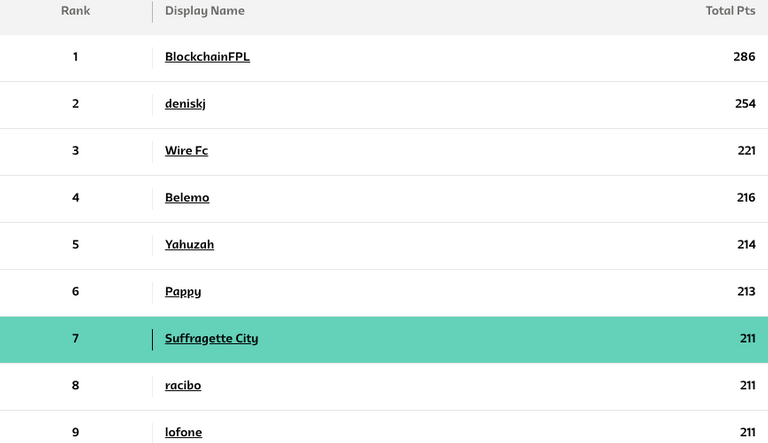 ---
---