Hive Fantasy World Cup - Game Week 7 (Finals) Review
We have a champion both in terms of the football itself and the Hive Fantasy World Cup league.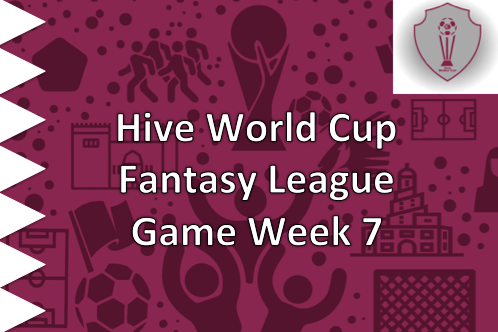 First the football, the stars aligned and Messi and Argentina were crowned World Cup winners for the first time since a Diego Maradona inspired team won the competition in 1986. The global popularity of Messi is such that this was a victory not just for the Argentines themselves but for the whole world, well, unless you're French...
Rightly or wrongly, Messi's claim as the greatest ever player in the history of the game would have forever have been tarnished had he not have delivered this World Cup but like all true greats he performed when he it was most needed.
Despite the fact that he has won everything in the game, this was a bit of a fairytale ending for a player who has not always been so loved by certain sections of the national fan base. It was only a few years ago that Messi retired from international football following a string of failures and a sense that the great man saved his best performances for club level.
However, to focus solely on Messi is to ignore a few of the other heroes of this Argentine side that turned around an opening game defeat against Saudi Arabia to become World Champions.
Goalkeeper Emiliano Martínez has been a fringe player for much of his career, struggling to establish himself as first choice at Arsenal and spending time on loan at the likes of Oxford United, Rotherham and Reading to mention just a few clubs. His last minute save in extra time in this game mirrored that of one he made against Australia in the 2nd round while his bizarre behaviour was enough to put off penalty takers in both Dutch and French colours.
Alexis Mac Allister did not start the first match of the tournament but became an increasingly important part of the side as they progressed. He became the first Brighton and Hive Albion player to appear in a World Cup final although the Seagulls will surely struggle to hang onto him with big clubs likely to be circling. It's worth remembering that he'd already notched 5 Premier League goals this season so he came into the tournament in form and managed to carry that through including setting up a brilliant 2nd goal for Argentina in the final.
Then there is Julian Alvarez who similarly looked like he may play only a bit part in this World Cup until given his chance in the final group game. The understudy for Haaland at City showed that the big Norwegian will need to keep banging in the goals with the man nicknamed "spider" ready to grab his opportunity. His goals were complemented by an incredible work rate leading the Argentine press and not giving any centre back a moments rest.
France too played their part in one of the most entertaining World Cup finals ever. Kylian Mbappe became just the 2nd man after Geoff Hurst to score a hattrick in the final on his way to the golden boot. While he found it difficult to hide his disappointment while receiving the award, his time will undoubtedly come again and in general the French squad can hold their heads high given the turbulence that surronded their squad going into this tournament with 4 key players from their triumph of 4 years ago missing due to injury.
In fact, during the final itself, it was some of the 'next generation' that really changed the course of the game. The likes of Thuram, Kolo Muani, Coleman and Camavinga will all be in their prime years come 2026 and may ultimately be better, hungrier players as a result of this setback.
In the 3rd place playoff we have to assume that we are also saying goodbye to Croatia's golden generation with the likes of Modric and Perisic unlikely to grace another World Cup. Meanwhile Morocco were the true dark horses of this tournament in becoming the first African side to reach the semi-finals of the World Cup.
Usually, I would try and put together a team of the competition based on fantasy points but given the difficultly in doing that with players not all playing the same number of games, I've decided to go by a more subjective measure. Feel free to offer your own opinions on my picks in the comments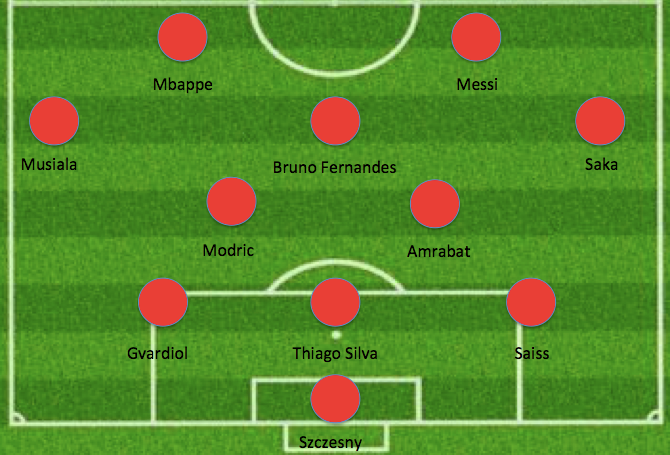 Obviously I've covered the front 2 above and you don't have to imagine that as a fantasy combination, you can simply watch it at PSG week in week out!
Behind them, I thought Bruno Fernandes carried the Portugese team at times. I was tempted to go for Alexis Mac Aliister in that role and it might well be that with Messi gone, players like him take on a even more prominent role for Argentina going forward.
In the wide positions, Musiala may not have made it out of the group stage but the German teenager looked a threat every time he was on the ball and you've no doubt that the national team will come back strong in the not too distant future with youngsters like him around. On the opposite flank, Bukayo Saka continues to look the part on the biggest stage. Arsenal fans will be keen to see him sign a new contract asap.
In the holding roles I've gone for the 2 men who were most influential in taking their sides to the semi-finals. Luka Modric is a class act and with the engine of Amrabat next him, I don't think my team would be without possession of the ball very often! Honorable mention to Jude Bellingham and Casimero in those positions too.
At the back, Gvardiol has been on the radar of big clubs for some time and this was his chance to show why, expect him to be on the move this summer. Next to him, Thiago Silva is a Rolls Royce of a footballer who makes defending look easy and Roman Saiss came very close to leading his nation to an historic World Cup final.
In goal in was a toss up between which discarded Arsenal keeper to choose. I've plumped with Szczesny over Martinez simply because he alone kept Poland in the tournament until the knockout phase.
Gameweek 7 results
The first game week that didn't feature the top 2 managers at all! Of the highest scoring sides that have a Hive account, @martinlazizi stormed to not only victory in the final round of the tournament but his strong showing in both GW6 and GW7 ensured that he took 3rd place overall in what was a very close contest. The below all share in the profits of this post.
@martinlazizi
@yahuzah
@gentleshaid
@brando28
@amirtheawesome1
@shamzy
Overall winners
Overall we already knew that 1st and 2nd spot had been decided a while back by @blockchainfpl and @deniskj they claim 30 HBD and 20 HBD respectively with @martinlazizi swooping into claim bronze and with it 10 HBD.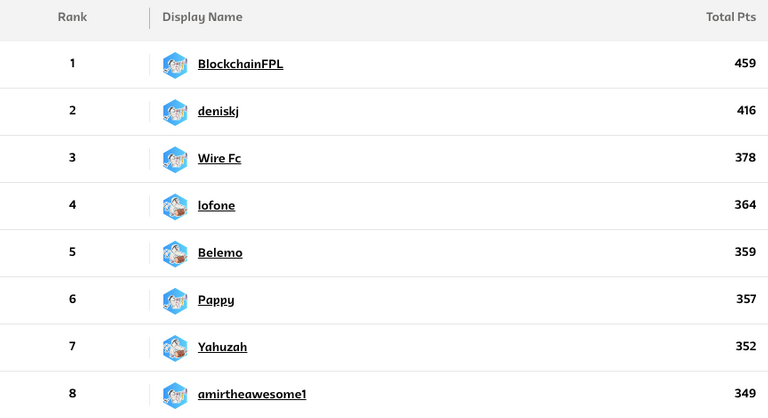 Well done to everyone who joined and we look forward to seeing you back this weekend for the resumption of the Hive FPL!
---
---