Hive Fantasy World Cup - Preview Groups C and D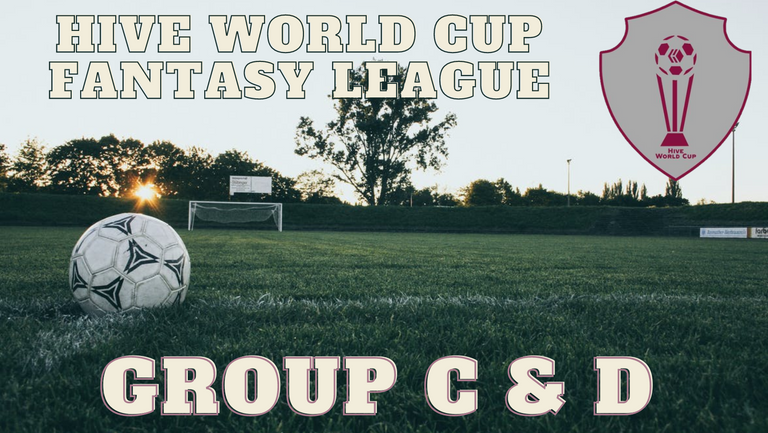 Hello frens, I've got some bad news for you but you probably already knew it. There won't be any FPL for a couple of weeks but don't be dismayed, as we'll be having a winter World cup fantasy league and the opportunity to watch Lionel Messi and co light up the pitch.
Speaking of Lionel Messi, we'll be looking at two groups that promise to give us some tantalising fixtures. In three of those fixtures, we'll have ARgebntina featuring against a variety of opponents from around the world.
With the world cup only 2 days away, how about we dive into the squads of Groups C and D, picking out some stellar names that you should undoubtedly have in your World Cup fantasy team?
Group C
In group C, we have Argentina as the South American representative, Mexico from North America, Poland from Europe and an Asian representative in Saudi Arabia. I'm not going to lie my friends, it is not looking good for Saudi Arabia in this group that has some strong opposition.
Argentina
Starting from the GOAT and working our way down Argentina boasts Lionel Messi. He is without a doubt the greatest to have ever played the game but the World Cup is something that has eluded him throughout his stellar career.
As the curtain slowly closes on the career of arguably the greatest to have ever graced a football pitch, it is fair to expect monstrous performances from Lionel Messi. Since moving to PSG, he has taken a slightly withdrawn role in midfield and I expect him to pull the strings for the Albiceleste that also boasts some interesting attacking options.
Julian Alvarez will be looking to continue his fine start to the season and with all eyes on the World cup, the diminutive Manchester City striker will want to give Pep something to think about. However, there are no assurances of a staring berth in that Argentina squad with an embarrassment of attacking options that includes Di Maria, Lautoro Martinez and Angel Correa to name a few.
In defence, Emiliano Martinez will be between the sticks and will be amongst the clean sheets, particularly in the opening fixture against Saudi Arabia. We can also expect Lisandro Martinez to feature and while I seriously doubt Saudi Arabia is scoring against Argentina, I'd avoid doubling up in defence.
The World cup is a completely different animal and teams have no do overs, so everyone has to put their best foot forward. Even Argentina's B-team should ideally have too much firepower for SA, underestimating any team that made it it to the world cup is perilous.
Saudi Arabia
Given the opportunity, the Green Falcons would probably just feature the high fling Newcastle side in the WOrld cup but with that option obviously off the table, they have to "settle" for their equally impressive team that qualified for the World cup with two games to spare.
Make no mistakes, on paper, Saudi Arabia are the minnow in the group but they will be gunning for one of the qualification spots in the group. Argentina seem destined for top spot but I tell you what, the second spot is going to be a three-way scuffle.
Saudi Arabia have two key factors that favour them in this group. The first and obvious one is that the World cup is in a terrain that the squad will almost certainly be familiar with.
Secondly, and most importantly, Saudi Arabia has team Chemistry, something that can't be said about most teams in the tournament with individuals that play for clubs around the world.
In the 26-man squad, 13 players come from Al Hilal, 6 come from Al Nassr, 3 from Al Shabab and one of each from Al-Ittihad, Al-Fateh, Abha, and Al-Ahli. All I'm saying is that this is a squad filled with players that know a lot about each other and that team chemistry will be very important in navigating the group stage.
Out of the lot, the highly decorated winger, Salem Al Dawsari will be looking to add to his impressive career. It will be a difficult group for Saudi Arabia but there are always upsets and sometimes, the obvious "whipping boys" come with their own whips.
Poland
Just like Lionel Messi, Robert Lewandowski will be looking at this World cup as his last chance to claim immortality as the Polish National team captain. Dropping out of the Champions League must have been painful but all that is in the backburner as he will be looking to continue his fine scoring form this season.
The disadvantage of this world cup is technically the advantage since it players don't have long breaks and so they can easily carry their form over to their National teams. However, Wojciech Szczesny will not be all too pleased about as the shot stopper has struggled for form, moving in and out of the struggling Old Lady, no pun intended.
Sticking with Serie A stars, Napoli's Piotr Zielinski will be an undisputed starter as the attacking midfielder will want to continue pulling the strings in the same way he has done it for Napoli this season.
Finally, we have Aston Villa's Matty Cash* who could provide points from the defence. There are no assurances in the World cup and with an opening fixture against Mexico, would be competitors for the second spot, clean sheets may not necessarily be on offer.
Mexico
It's another World cup year, once again we have the Mexicans and once again, we get the opportunity to watch 37-year-old Guillermo Ochoa work his magic between the sticks. The goalie is yet another player winding down a stellar career that his seen him light up the World Cup stage on three different occasions.
El Tri will be relying on some of the usual suspects, with names like Hector Herrera and Andres Guardado. In the attacking department, Mexico boasts Hirving Lozano of Napoli whose input has been overshadowed by the imperious Osimhen and Raul Jimenez of struggling Wolves to provide an attacking threat.
Group D
In group D, we have previous winners, France, Denmark, Tunisia, and Australia. Once again, on paper and FIFA ranking, at least, it might be easy to predict the outcome but who knows what the magic of the World cup has to offer?
France
The French National team is stacked with so much talent, it is difficult to even decide who starts in many positions. There are a few undisputed starters like Mbappe and Lloris but looking around the squad, it is hard to pinpoint who starts ahead of who.
The personnel on the pitch will be determined by the formation employed by Les Bleus. a front three could see Mbappe fielded on the flank as he will be looking to use his blistering pace and trickery to unravel defences.
Karim Benzema, fresh off winning the Balon D'or will most likely spearhead the French attack but with competition from Serie Champion and previous World Cup winner, Olivier Giroud the Deschamp might want to just stick with a formula that already works.
Despite being favourites to win the group, France's poor showing in Euro 2020 will be fresh on the team's mind as they look to make amends. For some of the players, this could be their last chance to participate in a World cup and for others, it is just the first of many.
One thing for sure is that France is blessed with talent spread out across all age categories and the team is secure for the present and future.
Denmark
The Danish national team will be heading into this tournament in high spirits as they look to mount pressure on the Bleus Elephant in the room. Once again, on paper, finishing top of the group seems unlikely but a second-place finish is definitely possible.
The Danish Dynamite will have the explosive Christian Eriksen pulling the strings from the heart of midfield(no pun intended) while Kasper Schmeichel keeps things tidy between the sticks. Pierre-Emile Hojbjerg has had an impressive start to the season at Spurs and he will be looking to carry on that form for the Danish national team.
Andreas Christensen is another familiar name that has had a stop-start Barcelona career so far. The defender will be tasked with keeping things shut at the back but I wonder if that will be enough to stop the French from feasting on some Danish.
Tunisia
Tunisia is the only African representative in this publication and they will be looking to use their defensive brand of football to frustrate their more illustrious opponents. This is the approach that has served them well as they employed it to great effect to qualifying for the World cup.
There aren't too many impressive individuals in the Tunisian squad but as a collective, they have the capacity to cause some upsets, as they tend to do in the African continent. Outside the continent, Tunisia also have a strong defensive record, keeping clean sheets in over 50% of their last 50 matches.
In any case, Youssef Msakni who was gutted to miss last edition of the World cup will be looking to put in a shift for his side. He often comes up with crucial goals for his side and those goals will certainly be needed if Tunisia plan to stifle and sucker punch opponents.
Australia
From down under, we have Australia who, on paper might end up there. Once again, underestimate any opponent in the World cup and it will be you going down under because you'll be sucker punched down under.
To be completely honest, no one actually expected the Australian national team to even qualify. Now participating in their fifth consecutive world cup, it is safe to say that expectations are quite low.
Expected to be the whipping boys of the group, Australia has some familiar names like Matt Ryan in goal, and Aaron Mooy in midfield.
Ajdin Hrustic featured heavily in Frankfurt's Europa League run last season, now at Hellas Verona, he will be looking to influence the game from midfield.
---
---
---