Hive Fantasy World Cup - Quarter Final Preview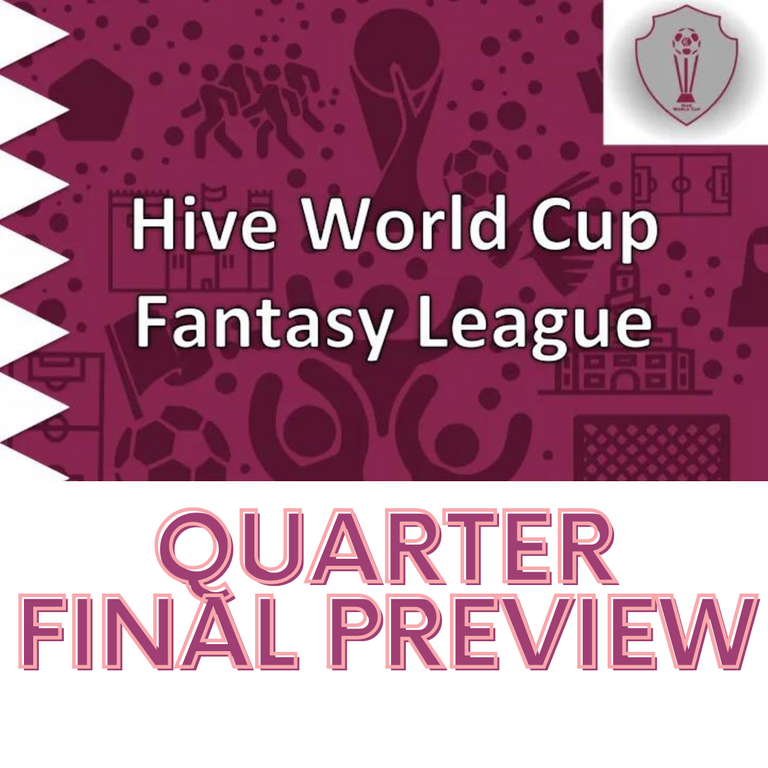 Fun Fact : Spain have only won 3 games at all stages at the World Cup Since 2010 beating only Iran , Australia and Costa Rica.
The quarter finals of the World Cup in Qatar commences on Friday 9th December. It has come around very fast and there has been a few surprise teams along the way. Football wise it has been a quality world cup and the standard has been raised by the weaker teams. They have gotten stronger from access to elite coaching which has raised the bar for everyone. Morocco , Saudi Arabia and Japan were the teams that really stood out playing good football with a great attitude. On the other hand Belgium, Germany and now Spain had an absolute shocker for a variety of different reasons but underestimating their opponents was the common denominator. So who is in the quarter finals? Let's have a look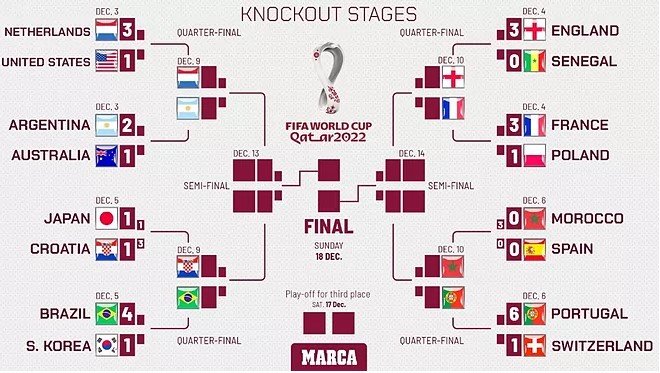 Croatia versus Brazil Friday 15:00 GMT
Brazil have cruised into the quarter finals with an impressive win against South Korea. After a minor blip against Cameroon after they played their B team, Brazil were back on track and scoring goals for fun. Richarlison looks hot in the Centre and Neymar is back and was cooking against S Korea. Have they been challenged yet is the question? Croatia will be tough for them and the Croatian old guard are still turning on the style. I have never seen Modric make a run unless he gets the ball. They overcame Japan on penalties and are possibly the most underrated team to do well. If you think back that they reached the final of the last World Cup. Will there be an upset? I very much doubt it but Luka Modric is still one of the worlds best players. Throughout the team there is strength and Gvardiol has announced himself as a world class Centre Half at this World Cup. Brazil have oceans of quality in attack and may be too much for Croatia but I would not be surprised at all if Brazil are not dancing as much in this quarter final. However I still predict a Brazil win. Brazil am looking like they are having fun at this World Cup and Neymar is playing without the pressure of the whole country this time. He shares this load now with a quality squad and this suits him down to the ground. I expect he will play well against Croatia. Richarlison who has arguably the two best goals in this World Cup is transformed into Brazils golden boy so he is on top form. Probably the Haaland of this Fantasy World Cup. Then you have Vinicius Jr and a world class goalkeeper Alisson The squad is dripping with talent. It will be hard to stop them. A Brazil win here but it will be tight. A Sports Journalists called Brazil a counter attacking team which has not gone down well.He claims Brazil will be found out in the latter stages. But maybe he has a point. The first test Friday. We will see.
Netherlands versus Argentina Friday 19:00 GMT
If I was Argentina I would want anyone other than France and Netherlands. Take Messi out of the Argentina team and they are an average team. In the second round against Australia they were lucky to come away with a win and they have struggled all tournament. Messi will have to drag them into the semi final here with a Netherlands team that have grown into this competition. Don't get me wrong. Netherlands are not the best team in the competition but they are tough to break down. The USA were the better team by a mile in the second round but Netherlands got a goal against the run of play. But this is a Louis Van Gaal team who is an elite coach even so much so that Bielsa learnt all he knows from the Van Gaal style. Netherlands are underdogs and they are dangerous. If you look at the squad it is oozing with talent from the top leagues which arguably the best Centre Half in recent years in big Virgil Van Dyke. Argentina are not confident. If you looked at Martinez up front for them against Austraila, Messi put 3 balls on a plate for the number 9 only to miss them. But Argentina can be said to be growing into this World Cup as well. They are missing Los Celso through injury but McCallister has taken up that role very well over the last few games. I expect an upset here and Netherlands to go through. Argentina just have not shown enough in this World Cup but then again they have Messi so anything can happen.
Morocco versus Portugal Saturday 15:00 GMT
Morocco am probably still celebrating beating Spain on penalties. I have to say that I am loving the atmosphere Morocco bring. Their fans are excellent and their squad have a great attitude. Just looking at Hakimis penalty the other day.
https://twitter.com/FPL_2Peas/status/1600460699909509120?s=20&t=KK3uRH2SqMc459zb-NzICg
Source
https://twitter.com/_Kenzie/status/1600186043415769089?s=20&t=KK3uRH2SqMc459zb-NzICg
Source
The panenka. He has some set of bollocks on him to do that to knock Spain out of the World Cup. I read somewhere that Hakimi was born in Spain but his family was deported back to Morocco. I am not sure if this is true but if it is then it is some story but Morocco have been excellent throughout this World Cup and they do not have an entirely impossible task with Portugal. However Portugal with Ronaldo and Portugal without Ronaldo is an entirely different animal. The Portuguese manager himself had some set of bollocks to drop Ronaldo given the recent headlines. If things went belly up against the Swiss then there would be civil war in Portugal but they didn't. They went swimmingly. So much so that bringing Ronaldo back into the team will make the team weaker. So there we have it. If Ronaldo play Morocco have a great chance. If he does not then Portugal should have this one wrapped up by half time. I think Ronaldo's time is spent now with Portugal and he has not scored in the knock out stages in the World Cup yet. Something that will be on his mind. Morocco are hoping for the Portuguese camp to be in disarray. After the penalty shootout and their overall performance Morocco's moral is high so I think they will go for it against Portugal. They have nothing to lose now.
England versus France. Saturday 19:00 GMT
I think this is the game the world is waiting for. France against England. Or is it Mbappe against Kyle Walker. The two fastest men on a football pitch are coming up against each other. In fairness to Poland's Matty Cash, he did an OK job in containing Mbappe but he still got 2 goals and 1 assist. Cash's interview was amazing after the game. He pointed out the problem if you get too tight he turns you and he is gone. If you stand off him he runs at you, slows down and then accelerates and he is gone. It is a lose lose situation. With Kyle Walker who is only coming back from injury, it will be a big test but the Man City full back is not afraid of Mbappe. Walker is physical and may rough him up a bit so Mbappe thinks twice. It will be intriguing viewing. I bet Neymar is hoping Kyle will crease Mbappe.
https://twitter.com/IssacEthan2/status/1600619512830763019?s=20&t=KK3uRH2SqMc459zb-NzICg
Source
The other battles on the pitch will be awesome as well. @belemo mentions how will France contain Saka and he has a point. For me the French star is actually Antoine Griezmann who has taken up the role of the French maestro or conductor from Paul Pogba and he is very very good at it. He feeds Mbappe so he will need to be stopped as well. But why England are worried about Mbappe when they have a list of stars is another story. If England do not go for this match then there needs to be questions asked over the manager. They are too conservative with the stars they have. Now granted they have the most goals in the competition but they have some bad performances because of the way they set up. But in my opinion they have a better all round team than France who are actually plagued with injuries. So I am predicting England in this game and they have an easy path to the final if they overcome the French. This game will have everything and I cannot wait to see it. Kane is not firing on all cylinders yet but he is getting assists. This may be the game that he can prove to the world that he should be spoken about amongst the Mbappe's, Neymar's and Haaland's. Whoever wins this won will be favourite for the World Cup.
It is probably the most wide open World Cup in years and the next week will make for some intriguing viewing.
Each of the 8 teams left are so different from each other and they all offer something. It is not beyond the realms of possibility that Morocco get further. With the exception of them then there are no real upsets left. The other 7 teams can win it so it is all to play for.
So there it is the quarter final preview. What do you think? Interested to hear your ideas and opinions. Will France hammer England? Can Morrocco get a result? Should Ronaldo play against Morrocco? Let's hear some opinions.
---
---