Hive Fantasy World Cup - Round of 16 round up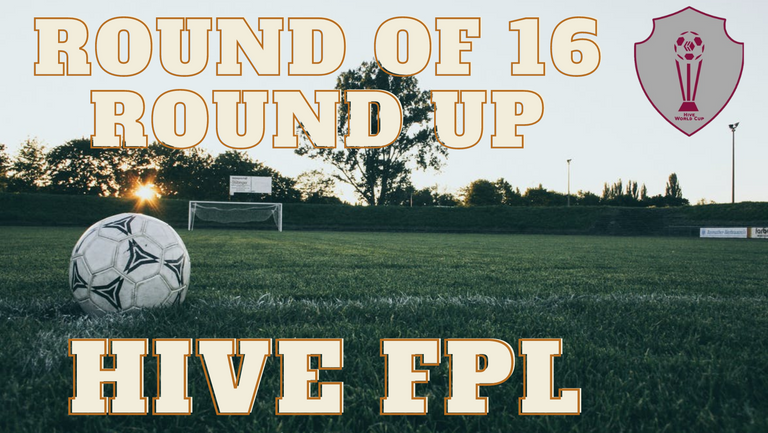 After an exciting series of entertaining fixtures, we've finally come to the round of 16 of the tournament. There have been some upsets, and surprise packages but all that is part of the magic of the World cup.
After a set of gruelling fixtures, Germany and Belgium are among the elite names to take an early exit whittling down the total number of teams to 16. Here's a quick preview of the 8 matches and some names we can expect to be integral to their squads in the coming fixtures
Netherlands vs USA
The Oranje will be going up against USA in what is the first knockout game of the tournament. Both teams have a habit of qualifying for this round of fixtures with the Dutch being slight favourites on account of the their Fifa ranking and squad depth.
Despite being slight favourites, the last time both teams met, USA actually emerged victorious but that was seven whole years ago and it is safe to say a lot has changed since then. Also, that was a friendly match, so there's not much to draw from that fixture.
The only thing that counts now is tournament form and as far as I can tell, both teams are in with a shout. Netherlands finished the group stage unbeaten and will be looking to extend their fine form. The USA were also unbeaten in their group with some sturdy defensive performances epitomised by some fine goalkeeping work by Matt Turner.
A 0-0 draw against tournament top scorers, England, shows that the USA are capable of stifling even some of the strongest names in World football. They will definitely need this underlying defensive resilience when they face a Dutch side that are also no strangers to scoring, getting past opposition in every single group stage fixture.
Cody Gakpo has been the standout attacking performer for the Oranje, scoring in every single match so far. It is not out of the question to think he will extend that scoring run but it will definitely not be easy.
Argentina vs Australia
Australia has been one of the surprise packages of this tournament, navigating through a group that had Denmark, Tunisia and France. I must admit that I thought the Socceroos would be the whipping boys of the group but instead, they put up two solid performances against everybody to make it to the round of 16.
Lionel Messi's Argentina will be looking to dominate the Australian National team like France did but that will not be as easy as many think. In fact, if the match against Saudi Arabia is anything to go by, Australia actually has a chance.
Despite being inferior players on paper, Saudi Arabia employed a highline that consistently caught the Albiceleste offside and a brave replication of that could see the Australian team pick up something from this match. A highline compacts the midfield and restricts the Argentines to rushed passes to the flanks and between the lines.
A high line obviously requires a high level of tactical astuteness that the Australians might not have, meaning a low block could be implemented and that plays into the hands of the Argentines. A low block opens up the pitch, fiving Argentina the opportunity to fully utilise their assets in midfield.
Naturally, stifling Lionel Messi will go a long way in aiding their cause but that is fundamentally impossible. It is hard to see where the opportunity will come from for the Socceroos but never write anybody off.
France vs Poland
This will be the first all European knockout fixture of the tournament, invariably meaning that there will be at least one European team in the quarter finals. On paper, France edges out Poland in terms of quality but football isn't played on paper.
The Polish team only qualified on goal difference in one of the most tightly contested groups of the tournament and they'll need to be at their absolute best to get anything from France.
Despite the 1-0 loss to Tunisia in the final group stage game, Les Bleus were already thorough and destined to top their group, so they rested a number of their starters. This means that the French team will be going into this fixture against Poland with a well rested squad that includes headliners like Mbappe* and Olivier Giroud that recently tied with Thierry Henry as France's all time top goal scorer.
Speaking of all time goal scorers, the experience and quality of Lewandowski will also be called upon to deliver for the Polish national team. Hard to say who goes through but solely based on quality on paper, it is France's game to lose.
England vs Senegal
England goes into this fixture as not only favourites to win the match but also as tournament favourites. Just like France, the three lions had the luxury of resting Bukayo Saka, Kierran tripper, and a couple of other regulars but were still strong enough to dismantle Wales in the last group stage fixture.
A brace fo Rashford and Foden both getting their first starts was enough to ease past Wales. This begs te question as to whether Southgate will be looking to mix things up in the squad or just move back to his dependables that he employed in the first two matches of the group stage.
In any case, we know that Harry Kane definitely gets the nod and he will most likely be accompanied by the returning and fresh Saka. Kierran Tripper should also be back in the fold, teaming up with Saka on the right flank.
Senegal forced their way through group A, despite a loss to eventual group winners, Netherlands. The African nation is just one of two countries from the continent that makes it through to the second round of the tournament and deservedly so.
On paper, England is the standout favourites to defeat the Mane-less Senegalese but this is the world cup and football is played on the pitch.
Bar the mixture against Netherlands, the Senegalese have actually been quite prolific in front of goal. Their 5 goal haul in the tournament places them amongst the top scorers and they have enough quality to give the Three Lions a run for their money.
Any chance of getting a result will most likely depend on a counter-attacking sucker punch, as England will most likey dominate possession. This means that we can expect Koulibaly, Edouard Mendy and the Imail Sarr's pace to be extremely important in this fixture.
Japan vs Croatia
From a group that had Spain and Germany, I don't think anybody expected Japan to qualify for the second round. Not only did the Blue Samurais qualify, they did so by topping the group and their reward is an enticing fixture against last edision'ts runner up, Croatia.
Buoyed by victories against Spain and Germany, Japan will be looking to claim another European scalp. This time, it will be against a Croatian team with a point to prove.
No one really expected Croatia to make it to the final last time around and now, there's definitely a bulls eye on their back. Croatia is one of the powerhouses of world football, with proper management and a squad with chemistry.
Croatia was expected to make light work of their Group F qualification but instead, it came down to the wire on the last day. Finishing just one point ahead of Belgium,the Croatians were a whisker away from an early exit after being pegged back by Canada in the initial stages of the match but eventually proved to be too much to handle.
Two goals from Kramaric and two more coming from Livaja and Majer were enough to ease pass the Canadians in the penultimate game week. Afterwards, a 0-0 draw against a profligate Belgium team handed the Croates second place.
Against Japan, Croatia will have to be at their utmost best to get past a very disciplined Japanese side that is one of only two teams carryingthe weight of Asia in the torunament on their back. Getting past Japan's back three of Yoshida, Tanguichi, and Itakura is a chore and then there's Tomiyasu usually sitting on the bench coming in as well.
Brazil vs South Korea
The world cup can be a cruel beast at times and it never really gets easy for anyone. Brazil go into every world cup as one of the favourites to win the tournament, its their culture and South Korea is the team they have to beat now.
The South Koreans are just one of two Asian teams remaining in the tournament and I think I speak for everyone when I say a match against Brazil isn't exactly what they were hoping for. Honestly, I don't think anybody wants to play against Brazil in a World cup; not now, not ever but to be the best, you have to beat the best.
South Korea navigated a through a tightly contested group that had Ghana, Uruguay and Portugal. The Koreans made it to the round of 16 through yellow cards after coming from behind to beat Portugal and that just shows how tight this group was.
The reward for those tears of joy dropped by winning goal scorer, Hee-Chan is a gruelling fixture against the Selecao who showed they're not unbeatable when they lost their last fixture of the group to Cameroon.
For what it's worth, on a different day, Brazil probably scores 5 goals after carving open Cameroon's defence on numerous occasions. Epassy proved to be too hot to handle on the day, making waves of saves that kept the Cameroonians in the fixture.
A second string Brazillian team featured some high profile individuals today and the crazy depth of this Brazil squad ensured that they could rest their usual starters. I reckon we'll see Richarlison return to the line up after Jesus struggled to make the role his own.
Despite an impressive showing by Martinelli, I think Vinicious Jr reclaims his spot but I reckon the young Arsenal forward's performance will give Tite something to think about.
Morocco vs Spain
Morocco are yet another surprise package of the tournament, finishing the group stage in first position. Unfortunately, the reward for that is a crunch tie against Spain who surprisingly finished second place behind Japan.
Morocco is also one of only two African representatives left in the tournament and they'll be looking to extend their run in the tournament. Victories against Canada and Belgium were enough to enable Morocco ease into the round of 16 in a group that also had last edition's finalist, Croatia, whom they held to a 0-0 draw.
Morocco is one of the few teams that remain unbeaten in the tournament but that run is going to be tested by a young Spanish side with a point to prove in this tournament.
Since the 2010 world cup, Spain has struggled in International tournaments and now with a young squad, that had a decent run in the Euro 2020, Spain will be looking to put their names amongst the elites once again. I mean, it's not like they aren't among the elites right now.
Morocco will be looking to the ball striking quality of Ziyech and bursting runs of Hakimi* from the right flank to produce the goods. Saiss has also been a dependable figure at the back, scoring one goal to boot.
Portugal vs Switzerland
The last and certainly not the least fixture of the round of 16 will see another all European encounter between the Swiss and Portuguese national team. This could potentially lead to an all European quarter final, if Spain manages to get past Morocco, thus ensuring at least one European team makes it to the final.
There's no need to start looking that far into the tournament though, as all the permutations don't really matter on the field of play. All that counts is that we're going to be seeing one of the best teams in the tournament go up against one of the best defences in International football.
In recent years, the Swiss have developed a reputation of being hard to beat. It is almost like they take pride in this fact and the entire team often puts in a shift to ensure it.
On paper, the Portuguese star studded collection of payers should be enough to dispatch this Swiss team but like I said, football isn't played on paper. Players like Bruno Fernandez, Ronaldo and Bernado Silva to name a few, headline the expected starters of the Portuguese attack while Cancelo will once against take charge of left back.
For Switzerland, we can expect a double pivot at the base of midfield that features Xhaka and Embolo up front trying to use his powerful running to squeeze past the Portuguese defence.
---
---