Hive FPL Cup - Round 3
Welcome back to the Hive FPL cup post.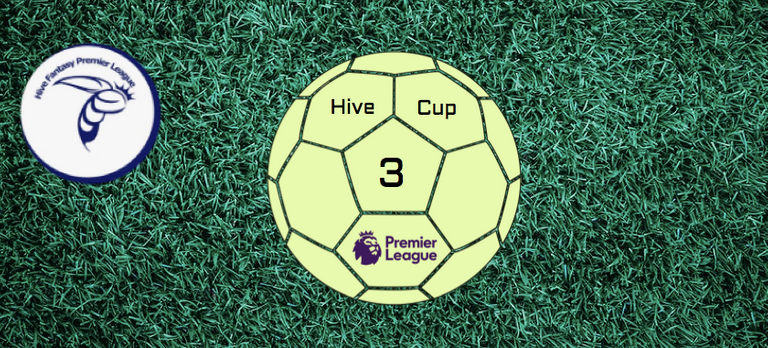 The Premier League games have been coming thick and fast over the last week and move swiftly from round 2 into round 3 with a lunch time kick-off between Crystal Palace and West Ham meaning that transfers and team changes need to have been made by 11:00am BST today in order to qualify for gameweek 34 and round 3 of the Cup.
I would like to have gotten this post out a little bit earlier but unfortunately the official site didn't update the round 3 cup fixtures until about 10pm last night which is a bit past my bedtime!
Hive FPL Cup round 2 results (round of 64)
The most immediate thing to notice from round 2 is that the quality of the managers that we have within the the Hive FPL league is very strong. If the average score this week across the FPL as a whole was 55 then in over 4 out of 5 (81%) of the head to heads in the Hive Cup, that wouldn't have been enough to see you through to round 3.
We also saw a few big names crash out including @skanderh who is currently ranked 7th in the league. It looks like he may have taken a deliberate hit on a few transfer points in preparation for a few of the juicier game weeks yet to come but that tactic has ended his participation in the cup.
In fact, in 9th place, I myself have been eliminated by @tengolotodo who put up a great score of 74 points to beat my 63. When Everton scored to cancel out Fabian Schar's clean sheet I thought that I was in with a chance of squeaking home with United leading 2-0 at Spurs.
The Spurs comeback then was a bit of a double edged sword for me as a Tottenham fan. Great to get those 2 goals but it cost me at least 10 fantasy points when Shaw and Dalot's cleansheet bonuses were also scrubbed out!
Elsewhere we also saw @blockchainfpl leave the competition. A lot of experienced managers have gone big on Brighton players on the basis of the double gameweeks they have coming up as well as the fact that they are playing some great football. However, their 3-1 defeat at Forest hit hard and will leave those who do have multiple Seagull players hoping that they haven't passed the peak this season.
Hive FPL Cup round 3 results (round of 32)
With it being a double game week for Brighton, Fulham, Liverpool, Man City, Man Utd and West Ham then it's likely we'll see some big points being scored.
As an initial analysis, I thought looking at the number of matches that each of the remaining 32 teams will possibly be scoring points in this game week would be a good start. These figures are of course based on the squads that took part in GW33 and therefore will likely change as teams make transfers or possibly utilise their chips. I've also not counted any player whose marked as injured 'red' (no chance of playing).
| Team | No. of matches GW34 |
| --- | --- |
| Denis Y | 24 |
| Whyte FC | 23 |
| Likodra FC | 22 |
| YAGMAN FC | 22 |
| Hiveheadz | 22 |
| "The conquerors" | 22 |
| thoth442FC | 22 |
| Tope's Red Devils | 21 |
| Wolfgang Sport FC | 21 |
| Izanami Fc | 21 |
| MasterG FC | 21 |
| Zeebanks | 21 |
| Creekside FC | 21 |
| Presh | 21 |
| first place | 21 |
| PhinGy!M@ United | 20 |
| Tengo Rangers FC | 20 |
| Costa Guards | 20 |
| Olawalium FC | 20 |
| Lame Ducks | 20 |
| Lazizi Rangers | 19 |
| The Sell | 18 |
| Senju Tobirama Clones | 18 |
| Cz Stars | 18 |
| elroi1 | 18 |
| EMERALD FC | 18 |
| ANDÚJAR FC | 17 |
| HappyBoys Fc | 17 |
| BCHampions | 17 |
| Beyond | 17 |
| Chelsea Asq | 16 |
| Abdulqudus | 15 |
You can see why @deniskj is top of the league. Success in Fantasy Premier League isn't just picking the best players for this week, it's planning several steps ahead and he looks to have left himself in a very strong position to capitalise on the double fixtures in GW34. It also looks like he'll have a free transfer from last week to utilise for GW34 so ultimately those numbers are only likely to rise!
By contrast, his cup opponent is set for just 16 appearances this gameweek so baring the use of a chip or a minor miracle, I think we know who is progressing through to round 3 in that one!
You'd imagine though it will be a lot tighter between Hiveheadz and Tope's Red Devils who currently occupy 3rd and 6th in the Hive FPL respectively. The differentials here could come down to whether Liverpool can keep clean sheets at home to Spurs and Fulham with Tope's going in on Alisson and VVD or whether United can overcome tricky ties against Villa and Brighton with Hizeheadz banking on Fernandez and Shaw to deliver.
Liverpool's 2 home fixtures also raises the question of whether sides should look at Mo Salah as a potential captain or stick with the tried and trusted Haaland?
35 out of the top 50 sides in Hive FPL went for Haaland in GW33 while only 5 went for Salah - none of those 5 are left in the cup...
However, Liverpool at home are a different beast with Salah having scored in all 5 of his side's last 5 matches at Anfield and recording 52 fantasy points in the process.
Haaland by comparison has scored 5 in his last 3 Premier League appearances but it should be noted that he's only completed 90mins once in the last 5 game weeks. With City's heavy fixture list (11 matches in 5 weeks), Pep will undoubtedly be keen to give his star striker some rest. Whether that means starting him on the bench or hooking him off in the 2nd half as he did against Leicester and Southampton remains to be seen, although of course Haaland had already found the back of the net twice in both those games by the time he was subbed...
---
Good luck to everyone in GW34 and round 3 of the Hive FPL Cup
---
---