Hive FPL Cup - Round 4
Welcome back to the Hive FPL Cup.
The round of 32 saw some big names crash out of the competition. @belemo couldn't overcome a score of 73 against an absentee manager in order to progress. That's the equivalent of drawing 3-3 to the bottom placed side in the league and throwing your title chances away - you don't have to copy everything Arteta does!
One of the pre-tournament favourites @borran is also out in a very high-scoring affair while similarly a 100+ point haul wasn't enough to keep @wolfgangsport in the contest as managers made us of the double fixtures in GW34 to get some really big totals on the board.
Of those big totals, @MasterG racked up a massive score to that saw him in the top 10k players globally for game week 34 while watch out for @pappyelblanco whose Creekside FC are scoring big points over the last few weeks and look like they could be dark horses for the cup.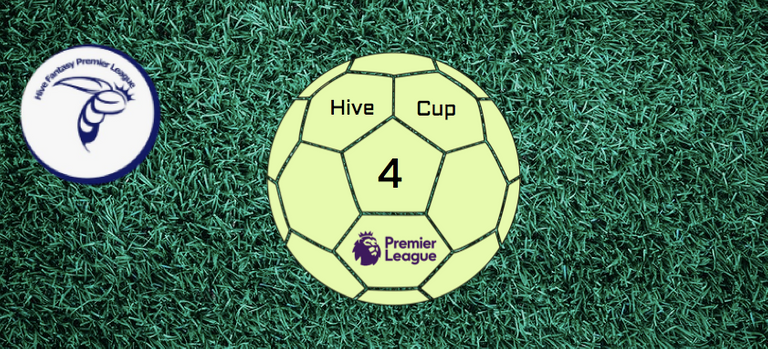 Hive FPL Cup - Round of 32 results
Round of 16 fixtures
As we get down to a manageable number of sides, we'll start to look in greater detail at the fixtures in each round. The analysis below considers each team's current rank in the Hive FPL classic league, their most recent 3 GW total scores, who they've selected as captain in those game weeks and the differentials between each squad.
The differentials are based on the squads that each side picked for GW34 with the exception of anyone who used their free hit where I've instead considered their side from GW33. Players marked as injured red have been excluded from the analysis.
Yagman FC used their free hit chip in GW34 to good effect recording 122 points with a strong team. However, their previous couple of game weeks have been on the low side and at present Yagman is one of just 2 teams in the top 50 in the Hive FPL classic league who doesn't have Haaland in their squad. With City playing a Leeds side that is shipping a lot of goals at present, might that be a major factor in deciding this tie?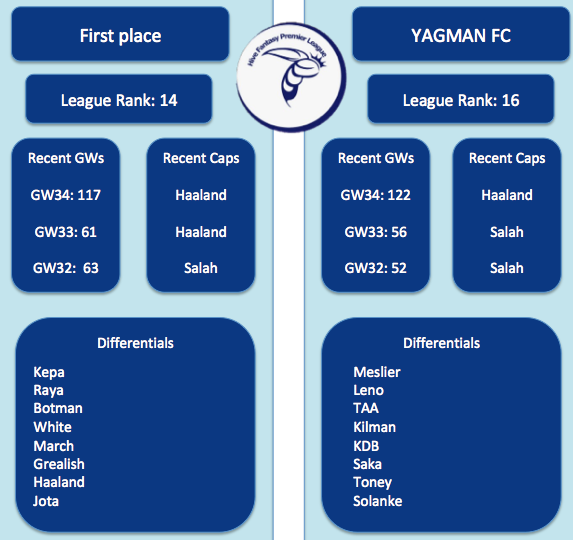 Given the similarities in the 2 squads, the transfers that both make could prove the difference. Will Isak start for Newcastle and can he take advantage of an Arsenal defence leaking goals of late? Brighton's home game against Everton could also see plenty of goals. Mitoma remains a popular pick for many managers but hasn't scored in 6 games. Is Mac Allister the better option?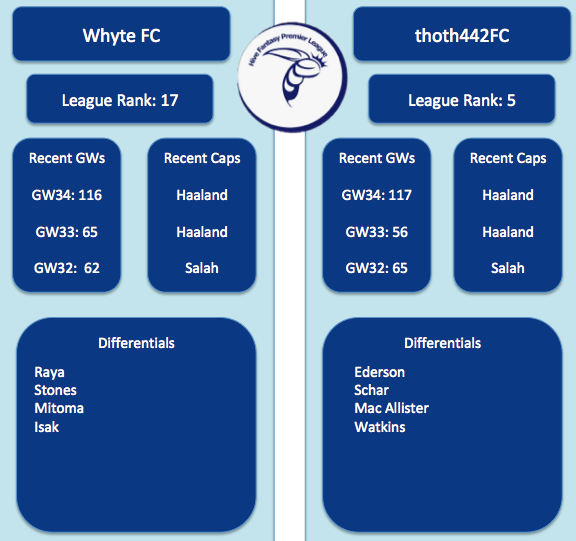 Andujar FC is the lowest ranked team left in the competition and qualified from the round of 32 with the lowest winning score. With 2 players out injured, it's going to be a tough ask to get any further in the competition. There are however, massive differentials between the 2 squads with a few players on the Andujar FC team who are capable of delivering really big game weeks from time to time. Meanwhile Likodra FC will hope that the likes of Salah and Isak can continue their goal scoring form with both enjoying home fixtures this week.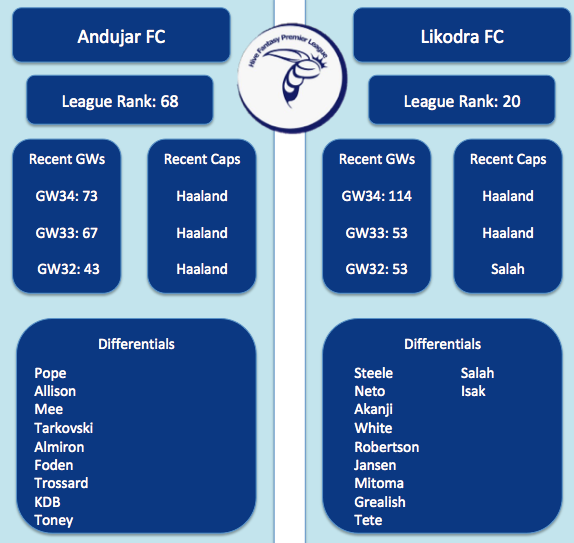 @deniskj vs Tope Anifalaje
League leaders Denis Y take on 6th placed Tope's Red Devils. Despite their relative close standings in the league, neither side share that many players. The entire backline, goalkeepers and defenders on each side are unique. Tope's Red Devils will be relying heavily on Liverpool keeping a clean at home to Brentford. Meanwhile Saka and Martinelli face a significantly tougher fixture against Newcastle than the likes of Ferndandez or Grealish do at West Ham and Leeds respectively.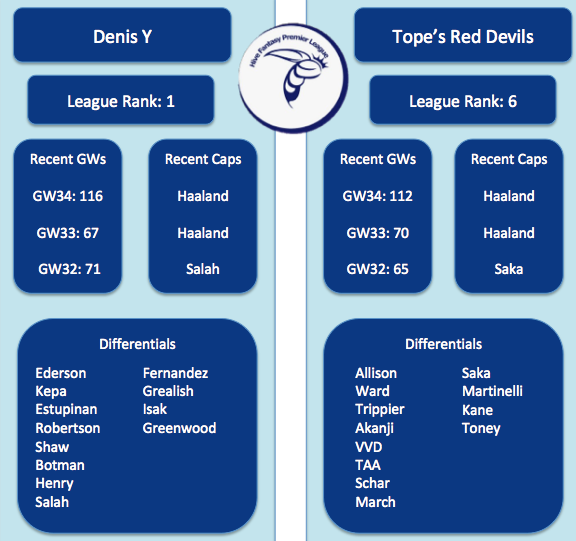 Over the last few game weeks, both these sides have been throwing around chips like a drunken stripper in Vegas. Elroi1 played a wildcard for GW34. Will that set the side up for a late push and potential cup glory? Looking at the differentials, I'm not quite sure that they have the firepower in midfield with Mitoma, Grealish and Murphy vs Mac Allister, Salah and Fernandes. The later group seems more likely to have goal involvements to me. Upfront, Elroi1 is banking on the consistency of Kane and Toney but MasterG FC have the increasingly impressive Solanke whose Bournemouth team face a Chelsea side in free fall.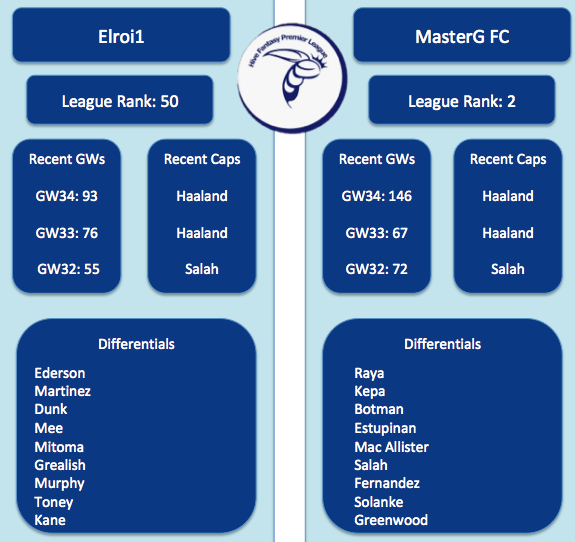 Creekside FC have been making moves up the table in recent weeks and in fact have just gone above their rivals BCHampions in the hunt for a top 20 spot. Both sides played exactly the same front 3 of Haaland, Toney and Watkins for GW34 but elsewhere there are significant differences. BCHampions have a couple of left field picks in Rodri and Eze in midfield although the Crystal Palace man has scored 4 in his last 5 appearances and faces a leaky Spurs defence this weekend. With just 12 points separating the teams in the league, this one should go down to the wire.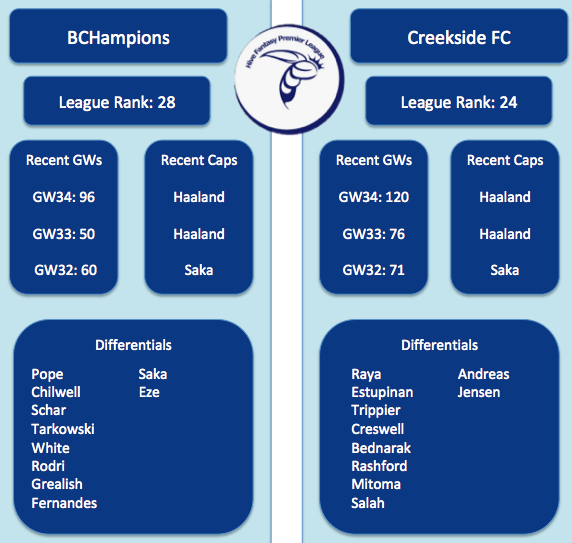 47th vs 46th in the league although it looks like The conquerors team haven't been updated since the cup began. Still they have a very strong starting XI albeit with nothing to come off the bench and Marcus Rashford as the default captain selection. United do travel to a lowly West Ham side who might have one eye of their Conference League semi-final clash later in the week but surely the goal machine Haaland as captain will see Tengo Rangers FC over the line?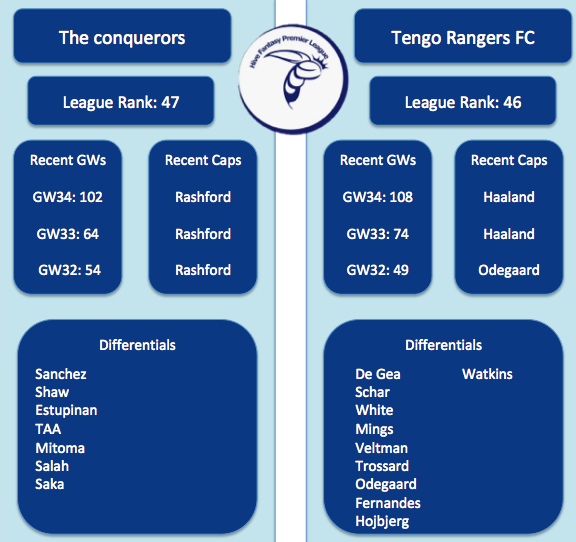 Another absentee manager who has done well to last this long but surely without changes to their side this will be the end of the road for Beyond. Presh looks likely to have the stronger defence and midfield options unless of course Arsenal can keep their title bid alive with a win up at Newcastle and goal involvements from Saka and Martinelli who have generally been traded out by teams in recent weeks.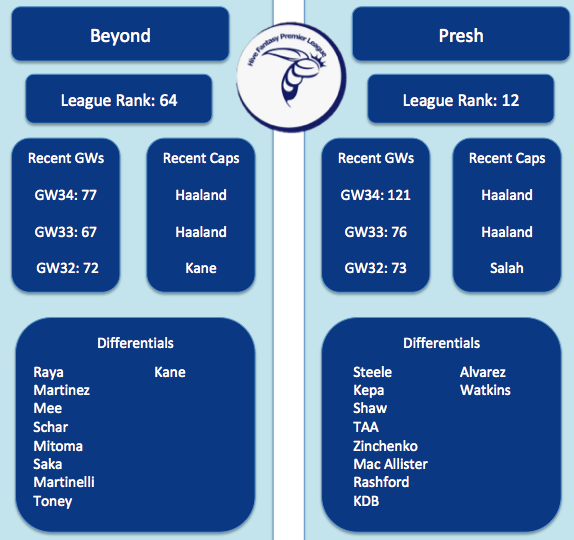 ---
Good luck to all the teams competing in the round of 16. We'll see you soon for Quarter Finals update!
---
---