Hive FPL Cup - The Quarter Finals
Welcome back to the Hive FPL cup update where we've got results from round 4 as well as previews of the quarter final stage of the competition.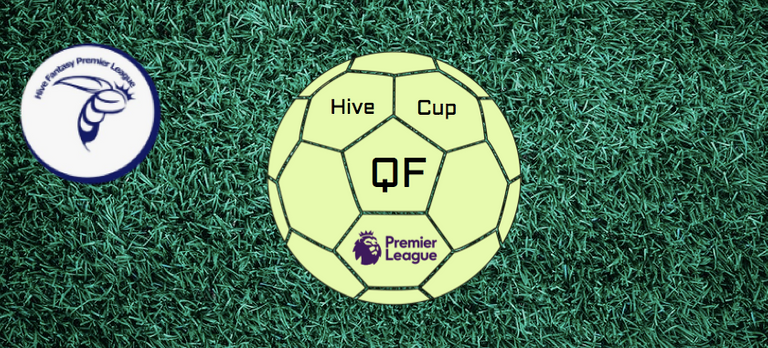 In general, it was a really tough week for managers with the ever popular pick for captain in City's Haaland blanking and many sides opting for 3 Brighton players in what proved to be a disastrous selection after their shock thrashing at the hands of Everton.
In some ways though these are the really exciting weeks in head to head contests simply because every single point counts. Let's have a look where the games were lost and won…
Hive FPL Cup - Round of 16 results
@yagman01 's haul of 56 points was the highest achieved by any of the remaining 16 teams in round 4 and too much for @khaleesii . The decision to captain Salah while being one of the very few managers in the league to not even have Haaland in their squad proved to be a master stroke in this round. Will that continue to be the case as we progress into the final 3 weeks?
Bernd Leno's penalty save was also a big moment for a Fulham side that otherwise shipped 3 goals against Leicester while other differentials in defence including TAA and Max Kilman both provided clean sheet bonuses in a game week where attacks where generally on top.
@thoth442 won a nailbiter against @Ipalibo by just a single point! As noted in the previews last week, both managers had very similar squads so it was always likely to come down to 1 or 2 picks that made the difference. As it turned out, it was Alexis Mac Allister's consolation penalty against Everton that just snuck thoth442FC overline.
Despite Jason Steele's minus 2 points @teofilex11 overcame @pacoandujar thanks in large part thanks to solid midfield scores from Salah and Mitoma.
Top ranked manager @deniskj joined bottlers anonymous by losing to the only non-Hive account holder left in the competition – we really need that guy out! He's someway clear at the top of the league itself but will his faith in Brighton and United players be shaken after the 6 that he picked this game week offered up just 12 points!
Another player who benefitted from having Salah as well as that Mac Allister penalty was @MasterG who closed the gap at the top of the league while moving serenely into the quarter finals after defeating @elroi1 . Is the double on the cards?
As mentioned to @Pvmihalache in the comments section last week, he had a few picks that were unique and it they came off he would have been in with a really good shout to win this round. Unfortunately they didn't and @pappyelblanco 's more conservative selection of Mo Salah as well as surprise clean sheet for Aaron Creswell against United sees him progress.
Another manager stuffed by Haaland! @tengolotodo had triple captained the big Norwegian and must have felt he'd be laughing all the way to the quarter finals when City came up against lowly Leeds. Unfortunately Big Sam parked the bus and Haaland failed to find a way to goal leaving @patricksenkovic to scrape through with just 39 points.
Last but not least, @beyondhorizonmm demonstrated that you don't really need to change your team, well at least while still being drawn against sides like @Presh who managed just 29 points!
Quarter Final fixtures
The analysis below considers each team's current rank in the Hive FPL classic league, their most recent 3 GW total scores, who they've selected as captain in those game weeks and the differentials between each squad.
The differentials are based on the squads that each side picked for GW35 with the exception of anyone who used their free hit where I've instead considered their side from GW34. Players marked as injured red have been excluded from the analysis.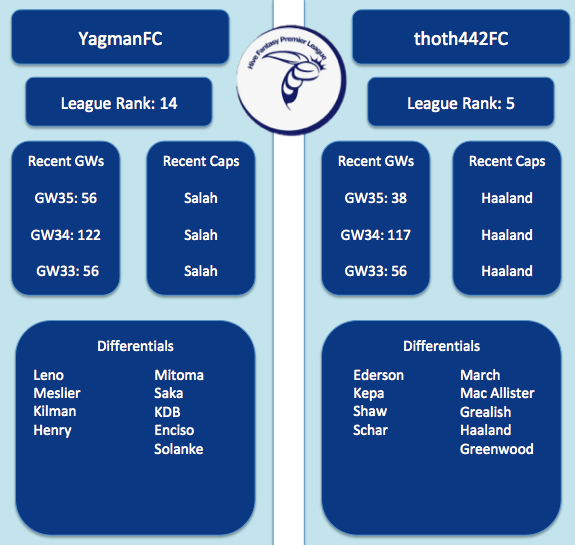 Will Yagman FC continue without Haaland in their squad and if so, could the cash freed up and the range of differentials it provides this squad ultimately take them to cup glory? In general, it will be interesting to see how many City players are rested and rotated over the coming weeks and if Yagaman FC continue to back Salah as captain then you'd fancy his chances against a very leaky Leicester defence.
Brighton's trip to Arsenal looks likely to be a key game in deciding this fixture with Mitoma, Saka and Enciso on one side and March and Mac Allister on the other.
toth442FC will also feel that they have the stronger defensive options with United and Luke Shaw at home to Wolves and Newcastle travelling to a struggling Leeds.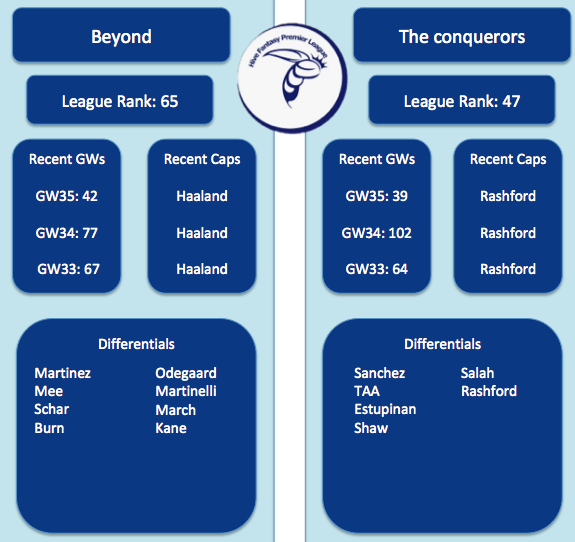 Luck of the draw has seen both these sides through this far but only 1 can continue past this point. Assuming no further changes to the squad, then we know if will be United vs City or Haaland vs Rashford for captain. I'd expect a reaction from United in this game week but Wolves will be a tough nut to crack and Rashford who has scored only once in his last 6 EPL matches has leg injury that may see him miss out.
Beyond will be hoping that the ever reliable Harry Kane gets on the scoresheet again as Spurs travel to Villa in a match that may ultimately decide the Europa League places. While the likes of Mee, Schar and Burn all look decent bets to get a cleansheet albeit that at this time of the year, teams are always forced to play with the handbrake off as they look for crucial wins.
Again, you'd bank on players like Salah and TAA to get some offensive points against Leicester and that could be the key for the conquerors in this head to head.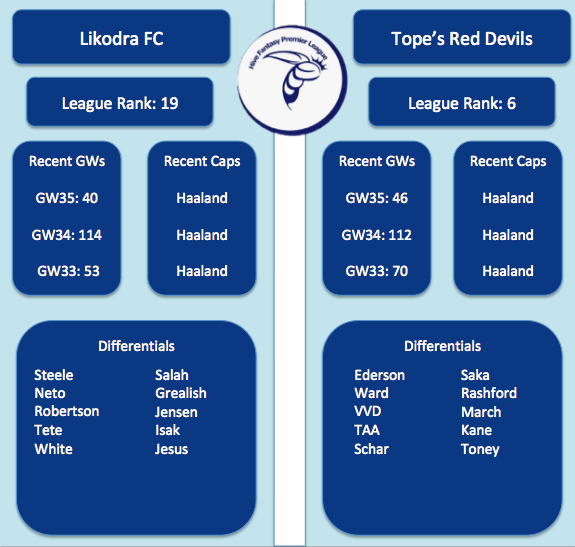 There are some great head to heads between the differentials on these 2 sides.
You've Robertson vs TAA in the battle of Liverpool's full-backs. Saka vs Salah as far as goal scoring midfielders are concerned and then upfront, on one side Isak and Jesus and on the other Kane and Toney.
In goal, can Jason Steele recover from shipping 5 against Everton and take advantage of the double game week? In that regard, will Solly March be fit to play in either match?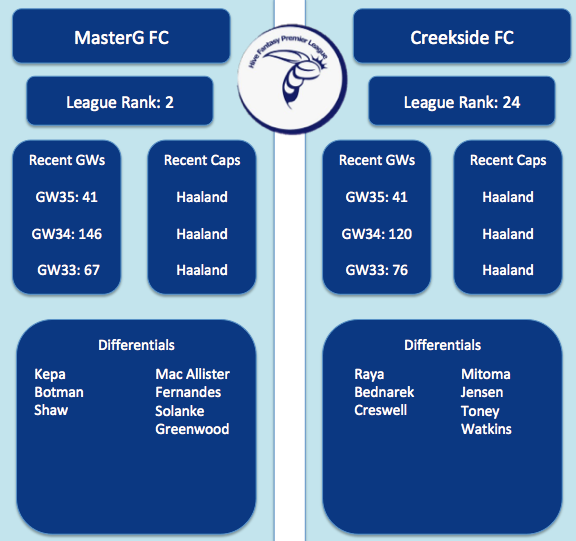 2 very closely matches sides here.
Looking down the list of differentials you'd fancy that MasterG FC currently have the stronger options in defence with Botman and Shaw both with a chance of clean sheets against bottom half opposition.
In midfield MasterG can also point to the fact that they have United and Brighton's likely penalty takers this week in Mac Allister and Fernandes.
However, Creekside FC certainly pull it back around when considering the forward options they have available. Sam Greenwood is just a squad filler and Bournemouth and Solanke face a tough trip to in-form Crystal Palace. Meanwhile, Villa and Brentford both get home advantage. Watkins has scored 3 goals in his last 3 games at Villa Park while Toney has also netted in his last 3 games at the Gtech Stadium.
---
Good luck to everyone competing in the quarter finals and jockeying for position in the classic league!
---
---