Hive FPL Cup - The Semi Finals
Welcome back to the Hive FPL cup update where we've got results from the quarter finals as well as previews of the semi final stage of the competition.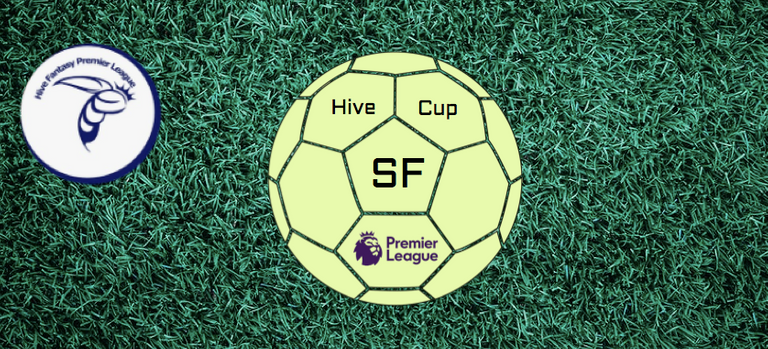 Quarter Final Results
Double game weeks for Brighton and Newcastle made this round of fixtures a high-scoring affair. Given the average score across the entire FPL platform was 65, then you can see how tough the competition has now become with all of players exceeding that, many by a fair margin.
The no Haaland experiment is finally over for @yagman01. It's a shame because this double GW for City might well see the striker rested, particularly if Arsenal drop points at Forest and give Pep the title without them having to play again. Not having Haaland then may ultimately have turned out to be a master stroke.
The match against @thoth442 was even closer than the scores above show. Yagman FC collected 92 points but had 4 deducted from their total for making an extra transfer. Otherwise the differences between the 2 sides were microscopic and come down to the likes of Fabian Schar, who managed 2 points in 2 starts nudging ahead of Max Kilman who got just a solitary point for his performance against United.
@patricksenkovic managed to sneak through against @beyondhorizonmm in the battle of the absentee managers. As injuries and suspensions begin to build up, it looks unlikely that these squads luck will hold out for much longer.
Tope's Red Devils got the high score of 110 in the round but we still don't have a Hive account listed for them so they continue to miss out on some good prizes. The real difference between @teofilex11 's team and that of Tope's was the captaincy call. Callum Wilson's 24 points this GW doubled to 48 blew fellow Newcastle forward Isak (7 points) out of the water.
We then had another very close head to head between @MasterG and @pappyelblanco. Master G FC ultimately ended up with the lesser seen back 5 but benefited from Luke Shaw claiming a clean sheet and performance bonus against Wolves. Meanwhile up front, Isak out scored Ollie Watkins in what was always likely to be a close finish to this match-up.
Semi Final fixtures
The analysis below considers each team's current rank in the Hive FPL classic league, their most recent 3 GW total scores, who they've selected as captain in those game weeks and the differentials between each squad.
The differentials are based on the squads that each side picked for GW36 with the exception of anyone who used their free hit where I've instead considered their side from GW35. Players marked as unavailable (red) have been excluded from the analysis.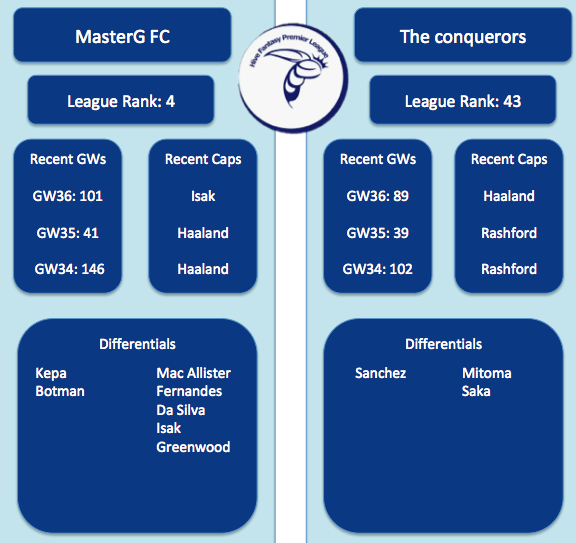 In the league MasterG FC closed the gap to the top to just 50 points despite actually dropping 2 places as Costa Guards and Hiveheadz moved to within touching distance of a nervy @deniskj. Imagine being top for so much of the season and then losing out right at the end. Dont worry Denis Y, if it does happen @ogeewitty has a good therapist for exactly that situation...
I would expect MasterG FC to walk through to the final against an absentee manager who may well not be able to put 11 players on the pitch as injuries, suspensions and Ivan Toney's begin to work against them.
As we can see above, MasterG FC have outscored the conquerors in the last 3 GWs and I've no doubt that they'll use their transfer to good effect in bringing in another player who can benefit from the double fixtures in GW37.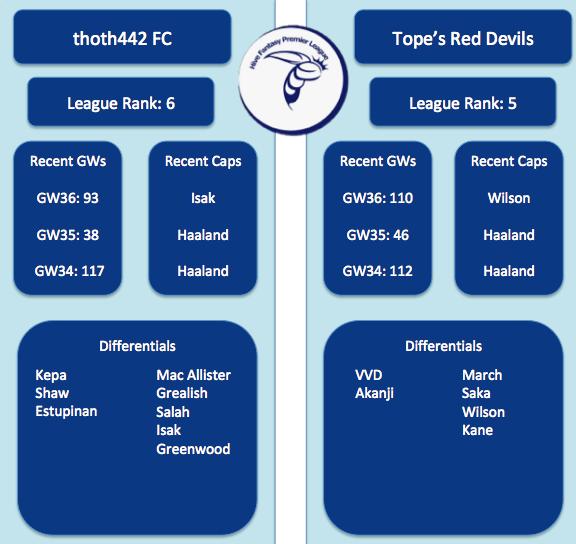 If the first semi looks like a bit of a cake walk then this one should be a battle for the ages. It's 5th vs 6th in the league with the 2 sides being separated by just 8 points in the league after 9 gruelling months of FPL!
This is also a match between a Liverpool fan and a United fan although it's interesting to see that both managers are backing their rivals players to help them into the final. Luke Shaw put in a great performance against Wolves and holds the edge over VVD in GW 37 as United benefit from a double game week.
Elsewhere in defence Estupinan and Akanji could potentially both play twice in GW37 but you do wonder if City will ring any changes, particularly if they've got the league wrapped up by the time they travel down to Brighton on Wednesday night.
Other than that, you'd have to say that it's advantage thoth442 FC if nothing else because of the injury crisis that Tope's Red Devils face. Martinelli is out for the season and although Solly March is included in the differentials, he has just a 25% chance of playing. Both sides also have Rashford and Trippier who aren't guaranteed starters and so that additional squad depth that thoth442 have might end up being the difference.
Of course the captain pick could also have a massive say in the final tally. Do both sides revert back to their default setting of picking Haaland as captain after going with Newcastle forwards in GW 36? I'd expect him to start at home against Chelsea as City look to put the league title to bed this weekend but does he make the trip to the South Coast with 2 big cup finals looming on the horizon?
Ultimately we're all cheering for you @thot442, we need to get this last non-Hive account out of the competition. Do us proud!
---
Good luck to the 4 teams left in the Hive FPL Cup and to everyone in the classic league who is trying to make that final push up the table.
Remember that you can join our discord channel here and I've set up a leo thread here for in game week updates of all the Hive FPL action as we look to close out the inaugural season.
---
---