HIVE FPL - Game Week 10 Match Analysis and Key Stats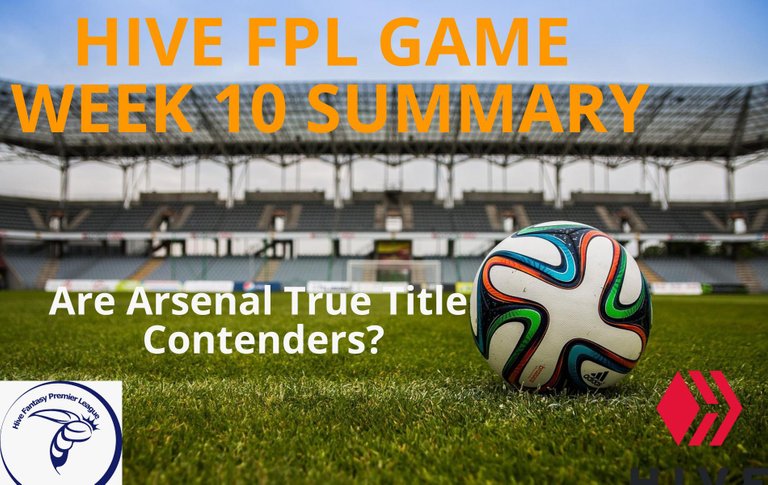 First of all, we would love to lead by saying it was delightful to see our very own "@belemo" pick up the Manager of the Week honours, it just goes to show that absolutely anyone who shows some consistency in this league can make it to the top, especially if you support teams like Arsenal, Spurs, Manchester United or Chelsea who haven't won the Premier league in a long time. Congratulations @belemo!!!
Gameweek 10 isn't one we would forget in a hurry as Arsenal FC proved that they have the mettle to compete in this arduous league by beating last season's Champions League finalist Liverpool at the Etihad and remaining at the top of the league. Erling Haaland and Manchester City continued with their impervious beating Southampton 4 goals to nil to maintain the pressure on league leaders Arsenal.
In all, it was a good gameweek with 34 goals in the 10 matches played, 3 clean sheets and a GW average points of 58. Let's dive straight into the best performers and key analyses of GW10.
Top Performers in GW 10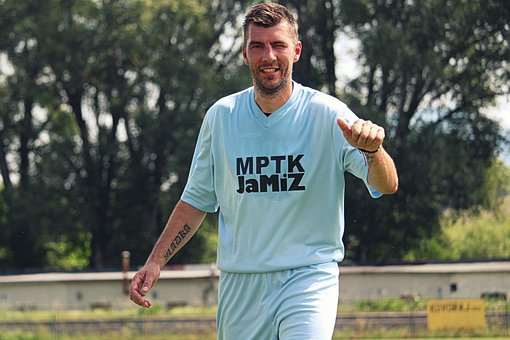 Source
Jaoa Cancelo seems to be not just the only premium defender at the moment bringing in returns, but he also amassed the most amount of points in GW10 by scoring a goal, getting an assist and getting the full bonus points in the game. He totalled a whopping 18 points in gameweek 10 making him the highest scoring player this week in the FPL.

Bruno Guimaraes(MID) was instrumental in Newcastle's drubbing of Brentford with a brace and the full bonus points in the game. This was his first goal of the season but might be a sign of good things to come for the midfielder as Newcastle are truly showing signs of becoming a top tier team.

Arsenal FC's Bukayo Saka and Gabriel Martinelli were exceptionally brilliant against Liverpool with the pair scoring 15 and 12 points respectively to see their side retain top position in the league. Gabriel Jesus was also a threaten to reckon with causing lots of problems in the Liverpool box and contributing with an assist in the game.

Jarod Bowen and Gianluca Scamacca continued their fine form from GW9 this week against Fulham with both Westham players finding their way on the scoresheet for the second consecutive week. Westham seem to be flying high at the moment and managers could begin putting their players on their wishlists for upcoming fixtures.

Christiano Ronaldo(FWD) got off the mark this season with his first goal being the winner against Everton and his 700th club goal in his career. Manchester United winger Antony(MID) makes it 3 goals in a row against Everton on Sunday, and with this form and a price tag of £7,6, he could be a good addition to managers once United pick up their stride.
GAMEWEEK 10 FIXTURE REVIEW
Bounemouth vs Leicester

This was one the surprise results of the weekend with many FPL commentators giving Leicester City the edge against the Cherries. Leicester took the lead through a Daka(FWD) goal but Bournemouth had plans of their own and came back to win the game 2 goals to 1 with goals grom Ryan Chistie(MID) and Philip Billing(MID).
So many managers would be clenching their fists in rue for their Leicester asset James Maddison(MID) whose 192k owners couldn't get a return for their £8.1 investment in the midfielder.
Bounemouth's Dominic Solanke(FWD) was instrumental in the Leicester defeat contributing 2 assists and 8 FPL points. He is also looking like a great addition to any managers team with good fixtures in Fulham and Southampton on the way and a price tag of £5.7 for the forward.
Chelsea vs Watford

Graham Potter's Chelsea is beginning to have things go their way in terms of results with a convincing win against Wolves who seem to be struggling this season stuck at the bottom of the table, injury inflicted and going through the chaos of replacing their recently sacked manager Bruno Lage.
Chelsea played a very changed side with Aubameyang(FWD), Sterling(MID), Thiago Silva(DEF) and Reece James(DEF) either rested or left on the bench. This didn't seem to affect their performance as the personnel put on the job against Wolves put in a very good shift. Goals from Harvertz(FWD), US captain Pulisic(MID) and Broja(FWD) putting the Blues among the top 4.
Mason Mount(MID) was brilliant against Wolves, supplying two assists and walking away with the full bonus points of the game. He is priced at £7.6 at the moment and if his form is anything to go by, he is looking at a bargain mid-tier midfielder that could bring in point returns to managers.
Wolves seemed to be a threat in some part of the game but the absence of some of their key players seem to be affecting their effectiveness upfront. It would be in their best interest to sort out their manager woes and put their team on the right track.
Nonetheless, their keeper Sa(GK) is still one of the best performers this season and was able to make 4 saves in this game. If they could get their defensive act together then i reckon he is a great choice between the sticks for any FPL manager.
Manchester City vs Southampton

The Erling Haaland show doesn't seem to be coming to an end anytime soon as he can't seem to stop scoring at the moment. He added to his tally against Southampton to take his goal tally to 15 in just 9 games.
Manchester City put 4 unreplied goals past Southampton on Saturday with 4 different City players getting on the scoresheet. Jaoa Cancelo(DEF) seemed to be City's key player with a goal and an assist and also the most points earned(18 points) in the FPL in GW10.
Key players like Phil Foden(MID) and Kevin De Bruyne(MID) also didn't disappoint, contributing a goal and assist respectively.
Southampton seemed to be overwhelmed by the attacking prowess of this City side that seem to be invincible at the moment. The Saints next fixture is against Westham United and hopefully they can lift themselves off from this dismal performance against the champions and put in a good shift.
Newcastle vs Brentford

Newcastle seem to be a team going through a renaissance with very impressive wins against Fulham last week and now against the Bees.
Bruno Guimaraes(MID) was the conductor this week scoring 2 goals this gameweek and 15 FPL points. keiran Trippier(DEF) continues to show immense promise this season as he was instrumental in the Brentford win with an assist that takes his total FPl points this season to 49. Only City's Cancelo(DEF) has more points than him in the league.
Brentford do not seem to be performing at their best as the loss against Newcastle seems to be their second in three games. The only consolation for Brentford was a goal from Ivan Toney(FWD) who is owned by as many as 120k managers from the penalty spot. This was a below par performance from the Brentford forward who seems not to be hitting the mark for the many managers who have put faith in him.
Brentford's next game is against high-flyers Brighton, and hopefully they can find their form against this somewhat difficult opponents.
Brighton vs Spurs

This was a third place vs fourth place game and was billed to be cagey. It didn't disappoint with both sides putting great defensive displays with Brighton seeming like the better side with 14 shots and a possession of 58% compared to Spurs 8 shots and 42% possession.
Harry Kane's(FWD) 22nd minute goal was the difference between the two teams from a Heung-Min Son(MID) Assist. It was also a good day for managers with Spurs defenders especially Eric Dier(DEF) who is owned by almost 100K managers.
Brighton's Trossard(MID) who was the second most transferred player coming into GW10 had a very difficult game agaist the sturdy Spurs defence. This shouldn't be a reason to lose hope in him as Brighton have been playing very attack-minded football with him as the focal point, meaning he still could bring in returns in the coming fixtures.
Crystal Palace vs Leeds

Crystal Palace seemed to have picked themselves up after their underserved Chelsea defeat by beating Leeds 2 goals to 1. Goals from Edouard(FWD) and Eberechi Eze(MID) made the difference against a very tough Leeds United.
It was good to see other members of the Palace team showing promise even when things didn't seem to be going the way of their talisman Zaha(MID) who although contributed an assist wasn't particularly at his best in the game and would have probably been on the scoresheet if not for the glory hunting his teammate Ayew(MID) was gunning for.
Eberechi Eze(MID) looked really lively in the game and looked the most likely to score in the game, so seeing his name on the scoresheet isn't so surprising.
Leeds showed promise in the game and had opportunities to equalize the game but were just slightly outfoxed by Palace on the day. Their next fixture is against league leaders Arsenal, and hopefully they would have a more fruitful day out than they had against Palace.
West Ham vs Fulham

High-flying West Ham made a meal of a Fulham side missing their prolific attacker Aleks Mitrovic(FWD). Jarod Bowen(MID) and Gianluca Scamacca(FWD) were on hand again to give West ham another victory with the pair both getting amongst the goals.
West Ham was the most attacking team on paper this week with Jarod Bowen(MID) being a bit wasteful in front of goal as he had a few opportunities to assist teammates that would have seen the scoreline look a bit different.
Fulham seemed like a toothless lion without their attacking powerhouse up front but were still able to get on the score sheet through an Andreas Pereira(MID) goal. Pereira has been having a very wonderful season scoring 36 FPL points already at a bargain buy of £4.6 for the midfielder.
Arsenal vs Liverpool

This was without a doubt the most talked about and entertaining game of the weekend. League leaders Arsenal took on a Liverpool side that has been their nemesis for a month of Sundays with the sole purpose of breaking the jinx or whatever Liverpool had over them that made it so difficult to be beat by Arsenal in the league.
It was a very inspired performance by Arsenal's Bukayo Saka(MID) and Gabriel Martinelli(MID) both getting on the score sheet and amassing the most FPL points, 15 and 12 respectively in the game. Gabriel Jesus(FWD) was also brilliant throughout the game and was the one who won the penalty(assist) for the Arsenal winner. Granit Xhaka was another brilliant addition from the bench, coming on causing Liverpool some damage.
It was an almost perfect performance from Arsenal, and one that signals that they are true title contenders this season.
Liverpool on the other hand had stints of brilliance and could argue that many decisions didn't go their way and seemed to be on the back foot for the best part of the game. Injuries to Luis Diaz(MID) and Trent Arnold(DEF) also didn't help their cause as well as the silence or near non-existence of marquee player Mo Salah(MID) who had only one shot in the box which wasn't on target.
Liverpool seem to have their work cut out for them and this performance against Arsenal shows they indeed need to do some work to be among the top 6 teams in the Premier League as they currently sit in 10th.
Everton vs Manchester United

Everton started this game very brightly with former Arsenal Midfielder Alex Iwobi(MID) scoring the Red Devils in only the 6th minute, it seemed like it was one of those days that it would all capitulate for United but they found a way to crawl their way out of this defeat albeit having a torrid time at it.
Brazillian Antony(MID) took his goal-scoring tally to 3 goals in 3 games with the equalizing goal before Christiano Ronaldo(FWD) scored the winner before the end of the first half to see off Everton. It was also the forward's first Premier League goal of the season as well as his 700th club career goal. Hopefully, this would see his form in front of goal improve and hopefully in contention amongst forwards selected by managers in the course of the season.
Nottingham Forest vs Aston Villa

The Villains started this season with a lot of promise, having Steven Gerrard at the helm of affairs from the start of the season and with the addition of Key players like Coutinho(MID), Martinez(GK), Buendia(MID) etc. many would have thought that he would have steadied the ship at this point. Aston Villa have only managed 1 win in their last 5 games and currently sit in 16th position.
Nottingham Forest on the other hand seem to be fighting for their lives to remain in the Premier League and really did put up a performance worthy of recognition against Aston Villa with a first-half goal by Nigerian International Emmanuel Dennis(FWD) and so many other half chances that could have seen them collect all 3 points.
Aston Villa's equalizer was a worldie from the unlikeliest of persons in Ashley Young(DEF) who was also awarded the full bonus point of the game. Ollie Watkins(FWD) thought he had put his side in front only to see the flag up for offside.
Both sides have players with real potentials that could be amazing differentials in any managers team.
HIVE FPL STANDING
The season is just taking it's proper shape and already we can see managers who have a real hang of the FPL. This week was intense and the points separating the manager of the week and the manager in second place was just 5 points owing to the top manager @belemo's trust in his young Gooners.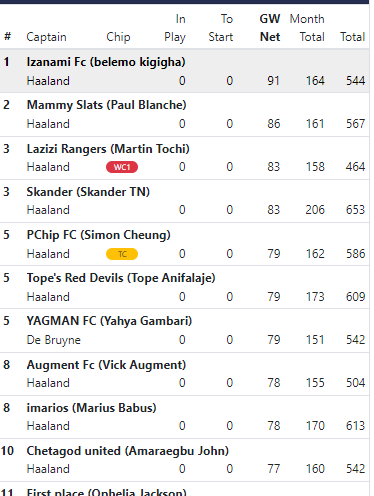 The overall standing still has @skanderh leading the way with as many as 33 points.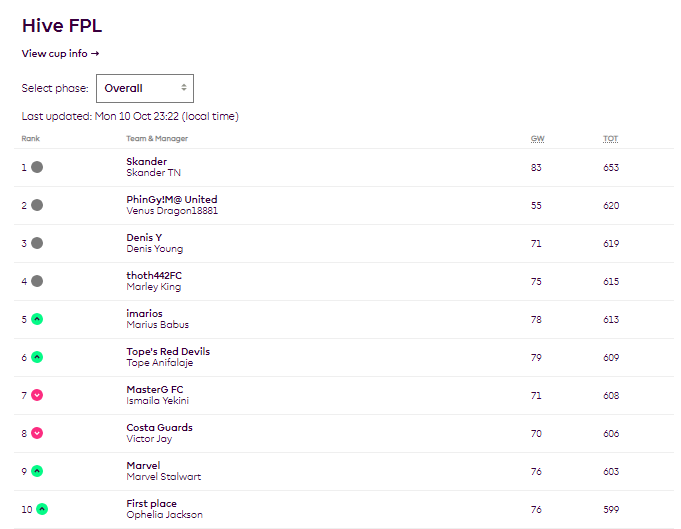 Hive FPL Standing
Thanks for stopping by and remember to sort your teams our for GW11
To take part in the league or join the community of FPL players on Hive click HERE
---
---