Hive FPL Game Week 12 Summary: How did you Fare Without Manchester City & Arsenal?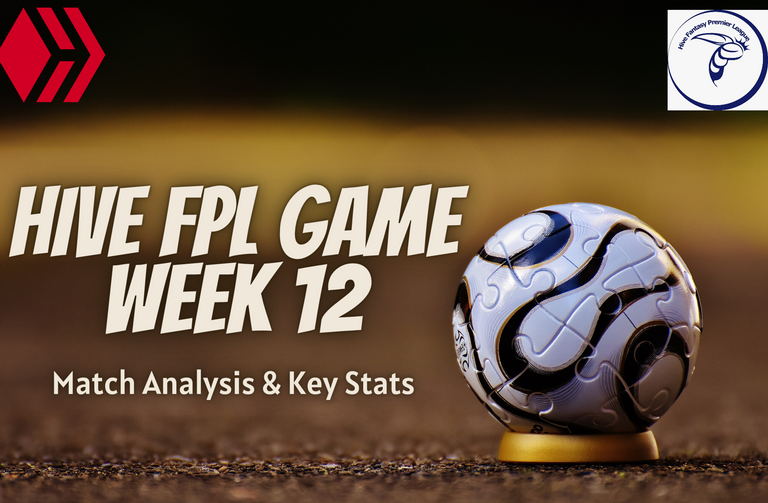 The twelfth game week of the English Premier League had some spectacular plays from several tenacious players like Wilfried Zaha, Lewis Dunk, Bruno Fernandes, Kieran Trippier, Alisson Becker, Kepa Arrizabalaga, Che Adams and more many but I would say with the low outcome of goals and four goalkeepers winning man of the match, goes to show that there was probably goal drought for this game week. I would say this could be a result of the absence of a clash between the current top-of-the-table club Arsenal against the club with the goal-scoring beast, Manchester City. The match was postponed due to Arsenal's European league clash with PSV Eindhoven. Arsenal was given a monument to either play the match or forfeit the match point. This postponement of the match clash between Arsenal and Manchester City probably brought about the lack of goals for this week cause I tell you there would have been fireworks at Emirate Stadium.
Also, the absence of the goal-scoring beast, Erling Haaland due to the match postponement made Mason Mount and Mohammed Salah the most picked by the populace for game week 12. Mason Mount with an estimated fantasy price value of 7.7 million pounds and Mohammed Salah with a price tag of 12.7 million pounds, all brought nothing but blanks. Chelsea got a total of one point with their goalless draw against Brentford while Liverpool secured their three points against West Ham but the winning goal came from Darwin Nunez and not Mohammed Salah, too sad for fantasy players who captained Salah, and I tell you that feeling is truly heartbreaking. Another piece of info that shows Mason Mount and Mohammed Salah didn't have much impact in the game could be seen from the goalkeepers of the club of these respective players winning man of the match, in the person of Kepa Arrizabalaga and Alisson Becker
Nonetheless, other matches still had some interesting kickoffs, starting with...

The first goalless draw of the game week started off with all players set and ready for kick-off and giving their best. The match had a few fouls with several attempts from Lewis Dunk Alexis Mac Allister and others but all led to a fruitless result. It was quite sad for the Brighton players cause one could see from their attempts or trials that they wanted the win so badly. With the transfer of their coach to Chelsea, I would say that the newly appointed coach has really bestowed upon himself the desire to put up an impressive impression that he is more than capable to handle the job. Also coming from a 2-0 defeat against Brentford, it was more than obvious that the Brighton players were out for a win by all means. It's just sad they couldn't get one but one shouldn't overlook the strong defensive armor put up by Nottingham Forrest. This is why I refer to this game as a clash of defensive power and experience. Since both sides were successful in holding their fortresses, they just had to settle for a stalemate. Due to a good defensive play from Brighton, Lewis Dunk a defender was awarded the man of the match for his outstanding contribution to the protection of the defense wall.

Unlike the Brighton and Nottingham game where there was a goal drought, this match had a total of three goals, two coming from the winning side Crystal Palace, and one from Wolves. Despite a brilliant defensive wall the Wolves Wanderers tried to put up, Wilfried Zaha was successful in penetrating through with his attacking play, and most importantly his winning goal that secured his team the three-point victory for a match won. Wolves Wanderers' defense began to fall apart after Crystal Palace scored their first goal of the match through the legs of the English-Nigerian footballer Eberechi Eze who plays an attacking position for the club. His goal came in 47 minutes into the match after Adama Traore had already opened the goal floor with his 31-minute goal.
After halftime, one could tell that both sides were more than eager to secure a victory point and move up the table but in the end, only one side could achieve that and all thanks to the man of the match, Wilfried Zaha.



The next match for the game week which took place on Wednesday 19th October had a fast start that gave a cool chilling sports vibe that more goals would come in but unfortunately, it wasn't the case. The match had an early goal kick-off from Che Adams at 9 minutes on the stopwatch, who also claimed the man of the match award after the match. One could probably think he got the award because of his early goal but I am putting it to you, the guy was phenomenal during the match and made some very valuable contributions to the match which helped in securing the match victory for Southampton. His 9-minute goal being the only goal scored during the match shows worthiness for his award and not only that, but it also shows that some pretty defensive tactics were employed by Southampton. Also, it would be uncool to applaud Che Adams for his winning goal without mentioning the lovely assist gotten from Romain Perraud who made the goal possible.
Although about four fresh pairs of legs were brought into the match by the Bournemouth Coach, still much couldn't be achieved as the Southampton Coach also did the same but this time increased the pairs of legs by one in order to secure his win and three points for the table.

Another match that ended in a goalless draw. I would say after Brentford's spectacular win against Manchester United and other top clubs, they are gradually becoming a club that one wants to underestimate this season. With their squad filled with players like Mathias Jensen, Josh Dasilva, Yoane Wissa, Vitaly Janelt, Ivan Toney, and Bryan Mbeumo, all filled with the mindset of making an outstanding name for themselves in this 2022/23 Premier League Season. With all these, I can only wonder what their match against Manchester City coming up next month would look like, honestly, I can't wait to see it.
At the end of this match, I could tell that fans of the Blues probably stomped out of the Gtech community stadium feeling perplexed about why their club is still finding it a bit difficult to score despite making signing moves on Raheem Sterling and Pierre-Emerick Aubamenyang during the transfer window. With due regards, that would be my thought too.
The match also had a complete thrill of attempts from both sides but still yielding to no goal. Both sides gave their best with strong attacks, most coming from Brentford who were looking to defeat yet another big team, but sorry was the case for their trials because the Chelsea goalkeeper, Kepa Arrizabalaga was on top of his game with a total of five saves and ten recoveries. This brilliant performance of his also won him the man of the match award. Although Chelsea walked out of the match with a draw, they were still good at displaying defensive proficiency.



Yet another match that had another goalkeeper winning the man of the match because of his outstanding play in the defensive position, with a total of 3 saves, 1 penalty saved, and 5 recoveries. This match was another match that was all a display of defensive strength and experience, but this time it was a bit different because there was a 22nd-minute goal scored by Darwin Nunez.
Although Liverpool was able to secure a win for themselves in their home, it wasn't the same for fantasy managers. A total of about 1,573,000 managers captained Mohammed Salah, thereby making him the most captained player for game week 12, where all managers were expecting a brilliant performance from the Liverpool star player. Too bad for them as all they got was a total of 3pts for Salah from game week 12, 2pts for playing the match, and 1pts for keeping a clean sheet. This has also made him the most transferred-out player currently in fantasy because of his poor performance. Who knows what is to come next for those who still have him on their team?

Quite an evenly balanced match with both teams with equal strengths in my opinion but as expected it was one without many goals but many fouls. There was a total of six yellow cards gotten from both clubs. Everton had the higher share, a total of 4 while Newcastle only maintained a total of two, probably because of their goal scored 30 minutes into the match, giving them the win and league point. Miguel Almiron scored the only goal, thanks to a nice assist from Bruno Guimaraes. This left Everton in a tight position, wanting to regain their courage and tenacity to win the match but it just couldn't happen. Kieran Trippier had a successful match with a win against the opposing side and claimed the man of the match award as well, which I am more than certain was given to him because of his brilliant passes during the game, a total of 85.4% pass completion.
In addition, it was more joy for fantasy managers who had Trippier on their team because of the bonus he brought this game week.

The highlight match of the day that got fans screening and on the edge of their seats. This match got a total of two spectacular goals coming from the red devils, one from Fred at 47 minutes, then the finalizing goal came from Bruno Fernandes, and the assist for the first goal came from Jadon Sancho.
The first half of this match had both sides at long heads, putting up a good play and trying not to concede. But the whole game changed after halftime when the red devils were set loose and ready to destroy. The first goal came in and it was like there was no relent from there on. Manchester players became more eager to finalize the win since they are been under scrutiny lately by fans and supporters because of their poor plays in the past. The man of the match, Bruno Fernandes scored the second goal at exactly 69 minutes making the win for the red devils more certain and satisfying. The outstanding player of the match in person Bruno Fernandes had a total of 1 goal, 1 big chance created, 9 key passes, and a 95.4% pass completion, which is good enough to give him such award. Although Tottenham tried to seek solace in substitutions, still it wasn't good enough to avoid the loss.

Finally, a match that had some interesting goals and attacking plays. It was quite surprising for such a win but it couldn't be ruled out with the brilliant plays Fulham have put on in the past. With the right build-up and chances, Aston Villa conceded three goals, two coming from the plays of the opposing sides and one from the error of a player.
The first goal came in at 36 minutes from Harrison Reed which served as the only goal scored in the first half of the game. More still came in from Aleksandar Mitrovic at exactly 68 minutes which was from a penalty, and the last goal of the match was caused by the error of Tyrone Mings.
A surprising fact about this match is the logical thinking that probably one of the goal scorers or impactful players would eventually claim the man of the match award, but surprisingly it was yet another goalkeeper, in the person of Bernd Leno, a former Arsenal goalkeeper. He gained the award because of his brilliant 6 clean sheets and 9 recoveries which made it impossible for Aston to get a consolation goal.

Another game was played on Thursday 20th October and had some goals as well. This time it was between a premier league top team Leicester City against a team that is still trying to find its ground in the premier league, Leeds United. The game had only two goals scored and all coming from Leicester City. One was caused by Robin Koch at 16 minutes and the other by Harvey Barnes, all of which were scored in the first half. This win will definitely be a moral booster for Leceister City as they head to their next game again Wolves Wanderers.
Yet another surprising fact that has made me conclude that game week 12 is simply a goalkeeper's week, is the fact that Danny Ward, Leicester City's goalkeeper collected the man of the award for his 2 saves and 12 recoveries.
So let's sit tight and see how the other upcoming games will turn out and if the goalkeepers will still claim the "man of the match" awards.
All logos are screenshots from the official fpl site

Join the Fpl Mini-League

Join the community on Discordto help us reach more people by reblogging, follow @hivefpl.
---
---