Hive FPL Game Week 14 Summary: Chelsea Beaten, Haaland Dilemma, Arsenal Still at the Top.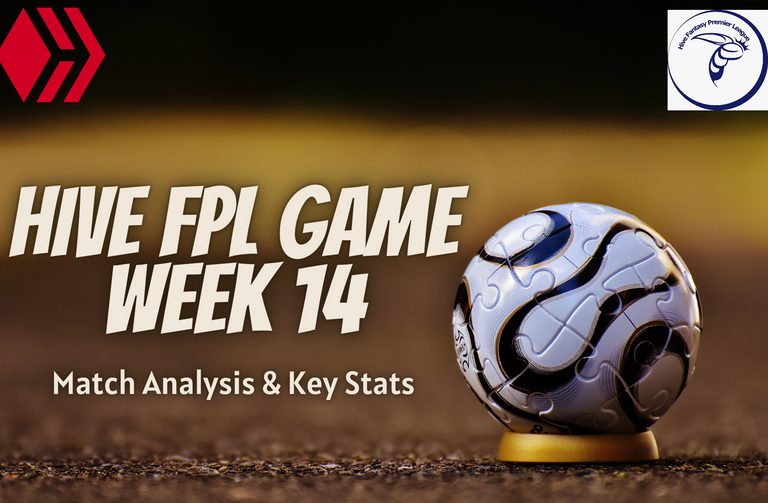 Yet another week of the English Premier League has come and gone, with a little bit calmer fixtures, scoring opportunities, and above all heartbreaks for football lovers. This week saw the clash of big clubs against smaller ones but the result not yielding to what anyone would expect. I tell you it wasn't something of the stronger preying on the weak, but rather reverse was the case.

The match game week 14 opened up with a tussle between two cities, one from the Leicester side of things and the other residing in Manchester. It was quite a peaceful tussle if you ask for my opinion but yet again it's football and there must be clashes. Chances were created with a couple of attempts.
A total of 25 shots were made on the pitch, 10 coming from Leicester City and the remaining from their opponent, who claimed the victory thanks to a goal from Kevin De Bruyne, the man who currently holds the highest number of assists for the season. It was quite devastating for football lovers and even fantasy managers to watch the match without the presence of the scoring beast, Haaland. He was excluded from the match against Leicester due to concerns about his fitness.
But he didn't fail to be a part of the squad from home by watching his teammates tear up the limbs of their opponent's defense. What left the goal-scoring beast astonished was the spectacle free-kick goal from his Belgian teammate. Immediately after he took to Twitter to commend the player on his goal with a tag and loving emoji.
Nevertheless, it surely was a match filled with passes but the majority of the pass accuracy came from the better side. Although both sides opted for a peaceful co-existence on the pitch with the absence of any red or yellow card, which justifies my claim for calling it a peaceful match play.
Bournemouth also took the stage during this game week with their clash against Tottenham. This match had an obvious description that both sides were fighting hard to secure the win for their fans and most of all advance on the standings. Bournemouth didn't even consider anything or underestimated themselves, they went all out for Tottenham, showing the Spur team that they were out to beat them if they didn't buckle up on their game.
The Cherries showed this when they opened the game with the first goal at 22 minutes by Kieffer Moore. This gave Spur the signal that the cherries are here for business.
It was too sad that they began to lose control in the second half of the game after Tottenham bounced back with two goals, one from R. Sessegnon at 57 minutes and the other from B. Davies at 73. Until finally Bentancur scored the winning goal at 90+2, securing the 3 points for his team.

The wolves were the next to take on the bees from Brentford but they couldn't do a good job of leaving the blood stains off their teeth with the red card gotten from Diego Costa at 90+7 to show for it. I would love to refer to this match as one that ended in a peaceful draw but we both know that wasn't the case. There were back and fronts all from the players trying to put their best out there and return glory to their fans. Both sides scored a total of two goals, one for each side, and all happened during the second half of the game. B.Mee opened the scoring sheet at 50 minutes while Neeves closed it with an equalizer at 52 minutes, then Costa had to grace his presence with a red card at 90+7. This match consisted of several attempts but none led to a goal. It gladdened my heart to see that The Bees displayed an advanced style of play with more pass accuracy and lesser fouls. Although they got a draw, it feels like a win to me.

OH MY!
The heartbreak of the match week, Brighton against Chelsea. It was sad to watch how Graham Porter's previous club messed him up in a stadium he once knew like the back of his hand. It wasn't a matter of knowing what to expect from his previous team but something to do with his play formation. Putting Raheem Sterling in a position that left him with zero skill in showcasing his football progress. One would think that Chelsea's issue was due to the absence of a controlling force striker but after the signing of Aubamenyang and other players living up to their potential, tell what went wrong?
I find it strange how a champions league winning team was mesmerized by a team not up to their player force or even financial power, not just by a difference of one goal but by 4 to 1. Damn! I'm sure Chelsea fans were more than pissed.
The first goal was scored five minutes into the match which should have been a sign to Chelsea that Brighton was out for their heads by all means. Instead, they remained reluctant in providing a solution to their playing problem, so they conceded more but this time their players had a role to play in it. The final goal scored by Brighton to seal their win was thanks to Pascal Grob who scored it at 90 + 2. Honestly, all hell was set loose on the blues. It wasn't a fun day for them even though Kai Harvertz still scored, it still couldn't make a difference.

Matches still went on as planned as Crystal Palace took on Southampton in a match that had only one goal in favor of the glaziers. Odsonne Édouard was the one on the score sheet for his goal scored at 32 minutes of match play while Tyrick Mitchell collected the man of the match award for his assistance in making the goal a reality and brilliant performance at the stadium. Funny enough Southampton had more shots, even more shots on target, and a better passing percentage and accuracy but yet they couldn't seize a win from the game. Too bad for them and coupled with their 17th position at the bottom of the table, damn it hasn't been a good season run for them, hopefully, it changes in future games.

The next match on the list happened to be a match between two teams who are trying to revive their olden days premier league glories and restore smiles on the face of their supporters. But unfortunately, only one side could achieve that at the end of the match. The battle for restoration between Newcastle United and Aston Villa ended in a whopping loss for Aston Villa, conceding a total of 4 goals and bringing them down to 16th in the standing. I must say Newcastle is beginning to make waves with their nice spot on the table but only time can tell if they can maintain it.
The match had a combination of 23 shots but sadly only 3 came from Aston Villa. One can say they were completely dominated although the game and the statistics are simply there to prove it. The first goal came during the first half of added time through a penalty scored by Callum Wilson. One would think this was all Newcastle had installed for the match but hell no, more was still yet to be set loose. About 56 minutes into the second half of the match, another goal came knocking, and still from the same guy. His second goal was made possible through a wonderful assist from Kieran Trippier after playing the corner.

Fulham against Everton was yet another raging conflict that ended in a goalless draw. This wasn't the result The Lily Whites expected after putting up a good fight filled with 463 passes, 83% pass accuracy, 57% ball possession, 24 shots, and 6 shots on target. Match stats all gotten from Google but yet it's sad they had to walk away shaking their opponent and accepting the stalemate placed before them. I must say that Crystal Palace is one club that might just finish the season with a good track record if they keep up the good work.

And then the final heartbreak to end the first day of game week 14, the 2 - 1 defeat against Liverpool by Leeds United.
Leeds has always been a club that should never be underestimated by anyone and they have shown it right from the last season. But this time it wasn't a matter of underestimation but a problem in the Liverpool team which Leeds exploited to their advantage. The lack of team coordination in recent times and underperformance from their top player. It's no news that Mohammed Salah hasn't been in the best form this season and fantasy managers have had to suffer from this as well. Funny scratch, the Egyptian scored 14 minutes into the game after a 4-minute goal from Rodrigo from the opposing side, yet it still wasn't enough to secure the win or even draw, at least he brought in some points this week for those who had him in their team. The game ended with a 2-1 scoreline, not in favor of the reds even with their nice performance and stats to prove it. And thanks to Summerville's goal at 89 minutes for that.

The next day of the game week opened up with a nice fixture between the Gunners and the people from the Forrest of Nottingham. This was lovely to watch as Gabriel Martinelli, Reiss Nelson, Thomas Partey, and Martin Ødegaard all registered their names on the scoresheet for the game, with each person scoring a spectacular goal through the assistance of Bukayo Saka, Nelson Reiss, Gabriel Jesus, or through their well built-up effort.
Arsenal has been on top of their game which has kept them at the top of the premier league table to date. They currently bag a total of 31 points leaving Man City 2 points behind them. Let's see how the season goes if Arsenal can keep up with the pace coupled with their next match against Chelsea coming up soon.

Finally, The Red devils against The Irons ended the game week. It is what I would still call a peaceful or quiet match with both sides giving themselves mutual respect. Notwithstanding, De Gea was at top performance with different saves coming his way and winning him the man of the match award at the end. His saves were good and the reason why West Ham couldn't score a goal to save themselves. The match ended in a quiet 1 to-nil win for Manchester United with the only goal coming from Marcus Rashford, making it his career high of 100 goals for the club.
The game week ended and as usual, there were upsets mixed with trills which makes our love for football even stronger.
---
---