Hive FPL - Game Week 2 Match Analysis & Key Stats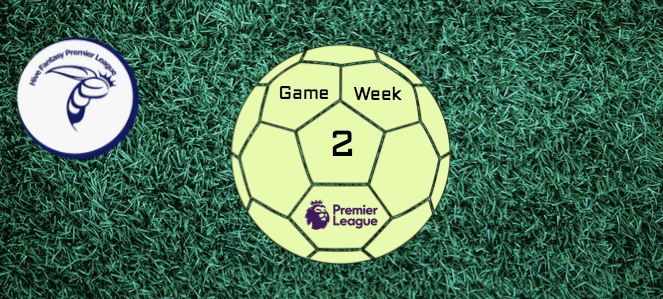 It was another exciting weekend of Premier League Action with plenty of talking points in the last weekends games. It is still not too late to join @hivefpl. You can join our discord channel here also and enjoy the banter between the rival team supporters during the live games. Below is a summary of all the games in week 2. There were some interesting results and a couple of shocks as well.
Aston Villa versus Everton 2-1

With both Lampard and Gerrard under pressure already in the Premier League having suffered defeats in their first games, this one seemed very like a 6 pointer for both clubs and you could cut the tension with a knife. Tyrone Mings was back in at Centre Half after Villas shambolic defending against Bournemouth the previous week. Villa had control of this game right the way through with Danny Ings scoring a great solo effort and Buendia adding to this on the 85th minute. Everton scored on the 87th minute and then went for the equalizer but it was not to be for Everton and Gerrards Villa got off the mark with a much needed 3 points. Ollie Watkins with two assists scored the striker 11 points alone in this game. Buendia scored 8 points with his second goal. Onana was the best for Everton scoring 4 points.
Arsenal versus Leicester City 4-2

Arsenal are on the up and Leicester are going in the opposite direction. No signings and players such as Casper Schmeical leaving are major losses. Rodgers does not look happy either so things are not good in the Leicester camp. Meanwhile with a couple of new signings Arsenal have hit the ground running. The have a striker again in Gabriel Jesus and he was on fire at the weekend getting off the mark with 2 goals. Jesus only scored 2 points last week to the dismay of 75% of FPL teams who have him in their squad but this week he did not disappoint with 2 great goals. Jesus is top of the EPL this week with 2 goals and 2 assists which give him 19 points. Not far behind him is Xhaka who scored 12 points. I don't think many players picked the Swiss midfielder who has a penchant for a red card but maybe this is his year. Martinelli scored the last for Arsenal which gave him 8 points. It was never in doubt even though Leicester scored 2. Maddison scored which gave him 7 points for the week.
Brighton versus Newcastle 0-0

A stalemate here at the American Express Community Stadium. Brighton were the better of the two teams and Newcastle's new keeper Nick Pope who trended on Twitter with Burger King for much of last week (long story). Pope was excellent and saved Newcastles blushes. Brighton are not bad this year even after losing their two best players. Newcastle are not bad either but they were second best here. Pope scored 10 points for his clean sheet and Brighton's Veltman scored 8 for his defending.
Manchester City versus Bournemouth 4-0

Trigger happy FLP players got Haaland into their squad on the back of last weeks brilliant display. Most of the players replaced Harry Kane with "The Terminator" but it was not his day on his home debut this week although he did set up a goal for Gundogan. De Bruyne was the star of the show here as he scored a screamer with the outside of his right foot. A strike that is not so much popular anymore. Today kids around Europe are practicing what De Bruyne did as the goal was unbelievable. De Bruyne scored a well deserved 14 points from the victory on Saturday. Cancelo and Gundogan were next with 11 points and 10 points respectively. Pepe was on the sidelines licking his lips on his new options. Grealish did not even start as were his options for this game. City strolled it as they will the majority of their games this season.
Southampton versus Leeds 2-2

After being hammered by Spurs last week, Hasenhuttl needed a result against a potential relegation candidate in Leeds. Leeds started off really well with a win over Wolves last week. They came back against Wolves to sneak the victory. Things looked up for Leeds when Rodrigo fired the visitors into a 2 goal lead earning the player 15 points in the FPL this week. Hassenhuttl who is known for his tactical masterclasses made a change and this changed things completely. Southampton came right back into it with goals from Aribo and wing back Walker Peters (7 points). With the exception of Walker Peters and Rodrigo it was a fairly low scoring FPL game.
Wolves versus Fulham 0-0

Another stalemate here after Fulhams heroics against Liverpool last week. However Mitrovic could have continued his run of form with a penalty but he missed his chance and the game ended with no goals. Sa scored very high for Wolves with his clean sheet and penalty save. A well deserved 15 points.
Brentford versus Man United 4-0

The shock of the weekend at the bees where Brentford absolutely played Man United off the pitch. Albeit mistakes from De Gea who let the first goal through his hands and then a lazy pass out to Eriksen who was under pressure summed United day up. Miserable and without a plan Manchester United are in big trouble. When the stats came out that Brentford ran a total of 107km compared to Man United's 90km, Ten Haag decided to get the players in the day after to run 8 miles on their day off. It is an embarrassment to the new coach who said the plan went in the bin. He has a mjor job on his hands here. United did not lay a glove on Brentford who finished off United with a great counter attack that United could not cope with. As usual the United players flailed their hands in the air in disgust blaming each other. Ronaldo looking on thinking of a transfer out of the club. The toxicity from last season rearing its ugly head again. United are in deep trouble.
Eriksen regretting his move I imagine for the club that took a chance on him. Brentford players scored all the points in this one. Mee and Jensen scoring a well deserved 14 points in FLP. Ivan Toney scoring 9 points makes me want to think about adding this guy into my own FPL. United play Liverpool next. This is a massive worry for them. There may be the ultimate humiliation on the cards for a team that think they are better than they are.
Nottingham Forest versus West Ham 1-0

West Ham fans had their fake bank notes ready to throw at Lingard who turned down a move to go the Nottingham Forest but there was egg on their face when Forest beat the irons 1 goal to nil. Awoniyi with the goal here and who got the assist. Lingard. A bumbling assist but an assist none the less. Moyes will not be happy his usually solid team lost this one. This is two defeats in two now for West Ham. Declan Rice was awarded a penalty kick but it was a disaster of a penalty kick and Dean Henderson (yes the United keeper on loan) saved it easily. It was one of the worst penalties I have seen in a long time so this added salt to their wounds. Meanwhile Nottingham Forest are celebrating their first win in the Premiership. A vital three points. Henderson scored high here with the clean sheet and the penalty save (14 points). Taiwo Awoniyi with 8 points.
Chelsea versus Tottenham 2-2

This was given top billing on Sky Sports with the new look Spurs team coming up against a new look Chelsea team. As much as it hurts me Chelsea were the better team and Koubally got the first of Chelseas goals in the 19th minute. Cucurella and Reece James were causing problems Spurs problems from the start and Tottenham could not get the ball to their attackers. For this reason Son, Kulusevski and Kane had a bad first half. Spurs got an equaliser against the run of play in the 66th minute when unlikely goalscorer Pierre Hojbjerg popped up with a shot from outside the box. Conte celebrated wildly which caused him and Tommy Tuchel to get into an argument. Chelsea scored a second by Reece James. Sessegnon was taken off for Richarlison and Spurs started attacking again. The game went into injury time and Spurs had a corner. Romero yanked the hair of Cucurella but it was left go by the ref. The Chelsea players were taken by surprise and Kane popped up with the winner. Kane who was on the missing list the whole game finally confirmed why he should not be substituted and Spurs celebrated wildly. When both managers shook hands after the game Tuchel yanked Conte back and said "Look me in the eyes" and there was another melee after this but Spurs and Chelsea remain unbeaten. What a game. Hojbjerg scored 10 points in this game and Kane scored 8. James and Koubally scoring 7 points each for Chelsea.
Liverpool versus Crystal Palace 1-1

Liverpool mean business coming into this game tonight after having a below par performance versus Fulham. Viera needed a result as well after being beaten by the gunners last week.
Liverpool started well but Wilfred Zaha scored against the run of play which really shocked Liverpool. Things went from bad o worse when Liverpools Darwin Nunez headbutted Joachim Anderson and got sent off. It took a stunner from Luis Diaz to rescue Liverpool to salvage a point. But Man City are not gone 4 points ahead already in the league. Very early but still a sizeable gap already. Zaha and Diaz the top scorers here with 7 points.
All logos are shared via a non-free rationale under the fair usage doctrine
Join the community on Discord, help us reach more people by reblogging, follow @hivefpl and follow us on Twitter
---
---