Hive FPL - Game Week 22 Match Previews & Key Stats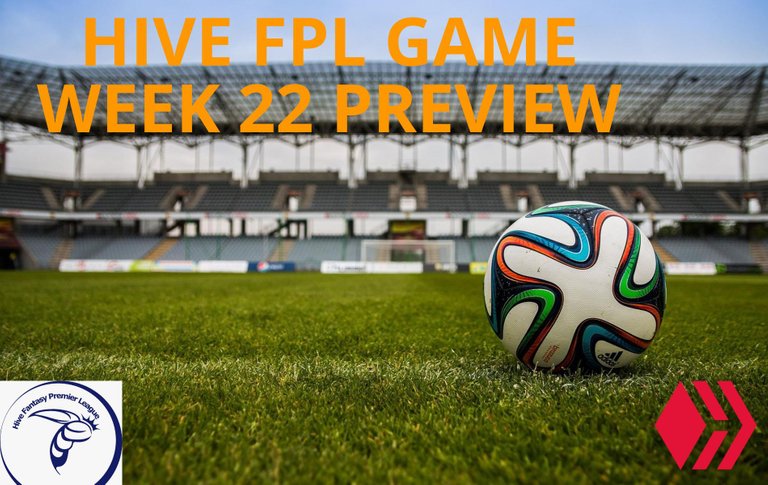 After what seems to have been close to two weeks break, the players who return to the EPL pitch this weekend will be only those who survived the dramatic transfer window deadline. The recent deadline happenings suggest some unrest in the Manchester City dressing room following the dramatic exit away from the EPL of their team's core defender. Notwithstanding what must have transpired, such things are considered normal incidents in the game of football and life must go on.
With yet another game week in sight, 20 teams battles for point to place themselves in a comfortable position on the EPL table. On the side of the FPL managers, squeezing out points will certainly require a skilled analysis following the features which seem to have so many teams of similar weight paired
These two teams seem to have had similar performances in their past matches with only 2 points separating the two teams in the EPL table. There is however a small twist between these two. While Fulham holds the point advantage over Chelsea, Chelsea on the other hand holds an outstanding one-game advantage. A win in favor of the away team would clearly ease them of some pressure while in a turnaround table, a defeat will see them struggling to maintain the top 10 spots.
In their past 10 EPL games, Fulham has managed to squeeze out only one win which happened during the early days of this year. In the 10 games result, Chelsea has grabbed 8 wins and a draw from Fulham. In those ten past EPL games between these two football giants, Chelsea has managed 6 clean sheets which places a bet on their defense on more than an average odd
Although, Chelsea woos continues with the likes of Pulisic, Kante, and Sterling, all out due to injuries, and even worst with their newly signed forward suspended after picking up red in their last match against the same opponent. Also, defenders James & Chilwell are still doubtful for the game ahead. On the bright side, Chelsea will look forward to unleashing their new signing Enzo Fernandes who joined Stanford Bridge on deadline day
The Fulham team seems to be in good shape with no injury worries, which means FPL managers will be decisive in other to grab some points from this game.

Going against Arsenal in Saturday's EPL showdown, Everton will be under the care of a new manager "Sean Dyche". Having acquired only 15 points in their last 20 EPL games, and placed nineteenth on the table, Everton will have to pull a smackdown in other to defeat the league leaders' "Arsenal" sitting comfortably at the top of the table with 50 points in 19 games, clearly leaving a 35 point difference between them and their said opponent. Remember, nineteenth-place Everton let go of their coach "Frank Lampard" after a 2-nil defeat at the London Stadium
League leaders Arsenal, have had a perfect start this season and now has to focus only on the EPL and Europa league after a frustrating crash out from the FA cup against England's champion Manchester City. Meanwhile, there have been some changes in the Emirate stadium following the deadline-day transfer of Jorginho from Chelsea. Arsenal also announced the inevitable absence of Mohamed Elneny who is likely going to be out throughout the rest of the season after undergoing knee surgery. Speaking of injuries, Arteta men will still be without their forward Gabriel Jesus while Emile Smith Rowe & Reiss Nelson remains doubtful for the upcoming game.
In the past 10 EPL games between these two teams, Arsenal has managed five victories, and Everton four victories while both teams shared a draw. However, keeping a clean sheet has been quite a struggle for both teams following a head-to-head analysis. Nevertheless, Arsenal has won all their last four games away from home and achieved a clean sheet in three of those. Judging by their recent run, a bet on Arteta defenders and the whole team at large might be worthwhile

Brendan Rodgers's men travel to Villa Park this Saturday in search of redemption after grabbing just one point in their last five EPL games. Rodger's men will have to comport themselves in other to steal the show against Unai Emery's men who have lost just one game in their last five EPL games. Aston Villa & Leicester move on the weekend log head placed 11th and 14th with 10 points separating both teams.
Villa's manager Emery has shared some optimistic views over the return of key player John McGinn after suffering from a thigh injury but debunked the possibility of having Lucas Digne, Jed Steer, and Diego Carlos in the forthcoming game.
As for the Leicester side, their injury woos continues to hunt them with the likes of Justin, Jamie Vardy, Ryan Bertrand, and Ricardo Pereira all on the sideline. While a green light shines on the possible return of Wilfred Ndidi, new signings Harry Soutta & Tete are likely to be handed their debuts.
The head-to-head past 10 EPL games for these two teams show Leicester claiming five victories, Villa four victories, and a draw completing the 10 games. FPL managers will have to critically analyze these teams' current form which puts Villa ahead and past head-to-head stats which put Leicester ahead, before drawing to a conclusion. Games like this show a possible clean sheet but to which side is the question?

Southampton in their current bad form will travel to Brentford to seek a possible solution to their problem and a chance to excuse themselves from the relegation zone. Although a win doesn't guarantee them leaving the red zone but can at least serve as a grip of hope for the struggling Nathan Jones side.
Nathan Jones's men have managed to get two wins in their past 10 EPL games. Their struggles are seen both in defense and attack which has placed them in danger of relegation unless they make some visible improvement. Come this Saturday, the fans will be expecting Nathan's side to replicate the performance they displayed in their last two recent wins which include a cup match against Manchester City. Sadly, Southampton will be without their full-back Kyle Walker-Peters who picked up an injury during the EFL semi-finals Cup against Newcastle United. Also, there is a possibility of full-back Juan Larios returning from injury to face Brentford in Saturday's game
Thomas Frank's men had started well, although recently, they seem to be declining. They did show their potential against a few top teams. The last 10 EPL games have seen them manage 4 victories and 5 draws. They have also kept a total of four clean sheets in their last 10 EPL games.
For FPL managers, Optioning for Brentford might seem like the right thing to do

The Seagulls will host Bournemouth this weekend in a crucial match which means a lot for Gary O'Neil's side. Brighton will fight to gain their fourth unbeaten run in the EPL while Bournemouth finds the magic touch to take them away from the relegation zone. The Seagull host their 18th-place opponent standing 6th on the table with 14 points difference between the two teams.
Roberto De Zerbi's men will fight to get back to winning ways after a 2:2 draw against Leicester city away from home. Brighton defender Joel Veltman will be absent from the match due to a calf issue that forced him off the pitch during their last match In the King Power Stadium.
Bournemouth's mission seems to be a clear one as they look to pull themselves out of the relegation zone. They have had really a slow start with their last win being against Everton around November last year. They would be needing to pull off a killing performance if they wish to edge past Brighton in that match. Bournemouth's last 7 EPL has produced 6 clean sheets which might be a headway for FPL managers.

This weekend, Crystal Palace also finds themselves on a trip to Old Trafford hoping to get back to winning ways after recently drawing their last two games and losing the other two before that. United also hoped to put the pieces together after a frustrating defeat at the Emirate Stadium and a draw on the trip to Selhurst Park Stadium.
United have recently shown a promising improvement in form by securing three wins ever since their unfortunate defeat to Arteta men. Two recent wins against Nottingham Forest in the EFL Cup and a win against Reading in FA Cup could mean that Erik Ten Hag's men have regained their cool. Old Trafford will be without keys player Dalot, Eriksen, Tuanzebe and Beek when they take on Palace in the Saturday evening showdown.
Patrick Vieira's men will have to learn to adapt without their key player Wilfried Zaha after the 30 years old picked up a hamstring injury in their last match against Newcastle United. Although Ferguson is doubtful for the feature against United, new signing Naouiron Ahamada might be handed his debut in the game
Betting on Manchester United players will certainly be a boost for FPL managers following United's double-game week opportunity. Considering some recent outstanding performances, the likes of Bruno Fernandes, Marcus Rashford, & Luke Shaw in a manager's team for this double game week will certainly be considered a wise decision.

Molineux Stadium hosts Klopp's men this weekend in a game which appears to be desperate crave for a win for both teams after they both failed to secure a win in their last EPL game. Klopp men's last meeting with the wolves away from home in the FA Cup, ended in favor of the away team and unless the Wolves are ready to pull a surprise, the incidence of the past might just reoccur
Liverpool still has some of their key players on the sideline due to injuries. Luiz Dias, Virgil Van Dijk, Jota & Firmino, all will be unavailable for selection. However, new signing Stefan Bajcetic might get his debut while Cody Gakpo continues to find the net
The Wolves team has to stand on their toes during the entire 90 minutes of the game. A loss might likely put them in the red zone since they stand 17 points same as Bournemouth who is already in the relegation zone. Lopetegui men failed to secure a point away from home in their last match against Manchester City but they did pull a surprise win at home before then when they played against West Ham United. In the game ahead, Lopetegui men will need a win more than they need their feet.
FPL managers should look out for a possible clean sheet following these two teams' past record which has produced 7 clean sheets in their last 10 EPL games.

The Saturday match day games end with a visit to St James Park by David Moyes's men. Moyes's men seek to throw their weight against the in-form Newcastle side which has not lost a single match in their last 15 EPL games. It appears difficult to Eddie Howe's men in the home, but Moyes's side must have to figure it out if they so wish to survive a possible relegation zone.
Sixteenth-placed West ham United sealed the fate of Frank Lampard when they defeated Everton 2-nil in their last match and now call for such a good performance if they want to avoid a further dip in the table.
Newcastle United seems to have already figured things out this season with the way they consistently produce outstanding performance. Although their performance wasn't all that superb in the last match, Howe's men will be looked up to for further improvement.

We will pick up from where we stopped on Saturday with Nott'm Forest going against Leeds United In what is considered a Sunday Lunchtime showdown. City Ground Stadium will be the host of the match which has two teams not far away from each other in the league table. Nottingham and Leeds occupy the 13th and 15th position and has only 3 points separating the two side.
Steve Cooper's men crashed out of the EFL Cup which they lost against Manchester United and now they will have to regain their form and return to winning after previously ending their last EPL game on a 1:1 draw note against Bournemouth. Ryan Yates picked up a minor injury in the match against Bournemouth and will be doubtful for this match against Leeds. Keylor Navas joined the City Ground side on loan from Paris Saint-German following the injury of goalkeeper Dean Henderson
Leeds after their frustrating goalless draw at home in their last match against Brentford has shown an improvement in form by trashing a lower division Accrington Stanley 3:1 in their FA Cup encounter. Jesse Marsch's side needs nothing short of a win to ease the pressure of dipping to the red zone.

Pep Guardiola's side will be on a late flight to Tottenham Hotspur stadium on what is considered the match of the week. Antonio Conte's last encounter with the champions ended in a dramatic 4:2 defeat. Man City has recovered well after their last loss to Manchester United. Since then, they have moved ahead to secure three straight wins including a win against the table leaders Arsenal in the FA Cup. Manchester City was also in the spotlight ahead of the transfer deadline which saw them lose the defender to Bayern Munich

These two teams will face each other on the Wednesday night of football when they finish playing In the Saturday and Sunday games respectively. A possible full-squad United side will take on a struggling Leeds united side at home.
For the FPL managers, the points they seek might still be hiding here as these two teams get busy in their double-game week. As I previously said above, selections from these two teams might give the expected results.
---
---