Hive FPL - Game Week 24 Match Previews & Key Stats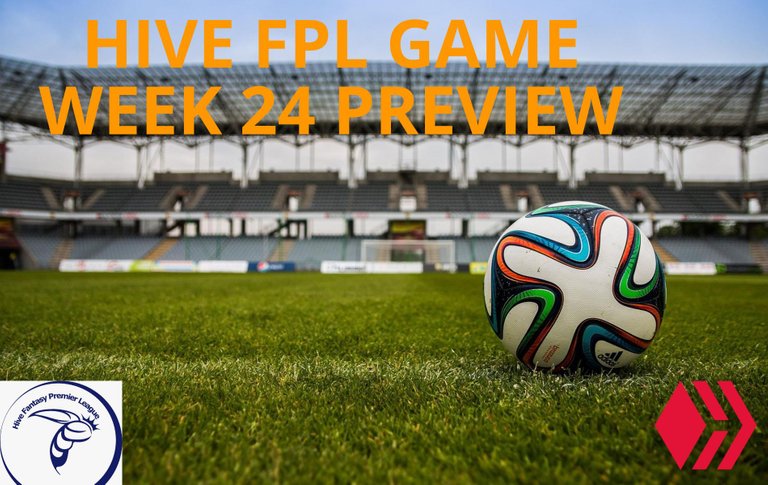 Hive FPL is slowly becoming the most exciting fantasy league out there that allows Hive football fans to create their own virtual teams and contest for amazing prizes. FPL is played by millions of fans worldwide, and it has already become a sensation here on Hive.
As we head into Game week 24, the Hive FPL is more competitive than ever, with numerous contestants in contention for the top prize. The competition is getting more challenging, as a few managers are starting to separate themselves from the pack. Every team owner wants to score the maximum number of points each week to secure a top spot on the leaderboard.
Game week 23 was a significant week in the Premier League, as Manchester City took the top position from Arsenal at the Emirates stadium. It was a crucial game for both teams, as they were fighting for a place at the top of the Premier League table. Manchester City, however, showed their class and won the match 1-3, thanks to a stunning performance by the City boys.
This victory propelled Manchester City to the top of the table, and they are now equal in points with Arsenal who still have a game in hand. The win was also a significant boost for City in the Hive FPL, as many players had selected their players for the match, hoping to get maximum points. Still, thanks to Pep's roulette we all came out of the double games as FPL managers slightly content with the performances of both our city and Arsenal asset.
Game week 24 seems to hold a lot of intrigue with very exciting 10 matches coming our way. We would use the opportunity to discuss all 10 games we have lined up.

Game week 24 of the English Premier League is shaping up to be a pivotal moment for Arsenal, who are currently trying to mount a comeback after losing their lead in the league on goal difference to Manchester City. Despite Arsenal still having an outstanding game, they will need to put in some strong performances in their upcoming fixtures if they want to reclaim the top spot in the league.
One of the key factors in Arsenal's recent dip in form has been their inconsistency in front of goal. While they have some talented attackers in their squad, including Bukayo Saka and Martin Odegaard, they have struggled to convert their chances into goals in some of their recent matches. However, if they can start finding the back of the net on a more consistent basis, they will have a good chance of securing some important victories in the coming weeks.
Another important factor for Arsenal will be their defensive solidity. While they have been strong in this area for much of the season, they have shown some vulnerabilities in recent matches. If they can tighten up their defence and start keeping more clean sheets, they will be well-placed to secure some vital wins and close the gap on Manchester City in the league table. With a few strong performances, Arsenal can still mount a comeback and challenge for the top spot in the league.
Aston Villa, currently being coached by former Arsenal manager Unai Emery, will be taking on Arsenal in an early kick-off. The match promises to be an exciting one as both teams have talented players and will be looking to secure a victory. Early kick-offs are often unpredictable, and this match is likely to be tightly contested. It is worth noting that Arsenal has a strong track record against Aston Villa. However, the former Gunners manager Unai Emery will be well aware of Arsenal's strengths and weaknesses, which could make for an interesting tactical battle. One player to watch in this match will be Ollie Watkins, who has been in fine form for Aston Villa this season and could pose a threat to Arsenal's defence. Ultimately, it will be up to both teams to bring their best performances and see who comes out on top.

Brentford is a remarkable football team with a talented squad and a great manager at the helm. One of the standout players for Brentford is their attacker Ivan Toney, who has been in scintillating form this season. Toney has proved to be a prolific goalscorer, and his presence on the pitch can trouble even the best defenders. With his pace, power, and clinical finishing ability, Toney is a real threat to any team. Moreover, Brentford's manager Thomas Frank has implemented a playing style that is both attractive and effective, which has led the team to impressive results in recent years. It is no surprise that Brentford is considered one of the most exciting teams in English football, and with Ivan Toney leading the line, they have the potential to beat any team on their day.
Crystal Palace's recent form has not been impressive, losing two out of their last five games and drawing the remaining three. However, this should not detract from the fact that they have a talented squad, with players such as Zaha, Eberechi Eze, and Oliseh capable of turning a game on its head. Moreover, they have an experienced manager in Patrick Viera, who has proven himself to be a level-headed and astute tactician. Despite their recent struggles, Crystal Palace has the potential to beat even the best teams in the league on their day. With a few tweaks and adjustments, they could easily turn their fortunes around and start climbing up the table. It's worth noting that in football, form can be transient, and teams can quickly bounce back from a rough patch. Therefore, it would be unwise to underestimate Crystal Palace in their game against Brentford based on their recent results, as they have the quality to surprise anyone.

The upcoming match between Brighton and Fulham is set to be an exciting and closely fought-encounter. Both teams have shown great promise this season, with Brighton sitting comfortably in the top half of the table and Fulham not far behind. With so much at stake, we can expect both teams to go all out to secure a vital victory.
One player to watch out for in the Fulham team is Mitrovic. If he is fit enough to play, he could prove to be a real handful for the Brighton defence. His strength, aerial prowess, and clinical finishing ability make him one of the most dangerous strikers in the league. Moreover, Pareira has been in excellent form this season, providing a creative spark in the midfield. If Fulham is to get a positive result, they will need their star players to perform at their best.
Brighton, on the other hand, is a well-organized and disciplined team. They have shown their mettle time and again this season, picking up valuable points against some of the biggest teams in the league. Their new signing Mitoma has already made a significant impact, causing problems for opposing defences with his pace, skill, and eye for goal. If Fulham underestimates Brighton, they could be in for a rude shock. Overall, the match promises to be a fascinating encounter between two talented sides, and it will be interesting to see which team comes out on top.

Chelsea's form this season has been somewhat inconsistent, and despite making plenty of additions in the January transfer window, they have yet to cement their place as a prominent football-playing side. However, there is no denying the individual talent that Chelsea possess, with Mudryk, Felix, Mount, and the ever-reliable Thiago Silva all capable of making a significant impact on the pitch. The question remains, can they find the right balance to turn their season around?
Their opponents this weekend, Southampton, have had a difficult season so far, rooted to the bottom of the table. However, they have shown in recent matches that they are by no means pushovers. The Saints have picked up valuable points against some of the top teams in the league and will be looking to cause an upset against Chelsea.
The match promises to be an interesting encounter, with Chelsea expected to come out on top. However, Southampton will undoubtedly provide stiff opposition, and their talismanic midfielder, Ward-Prowse, could prove to be a real threat to Chelsea's midfield. If Southampton can get their tactics right and execute their game plan to perfection, they could cause an upset and take home all three points.
Ultimately, this is a crucial match for Chelsea, as they seek to salvage a disastrous season. They will need to be at their very best to secure a win against a resolute Southampton team. Only time will tell whether Chelsea can find their rhythm and overcome their opponents this weekend.

Everton and Leeds are two Premier League teams with a reputation for playing attractive and exciting football. However, their current form has been disappointing, and they find themselves languishing in the lower half of the league table. Despite possessing some talented players, both teams have struggled to find consistency and have been plagued by injuries and poor performances.
With just one point separating the two teams, the upcoming match between Everton and Leeds is a crucial one for both sides. A win for either team could provide the boost they need to kickstart their climb up the table, while a defeat could have serious consequences for their future in the Premier League. As such, the match promises to be a fiercely contested one, with both sides giving their all to secure the victory.
Both teams have recently sacked their managers in an effort to turn their fortunes around. Everton parted ways with Frank Lampard and has since appointed Sean Dyche. Meanwhile, Leeds United sacked Jesse Marsch and Mark Skubala has taken charge as the caretaker. It remains to be seen whether these managerial changes will have the desired effect, but the hope is that they will bring a fresh perspective and renewed motivation to the respective teams.
In terms of the upcoming match, it is difficult to predict which team will come out on top. Both Everton and Leeds have talented players and are capable of playing some outstanding football. However, if forced to choose, many would likely favour Everton due to their home advantage and recent managerial change. Nevertheless, in football, anything can happen, and it is sure to be an exciting and unpredictable match.

Manchester City is on a roll, having taken the top spot from Arsenal in the midweek fixtures. They are now looking to continue their winning ways against a struggling Nottingham Forest side. Despite the clear difference in quality between the two teams, Forest cannot be underestimated, as they have the capacity to upset any big team on their day. However, with City in such fine form, it would take a Herculean effort from Forest to prevent City from taking all three points.
City has been impressive this season, with a deep and talented squad capable of challenging on multiple fronts. They will be looking to build on their midweek victory and consolidate their position at the top of the league. With players like Kevin De Bruyne and Welding Haaland leading the charge, City has the firepower to blow away any opposition. It will be interesting to see how Forest will attempt to contain City's attack, as they will need to be at their very best to prevent City from running away with the game.
Speaking of Haaland, the Norwegian striker has been in sensational form this season, scoring goals at an astonishing rate. He has quickly established himself as City's go-to striker, and his goals have been crucial in City's recent run of victories. With his physical prowess and clinical finishing, Haaland has the ability to unlock even the tightest of defences. Forest's defenders will need to be on their toes if they hope to contain him and prevent him from adding to his impressive goal tally.
All in all, it is hard to see anything other than a City win in this fixture. While Forest has the potential to cause an upset, City's form and quality make them clear favourites. If they can maintain their momentum and continue playing at their current level, there are few teams that can stand in their way. It promises to be an exciting game, and football fans will be eagerly anticipating City's performance.

Wolverhampton Wanderers have had a tough season, but their recent performances have shown that they are determined to redeem themselves. Their impressive form over the last five games has seen them climb up the table and regain some confidence. They have managed to win three games, draw one, and lose only one, which is a fantastic achievement given their recent struggles. This upturn in form can be attributed to the team's resilience and hard work.
The upcoming match against Bournemouth is crucial for both teams. Wolves will be looking to continue their winning streak, while Bournemouth will be hoping to finally get a win under their belt. Bournemouth has struggled to find form lately, and they will be hoping to use this game to turn their fortunes around. However, the Wolves recent form suggests that Bournemouth will have their work cut out for them.
Overall, this game promises to be an exciting encounter. With both teams looking to make a statement, we can expect a highly competitive game. The Wolves recent form gives them the edge, but Bournemouth will be hoping to cause an upset. As the game approaches, football fans around the world will be eagerly anticipating the outcome of this match.

This weekend, all eyes will be on St. James' Park as Newcastle United takes on Liverpool in what promises to be an electrifying clash. Newcastle, backed by the investment of billionaire owners, have had a fantastic season so far, with some impressive performances and results to their name. They are currently sitting in the top four positions of the Premier League table, which is a remarkable achievement for the club. However, their recent form has been a bit shaky, with just one win in their last five games.
On the other hand, Liverpool have struggled this season, with a string of poor results leaving them languishing in mid-table. They have managed just one win in their last five games, losing three and drawing one. However, Liverpool is one of the most successful football clubs in England's history, and their quality cannot be discounted. They have a strong squad with some world-class players who will be looking to turn their fortunes around in this game.
This game promises to be a hard-fought contest, with both sides looking to claim the three points. Newcastle will be eager to continue their impressive form and maintain their position in the top four, while Liverpool will be hoping to bounce back from their recent struggles and climb up the table. The game will also see some of the Premier League's biggest stars in action, including Newcastle's Callum Wilson and Liverpool's Mohamed Salah, who will be looking to make a difference for their sides.
The passionate Newcastle fans will be cheering their team on from the stands, hoping to inspire them to a famous victory against one of England's biggest clubs. The atmosphere at St. James' Park is always electric, and with a lot at stake for both teams, this game promises to be a memorable one. Football fans around the world will be tuning in to watch the action unfold, and we can only hope that the game lives up to the hype.

Manchester United versus Leicester City is becoming one of the most intriguing fixtures in English football. These two teams have a rich history of battles on the field, and it always guarantees an entertaining game. Both teams have been known to put in a fantastic performances, and fans are always on the edge of their seats whenever they play against each other.
Manchester United have been on an excellent run of form lately, which has seen them climb up to the third position in the Premier League. They have been playing like a team that can contend for the top honours this season, and fans are delighted to see the team's progress. With the likes of Bruno Fernandes, and Marcus Rashford in the team, the fans are confident that Manchester United can go all the way.
Marcus Rashford is undoubtedly one of the stars of the Manchester United team, and his performances cannot be overstated. He has been the engine behind the team's excellent run of form, and fans are looking forward to another exceptional performance from him against Leicester City. With his blistering pace, excellent ball control, and incredible finishing, Rashford is undoubtedly a player to watch out for.
Leicester City is presently 13th on the Premier League table, but they have been playing brilliantly in recent times. Kelechi Iheanacho and James Madison have been the standout players for Leicester City, and their performances have been a revelation. They will be looking to cause an upset against Manchester United and add to their impressive run of form.
In conclusion, the Manchester United versus Leicester City fixture promises to be an exciting game of football. Both teams have been playing well recently, and fans are looking forward to another closely contested match. With Rashford, Fernandes, and Madison on the pitch, we can expect nothing less than a thrilling game of football. Fans will be eagerly anticipating Sunday's game, and it promises to be an exciting encounter.

Tottenham Hotspur's position on the Premier League table (5th) might suggest that they are doing well, but their recent form tells a different story. They have won only two of their last five games and have suffered three defeats, leaving fans worried about the team's performance. Despite having a strong squad, which includes star players like Harry Kane, Heung-min Son, Dejan Kulusevski, and Ivan Perisic, Spurs seem to be struggling to hit top form.
However, Tottenham fans will be hoping that their team can get their mojo back and start playing at the level they are capable of. With the quality of players in their team, they are a force to be reckoned with, and they will be looking to prove that against West Ham.
West Ham United's season has been even worse than Tottenham's so far. They are currently sitting in the 16th position on the table, having picked up just one win, three draws, and one defeat in their last five games. Despite boasting a squad that includes the likes of Michail Antonio, Declan Rice, and Said Benrahma, the Hammers are struggling to get results.
The Spurs versus Hammers fixture promises to be an exciting game for neutrals. It's a game that is filled with fireworks, and fans will be looking forward to watching these two teams battle it out on the pitch. Both teams have quality players, and it will be interesting to see which team can come out on top. Tottenham fans will be hoping for a much-needed win to keep their team's momentum going, while West Ham fans will be hoping for an upset to kick-start their season.
---
---