Hive FPL - Game Week 27 Match Previews & Key Stats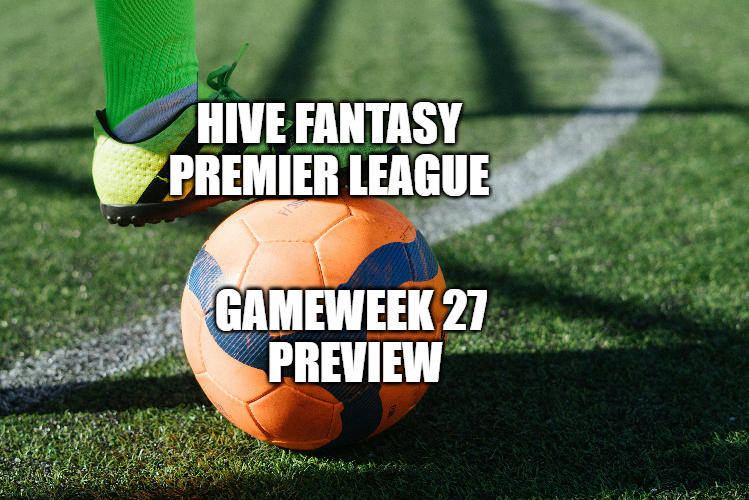 Greetings
Game Week 27 should be an exciting one as some teams aim to continue their good form, aim to stop bleeding points or make a comeback after a bad match during Game Week 26. This Game Week plays a huge part in the race for the English Premier League title, but more excitingly, it will play a huge part in determining who will be the spots to qualify for the UEFA Champions League, Europea League, and Conference League along with who will be with us next season and who will be relegated to the EFL Championship.
So, without further adue, here are the matches for Game Week 27!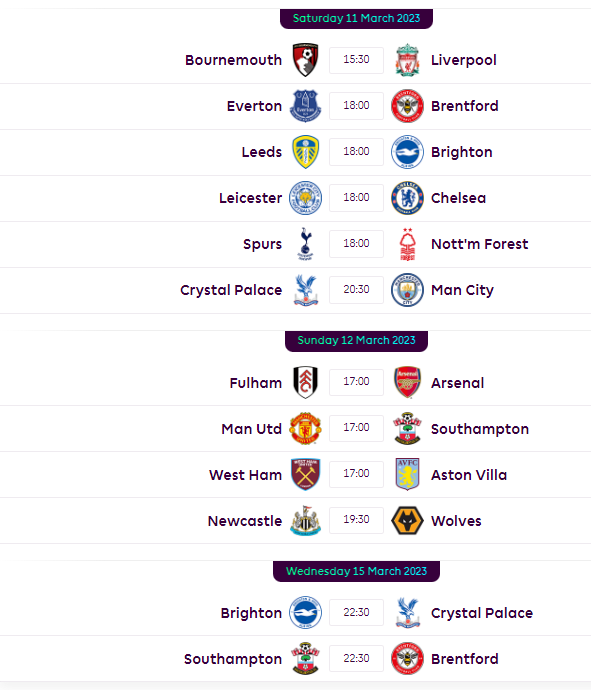 Bournemouth vs Liverpool

Liverpool is coming off the greatest confidence boost after thrashing Manchester United with 7-0 goals. The fact that 6 of those goals came in one half gives you a feeling that Liverpool still has that fire that needs one spark to ignite it. While Bournemouth definitely put out a great fight against Arsenal, facing Liverpool will be different as Liverpool is also the side that handed Bournemouth its biggest defeat in history this season with 9 goals.
Form suggests that picking up Liverpool players is the smart route with Cody Gakpo
being a great pick. Salah is still a main threat, but his price is debatable. Andrew Robertson and Trent Alexander-Arnold (are also great picks in the back as Liverpool's fullbacks are involved a lot offensively and could still earn extra rewards from getting a clean sheet which is more than possible when facing a team like Bournemouth.
However, beware of overstocking Liverpool players as Liverpool won't be playing in the 28 Game Week matches before facing both Chelsea and Manchester City away from home in the 29 Game Week. Not to mention the fact that if Liverpool still believe they could make a comeback against Real Madrid on Wednesday, they'd be looking to get the win with minimum effort.
Players to have:
Cody Gakpo (MID) at 7.7
Mohamed Salah (MID) but his 12.7 price makes him could prove to be limiting
Andrew Robertson (DEF) at 6.8
Trent Alexander-Arnold (DEF) at 7.3
Everton vs Brentford

With European spots still within Brentford's grasp we could guarantee that the bees will be looking to get as many points as possible. Brentford proved to be a team capable of attacking and scoring with 10 goals in their last 6 games. On the opposite side, we have Everton who conceded 10 goals in their last 5 games. However, with Everton's 2 wins at home in the last 3 matches, including a top-level performance against Arsenal, the Toffees might not be an easy opponent.
Still, the match favours Brentford with Ivan Toney, Ben Mee, Rico Henry, and David Raya Martin being great picks, especially with Brentford having a double-game week followed by a game against Leicester City at home. Everton having the game at home could give them a boost to get a clean sheet.
Players to have:
Ivan Toney (FWD) at 7.8
Bryan Mbeumo (FWD) at 5.9
Mathias Jensen (MID) at 4.8
Ben Mee (DEF) at 5.1
Rico Henry (DEF) at 4.5
David Raya Martin (Goalkeeper) at 4.8
James Tarkowski (DEF) at 4.4
Conor Coady (DEF) at 4.9
Jordan Pickford (Goalkeeper) at 4.4
Leeds vs Brighton

Leeds aren't in their best form this season as the team seems to be shaky and look no further than the fact that they have the same number of points as Everton and only one point more than Southampton and Bournemouth who both look to be relegation-bound.
On the other hand, we have Brighton & Hove Albion. Brighton is one of the most stable teams this season the change of managers not only didn't harm it but actually seems to improve it. Don't let the fact that Brighton currently resides in 8th place fool you as winning their games in hand would actually put Brighton in 4th place without having to look at the results of any other teams. This means Brighton has a lot to fight for.
Brighton also has many skilled individuals and more sources of danger than most teams in the Premier League with a handful of teams being the exception. Names like Solly March, Alexis Mac Allister, and Kaoru Mitoma are great options to have in your midfield as the double-game week could even earn you an extra point for clean sheets as Leeds United isn't really having a great attacking form not to mention that Brighton is also a great team defensively.
Players to have:
Robert Sánchez (Goalkeeper) at 4.6
Joël Veltman (DEF) at 4.6
Pervis Estupiñán (DEF) at 4.8
Solly March (MID) at 5.1
Alexis Mac Allister (MID) at 5.4
Pascal Groß (MID) at 5.4
Kaoru Mitoma (MID) at 5.5
Leicester City vs Chelsea

Chelsea seems to be close yet far from finding a form fitting of a team that has spent the most this season with over half a billion as Graham Potter remains unsure what formation to go with. Chelsea's defence hasn't conceded in the last two matches, but that doesn't say much as they conceded 4 goals in the three matches prior to that, including a goal from 19th-place Southampton.
Leicester City also isn't doing great this season either as they are still flirting with relegation making this match tough to predict. However, the curse of this match lies in the fact that you may need a player or two as game week 28 has limited options.
The only tip here is betting on Chelsea's defenders as the attack and midfield aren't providing much lately.
Players to have:
Kalidou Koulibaly (DEF) at 5.5
Ben Chilwell (DEF) at 5.8
Marc Cucurella Saseta (DEF) at 5.0
Spurs vs Nott'm Forest

There's always the question of which version of Spurs will show up in this fixture, will it be the one that defeated Manchester City 1-0 or the one that lost to Leicester City 4-1? Despite how it may look, Spurs' form in the league is good. However, the issue is that it's not the type of good that translates well into Premier League Fantasy Football as the most reliable player is Harry Kane and he's not having the best form either.
Considering that this match is being played at home and will be followed by a match against Southampton, betting on Spurs' defenders and attacking players might not be the worst idea. Not to mention that it is very possible that Spurs might end the game week with a clean sheet.
Players to have:
Harry Kane (FWD) at 11.7
Son Heung-min (MID) at 11.6
Dejan Kulusevski (MID) at 7.9
Cristian Romero (DEF) at 4.9
Fraser Forster (Goalkeeper) at 3.9
Crystal Palace vs Man City

At the Etihad Stadium, Manchester City did struggle against Crystal Palace as the guests were 2-0 up until the 53rd minute. However, the form of each team since then has gone in two different directions as Crystal Palace currently resides in the lower part of the midtable while Manchester City still has the Premier League title within sight. The motivation is also different as Crystal Palace's relative safety from relegation gives very little encouragement to fight while Manchester City has everything to gain.
With Haaland and Kevin De Bruyne being the most obvious names, you may not want to stock up on Manchester City players here either as the club will also be looking to end this game with minimum effort ahead of their UEFA Champions League bout on Tuesday. However, against Crystal Palace, a clean sheet for Manchester City is also an option.
Players to have:
Erling Haaland (FWD) at 12.2
Kevin De Bruyne (MID) at 12.1
Nathan Aké (DEF) at 5.1
Kyle Walker (DEF) at 4.8
Fulham vs Arsenal

Fulham has been quite the handful team this season as even when the team loses, it seems to do so while giving the opponent a great fight. Fulham's style of defending and counter-attack seems well-suited for Fulham when facing a team like Arsenal as the Gunners' fatigue and injury list might just provide Fulham with a great opportunity to cause an upset that would earn them a point or three in their pursuit of European football next season.
On the other hand, Arsenal's matches against Aston Villa and Bournemouth have shown the team to be vicious and stubborn when the occasion calls for it and having Gabriel Martinelli, Martin Ødegaard, and Bukayo Saka up front always leaves a chance for a goal or two while Oleksandr Zinchenko's presence as an inverted full-back makes very involved offensively making him the best among Arsenal's defenders while keeping him eligible for a clean sheet bonus. Fulham's absence from the 28th game week makes the pendulum swing toward Arsenal.
Players to have:
Bukayo Saka (MID) at 8.5
Martin Ødegaard (MID) at 7
Gabriel Martinelli (MID) at 6.5
Oleksandr Zinchenko (DEF) at 5.2
Benjamin White (DEF) at 110
William Saliba (DEF) at 5.5
Tim Ream (DEF) at 4.6
Andreas Pereira (MID) at 4.4
Aleksandar Mitrović (FWD) at 6.7
Man Utd vs Southampton

After a humiliating loss against Liverpool in game week 26, Manchester United will be looking to make a comeback in the Premier League to prove that the loss didn't shake them and to confirm that if their position in the league is going to change, it would be them going second rather than dropping to fourth. What's better for them to do than beating Southampton at home?
Southampton's team has been uninspired this season with the only revelation coming from the Saints being James Ward-Prowse's free-kick abilities which have won Southampton some points this season. Other than that, there's nothing in Southampton worth betting on.
Considering the fact that Manchester United have a foot and a half in the next round of the Europa League and their need to make a reaction, this might be a great chance to see them attacking more and in turn scoring more. Marcus Rashford's form this season has many naming him among the best in the world this season and he deserves that as his breakthroughs and goals have proven crucial with Bruno Fernandes providing the team with assists and even scoring some goals, we might be looking at a goal-fest this Sunday along with defensive solidity.
Players to have:
Marcus Rashford (MID) at 7.4
Bruno Fernandes (MID) at 9.8
Antony (MID) at 7.3
Luke Shaw (DEF) at 5.2
James Ward-Prowse (MID) at 6.3
West Ham vs Aston Villa

West Ham's squad are easily better than their current placement in the league. We're talking about a club that was still competing for a top spot in the last few months during last season. This season is a whole different story as David Moyes' men seem to lack motivation this season and it's understandable why. However, they still know that remaining unmotivated will result in the Hammers dropping to the Championship which is why there was a reasonable improvement in the second half of the season that seems to be enough to save them from relegation.
Aston Villa on the other hand has a rejuvenated form under Unai Emery with Ollie Watkins rarely absent from the scoreboard. Unai Emery seems likely to lead his man to go through on Sunday's ebening as the Spaniard seems more than capable of getting good results and clean sheets against teams in the lower table with Tyrone Mings, Ezri Konsa, and Emiliano Martínez at the back.
However, this game will be played at West Ham's home stadium where the Hammer's last loss happened all the way back in late December last year so we're looking at a game with nothing guaranteed although it might be better to pick up Aston Villa players anyway considering they're not only playing next game week but will be doing so against last place Bournemouth.
Players to have:
Ollie Watkins (FWD) at 7.3
Leon Bailey (MID) at 4.4
Emiliano Buendía (MID) at 5.7
Douglas Luiz (MID) at 4.8
Tyrone Mings (DEF) at 4.3
Ezri Konsa (DEF) at 4.4
Emiliano Martínez (DEF) at 4.9
Danny Ings (FWD) at 6.4
Jarrod Bowen (MID) at 8.0
Newcastle vs Wolves

Newcastle's form this season has been impeccable until the last few weeks when their form switched from being a non-losing streak into a non-winning streak in the Premier League which took the team into a doubt spiral with them losing their last match against Liverpool with relative ease for the Reds as the entire match was practically over in the first 22 minutes at home before going to lose two more matches against both Manchester clubs.
Wolves on the other hand haven't been a reliable club either despite their shocking win against Tottenham Hotspur. Newcastle's defence seems to be out of form recently, but a match at home against Wolves might be all they need to regain their early season form and keep their hope of a UEFA Champions League qualification.
Newcastle's attack hasn't been fruitful in the last three games but their defence seems more than able to keep a clean sheet here. Perhaps a bet on Newcastle's defence might be the best way to go about this match.
Players to have:
Nick Pope (Goalkeeper) at
Kieran Trippier (DEF) at
Dan Burn (DEF) at
Sven Botman (DEF) at
Miguel Almirón (MID) at
Brighton vs Crystal Palace

We've already gone through both teams' current state in their first match this game week, so let's skip to the match itself.
These two teams have faced each other less than a month with one goal and one point each being the final result. However, that match was at Crystal Palace's home stadium, so it's natural to assume that Brighton is heavily favourited to win this match as the club's last match home saw it cruising through West Ham with a 4-0 result with Mac Allister and Mitoma scoring and assisting a goal each. Crystal Palace hasn't won a match since late last year, and that might be all you need to know ahead of this fixture.
Players to have:
Robert Sánchez (Goalkeeper) at 4.6
Joël Veltman (DEF) at 4.6
Pervis Estupiñán (DEF) at 4.8
Solly March (MID) at 5.1
Alexis Mac Allister (MID) at 5.4
Pascal Groß (MID) at 5.4
Kaoru Mitoma (MID) at 5.5
Southampton vs Brentford

Much like the previous match, both teams' states have been discussed already as Southampton seem to be relegation-bound. However, Southampton does seem like a team capable of pulling a few upsets here or there as the team won its last match against Leicester City at home and even managed to defeat Manchester City at home in the EFL Cup, so this match is far from being a guaranteed Brentford win although that seems to be more likely, but only by very little.
The last time the two teams met, it ended with a 3-0 win for Brentford with Bryan Mbeumo, Mathias Jensen, and Ben Mee scoring a goal each. All three players are likely to play a big role for Brentford in the game week anyway and Ivan Toney is a hard-to-miss-out-on Fantasy Football asset and James Ward-Prowse will always remain a possible source of points.
Players to have:
Ivan Toney (FWD) at 7.8
Bryan Mbeumo (FWD) at 5.9
Mathias Jensen (MID) at 4.8
Ben Mee (DEF) at 5.1
Rico Henry (DEF) at 4.5
David Raya Martin (Goalkeeper) at 4.8
James Ward-Prowse (MID) at 6.3
HiveFPL Captain Suggestions
With Brighton, Brentford, Southampton, and Crystal Palace having a double game week, it's only natural to gravitate toward their stars for captains. Brighton's Kaoru Mitoma, Solly March, Alexis Mac Allister, along with Brentford's Ivan Toney make great candidates for captaincy. Ivan Toney would have been an easy pick if it weren't for the fact that Brentford's both matches will be away from home. Brighton's solid defence and fluid tactics under Roberto De Zerbi should allow its midfield more chances to advance forward and either score or assist.
Outside Brentford and Brighton, there's always Salah and Gakpo who will be fresh from a 7-0 win over Manchester United and going against a team Liverpool already beat 9-0 this season, so there's always a chance of a goal-fest there as well. Obviously, we also have Haaland and Rashford, with the latter playing at home. Those are great options to pick if you don't trust Brentford and Brighton enough to captain a player of theirs.
Captain Candidates
Kaoru Mitoma (MID) at 5.5
Alexis Mac Allister (MID) at 5.4
Ivan Toney (FWD) at 7.8
Marcus Rashford (MID) at 7.4
Mohamed Salah (MID) at 12.7
Cody Gakpo (MID) at 7.7
Erling Haaland (FWD) at 12.2
Solly March (MID) at 5.1
---
---