Hive FPL Review: The Manchester Teams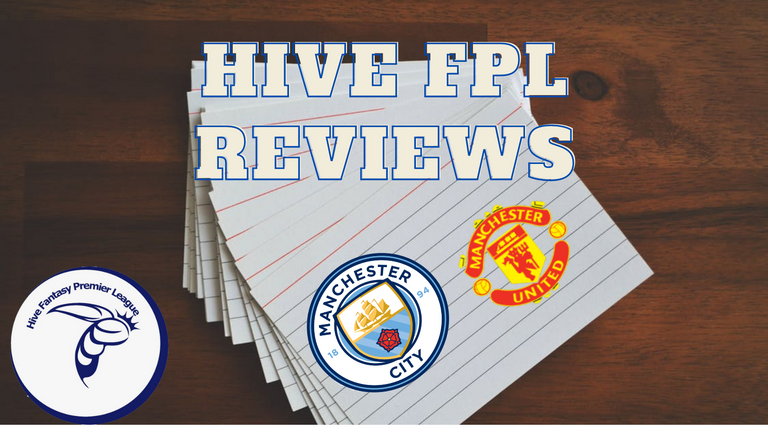 Manchester United and Manchester City are two teams that we could say are technically in opposite sides of the development spectrum. Life has not been easy for the red side since the departure of Sir Alex and over on the blue side, "Arab money" has transformed City into a monster of a team in Europe.
Last season emphasized the huge gulf in quality between the Manchester teams with the Blue side winning the league with an incredible 93-point haul that was 35 points better than Manchester United was able to achieve. This was also emphasized by the mammoth 73 goal difference in their goal difference that was literally Man City's.
Here's the thing though, all of that was last season because with the start of the new season comes renewed enthusiasm across the board. Everybody's building their squad and making changes to improve their stocks.
Once again though, out of the two, City look like the Manchester team with more to look forward to, in the coming season.
Manchester United's appointment of the tactically astute Erik Ten Hag has ignited some level of enthusiasm in the red devils but it pales in comparison to the work being done in City. Right now, City is being run like a well oiled and perfectly working machine with options in every part of the pitch.
The squads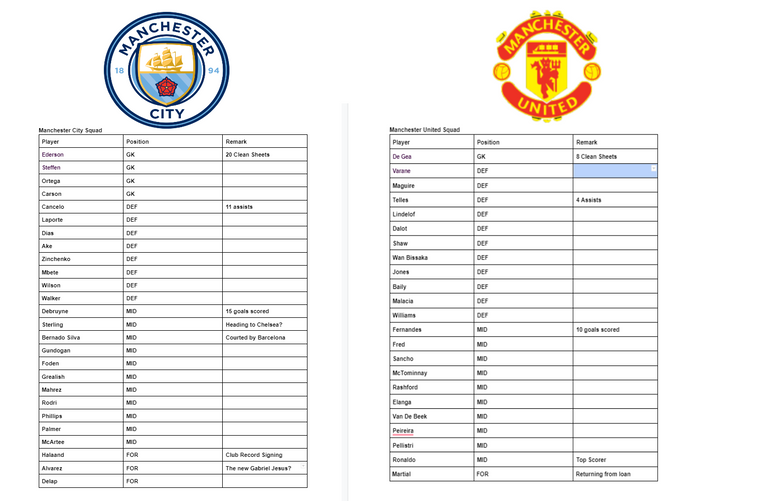 The gulf in quality between both teams can be highlighted in their individual players' FPL performances. Last season, only De Gea, Fernandes and Ronaldo were in the top 30 performers in their part of the pitch, compared to Manchester City which had at least one player in the top 50 performers in every part of the pitch.
For FPL players, the all too familiar squad rotation policy of City makes it difficult to pick THAT one outfield player from the squad. However, you know you can rely on Cancelo in defence, and Bernado Silva(most minutes for attacking midfielder).
KDB had yet another productive season, ending as the team's top scorer and one of the highest scoring midfielders in the league. As long as he's fit, you can expect him to have yet another productive season.
Football. London covers that Sterling is already on his way to Chelsea, with an announcement imminent. The absence of the British winger means that City could be looking to bolster their ranks before the end of the season.
There's a school of thought that Sterling's sale might not even lead to another transfer because it frees up space for Jack Grealish(3G & 3A) to get more minutes. We will know more about the situation down the road.
Manchester City have bolstered their attack with Erling Halaand and Julian Alvarez. These are two talented forwards that have the potential to be dominant forces in the league.
Despite costing 11.5 in FPL, Halaand is in 64.7% of squads, so it is safe to say there's a lot of enthusiasm. It is quite interesting because despite being club record signing, Julian Alvarez seems more like a Pep striker than Halaand.
On the red side of Manchester, there weren't too many bright spots to talk about but with the change in management, we might be seeing a different beast. Harry Maguire didn't have a good season but he was recently confirmed as the team captain, so it is safe to say that he will feature heavily in the manager's plans.
Alex Telles was the most creative defender at Manchester United, amassing four assists in the process. His deadball ability will definitely be a factor to consider in the coming season.
Further forward, Bruno Fernandes and Cristiano Ronaldo were the two standout performers. Ronaldo rolled back the clock to his final season at Manchester United before his switch to Madrid by scoring 18 goals. Bruno Fernandes was also instrumental in the Red Devils' season, clinching 10 goals and 7 assists in what is an otherwise underwhelming season for the team as a whole.
The presence of a new manager will be a big factor in deciding which Manchester United players to consider. It has been widely reported that Cristiano is plotting his exit but the manager has vehemently stated that the Portuguese superstar is not going anywhere.
Conclusion
There's a huge gap between both Manchester teams at the moment and with City strengthening their already impressive squad, United have to act fast and decisively. New management could lead to a new manager bounce but that's often shortlived: only consistent building can take you through the entire marathon.
With the transfer window still open and a couple of deals still in the pipes, there will definitely be changes in either squads that FPL managers will have to consider. What we know for sure is that both teams will be contesting at the top end of the league, however, one will be going for the title and the other will be scrapping it out for a Champions League spot.
Join the community on Discord, help us reach more people by reblogging, follow @hivefpl and follow us on Twitter
---
---