Hive FPL - Week 28 Match Reviews & Key Stats; How Did You Fare with the Blanks?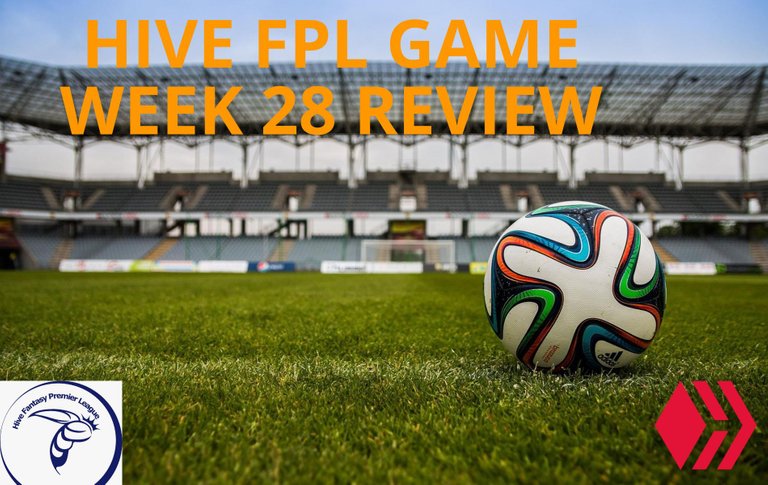 Greetings, fellow FPL enthusiasts! As we navigate through Gameweek 28 of the English Premier League, we witnessed a rollercoaster of emotions among managers. This gameweek was characterized by several blanks that left managers scrambling to field a complete team of eleven players. As a result, managers had to avoid selecting players from Manchester City and Manchester United, Liverpool, Brighton and Hove Albion, among others, which further complicated the selection process.
Despite the difficulties faced by managers in selecting their teams, the week saw the likes of Harry Kane and Bukayo Saka become the most-captained players by managers. These two players proved to be a boon for those who chose them, as they delivered a stellar performances on the pitch. As the gameweek progressed, managers had to rely on their strategic planning to ensure that their chosen players were performing to the best of their abilities.
Overall, Gameweek 28 of the English Premier League was an exciting and unpredictable experience for managers. It was a week that tested the strategic planning and decision-making abilities of every manager, as they had to navigate through the various blanks and ensure that they had a complete team of eleven players. As we move forward into the upcoming game weeks, managers need to stay vigilant and adapt to the ever-changing landscape of the English Premier League, in order to ensure that their teams are successful.
But for now, let's look at the games and how they went.

The Friday evening fixture between Nottingham Forest and Newcastle was expected to be a cagey affair, as these stand-alone games often are. However, Nottingham Forest came into the game with all guns blazing, despite a hard-fought defeat against Spurs in their previous match. Newcastle, on the other hand, seemed to have regained their winning form with a recent victory against Wolves. Isak, Newcastle's forward, was the star of the show with a stellar performance and a brace that helped his team secure a win over Forest. His second goal of the night, a late penalty which he took with super calm nerves, proved to be the winner.
Nottingham Forest also put up a good fight and showed that they were not easy pushovers. They battled hard throughout the game and will undoubtedly feel disappointed that they didn't come away with a point. However, Isak's excellent performance helped Newcastle emerge victorious. Managers who followed our previous post and stuck with Isak would be pleased with his impressive 13 FPL points.
Overall, the game was a high-energy affair, with both teams determined to secure a win. Despite being a stand-alone fixture, it did not disappoint, with both teams giving their all. While Newcastle emerged victorious, it was clear that Nottingham Forest put up a good fight and demonstrated that they are a team to be reckoned with. With Isak's stellar performance, Newcastle will be looking to continue their winning form in their upcoming matches.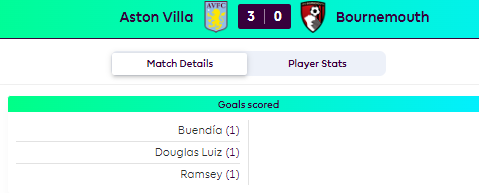 Bournemouth's momentum from their recent victory against Liverpool was halted after a crushing defeat to Aston Villa in their away game. Villa, who has been showcasing great performances since the end of the World Cup, dominated the game with three goals, leaving Bournemouth in the dust. Despite showing promise in some parts of the match, Bournemouth was ultimately outclassed by Villa, and their in-form striker, Billing, was left in the shadows.
Villa's captain, Mings, had an excellent outing, keeping a clean sheet, providing an assist, and earning all three bonus points. While only a few managers may have had him on their teams, they undoubtedly reaped the rewards with an impressive 12 FPL points. For Villa supporters or neutrals, the game was undoubtedly entertaining, but it would have been a painful experience for Bournemouth supporters.
Overall, Bournemouth's defeat to Villa highlighted the latter's superior performance, leaving Bournemouth to lick their wounds. While the game had some exciting moments, it ultimately proved to be a one-sided affair, with Villa coming out on top.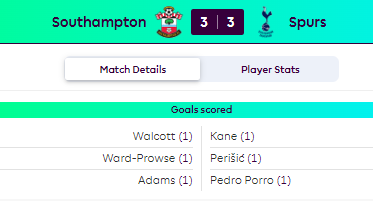 Tottenham Hotspur's struggles on the road this season continued as they were held to a 3-3 draw by Southampton in a pulsating encounter. Spurs took the lead twice through goals from Porro, Kane, and Perisic, but were pegged back each time by strikes from Che Adams, Theo Walcott, and James Ward-Prowse.
Despite the high-scoring affair, fantasy football managers will be pleased with the six different goal scorers, providing plenty of opportunities for attacking returns. However, defensively it was a nightmare for both teams as they conceded heavily.
Since returning from the World Cup, Spurs have conceded 14 goals away from home, highlighting their defensive frailties. The result leaves them languishing in mid-table and struggling to mount a serious challenge for the top four.
While there were positives for Spurs in their attacking play, the inability to hold onto leads and see out games is a cause for concern. Manager Nuno Espirito Santo will need to address their defensive issues if they are to salvage their season and compete at the top end of the table.
Overall, it was an entertaining game for neutrals, but a frustrating one for Spurs fans who will be hoping for better performances and results in their upcoming fixtures.

The match between Leicester and Brentford ended in a draw, with both teams evenly matched in every aspect of the game. Despite Leicester's position in the relegation battle, they were able to hold their own against Brentford, who took the lead in the 32nd minute with a goal from Jensen. However, Leicester quickly responded with a goal from Harvey Barnes in the 52nd minute. The match was a physical one, with tackles flying in throughout the game, and Brentford finished with 10 men after Baptiste was sent off in the 92nd minute. While the game was entertaining, it may not have been pleasing to FPL managers, except for those lucky enough to have players like Jensen or Barnes on their team.
In conclusion, the match between Leicester and Brentford was a closely fought battle that ended in a draw. Both teams demonstrated great skill and determination, with goals from Jensen and Barnes. The match was also a physical one, with Brentford finishing the game with 10 men after Baptiste was sent off in the dying moments of the match. While the game may have been enjoyable for the neutral fan, it was not one that FPL managers would have been too pleased about, unless they had players like Jensen or Barnes in their team.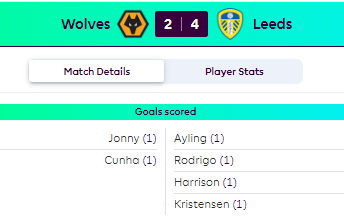 In their bid to escape relegation, Leeds put up a brave challenge against Wolves who are also fighting to avoid the drop. Leeds dominated the game at Molineux Stadium, taking a 3-0 lead before Wolves managed to score their first goal. Despite Wolves scoring a second goal and appearing to mount a comeback, Leeds scored a fourth goal to seal the victory. It was another high-scoring game that would have benefitted FPL managers with players from either team, but defensive players may have contributed to their team's deficits.
Overall, it was an impressive performance from Leeds as they showed great attacking prowess and resilience to secure the win. The victory provided a much-needed boost in their relegation battle. On the other hand, Wolves will be disappointed with the result as they were unable to take advantage of their opportunities to get back in the game. The match demonstrated the unpredictable nature of the Premier League, where any team can put up a fight and secure a victory on their day.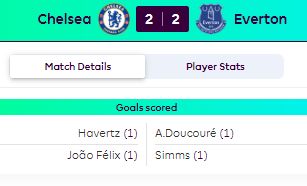 Chelsea's struggles in the Premier League continued after they failed to secure a much-needed victory against Everton, leaving them stuck in the dreaded 10th position. Despite taking the lead twice, they gave it up too easily and ended up settling for a draw. While fans of the Blues were understandably disappointed, FPL managers with Kai Havertz in their team would have been pleased, as he scored a goal.
The overall performance of Chelsea was lacklustre, and they will need to improve if they hope to move up the table. The draw could prove to be a turning point for Everton, who have shown a lot of promise since Sean Dyche took over as manager. The result will be another feather in his cap, as he continues to guide the team to exciting results.
In conclusion, Chelsea's disappointing form in the Premier League continued with a lacklustre performance against Everton that resulted in a draw. While Kai Havertz's goal may have pleased some FPL managers, Chelsea will need to improve if they want to climb the table. For Everton, the draw could provide added motivation under the guidance of Sean Dyche, who has already led the team to several exciting results.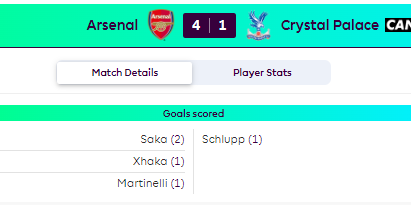 Arsenal continued their impressive form this season with a dominant performance at the Emirates stadium, crushing Crystal Palace to extend their lead at the top of the table to eight points. Saka netted twice, while Martinelli and Xhaka also got on the scoresheet, leaving Palace completely overwhelmed. Although they managed to score a consolation goal through Schlupp, it was a forgettable display by the visitors.
The Gunners have been in scintillating form all season, and this victory was yet another demonstration of their title credentials. Although Manchester City remains in pursuit, Arsenal's commanding lead and relentless performances suggest that they are the team to beat this year.
HIVE FPL STANDING
This week was noteworthy for our community as one of our marquee members, @belemo, emerged as the top scorer in our weekly ranking with an impressive 73 points. The second spot was closely contested by @yagman, who scored a commendable 64 points. The remaining participants also put up competitive scores, making it a closely-fought competition. Overall, the week was marked by a high level of participation and enthusiasm, with members displaying their knowledge and skills in various discussions and activities.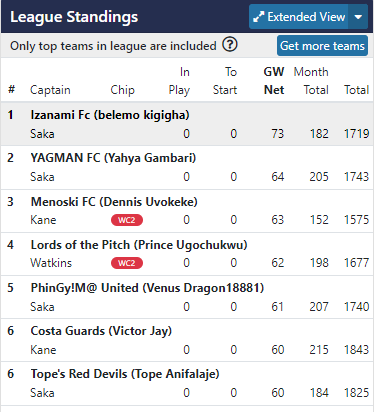 The end-of-season table appears to have already been decided, as the top teams have established a significant lead and are looking likely to claim the title. The same familiar names are currently occupying the top spots, indicating their dominance throughout the season. It seems that there will be little competition left for the other teams to challenge the current leaders.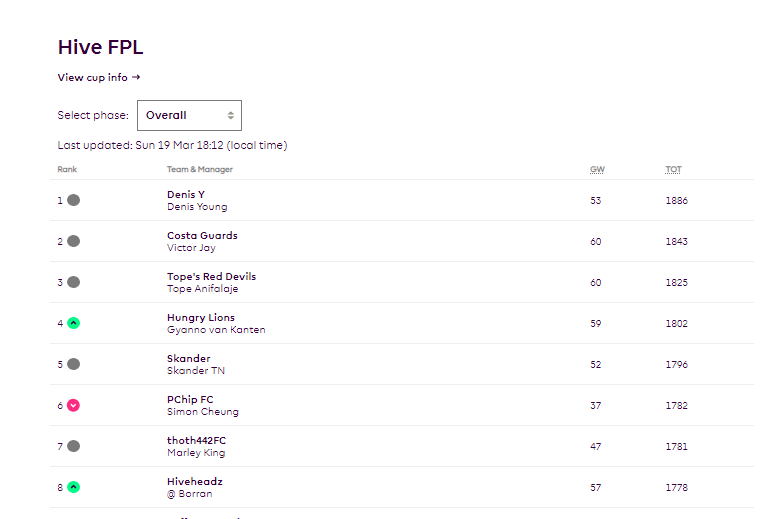 Thank you very much for sticking around and see you after the International break.
---
---