The Hive FPL Cup - Round 1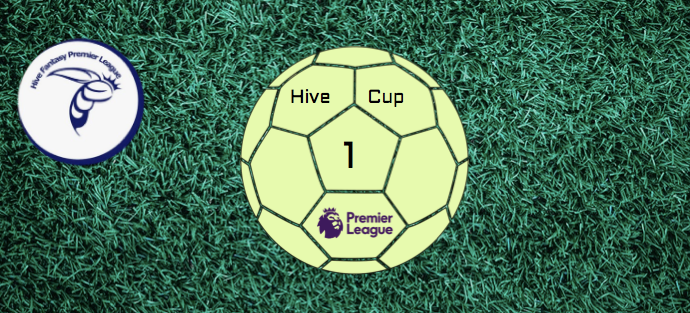 The magic of the cup is upon us.
Gameweek 32 of Fantasy Premier League sees the start of the Hive FPL Cup.
The Hive FPL cup is a classic knockout competition! Win your head to head match and go through to the next round, lose and you're out.
Ultimately you'll need to win 7 rounds of head to head matches to be crowned the inaugural Hive FPL cup winner. Winners in each round will also be awarded liquid Hive (see below for further details)
Remember that gameweek 32 starts with a Friday night fixture. so be sure to get your team changes in before the cut-off at 6:30pm BST, Friday 21 April!
Round 1 of Hive FPL cup (128 teams)
Teams with a bye this round
As the Hive FPL doesn't quite have 128 members a few of our lucky users have been granted a bye to the next round - this was calculated automatically by the FPL site.
If your team is listed below, you'll be joining the cup in the round of 64 next week!
Prizes
Each round we have a 10 Hive prize fund that will be split between winners of the head to heads who have a Hive account. That means as the rounds progress and the numbers of teams decreases, the winners will get increasingly higher prizes.
Gameweek 32 highlights
You can look out for our regular weekly blog analysing the matches in the Premier League this weekend for tips on who to pick in your team.
In these blogs will be analysing some of the match-ups between Hive users in the cup. In later rounds we'll be able to go into a bit more detail but with 50+ matches taking place, we'll keep it fairly light for now.
@deniskj the Hive FPL leader is up against @richgang who currently finds himself in 91st place in the league. It would certainly be a giant killing feat if he managed to dethrone the champion elect but as with quite a few of the teams in the cup, @Richgang hasn't use his chips yet so if he focuses on the next few gameweeks, there's no reason why he shouldn't knock out one or two of the high fliers who have concentrated their efforts on the league.
A couple of the more active Hive users in the form of @belemo and @b0s go head to head in a winner take all contest. Both players have strong looking squads so this one could go down to the wire.
On that point, if a head to head ends in a draw then it is decided on the following tie breakers
Most goals scored
Least goals conceded
Virtual coin toss
@borran has been making moves up the Hive FPL and is behind only @thoth442 for FPL points won in April so far. Thoth442FC gets a bye for this round while Hiveheadz's are drawn against a manager that either doesn't have a Hive account or hasn't provided it to us. If you're reading this blog and you see a ? next to your team name that means we don't have a Hive account linked to your team and you're not eligible for prizes from the cup or the much bigger prize pool in the league. Maybe drop us a comment below so we can update that...
2 users very active in the Sportstalk tribe in @mckane and @kenechukwu97 will be locked in battle in this round with bragging rights definitely at stake. Gentleman it's time to put your footballing knowledge to the ultimate test ...
Of course there might be a few football fans out there who could do with a welcome distraction from their sides actual results. @blanchy (a Spurs supporter) faces off against @valchiz (a Chelsea fan) with one of the two in line to actually win a match! Not something they'll be used to in recent times.
Another tasty fixture will see @amirtheawesome1 currently ranked 20th in the league go up against @marvel1206 who is 13th. The pair are separated by just 39 points after 31 gameweeks. Amir can close that gap, if he remembers to update his team this week...
Good luck to everyone taking part in the Hive FPL cup.
---
Remember to look out for our Gameweek 32 Preview that will be published shortly and if you haven't already done so, join our discord channel
We'll be back next week with results from round 1 as well as preview of round 2.
---
---